Audible is an online streaming service that offers audiobooks, radio dramas, readings of literary classics, and other spoken content. Audiobooks are an excellent way to improve your reading skills. If you are an Audible user, you know it's a great service for audiobooks. The only drawback is that Audible doesn't provide any way to download the audio file and save it locally. This is very frustrating for users who want to listen to their audiobooks offline on a different device or share it with their friends and family.
An easy solution is converting Audible books into MP3 format and listening to them on iPhone and tablets through a third-party application called TunesBank Audible Converter. TunesBank is an excellent option for any audiobook lover. TunesBank Audible Converter is a brand new software to remove DRM from Audible audiobooks and convert Audible audiobooks into MP3 format so that you can listen to them on your devices at the highest quality possible. Also, it supports both AA and AAX formats, so you can take advantage of whichever one works best for you. It's easy to use, and the conversion speed is incredibly fast.
We've decided to review the software and provide you with a review on TunesBank and why we think it's an excellent service for Audible users.
Also read: 9 Best Free Online YouTube to MP3 Converters
What is TunesBank Audible Converter?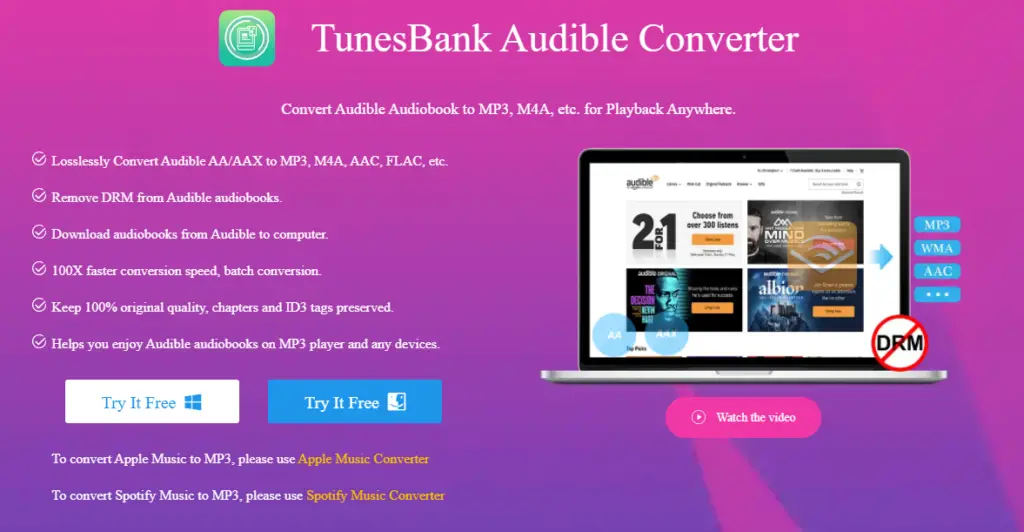 TunesBank Audible Converter is a software that offers an easy way to convert your favorite audiobooks from Amazon Audible into MP3 format. It can convert almost any audio file, even if it is in a different format, without any quality loss. Not only that, but it can also convert Audible audiobooks into several additional formats: M4A, AAC, FLAC, etc. TunesBank also supports batch conversion, so you can batch convert the audios in the formats you want at one time.
These formats offer higher audio quality than the standard MP3 format. The great part is that TunesBank Audible Converter can generate a local copy of your converted audio track or play it right from inside the program if you prefer not to use a player on another device.
How Does it Work? As you learned earlier in the article, Audible has a closed digital file format for their audiobooks. Because of these AA and AAX version restrictions, third-party software cannot convert these files for storing locally on their device. However, TunesBank Audible Converter can overcome this by generating locally stored MP3 versions of your converted audiobooks without any quality loss or playback issues on your devices.
Let's take a closer look at some of the main features Tunesbank offers:
Features
1-Click to Convert Audible Audiobooks
Creating MP3s of your Audible audiobooks with TunesBank is incredibly simple and allows you to convert all the formats they support. Convert Audible audiobooks to mp3 in minutes with a simple click! This means you won't need any other programs or additional knowledge for the conversion process. Once clicked on the Convert button, it will take no time at all for you to see a preview rendering in real-time showing how well this Audible converter works.
Faster Conversion Speed
One of the best things about the TunesBank Audible Converter is its fast conversion speed. It can convert Audible AA and AAX files to MP3 format faster than other converters. TunesBank claims that it is the fastest Audible audiobook converter on the market. The conversion speed is 100x faster than the traditional converters. It only takes less than 1 minute to convert 1.7-hour of audiobooks. This means that if you have a lot of files to convert, you'll be able to finish the task sooner and save a lot of time.
---
Protect Your Online Privacy With Surfshark
[The VPN that we use here at Tech Arrival]
---
Edit ID3 Tag
The ID3 Tag is one of the most important elements in metadata. This information not only helps you to organize your music files but also assists in making sure that music players or other devices correctly recognize them. The ID3 tags can be edited to display the artist's name, album, and track number. You can edit ID3 tags before converting Audible files.
Customize Audio Quality
Based on your preferences, you can customize the quality of your audio with a wide range of bit rates. For example, you can choose the bitrate and sample rate of MP3. If you need the highest quality audio, then you can choose a higher bit rate. On the other hand, if you need a smaller file size for streaming or downloading, using a lower bitrate will produce better results. What's cool about this is it also gives you the option of downloading the audiobook in multiple formats, including MP3, M4A, and WAV files.
Chapter Info Preserved
TunesBank will keep track of them all on its own! It preserves all the chapter information, so you can listen to your favorite piece of literature anywhere you want.
Easy to Use Multilingual Interface
TunesBanks Audible to MP3 Converter is so easy to use, it doesn't require any effort. Download the program and open it up. The interface has been designed to be as simple and minimalistic as possible to make the conversion process as painless as it can be. It's also available in multiple languages.
How to Convert Audible Audiobook to MP3 Using TunesBank
Installing TunesBank and Converting Audiobooks is very easy; here's a quick rundown of how to use this software.
Step 1. Download & Install TunesBank Audible Converter to Computer
To convert any Audiobook to an MP3 file, you will need to download and install TunesBank MP3 Converter software on your computer. Open up the TunesBank Converter official website and head over to the download section. Now according to your Operating system: Windows or macOS, click on the adjacent download Button.
Once the file is successfully downloaded, double click on it to begin the installation process. For macOS, you need to drag and drop the TunesBank Converter Icon on the Application Icon. Now follow the on-screen instructions to complete the installation process.
Step 2. Download the Audible Books to Computer
To convert the audiobooks, you need to download them first. Visit the Audible website, log in and browse through the list of Audible books; click on any book you would like to convert and select the download option. Once all your Audiobooks are downloaded, move on to the next step.
Step 3. Launch TunesBank Audible Converter
After successfully installing TunesBank Audible Converter, launch it via its shortcut icon. You will be welcomed by a simple interface that consists of two main sections: Converting and Completed. The converting tab shows you the imported audiobooks and the progress of the conversion. After the conversion is done it will show up on the completed tab.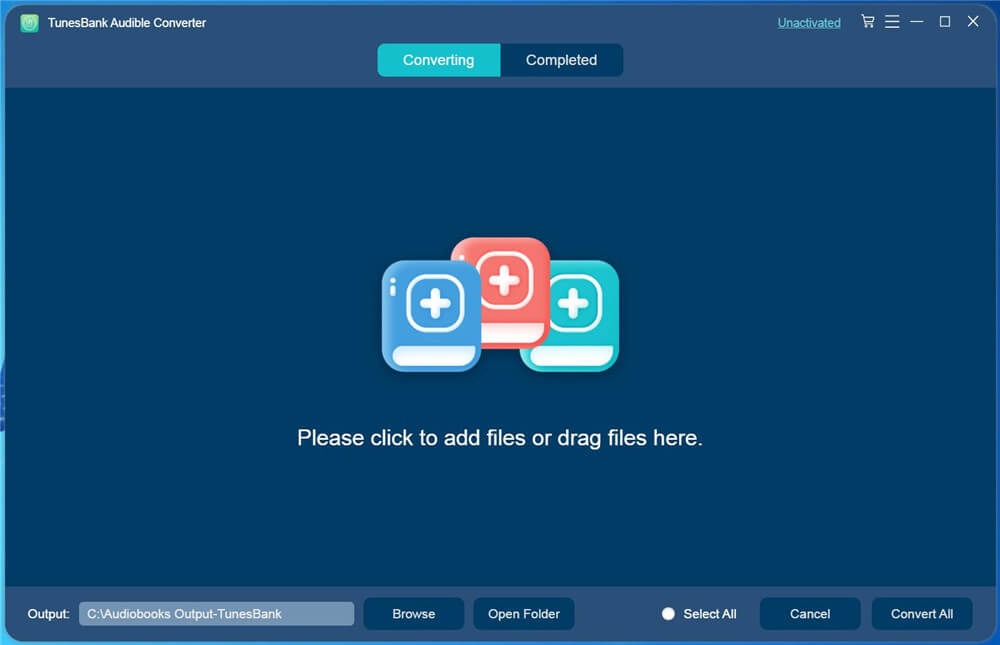 Step 4. Import Downloaded AA/AAX Audiobooks to TunesBank
On the main interface, you can drag and drop the saved audiobooks you just downloaded in the previous step. Alternatively, you can click on the Browse button and manually locate all your Audiobooks. This will import the files onto the software.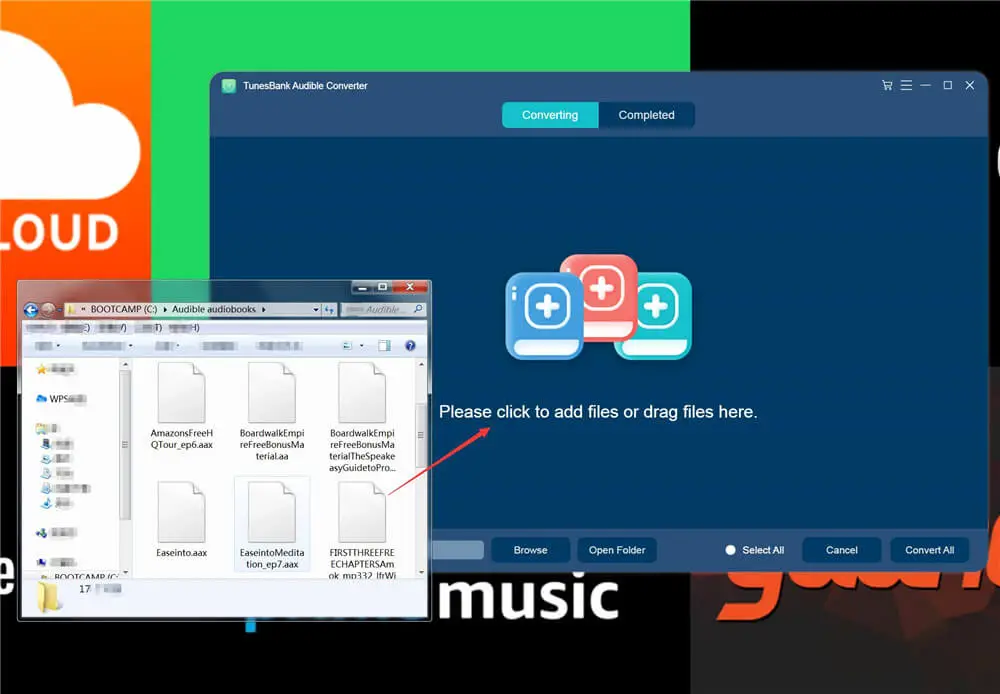 Step 5. Choose MP3 as Output Format
As stated, TunesBank supports all major audio formats of MP3, WAV, and FLAC. You can choose which format you want to save it in, like MP3, M4A, or FLAC. Just click on the Output Format drop-down box menu button >> And scroll until you find the desired output format; then select it accordingly.
---
Protect Your Online Privacy With Surfshark
[The VPN that we use here at Tech Arrival]
---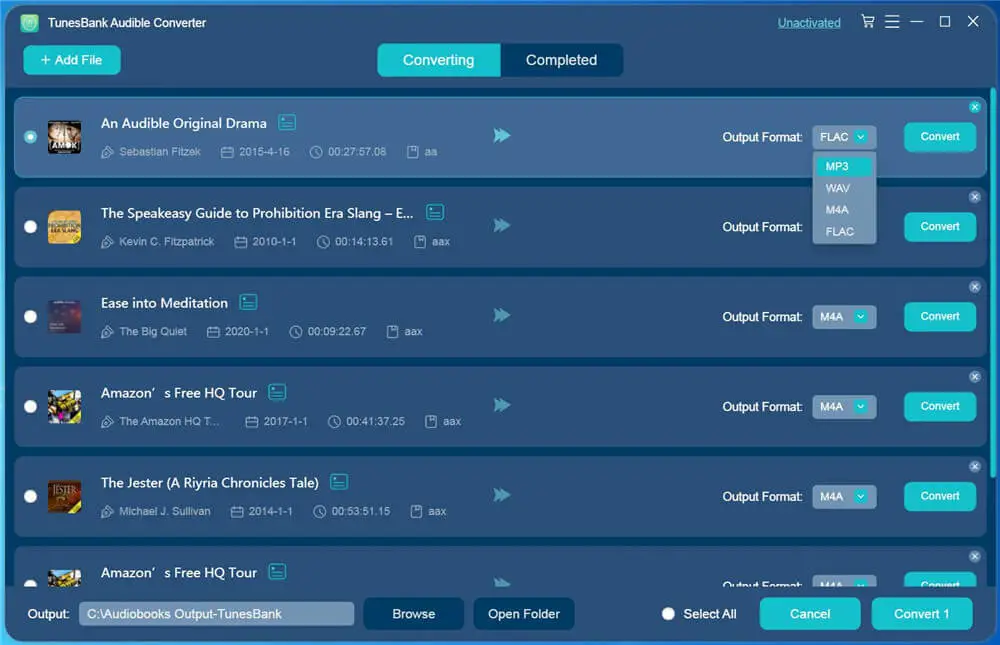 Step 6. Start to Convert Audible to MP3
You can also click on the Output setting option and choose different bitrates. This will reduce the file size but lower the audio quality. We recommend leaving it to default. Now that all the setting is done click on the Convert button.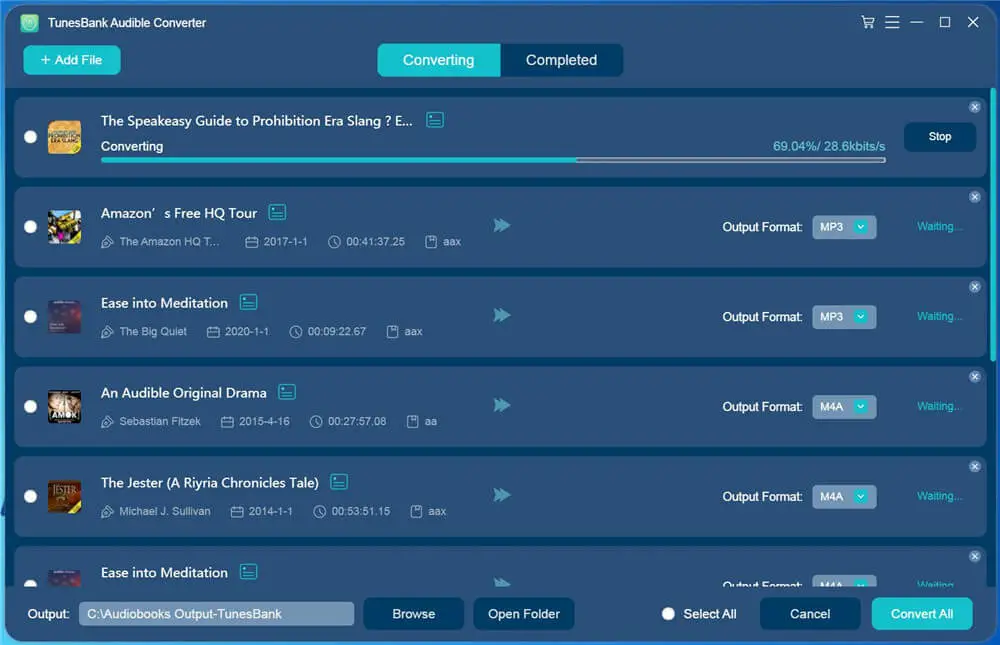 Step 7. View the Converted Audible Files
Congratulations, you have successfully converted your Audible Audiobook files to MP3 format. Now you can listen to the audiobooks on anything, anywhere. To view the converted files, click on the Completed Tab.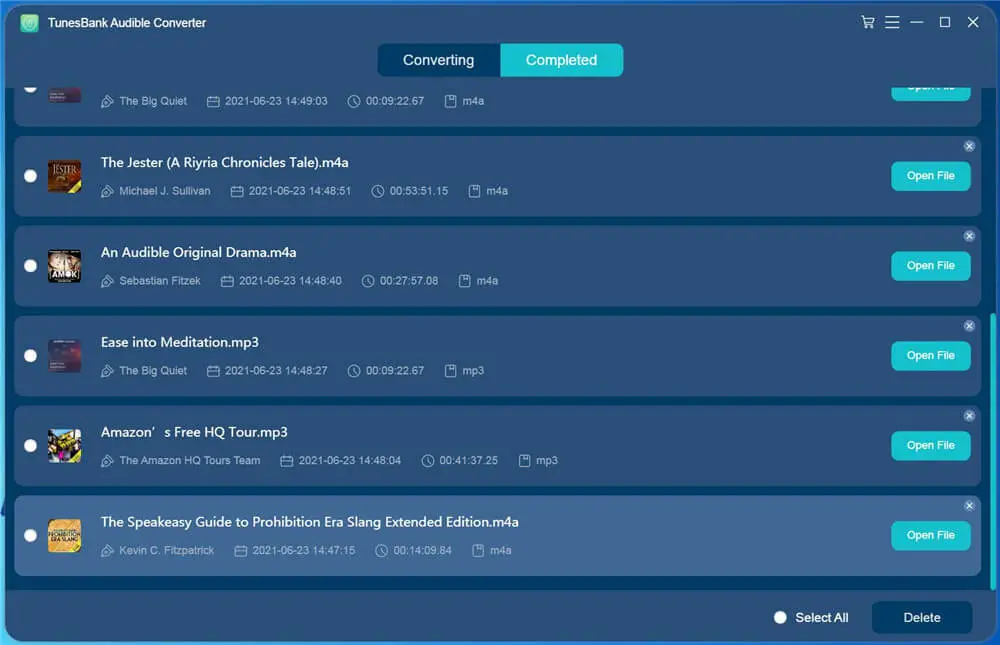 Pros:
Converting Audible Files to MP3 is Easy and Quick.
The user interface is very easy to use.
Except for Windows, it also works on Mac platforms.
The ability to convert between any of the most popular audio formats is excellent.
Cons:
Cannot convert directly from Audible, You need to download the AA/AAX file first.
Premium license required to unlock full functionality.
Conclusion
To summarise, TunesBank is a very powerful tool that will allow you to easily and safely convert your audiobooks into MP3 format. The world of audio is filled with lots of options, and if you're an audiobook lover, you will definitely want to add TunesBank's Audible Converter to your collection.
The program allows you to convert your entire library of audiobooks into MP3 format. Its easy-to-use interface and ability to preserve chapter info make it the perfect solution for people who like listening to audiobooks on their portable media players or cars. The latest version of TunesBank has been updated with many improvements and new features.
Thank you for reading; we are always excited when one of our posts can provide helpful information on a topic like this! If you have any other questions or concerns about TunesBank Audible Converter, let us know in the comments below.
Also read: 13 Best Free YouTube Downloaders
Frequently Asked Questions (FAQs)
Does it Work with iTunes?
No, As the program only works with Audible audiobooks, you will need to download a separate program to convert iTunes music files into MP3 format. You can find a list of recommended programs over the internet.
Is Converting Audible Audiobook to MP3 Illegal?
No, as long as you are converting Audible Audiobooks for your personal use. The unauthorized distribution of these audiobooks is not a good idea.
What is the Difference Between the Paid and Trial Versions?
The trial version only lasts for 15 days, and within this period, you can only convert 2 Audible audiobooks. In contrast, the Paid version is a one-time purchase for lifetime free updates and unlimited audiobook conversion.