The Internet today has its charms as well as its negative points. While you get the power to find information and connect to virtually anything, it is hard to protect your privacy and personal information from leaking. The hard truth is that our privacy is being traded between third parties like a commodity without our control or awareness. In this article, we will be reviewing VeePN and explain why you need to incorporate it into your digital privacy kit right now.
The Hard Truth of Data Tracking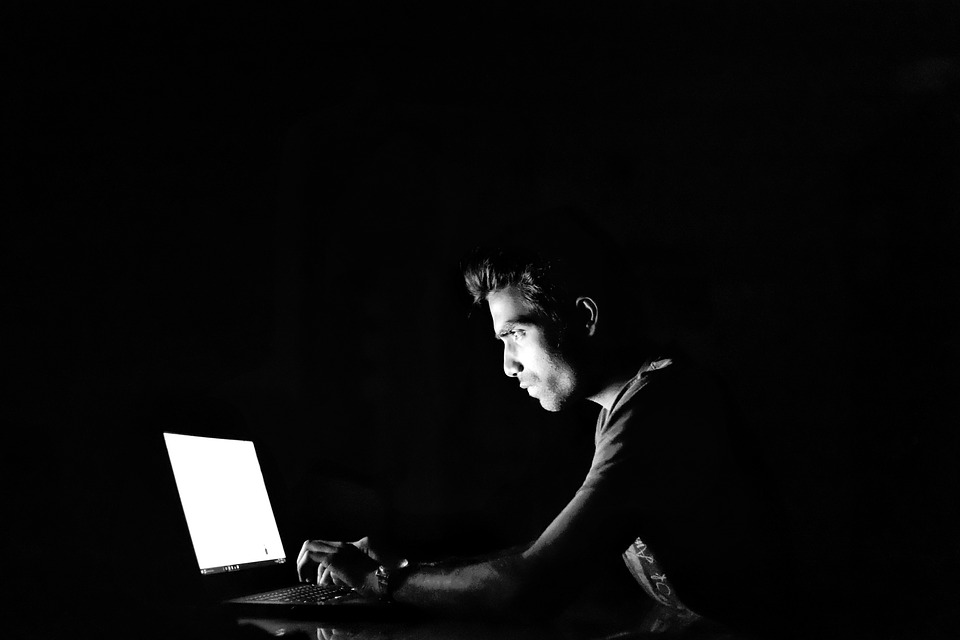 The data most often sought by external parties is mostly about what you search for online. Google is the service mainly responsible for collecting this data, and it really makes it difficult to turn the tracking features off. If some reports by reputable sources are believed, users were being tracked even after turning off the said features.
The data is sold to online marketing agencies that will use it to make personalized advertisements to target you. Therefore, you may find yourself bombarded with car ads if you have recently googled car names.
The second problem is the tracked data often includes your location, and that is how the ads will even show local dealerships.
None of us are comfortable sharing our online data and location without. Because of these privacy violations, an environment for the development of privacy tools has emerged. One of the ways how we can protect ourselves from these trackers is to use a VPN.
What is a VPN?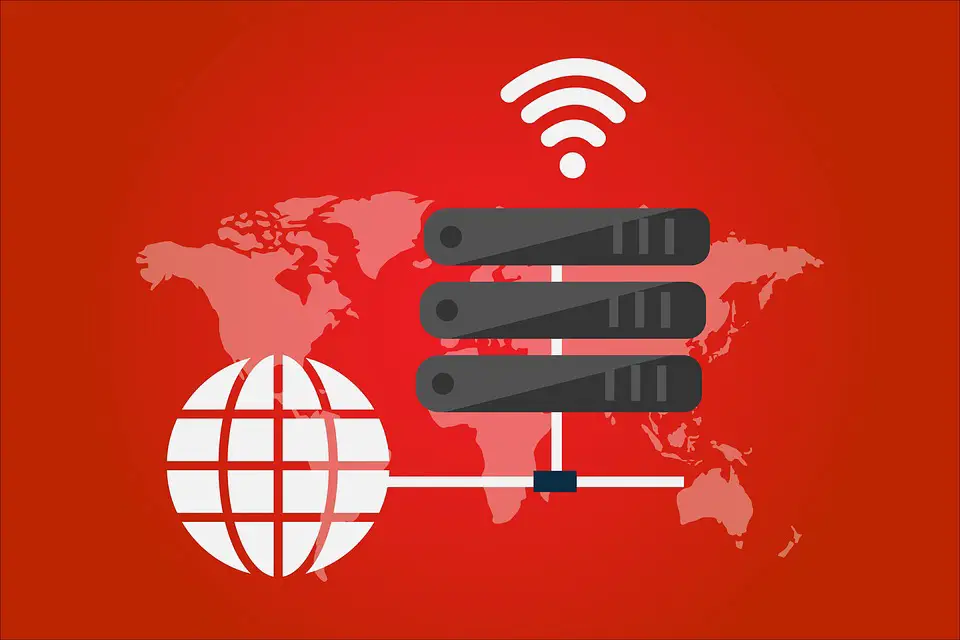 A Virtual Private Network (VPN) is a service that creates a safe and encrypted connection over less secure networks. The technology is designed to allow remote users and branch offices to securely access applications and other resources.
It extends across a public or shared network to act as a tunnel to exchange data securely and anonymously across the Internet as if you were connected to a private network. Originally developed to connect businesses safely, it has found its place in a commercial application, too, where regular users can employ it.
Modern cellular communication is thoroughly encrypted, and hackers can't tap it unless they have access to police-level tools like Stingray device, data dumps from cell towers, or femtocell, a small briefcase-sized cell tower to take over your network. However, the problem lies in Wi-Fi communications.
We all connect to free Wi-Fi at restaurants, airports, and libraries, unaware that we are putting our security at the hands of the hotspot owner. A hacker with the right set of skills can surf through our communications, credit card information, passwords, and more.
When your data travels through a VPN, all your browser traffic from browser and apps is encrypted before going into the net. The encrypted data stream then travels to a server of a service or website where the decryption takes place, and it's sent on its way.
---
Protect Your Online Privacy With Surfshark
[The VPN that we use here at Tech Arrival]
---
A good VPN additionally hides your IP address and geographical location from the ad agencies, snoopers, and government agencies who can track it to observe your online activity. The best VPN companies install their servers in multiple countries worldwide and let you select the server in a particular country.
There are dozens of free and paid VPNs available on the market. Today we will be reviewing one of the best VPNs on the market, named VeePN.
What is VeePN?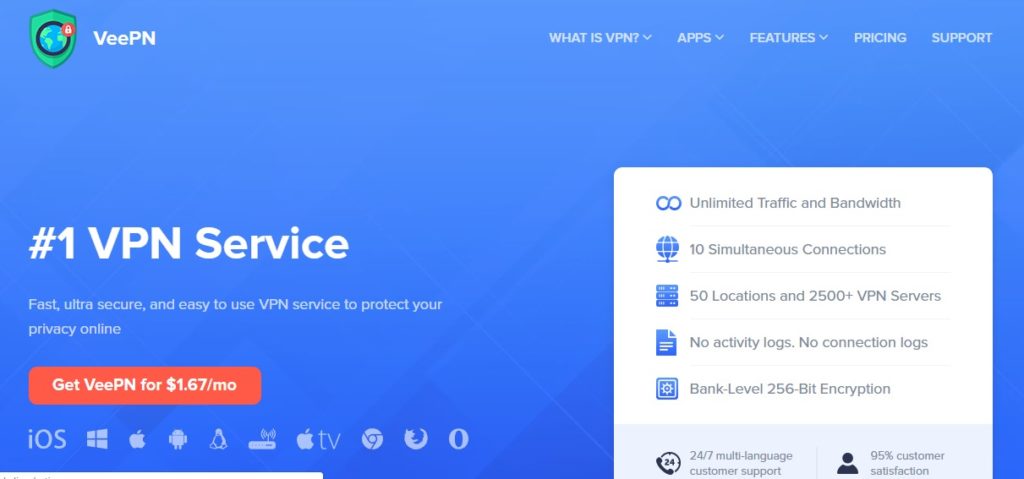 VeePN is one of the top VPN services, which does the best of what you expect it to do. It provides a way to safely connect to the Internet via an encrypted channel that protects your data from third parties.
It is available for Windows, Mac, Linux, Android, and iOS. It can also be used with Chrome, Firefox, Opera browsers, and even your Internet router. You should definitely check out iOS VPN for iPhone by VeePN, which is awesome to have on your iOS device.
VeePN markets its solution the app that will let you "make the Internet free again." The service has been active for more than 8 years, which is quite a feat.
VeePN comes with an intuitive and easy-to-use interface that is very easy to set up. You will need to download the installer and go through a simple installation process. You can get the installer from the official website that we mentioned earlier. After installing the application, your 7-day trial period will begin.
During this period, you will be given access to all the features VeePN has to offer.
Features
VeePN comes with an array of useful features that make it stand out from other competitors. These are as follows:
DNS Leak Prevention
The VPN service routes DNS queries via an encrypted tunnel, so there is no interaction with external DNS providers. As a result, it offers its users full protection shielding your traffic and DNS queries from exposure. There is also a public Wi-Fi security feature to protect your data when on public networks.
Kill Switch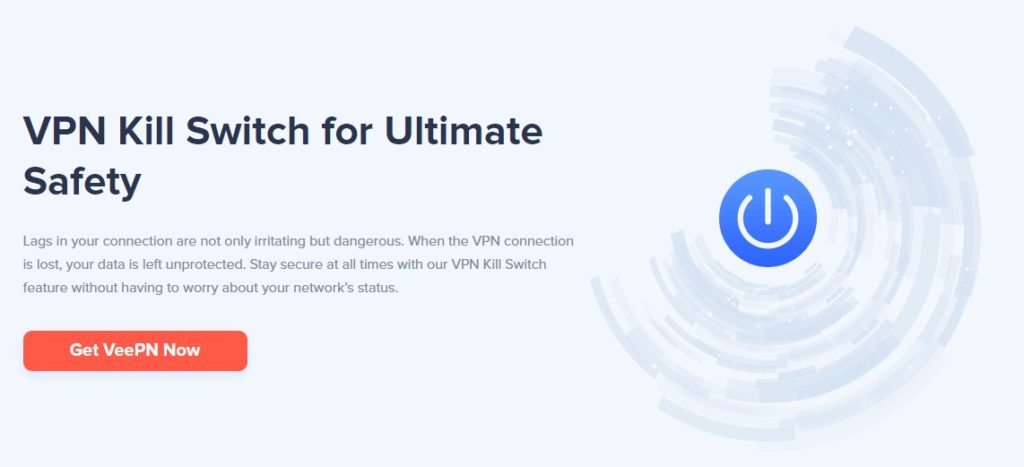 A Kill-switch is a must-have feature for any VPN nowadays. When your VPN connection drops, you are immediately exposed, meaning anyone can watch and monitor your browsing activity now.
When you have a Kill Switch, you don't have to check whether the VPN is constantly working. VeePN's Kill Switch will immediately kill the Internet connection in case the VPN connection fails.
---
Protect Your Online Privacy With Surfshark
[The VPN that we use here at Tech Arrival]
---
So, there is no risk of exposing your real IP while browsing the web.
Unlimited Bandwidth and Speed
The browsing speed doesn't depend on your location. The speed depends on the ISP plan. VeePN offers you high-speed server support that lets you enjoy your Internet at the best speed possible.
VeePN offers unlimited data usage across all of its plans, so you don't have to worry about reaching your VPN's data cap.
Encryption Protocols
Encryption protocols are needed for the encryption of your traffic on the Internet. It encrypts your traffic so that it can't be intercepted, altered, and spied upon. VeePN offers as many as four encryption protocols.
VeePN supports OpenVPN and IKEv2 as the industry-standard protocols and has its own Smart VeePN TCP and Smart VeePN UDP.
OpenVPN is the best choice among them, offering the most secure and stable connections using the 160 and 256-bit protocols.
IKEv2 is a bit weaker compared to OpenVPN as it uses only 256-bit encryption. However, you shouldn't worry, as 256-bit by itself is military-grade encryption.
OpenVPN relies on TCP and UDP protocols. TCP is more reliable but slower, while UDP is faster but less reliable than TCP. The company has modified the TCP and UDP protocols and named them Smart VeePN TCP/UDP making them more capable than the regular versions.
No Log Policy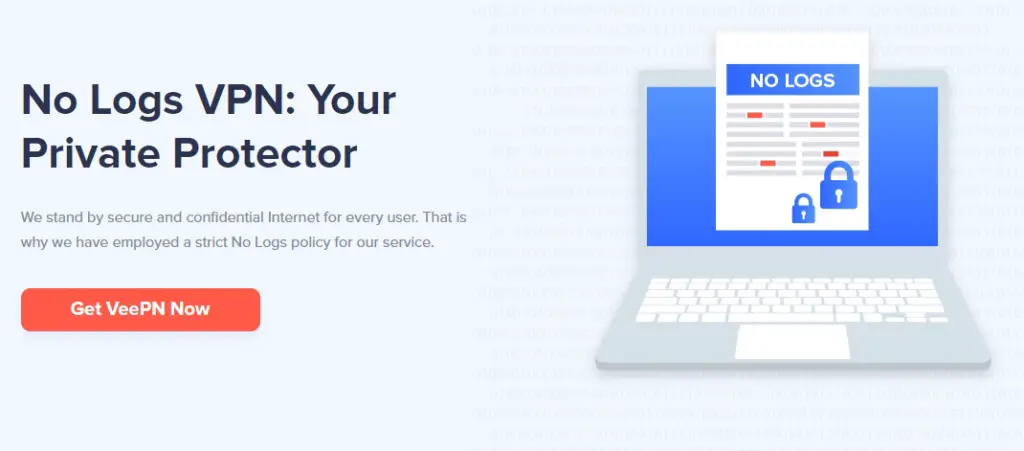 This is one of the main features to look for when selecting a VPN. When you have a No Log policy, this means the service won't log your device's metadata, your primary IP, history, etc., so there is no trail of your online activities.
Server locations

Good VPNs have multiple servers located around the world. VeePN has more than 2500 servers in more than 50 locations, including all the major US states and European countries. So, there will be plenty of options to choose from.
The service doesn't put any restrictions on the number of times you can change your preferred country or IP address.
---
Protect Your Online Privacy With Surfshark
[The VPN that we use here at Tech Arrival]
---
10 Devices Simultaneously
Other VPN's usually limits you to five devices, but VeePN allows you to use up to 10 devices at the same time. In an average household, 5 devices will be more than enough, but it is nice to have the options. You also have the option to buy extra slots.
Crypto Payment
Other VPNs allow payment modes like PayPal and credits card, but VeePN accepts crypto payments through Coin Payments like Bitcoin, Litecoin, and several other Cryptocurrencies. So, you know what to do with that extra Bitcoin.
24/7 Support
Though you shouldn't have any problems setting up and running a VPN, VeePN gives you a support team that you can contact 24/7.
Final Verdict
After getting our hands on VeePN, we can say that it really works flawlessly. The speeds are great though they decrease a little after connecting. But it is expected on all VPN services because of the encryption. Netflix and Spotify worked flawlessly without any interruptions. The service offers you the same features on all the plans; the difference is based on how long you want to use the VPN. There is also a 30-day money-back guarantee, which is a great addition.
The services it offers, along with the plethora of country and server choices and the logs policy, make it one of the best VPNs this year. The 10 simultaneous connections also help if you have a large family with multiple devices saving you a ton of money every year. The bottom line is VeePN is an all-round service that scores all the points a good VPN should have.