Every social media site comes with a unique interface. From catchy fonts to attractive layouts, social media platforms use various things to make their interface engaging.
Important Note: Twitter has rebranded itself under the name "X" in July 2023, and from here onwards, we will refer to it by its new name, X. 
X (Formerly Twitter) has one of the best well-designed user interfaces for its mobile app and website. X keeps changing its fonts to make the platform suitable for everyone. While the mobile app uses the device's default font, the font used by the desktop app and the website is different.
In this article, we will provide the details of the various font styles X used on different platforms.
Did X (Formerly Twitter) Change Its Font?
Since the launch, X has changed its fonts quite a few times. They upgrade the font styles every few years to keep things engaging and to match the changing standards.
X last changed its font in 2021. This new font style is called "Chirp," designed by the in-house team. This font was added to make the platform look more professional.
As per the reports, the latest change was made in January 2023, when the font's style name "Chirp" remained the same. However, the changes were made to make it easier to differentiate characters that are typically very similar. Some examples include Capital I & Lowercase L, Number Zero & Letter O, etc. 
What Font Is Used By X Across Devices?
X uses the Chirp font, which is not dependent on the system setting. This is to provide a seamless user experience across different devices. Not to mention, it also makes the platform look professional. The new font and colors create an engaging design that looks great on all devices.
More About The "Chirp" Font
The current font style used by X is Chirp. It was announced in January 2021 by Derrit DeRouen, creative director of X.
The font was officially launched in August 2021, and the changes could be seen on both phone and web versions. Since it's a proprietary font, it cannot be used for commercial purposes unless you have a license to do so.
---
Protect Your Online Privacy With Surfshark
[The VPN that we use here at Tech Arrival]
---
The Chirp font strikes a balance between sharp and messy. It is introduced to enhance the appeal of the platform while making the posts look good and professional at the same time. This particular font has different variations available, which include:
Chirp Bold
Chirp Regular
Chirp Heavy
Chirp Medium
They also changed the buttons and the color contrast to match the font style. According to X, these changes were made to draw attention to videos and photos that users share.
Even the "Follow" button was changed to make it stand out. Lastly, they cleaned up the visual clutter caused by messy colors, sizes, and types of items. To make posts easily readable, they increase the spaces between texts. They also removed the divider lines and gray backgrounds.
Who Designed The Chirp Font?
The X designed the Chirp font with a Switzerland-based company, Grilli Type Foundry.
This font provides a sharp and professional look to the platform. It is also comfortable to read and is suitable for different devices. The new font style is well-received by users.
Also read: 11 Best Free Twitter Unfollow Tools to Unfollow Non-followers
Fonts Used By X Before
As we said, X keeps changing the font style every few years. So far, they have used quite a few font styles, the details of which are given below.
Roboto: This is the default font for Android devices, which has been like that since 2011.
Helvetica Neue: This font style was used for the X web app on tablets and smartphones.
Segoe UI: This font style was specially meant for Microsoft-based devices.
Ubuntu: X used Ubuntu font for MacBooks, PCs, and desktop X apps.
What Font Is Used By X On Windows & Mac?
After introducing the "Chirp Font Family," it is used uniformly across all app and web versions, including the Mac Version of X on the App Store and the Windows Version of X on the Microsoft Store.
What Font Is Used By X On Android & iPhone Apps?
As mentioned earlier, On the X's Android & iOS App, you will find the Chirp Fonts uniformly used across every app section. 
What Font Is Used By X On Web Version?
On the web version, multiple failovers for the font loading have been put in place by the X (formerly Twitter) team. It defaults to the legendary Chirp Fonts, but in some cases, they fail to load. These fonts will be loaded in order until one is loaded successfully.
1. Device's default fonts: For Android, it is Roboto; for iOS devices, it is San Francisco (SF); for Mac devices, it is SF Pro; for Windows devices, it is Segoe UI, and so on depending on the platform or operating system you are using. 
2. Segoe UI
3. Roboto
4. Helvetica
5. Arial
6. sans-serif
---
Protect Your Online Privacy With Surfshark
[The VPN that we use here at Tech Arrival]
---
You can identify which fonts a website is using WhatFont extension on your Chromium Based Browser.
How To Change X Font Size on Web
Users may want to change the X font size for better accessibility. The steps discussed below apply to the X desktop website. 
Go to the X website.
At the bottom left of the screen, you will see three dots. Click on it.
Select Settings and Support.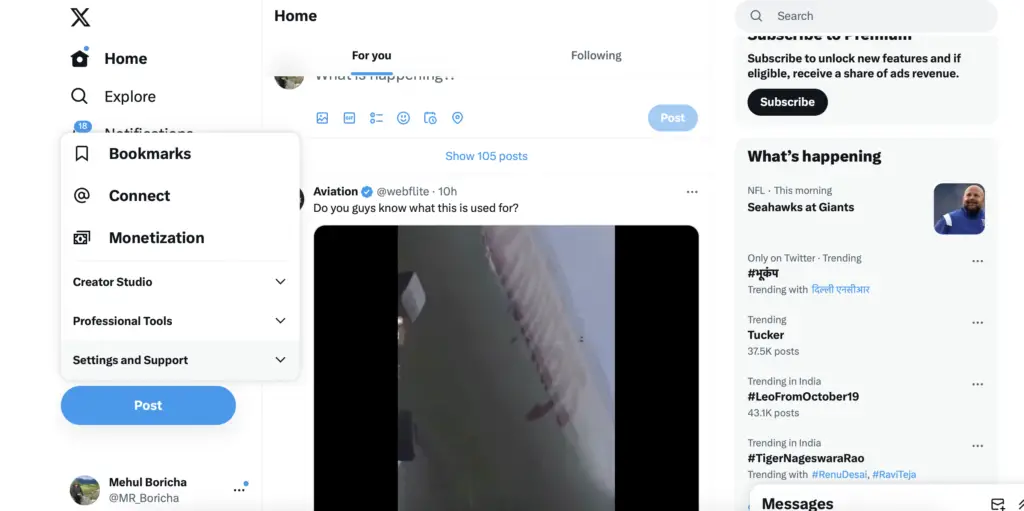 Click on the option Settings and Privacy.
Go to Accessibility, Display, and Languages.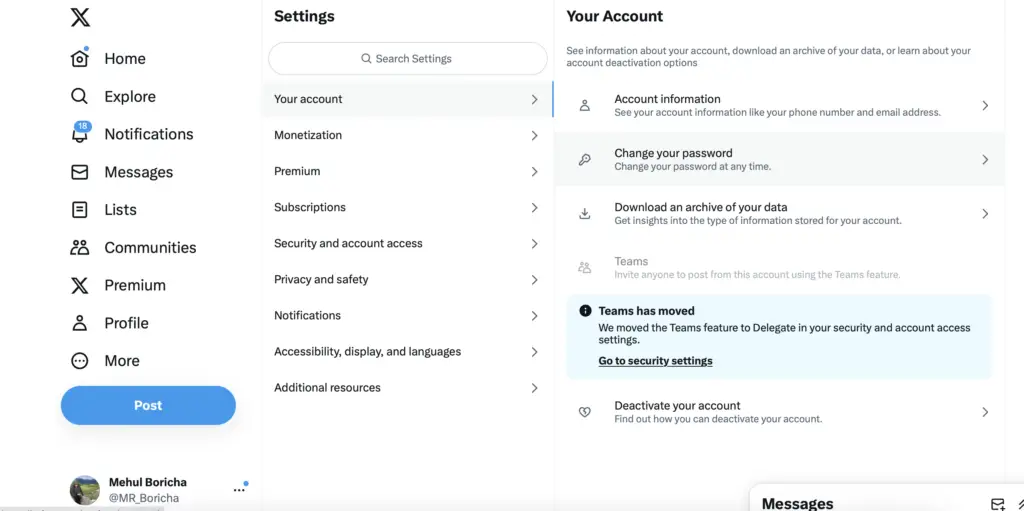 Click on Display.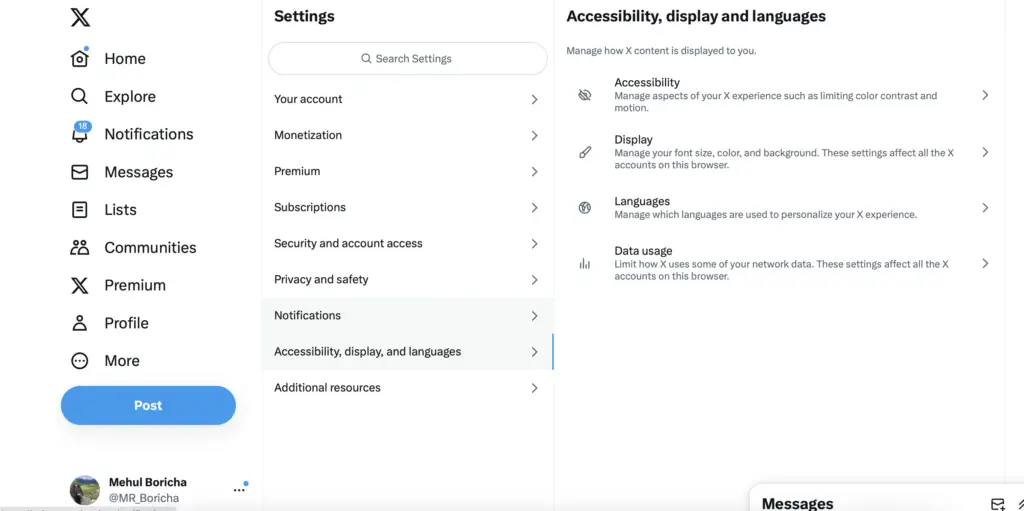 Select the preferred font size using the slider.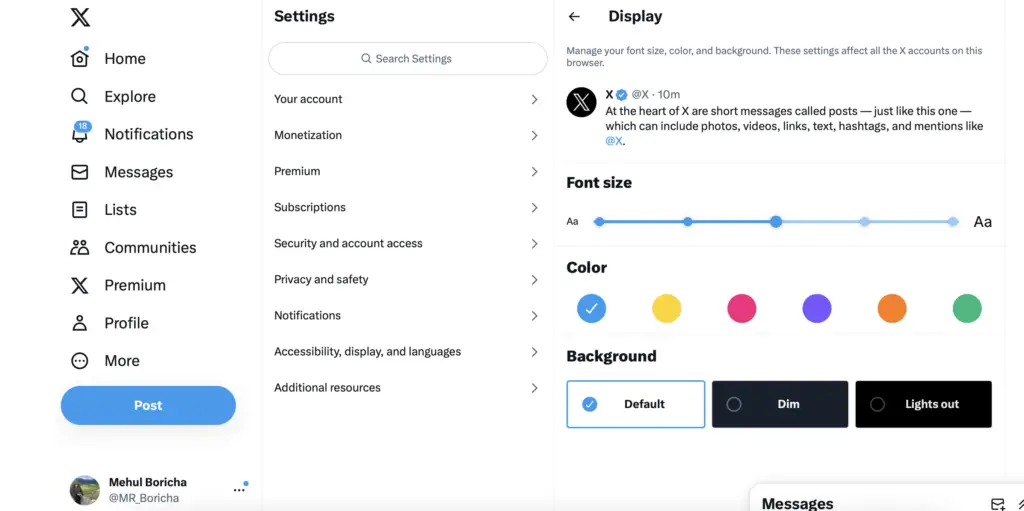 How To Change X Font Size on Android & iPhone App
Open X App. 
Click on Your Profile Photo. 
Expand Settings & Support and Select Settings & Privacy.
Go to Accessibility, Display, and Languages.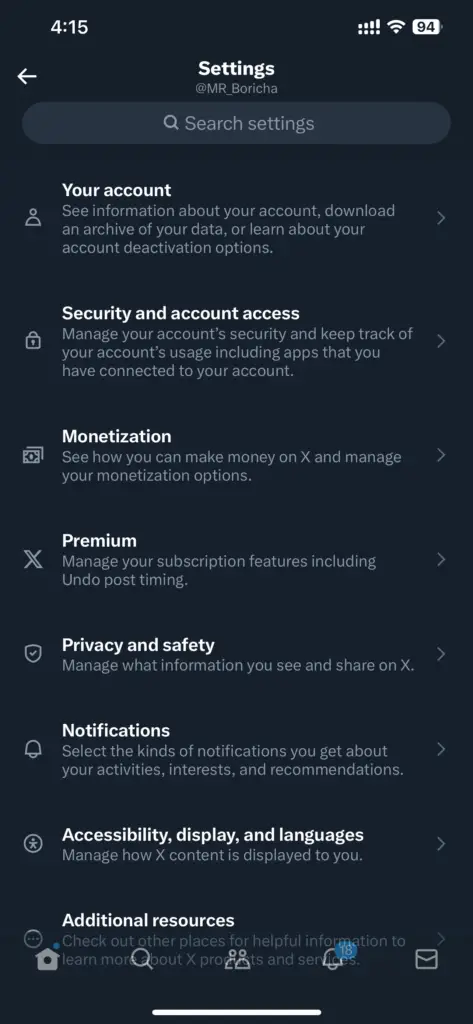 Tap Display & Sound.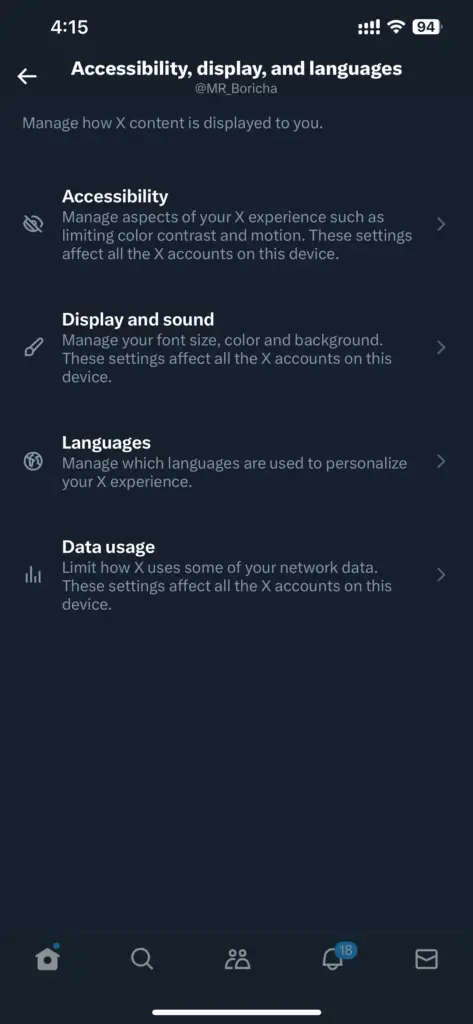 Make the necessary changes as per your preference.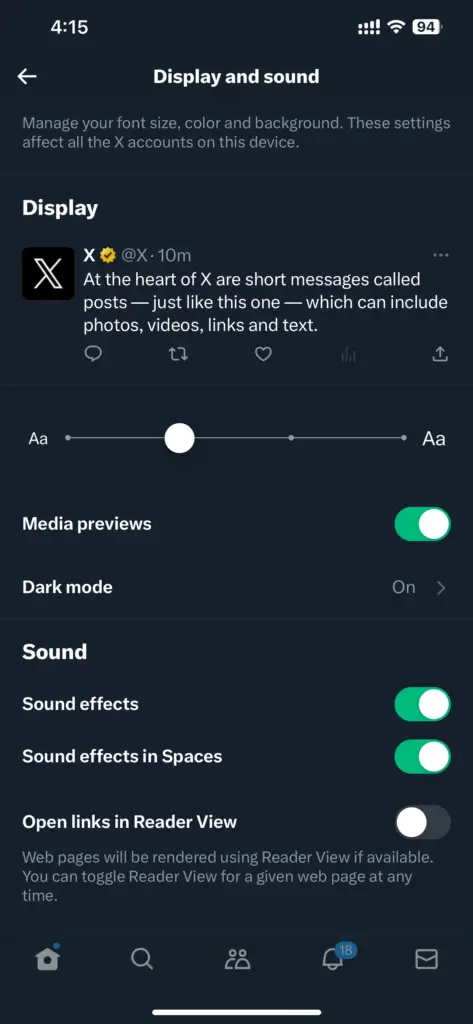 Frequently Asked Questions (FAQs)
What is the latest font style used by X?
The latest font style used by X is called Chirp. It was officially added in August 2021.
Can I change X's font size?
It is possible to change X's font size; refer to the tutorial given earlier. 
What font does X use for usernames?
X uses Chirp, the latest font style for usernames.
When did X last change its typeface?
X introduced its new typeface on August 11, 2021. It is called Twitter Chirp, or simply Chirp.
Is Twitter Chirp good?
Twitter Chirp is a combination of messy and sharp. It makes the platform look more professional while keeping it casual at the same time.
Can I change X's font style?
X doesn't allow users to change their font style.
What is the purpose of changing the font type?
Fonts help create mood and improve readability as per one's preference. 
What font style is closest to Twitter Chirp?
GT America is very similar to Chirp, based on Franklin Gothic. They changed the spacing and the square dots over I and J and made the comma and period circular.