If you ever came across the term Cloud Computing, various definitions on the internet fundamentally point towards the same thing – a remote computer that can be accessed from anywhere. Before getting deep into the world of virtual machines and cores, we thought it all essentially meant that you could stream a computer from anywhere and do anything with it you would normally do on your own computer without having to set up hardware components.
But surprisingly for us, cloud computing was more than just creating a virtual desktop, and a simple product like that did not really exist until now. Windows 365 is exactly that. It is a remote computer that runs Windows and can be accessed on pretty much any device with a browser and an internet connection.
How Windows 365 Can Be Useful for Your Organization
After the pandemic, there has been an unprecedented shift in the work culture. As we are moving towards a post-pandemic world, things are not going to be the same again. A new way of work is emerging with a more distributed and hybrid environment where employees will need to access their corporate resources across distinct locations and devices whilst ensuring these resources are secure.
Also read: What is Cloud Hosting? | Everything You Need to Know
This is the main reason why organizations needed a new way to deliver a great productivity experience with increased versatility, simplicity, and security. With Windows 365, users can expect greater flexibility and more options to work from various locations while ensuring that their organization's data is secure. Windows 365 enables all of this without needing new hardware or securing personal devices. Companies can easily ensure that their specialized employees who work in the creative, analytics, engineering, or scientific roles have greater compute power and secure access to the essential applications for their job.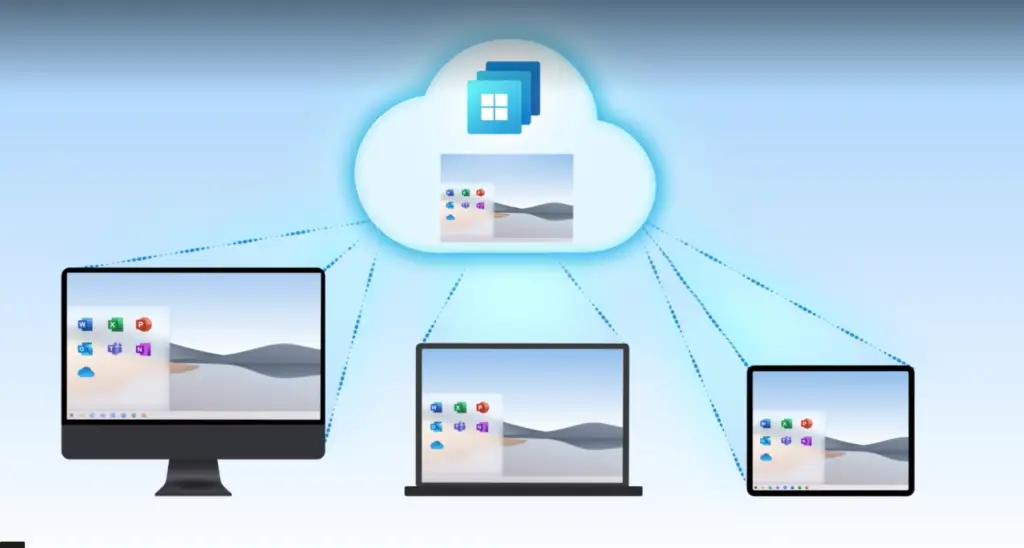 Workforces may anticipate more flexibility and alternatives to work from multiple places while maintaining data security. Microsoft's Windows 365 Cloud PCs deliver a full PC experience in the cloud, allowing it to scale up or down according to business requirements. Businesses can simply buy, install, and manage Cloud PCs for their business with Windows 365 tailored for the endpoint, just as they can manage physical PCs with Microsoft Endpoint Manager. Customers may buy Windows 365 directly from Microsoft or through a cloud service provider and set up Cloud PCs in their company with only a few clicks.
Cloud PC also comes with a lightning-fast internet connection. Microsoft Mechanics offers a wonderful demonstration of this technology in action in a new video. While your connection to Windows 365 doesn't need to be more than a few MBps to run the session, it appears that once you're there, these PCs will be able to make use of some incredible internet rates, up to 10 Gbps.
Consider the following scenario. Say you're a YouTuber working on a video and you're collaborating with someone and they record, say, 200GB of 8K footage that you want to include in the video. Using your home internet connection and downloading all of those files would take the better part of a day, but it would only take a few hours because your Cloud PC is at a Microsoft Data Centre. All you need is a fast enough home internet connection to view what's on your cloud computer, but your cloud computer will be able to connect far quicker than you could ever conceive at home. Because your computer remains at the data center, they will also take care of all software updates and ensure first-rate security and compliance. If you ever lose the physical device you're using to connect your cloud pc, your cloud PC will remain safe because it is separate from that.
What Makes Windows 365 Different from Azure
As announced in a somewhat instructible press statement, Windows 365 was long-anticipated and is essentially an extension of current remote desktop services. But you may argue, doesn't Microsoft already provide Azure Virtual Desktop, allowing organizations to provide their employees' remote access to a Windows PC in the cloud? Yes, however, it appears that Windows 365 is considerably more user-friendly and does not need the complexity of setting up a full Azure Virtual Desktop environment in the cloud.
But, instead of creating another virtual desktop service, couldn't Microsoft have made Azure Virtual Desktop more user-friendly? Yes, however, Azure Virtual Desktop is primarily an enterprise service, which means it must, by default, integrate with the rest of a company's current infrastructure. Smaller companies had to do this since, during the pandemic, they only had a few other alternatives.
---
Protect Your Online Privacy With Surfshark
[The VPN that we use here at Tech Arrival]
---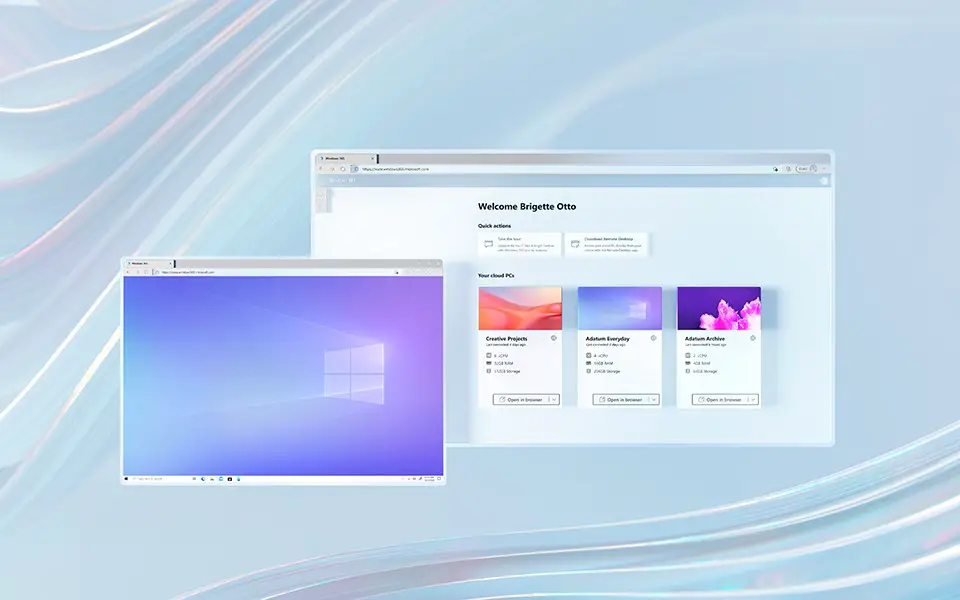 But Microsoft said it was too tough to deal with them in the release. Windows 365, on the other hand, is a completely new experience. It's also accessible as part of a basic membership.
According to the company, Microsoft continues to develop in Azure Virtual Desktop for companies with extensive virtualization expertise that want additional customization and flexibility choices. At the very least, we now understand why Microsoft changed Windows Virtual Desktop to Azure Virtual Desktop. That would've been pretty puzzling.
Difference from Microsoft 365
Microsoft also provides a service called Microsoft 365. It's a different product name with 365 in it. But what's the difference between that and the Windows 365 cloud-based PC? You may have both Windows 365 and Microsoft 365 since Microsoft 365 offers you access to all Office productivity tools, including Word, Excel, and PowerPoint. You have your cloud PC, and you can also run Microsoft 365 on it, which will offer you access to all of your productivity tools. Hopefully, Windows 365 makes sense to you by now, but how does it operate, and how do you get a new cloud PC setup?
How to Set Up Windows 365?
Purchase and assign Windows 365 licenses through the Microsoft 365 admin center at admin.microsoft.com.
Create an on-premises connection for your line-of-sight connection to AD DS. 
In Azure AD, provide the person's location to whom you wish to grant a Windows 365 license.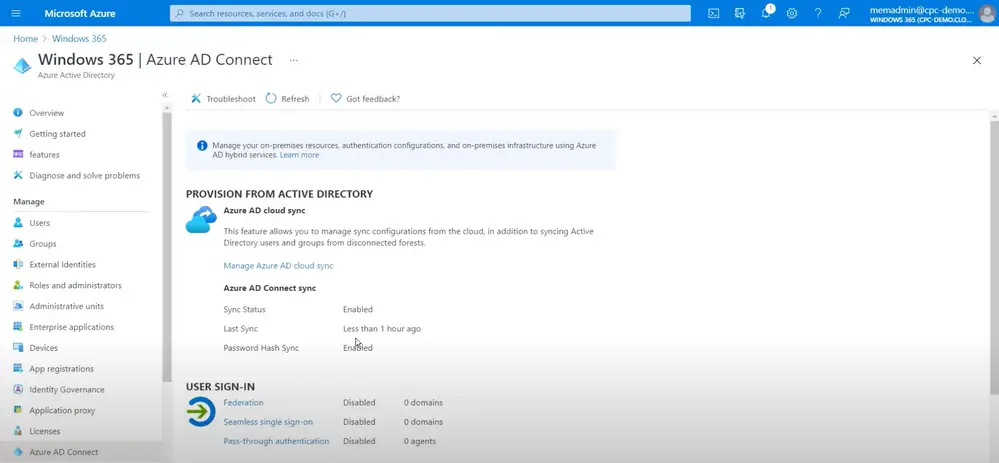 On-premises network connections are necessary to construct your Cloud PCs, link them to your selected domain, and administer them using Microsoft Endpoint Manager. When enabled by the IT administrator, Windows 365 supports multi-factor authentication (MFA) and passwordless authentication.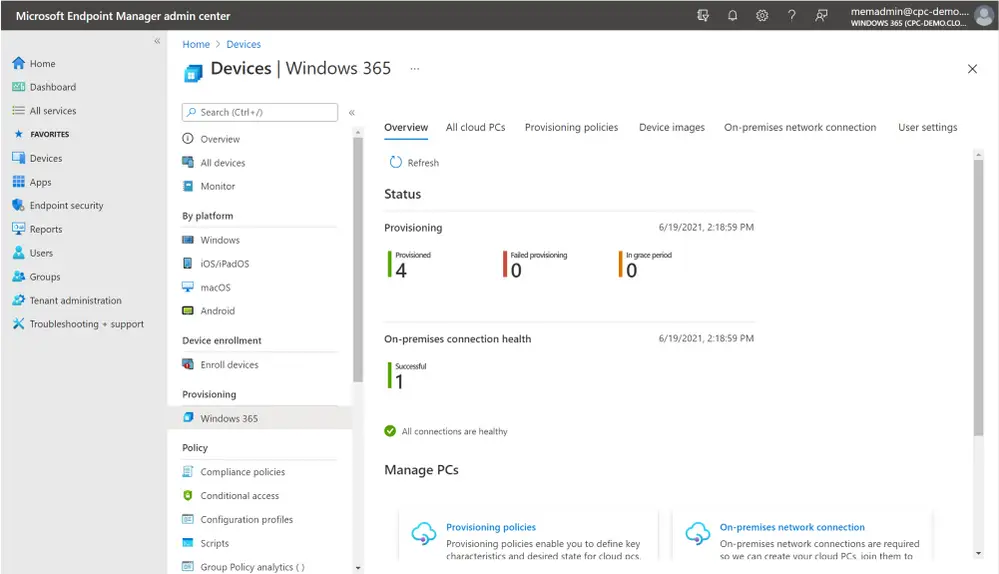 End-users may access their Cloud PC through the internet, Android, or the Remote Desktop (MSRDC) client via the portal. After validating your credentials, you may log in to your Cloud PC using your browser — clientless! You may also run your session in full-screen mode in your browser by clicking the icon in the upper right corner. Within your cloud PC, a network share will appear in this Computer.
Windows 365 Business vs Windows 365 Enterprise
Microsoft has released two different editions of Windows 365, one for business and one for the enterprise. Windows 365 business has made it easier to set up, deploy, and manage Cloud PCs with simple, direct buying. Cloud PCs are featured in Windows 365 Enterprise, coupled with centralized end-to-end management via Microsoft Endpoint Manager.
Customers may purchase straight from windows365.com, set up their account without a domain, and provide and manage their Cloud PCs directly from windows365.microsoft.com online in the case of Windows 365 business. When it comes to Windows 365 Enterprise, customers must utilize the integrated Microsoft Endpoint Manager to manage their cloud PCs.
Windows 365 Business is for customers who want to deploy Cloud PCs for 300 users or fewer across their organization. This requires no other Microsoft license. By signing up for Windows 365 Business Proprietor, you can get started with simply a credit card and add up to 300 users. Build on your existing Microsoft licenses. Windows 365 Enterprise is for larger businesses that want to deploy Cloud PCs across their organization for unlimited users.
Pricing and Plans
For a better analysis, we must look at all the pricing and plans of both the editions launched by Microsoft-Windows 365 for Business and Windows 365 Enterprise. The subscription automatically renews every month.  Let's have a look at the detailed plans provided by Microsoft.
Pricing for Windows 365 Business
| | | | | |
| --- | --- | --- | --- | --- |
| Processor | RAM | Storage | Monthly Subscription | Monthly Subscription with Windows Hybrid Benefits |
| 1 vCPU | 2 GB | 64 GB | $24.00 user/month | $20.00 user/month |
| 2 vCPU | 4 GB | 64 GB | $32.00 user/month | $28.00 user/month |
| 2 vCPU | 4 GB | 128 GB | $35.00 user/month | $31.00 user/month |
| 2 vCPU | 4 GB | 256 GB | $44.00 user/month | $40.00 user/month |
| 2 vCPU | 8 GB | 128 GB | $45.00 user/month | $41.00 user/month |
| 2 vCPU | 8 GB | 256 GB | $54.00 user/month | $50.00 user/month |
| 4 vCPU | 16 GB | 128 GB | $70.00 user/month | $66.00 user/month |
| 4 vCPU | 16 GB |  256 GB | $79.00 user/month | $75.00 user/month |
| 4 vCPU | 16 GB | 512 GB | $105.00 user/month | $101.00 user/month |
| 8 vCPU | 32 GB | 128 GB | $127.00 user/month | $123.00 user/month |
| 8 vCPU | 32 GB | 256 GB | $136.00 user/month | $132.00 user/month |
| 8 vCPU | 32 GB | 512 GB | $162.00 user/month | $158.00 user/month |
Pricing for Windows 365 Enterprise
| | | | |
| --- | --- | --- | --- |
| Processor | RAM | Storage | Monthly Subscription |
| 1 vCPU | 2 GB | 64 GB | $20.00 user/month |
| 2 vCPU | 4 GB | 64 GB | $28.00 user/month |
| 2 vCPU | 4 GB | 128 GB | $31.00 user/month |
| 2 vCPU | 4 GB | 256 GB | $40.00 user/month |
| 2 vCPU | 8 GB | 128 GB | $41.00 user/month |
| 2 vCPU | 8 GB | 256 GB | $50.00 user/month |
| 4 vCPU | 16 GB | 128 GB | $66.00 user/month |
| 4 vCPU | 16 GB |  256 GB | $75.00 user/month |
| 4 vCPU | 16 GB | 512 GB | $101.00 user/month |
| 8 vCPU | 32 GB | 128 GB | $123.00 user/month |
| 8 vCPU | 32 GB | 256 GB | $132.00 user/month |
| 8 vCPU | 32 GB | 512 GB | $158.00 user/month |
Benefits of Existing Microsoft Customers
Customers who have qualifying Microsoft 365 licenses don't need extra licenses to access Windows 10 Enterprise or Microsoft Endpoint Manager with Windows 365 Enterprise. Microsoft has optimized Windows 365, including Office applications, Outlook, and OneDrive, for Microsoft 365.
Customers with valid Windows 10 Pro licenses can take advantage of the Windows Hybrid Benefit. A Windows 365 Business license must be issued to any person with a Windows Hybrid Benefit license as a principal user of a Windows 10 Pro licensed unit, its primary desktop. During any subscription period in which you access the Windows 365 service, you must also access the service from your Windows 10 Pro licensed device at least once during that same term to preserve your discounted price. You may save up to 16% on your Windows 365 Business subscription with Windows Hybrid Benefit.
Downsides
Everything sounds fantastic. Sign me up and take my money. But there are a few possible drawbacks that you should think about first. You now pay a monthly membership charge to use Windows on a cloud PC with Windows 365, and Microsoft has released pricing based on the license you pick and the machine specs you desire. Also, we are not sure how the experience will be if you use, say, touch or pen. Remember, you're connected to a computer in the cloud, which is likely to be far distant from your actual location, and any delay or latency there might impair your experience.
Also read: 10 Best Free Cloud Storage Providers
---
Protect Your Online Privacy With Surfshark
[The VPN that we use here at Tech Arrival]
---
Wrapping Up
Microsoft partners have long been at the heart of how the company delivers technology and transforms businesses worldwide. They will provide new Windows experiences on the cloud thanks to the new Cloud PC category. "Microsoft is capitalizing on the power of the cloud to empower productivity across any device," said Veit Siegenheim, Avanade's global modern workplace head. The cloud is provided with the Windows operating system. CEO Satya Nadella calls it a "Cloud PC". It's just a virtualized operating system in the cloud that you can access from anywhere. The company says it will "blur the lines between the device and the cloud".