With time, simulation-based training, or simulation training has gradually penetrated employee learning space. Businesses across the globe have realized that it allows for an immersive, all-encompassing experience, brings improvement to the effectiveness of the training program.
Rapid advances in technology have made the creation of a real-life mock-up scenario an easy task. Organizations can create online simulations and provide real-life learning experiences to their employees.
What Is Simulation Training?
Simulation training is a kind of training that mirrors real-life work and scenarios. It presents users with a game-like virtual atmosphere. It typically includes images and graphics interlaced with voice, background music and special effects. If the trainees don't select the optimal solution for each problem, they're retracted until they do so.
With such type of training, employees get the opportunity to utilize their knowledge and skills into practice through physical, hands-on activity. This way, employees can experiment, learn, and grow.
Trainees can put their skills into practical use into environments that depict real-life scenarios instead of reading books, theories, and lectures. Simulation offers a far more effective way of teaching and learning experience which also takes into account the type of training trainees prefer and not just a standard monotonous course.
Perhaps the major advantage of simulation training is the no-risk factor. Employees can experiment with difficult circumstances without worrying about the outcome. This ensures that they are habitual with all kinds of scenarios, including the worst ones for optimal training and certification.
Simulated training can not only be applied to training new employees, but it can also be used for existing employees who are unable to grasp certain nuances of their jobs. Highly cost-effective, simulation training allows you to assess your employees' skills given under pressure situations. As such, it helps you to measure each employee's ability to make decisions.
Areas Of Application
1. Aviation Industry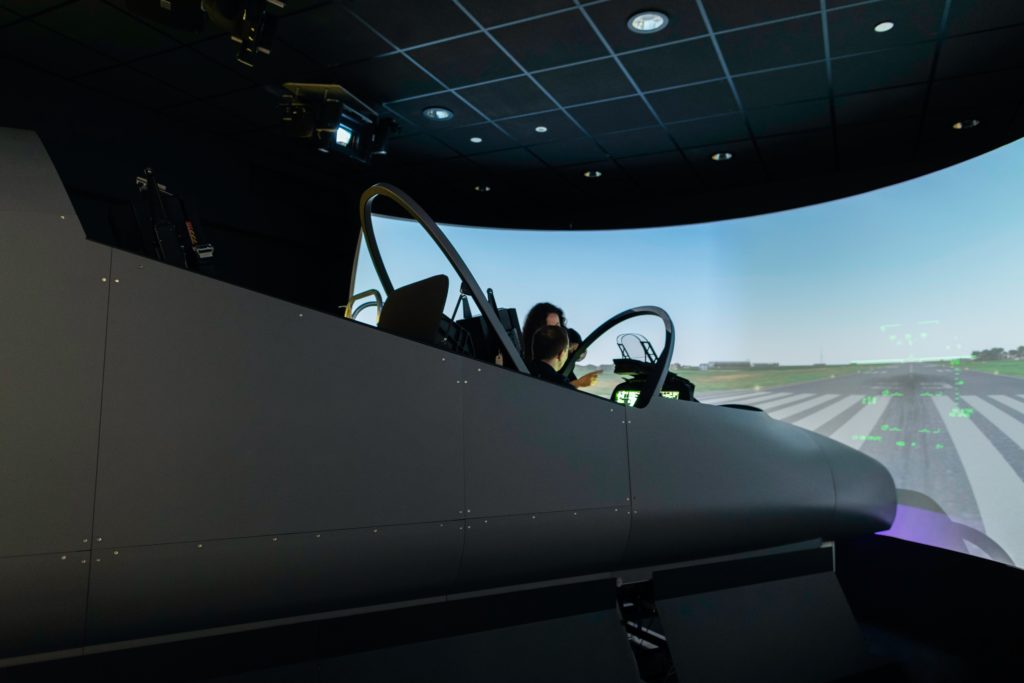 In aviation, flight simulation is a part of pilot training. Since airplanes and jets are expensive and it is unacceptable to lose human life. Flight simulation is used to train pilots as it is not only a cost-effective deal, but it also saves lives. Some of the skills which can be used for trainees are as follows:
Familiarize trainees with aircraft system controls and parameters.
Memorize pre-flight and in-flight procedures and actions.
Execute operational procedures accurately.
Develop inflight teamwork and crew resource management skills.
2. Healthcare
The medical field demands infallibility to an extreme level. Doctors, nurses, and other medical professionals cannot afford to make mistakes. Leading healthcare organizations are leveraging the benefits of simulation training in their training program for medical professionals, including surgeons. Surgeons get an excellent opportunity to conduct surgeries on dummies before they start operating real patients. From allowing surgeons to learn without fear for every act to saving a significant amount of money, simulation-based training covers them all. Besides, numerous human lives are also protected.
3. Manufacturing
The manufacturing industry is very diversified. However, with the advent of simulation training in the manufacturing industry, learners can practice these skills in a safe environment. It also helps industries to first training people properly without the need of buying new machines and evaluate the efficiency first before making the purchase.
---
Protect Your Online Privacy With Surfshark
[The VPN that we use here at Tech Arrival]
---
4. Banking
In the banking industry, it is necessary to update various processes, software, sales skills of the employees. A role-play simulation training will ensure that the employees have a thorough idea of their roles within the bank, and they are able to perform their respective tasks efficiently in order for maximum productivity. Simulation training can also be used to train employees for a new set of software which will be useful to cut down the amount of paperwork in the bank.
5. Hospitality and Tourism
Even in the hospitality and tourism sector, simulation training can be used to practice real-world tasks like problem-solving, customer relations, interpersonal skills, and operational procedures. Simulation can be used to replicate challenges of handling front-office operations, food service, and handling customers in 5-star hotels. Such things are not possible in classroom training sessions.
---
You can also use simulation training for other industries, such as customer service, driving, food industry, and many more. Leading businesses are availing the benefits of customer service training modules to fulfill their customer service goals.
You can also opt for mobile-based training for their employees. Mobile devices, too, can meet the idea and outcomes of training through tests and experiments. It incurs fewer expenses as compared to using physical space for conducting these experiments. Moreover, your employees get the opportunity to go through them anytime and anywhere, as per their convenience.
Advantages Of Mobile-Based Simulation Training
Realistic Experience: Simulation training enables employees to feel the situation and realize the rules and regulations. Employees get to work in virtual scenarios that are just as what they will come across their actual jobs. They can make informed decisions on how to proceed with specific situations.
Safe Environment: Simulation training ensures that the employees are being trained in a safe environment. Some exercises are difficult to carry out in real life and are not always safe. With simulation, the environment can be generated with expected outcomes so that there are minimal risks and maximum benefits.
Correct And Prompt Feedback: Mobile-based simulation training enables employees to receive correct and prompt feedback from their supervisors or trainers about their performance. Employees can significantly enhance their performance based on expert input received from their trainers during the training.
Quantifiable Training: One of the significant benefits of simulation training is that you can easily measure it. You can design future training modules based on the performance data and analytics related to simulation training. Managers and supervisors, when receiving those data sets, can assess their performance and use their skills in the workplace.
Reduction in Training Expenses: One of the key advantages of simulation-based training is the reduction of expenses needed for actual physical training. Simulation not only reduces the cost of training but also significantly cuts down the time required for the training to complete. This ensures productivity and better efficiency in the long run.
Knowledge Retention: Most of us will accept the fact that knowledge and expertise acquired through hands-on training are unmatched as compared to knowledge gained through reading. With simulation training, you not only ensure that learning is retained better but also ensure that your employees can use the acquired knowledge and understand the broader concepts.
Limitations
Simulation training is not always able to recreate real-life circumstances. The situations created come from the memories and experience of the creator but it is not always necessary that these circumstances reflect the real ones.
---
Protect Your Online Privacy With Surfshark
[The VPN that we use here at Tech Arrival]
---
Trainees and employees need to be computer literate in order for the training to be successful. In sectors that don't involve the usage of computers and mobile simulators much, simulation training can be a little tricky to implement.
Since the trainees already know that there are not going to be any real consequences of the decisions they make, they could under perform and not fully engage in the training.
Effectiveness of Simulation Training
Research has found that although simulation based training has its own set of limitations, it is far more than just a tool of training. It is the most effective form of training. Here are some things that have been found out from the research –
Simulations and games are far more effective at transferring lessons to students than typical case studies.
Younger trainees that have used computer games since early childhood enjoy simulations and games more than case studies. They also learned more from simulations and games.
Senior trainees over forty years old prefer simulations that use real industry data over games that used fabricated data
Students with non-convergent learning styles enjoy simulation-based training more than those with convergent learning styles.
Concluding Thoughts
Simulation-based training is one of the most effective ways of building skills among employees. From encouraging better learning practices to helping employees in boosting confidence and improve their decision-making skills, this technical evolution has brought significant transformation in the way training is imparted to employees.
Simulation training allows employees and trainees to undertake high-risk activities or procedural tasks within a safe environment without dangerous implications. Learners improve their hands-on and thinking skills, including knowledge-in-action, procedures, decision-making, and effective communication. The training can be performed at appropriate times and locations and repeated as often as necessary. The learning experience can be customized to suit beginners, intermediates, and experts to hone their skills as to speak. Furthermore, the trainers get accurate feedback about their trainees' performance that allows them to understand exactly what went wrong and how they can improve their training.
All this makes simulation training, the best form of training for your employees which is functional, effective and reliable for your firm in the long run.