Audials One 2019 is a multi-utility software that lets you record music, videos, movies, and TV Shows from legal sources to your computer. There's even support for Podcasts and Online Radio stations. It has a really long list of features, but don't worry, we'll help you get the best out Audials One 2019.
Features
Audials One is a very feature-rich software. It lets you record all sorts of things and even helps you to save them. Here are some of its top features:
Recording Music: Audials One lets you record music from multiple apps and websites like Spotify, Amazon Music, YouTube Music, Deezer, and more. After recording, it automatically adds metadata to your music files and even adds music cover photos to them accordingly.
Record Movies and Videos: You can record movies and videos from Netflix, Amazon Prime, Hulu, YouTube, and other websites.
Radio: Audials One also includes a long list of supported online radios. So if you're someone who tunes in a radio channel and then leaves it on for hours, this might be perfect for you. Moreover, you can even record and convert the files into MP3 and save for later.
Live Television: Audials One also has a vast number of live TV channels available for streaming. Just like Radio, you can record, convert and save these as well.
Podcasts: The software is also one of the best applications for listening to Podcasts. Podcasts are categorized into various genres such as Arts, Business, Comedy, Technology and more. And as you already guessed it, you can convert and save these as well.
How to Use Audials One 2019
Start with downloading Audials One 2019 first on the Audials Website. The folks over at Audials have updated the software quite well. They have added various changes to the UI as well as new features. Let's check them out one by one.
Recording Music
Recording Music on Audials is quite simple. Firstly, select the platform from which you want to save music. Most of the legal platforms are supported including Spotify, Apple Music, YouTube Music, Google Play Music, Amazon Music, TIDAL and more.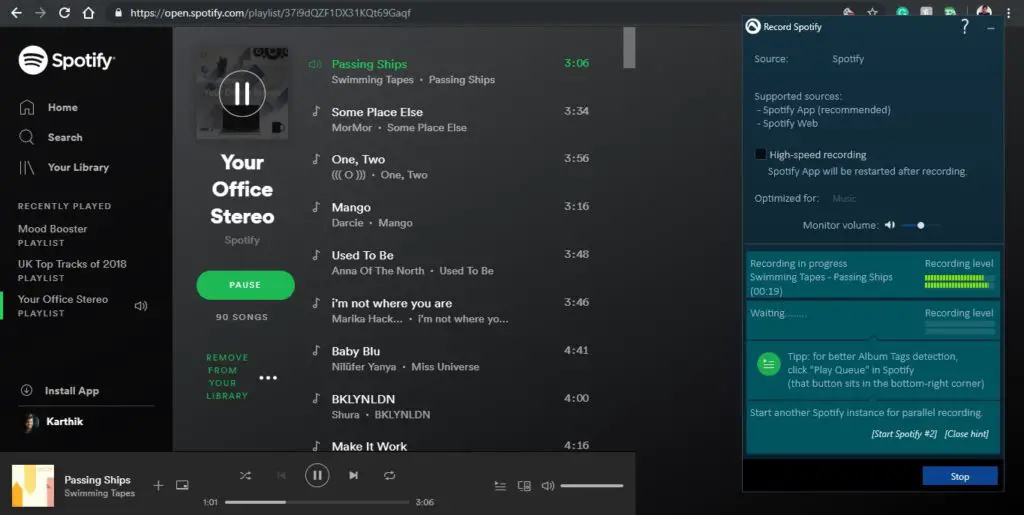 After selecting, it'll wait for you to play a song. Once you hit play, it will automatically start recording your favorite song. To stop it from recording, hit "stop". To save time, you simply copy the link of the song and paste it and click on "download song".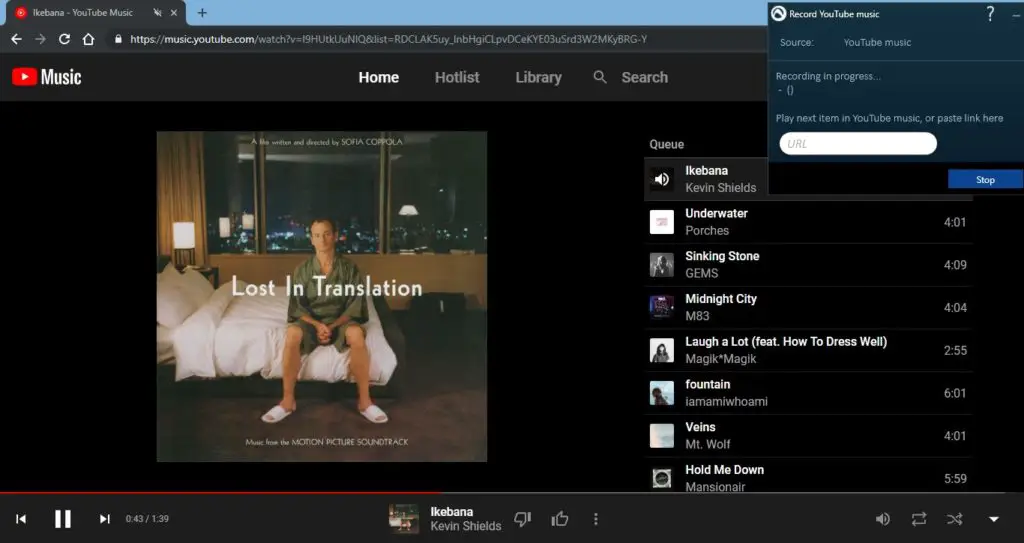 You can also search for songs, artists, genres and more through Audial One. The application also offers smart presets. These settings will ensure that you always get your music in the highest quality possible.
There's another way you can save music from Audials. Just head over to the Music section, make sure whatever Music service you use is running and it will show you Top Charts, Top Artists and more. You can also save songs from there.
Audials does an awesome job of adding metadata including album arts and lyrics. But if there's something you want to change, you can do that by right-clicking on the track and selecting "Properties".
Editing and Converting Music
After downloading your music files, you can also edit and convert them into various other formats. You can also normalize the volume of your music files. You also have the ability to export all the downloaded songs to Windows Media Player, VLC or any other music player of your choice. You can even convert your music files into ringtones and then transfer them into your phone.
Recording Movies and Videos
Recording Movies is also a pretty straightforward process. Go to the "Video streaming" section on the left side of the application. Then select any of the video streaming services like Netflix, Amazon Prime Video or Hulu.
---
Protect Your Online Privacy With Surfshark
[The VPN that we use here at Tech Arrival]
---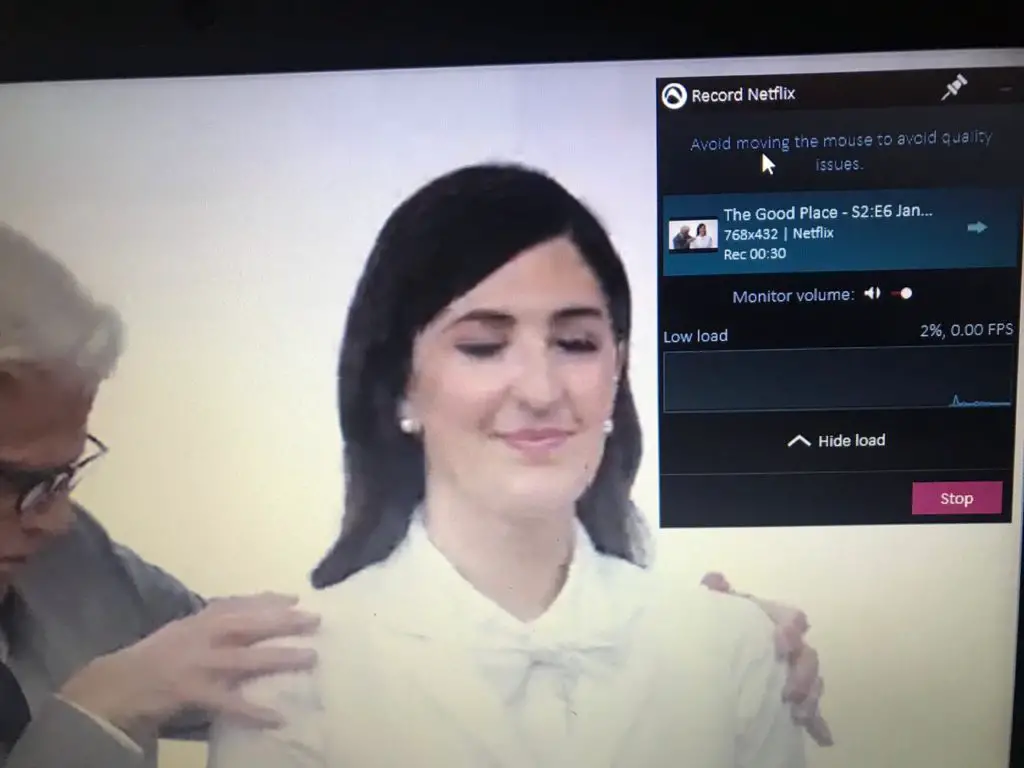 Then the application will ask permission for the browser in which you want to record. Now go to that website and start playing your favorite movies. Make sure you watch it in full screen. Audials will automatically detect the video and start recording.
The process is exact the same for YouTube videos as well. Select YouTube at the beginning and head over to the YouTube website. Watch the video you want to record in full screen and your job is done.
Live TV
Audials also hosts many live television channels. You can choose to stream any of the channels and start recording it to save it for later. Some TV channels, however, require you to sign up for their service. So keep that in mind while selecting the Television option.
Podcasts
There are literally thousands of Podcasts you can listen to on Audials. Choose any one of them and start recording. If you already know which playlist you want to listen to, you can search for it. But if you are looking for something new, the podcasts are categorized into many genres as shown below.
Radio
Audials includes more than 100,000 radio stations. This ensures that you never run out of variety. You can listen to any online radio station in the world. And also record and save it.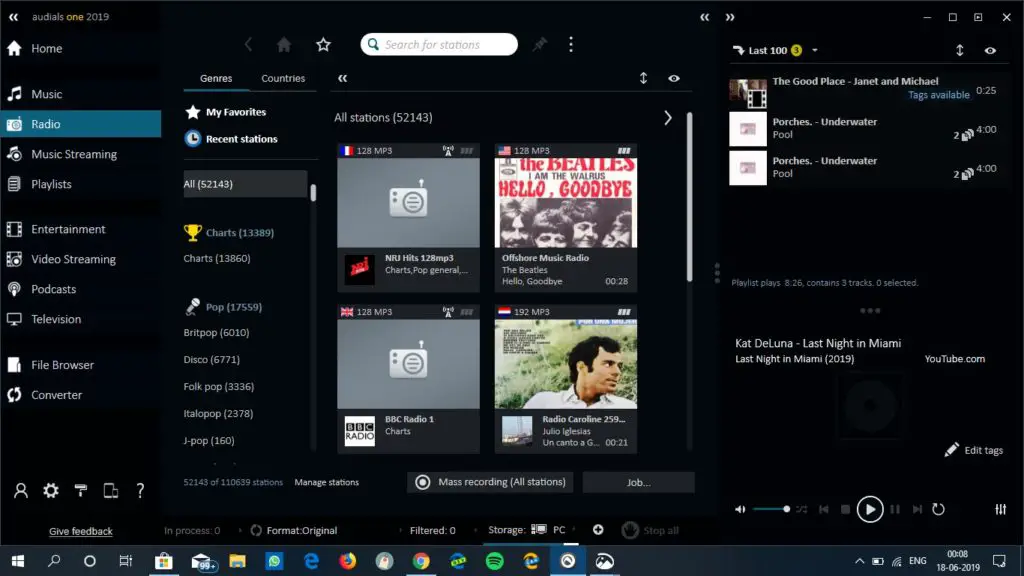 Converter and Screen Recorder
Audials One has also the best in the class converter and screen recorder. The converter lets you convert your music and videos into pretty much any format you want. The built-in screen recorder lets you record your screen. It is actually designed for recording when something is playing but you can also use it for recording anything else. So no need for other third-party apps for just screen recording.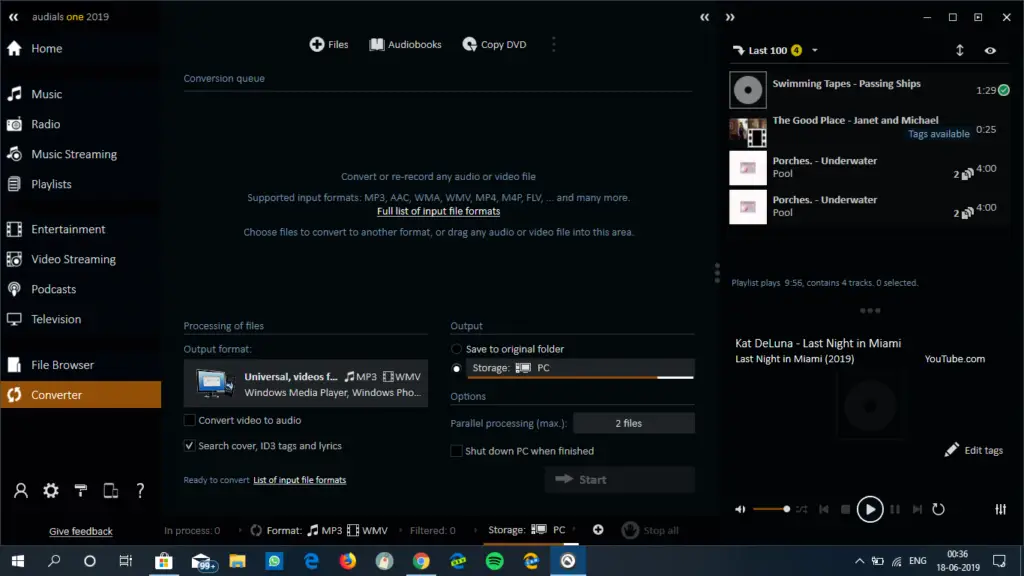 Some Improvements Added in the Latest Update:
Best Quality when Recorded Directly: Audials ensures the best recording quality when recorded directly through the website. With the use of adaptive streaming technology, it makes sure there are fewer frame drops and sequences between different scenes.
Direct YouTube Videos Download: Copy the links of a bunch of videos and download them directly all at once!
New Recording More: The all-new recording more offers super high-quality and unscaled recording. Video streaming services are often preconfigured while others use a generic model.
Bot: Audials One even has its own bot. After you feed in some basic information about how your music should be, the bot takes care of the rest of things.
Improved User Interface: Audials One 2019 has a very improved UI than the previous generation. Various options are now clearly visible under the right categories. Also, all the music functions are now under the Music tab. Audials has also claimed that they have tested their software using various PCs of different capacities to ensure all the functions work properly even in low powered computers.
Final Words
Audials One 2019 is the best all in one media recording tool. You can record literally anything from music, movies, videos to TV shows and more. The latest update has made the user interface a tad cleaner, but still, if you are among the first time users, you might find it a bit confusing.
Although support for Spotify is added in the recent update, we found downloading from YouTube and YouTube Music the easiest and fastest. It even shows you recommendations from YouTube by default. Overall the application is quite fast and snappy.
Audials One 2019 is currently available for $49.90. It is valid until the end of 2020. There's also an Audials Gold subscription which gives you access to Android and iOS apps as well using which you can directly transfer your downloaded content to your phone. It also ensures you get upgraded to the next generation of Audials One software. It is currently available for a price of $3.49 per month or $39.90 annually.