If you have an iOS device, you know how hard it is to transfer files between your device and other non-Apple devices. On Android, all you have to do is connect one device to another, and that's pretty much it. But iOS is always on the more secure side and restricts how your Apple devices interact with other devices.
iTunes is one such iOS Manager app on both macOS and Windows. It lets you access Apple Music, iTunes Videos, movies, and other stuff on your computer. It also lets you backup your iPhone/iPad/iPod data. File Sharing options are also there, but they are limited to just one basic task – adding files to your iPhone from your computer or vice versa.
iTunes isn't really a great option for Windows 10 users as the app is slow and sluggish. File transfers take a lot of time, and the app is really of no use if you don't use Apple Music.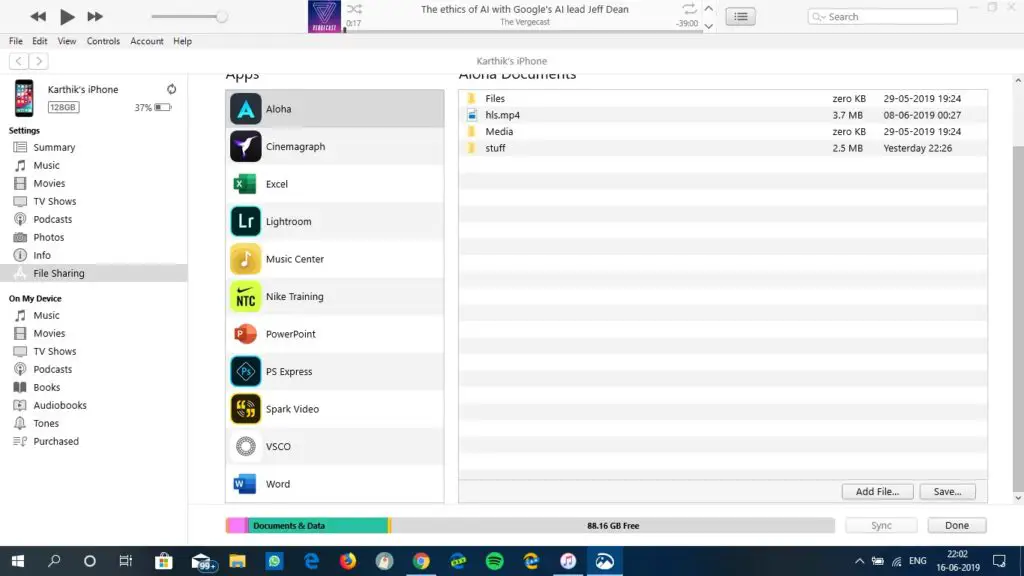 But worry not. A perfect iTunes replacement is IOTransfer. Not only will you be able to save, manage, and transfer files to/from your computer, but you can also download videos from YouTube, Facebook, manage music, and even convert photos!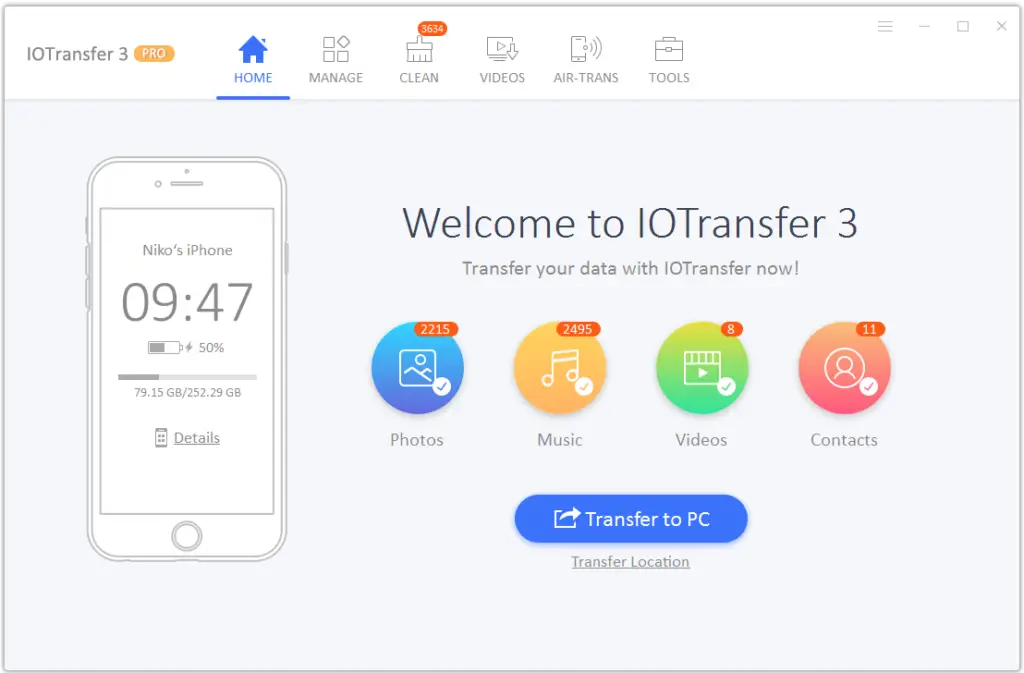 Features
Here are all the features of IOTransfer:
Image Sharing: IOTransfer lets you quickly move files between your computer and your iOS device. It acts as a brilliant iOS device manager and lets you compress your images to save space on your iPhone or iPad.
Easily Download Photos and Videos from the Internet: With IOTransfer, you can easily download videos from various websites like YouTube, Facebook, and more. We will explain how you can do that later in this post. You can also download Instagram photos and add them to your iOS device.
Manage Music, Photos, Videos, and Audiobooks: The software also lets you access music, photos, videos, and even audiobooks and Podcasts on your iPhone or iPad very easily. Moreover, you can also add and share all of these between your devices.
Convert Photos and Videos into Different Formats: Apple uses the HEIC format to save space but retains the quality on their devices. But the format isn't really supported on other platforms. IOTransfer lets you convert the HEIC photos into JPEG ones so that you don't have to worry about viewing your favorite photos on your computer. You can also convert your photos in batches with a batch of 50 HEIC photos at one time. All of this works with videos as well.
AirTrans Technology: If you want to live a dongle-less life and do all of the above things with the need of connecting your iPhone to your computer with a wire, you can use AirTrans technology. It basically works like Shareit and transfers the content over wifi. It sometimes is faster than the traditional wired method, so you might want to use AirTrans more than often.
Backup your device: IOTransfer is the ultimate iOS device management software. It also lets you back up your device securely. All the photos, videos, music, and other app data will be stored on your computer after the backup.
iCloud Photo Manager: Using IOTransfer, you can also manage your iCloud photos. Just sign in with your AppleID, and you get instant access to all your photos, videos, and other files saved on the iCloud.
Clean your device: Most often, our phones are filled with unwanted apps, bloatware, photos, videos, etc. With this software, you can easily clear all this, saving a lot of space on your device. Additionally, you can also clear cache to save on some extra space.
How to Use IOTransfer 3
Using IOTransfer is pretty easy. First of all, you have to download the software through IOTranfer's website. Then install the app on your computer. After that, run the application and it will ask you to connect your iOS device.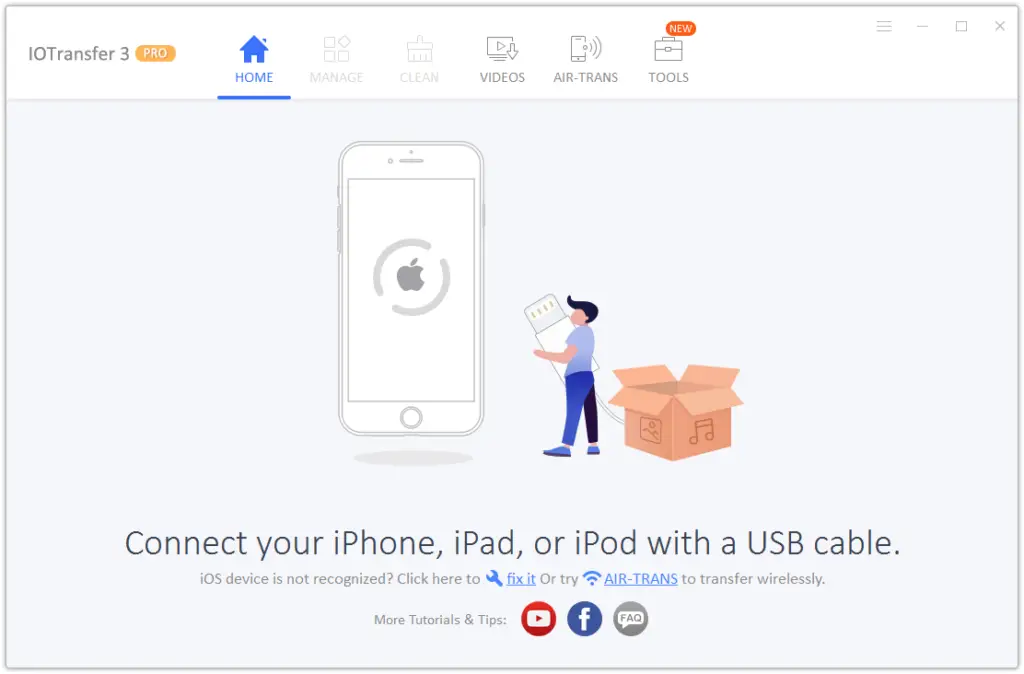 Once you connect your iPhone, iPad or iPod, you'll see an overview of your device.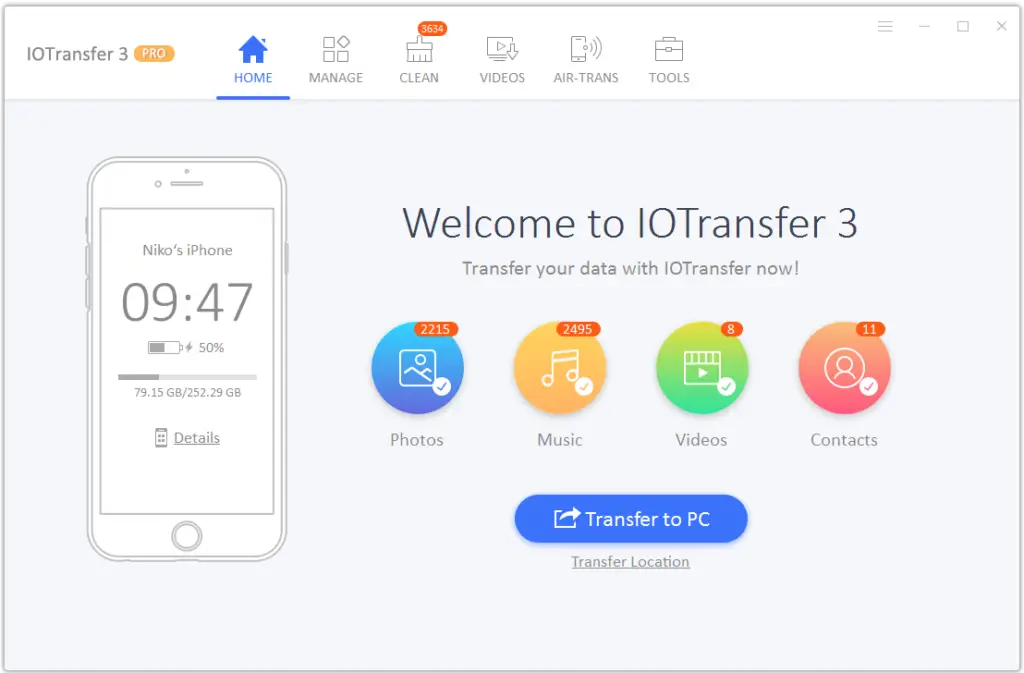 As you can see, it also shows you the number of photos, videos, music and even contacts on your device. Transferring all of this content to your PC can be done in a jiffy! All you need to do is click on the "Transfer to PC" button and your job is done.
Managing Music, Videos, Photos and more
As we earlier mentioned, in the features tab, you can manage all of your stuff with IOTransfer. Click on the Manage button which is located at the top of your screen. The latest update displays photos categorized like Selfies, Panoramas, Bursts, Screenshots, Videos, Animations, etc.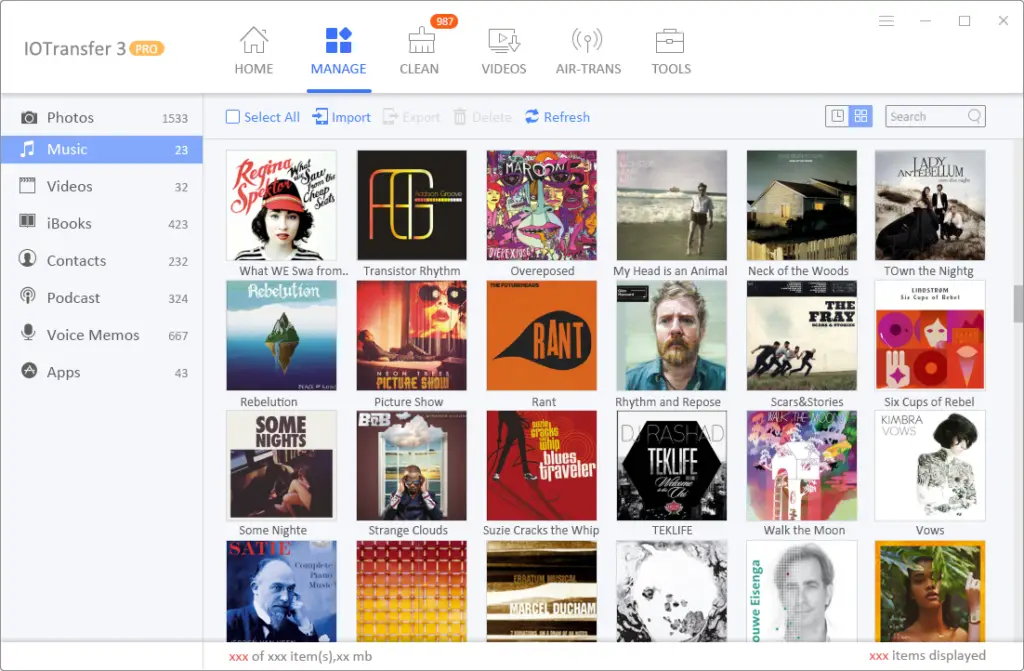 Here's how the Music window looks like. You can import all of your songs to your computer using the "Import" button at the top. Here are some other screenshots for managing photos, videos, and other stuff. One thing to keep in mind is that iTunes gives you the option to encrypt files, whereas there's no encryption in IOTransfer.
---
Protect Your Online Privacy With Surfshark
[The VPN that we use here at Tech Arrival]
---
Cleaning your iPhone
The next tab in IOTransfer is the Clean tab. Here, you can clean all the junk files and cache as well. Scan your iPhone for junk and other useless files and hit "Clean". This feature is pretty nifty if you are running out of storage space on your iPhone.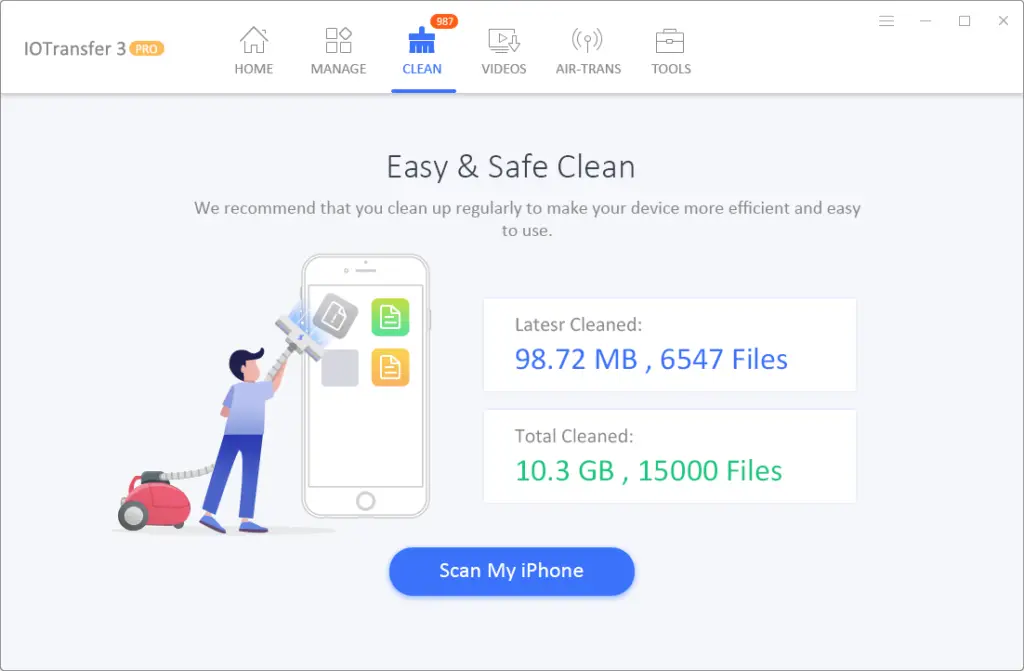 Downloading Videos from the Internet
You can download videos from almost any social media like YouTube, Facebook, Vimeo, and more. Just copy the link and paste it inside the box. Moreover, you can even convert it to the iPhone's format and save it to watch later. The software is perhaps the best youtube video downloader if you are looking to save the video on your iPhone, iPad, or iPod.
AirTrans
AirTrans is one of the key features of IOTransfer 3. It lets you wirelessly transfer and manage the contents of your iPhone from your computer. AirTrans works via wifi so make sure you have wifi enables on both your iPhone and Computer. It transfers even faster than the wired method of connection.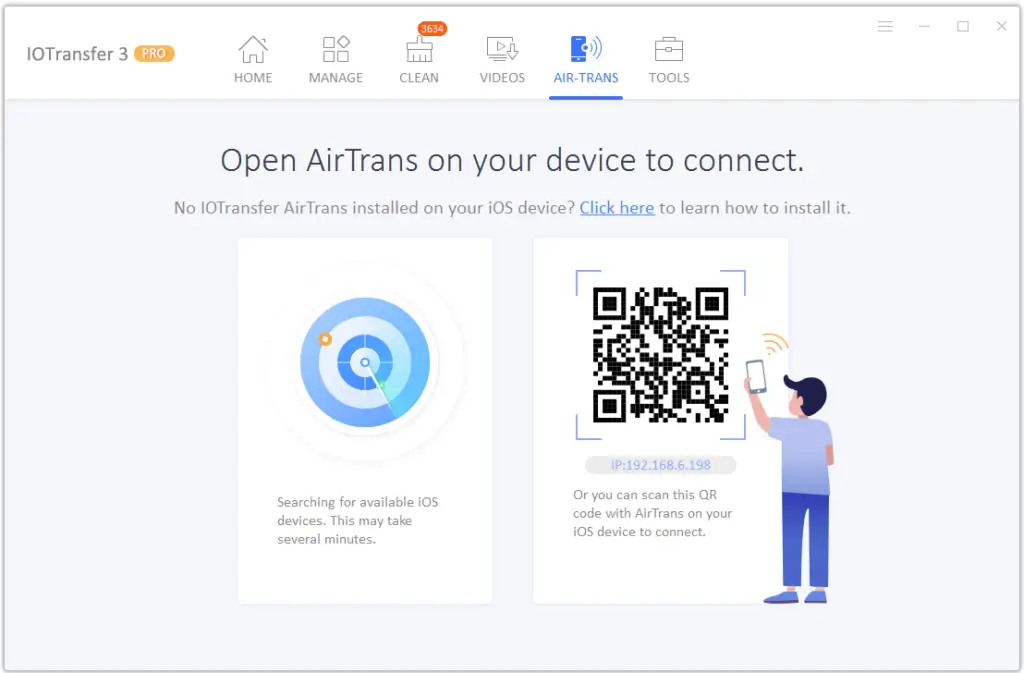 Make Gifs!
There's also a Gif maker, which lets you convert videos into gifs (or gifs.. whatever you want to pronounce that.) Just select the video from which you want to make the gif out of, and then select the duration of that video. Simple, right?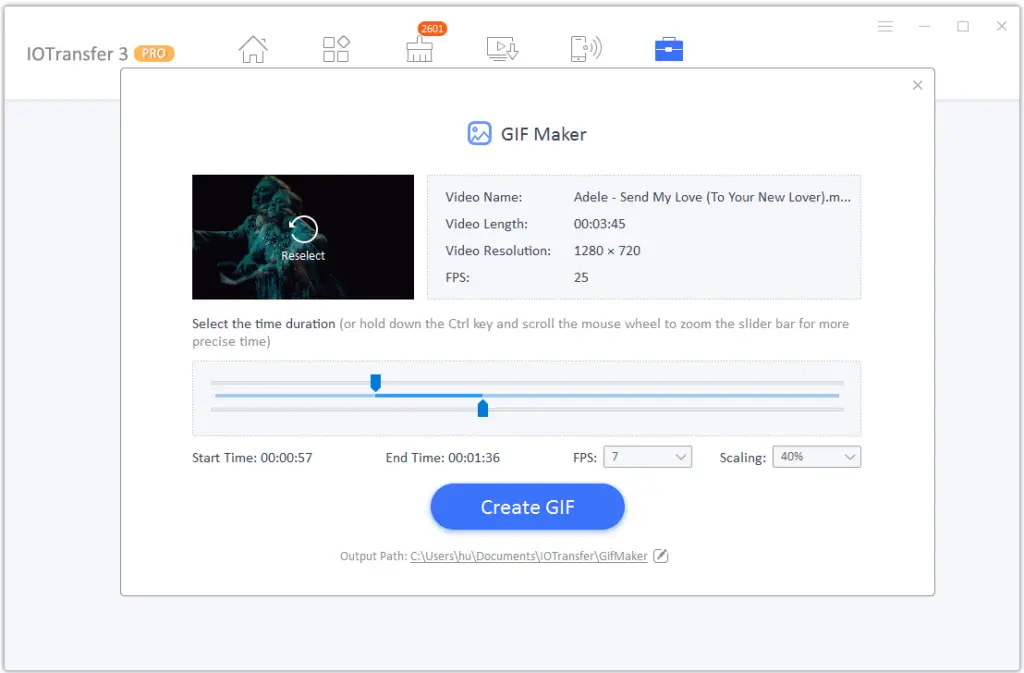 Download Instagram Photos
Just like videos, you can even download Instagram photos using IOTransfer as well. Copy the Instagram Post link of the photo you want to download. Then paste the link inside the box, as you can see in the screenshot below. Make sure the profile from which the photos you want is a public one. Otherwise, this won't work.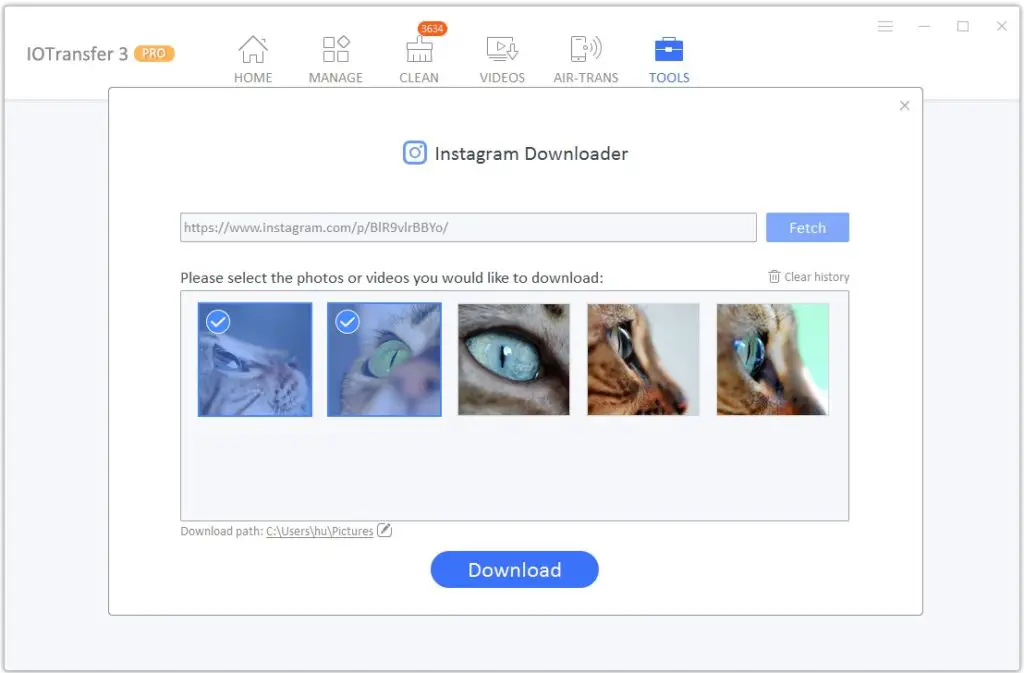 Manage iCloud
Managing iCloud with this software is pretty easy. Sign in with your AppleID, and then you can view, edit, and save your iCloud files to your computer.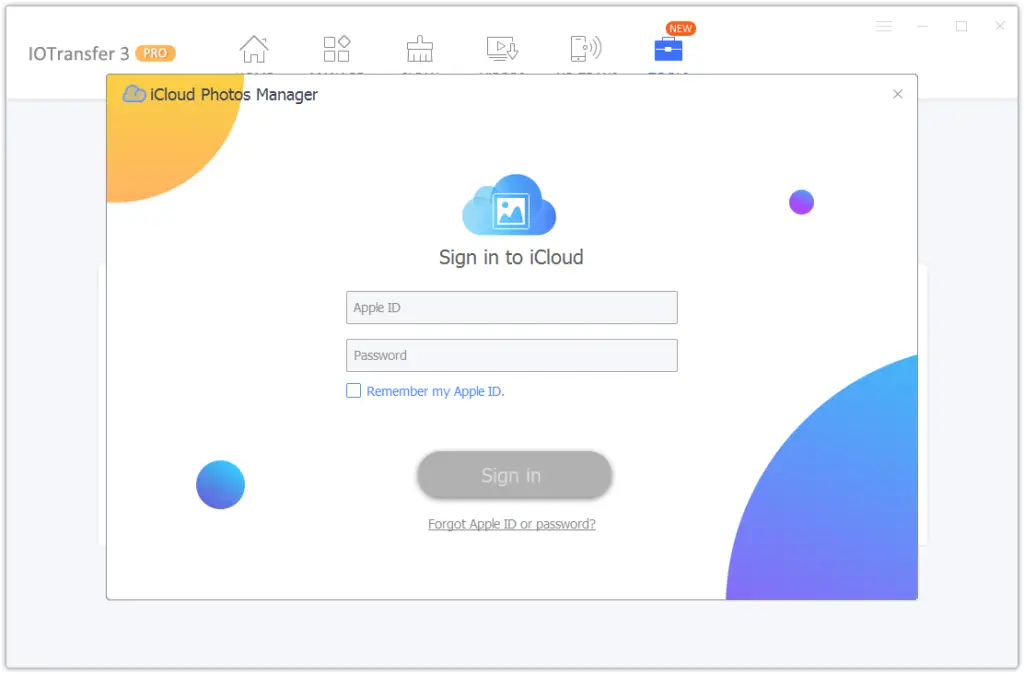 Conclusion
We'd say that IOTransfer is probably the best iOS device management tool. It has more features and functionalities than even iTunes itself. The software is super fast and intuitive. It has a smooth and user-friendly interface. The management tools are also fast and responsive.
The downloaded videos and photos are easily convertible to iPhone formats such as HEIC. So you no more have to worry about unsupported formats on iPhone. The AirTrans feature, which uses Wifi-Direct, transfers files and other data in a jiffy.
IOTransfer comes with a 7 day trial period. The Pro version comes with a one-time fee of only $26.99 for one PC and $29.99 for 3 PCs. We'd personally recommend you getting the one with 3 PCs as it offers more value. After buying IOTranfer Pro, it will be available to you for a lifetime with regular upgrades.