Apple iPhone and iPad have a pre-installed calendar app called "Apple Calendar." Although it is a useful app, it lacks many features found in other third-party calendar apps. So if you are not satisfied with Apple Calendar, there are plenty of options to explore.
Choosing the best calendar app for iPhone & iPad can get confusing as the App Store is full of possibilities. But no worries, we are here to help.
Also read: 10 Best Apple Mail Alternatives for Mac & iPhone
List of Best Calendar Apps for iPhone & iPad
1. Apple Calendar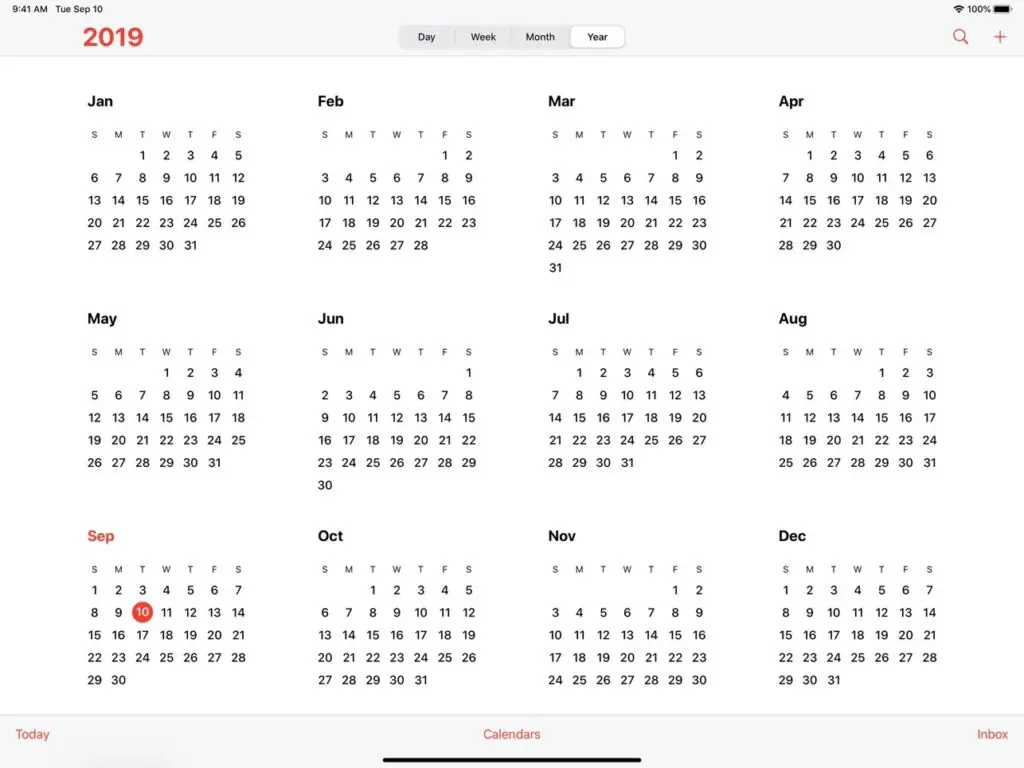 Apple Calendar comes pre-installed on your iPhone. It is a decent app with a simple interface. By clicking on the year or month, you can zoom out from day to day. It may look fundamental, but it has all the valuable features that a calendar app should have.
You can create and edit events, share iCloud calendars, and sync other calendars with just a few clicks. It sends you traffic alerts by automatically syncing with maps. It can be synced with other calendars, such as Outlook, Google, and more. Best of all, this app is entirely free to use.
2. 24me
If you are not content with the Apple Calendar app, you can use 24me. It is a top-rated app among iPhone users. The user-friendly interface allows you to create events, take notes, combine calendar tasks, and much more. With a single tap, you can see your task for today, tomorrow, and later.
24me has a premium version that gives you access to more advanced features. Opting for the paid app lets you create tasks directly from your email. Another great feature is automatic conference calling. All you have to do is enter the conference details, and you are good to go.
3. Calendars 5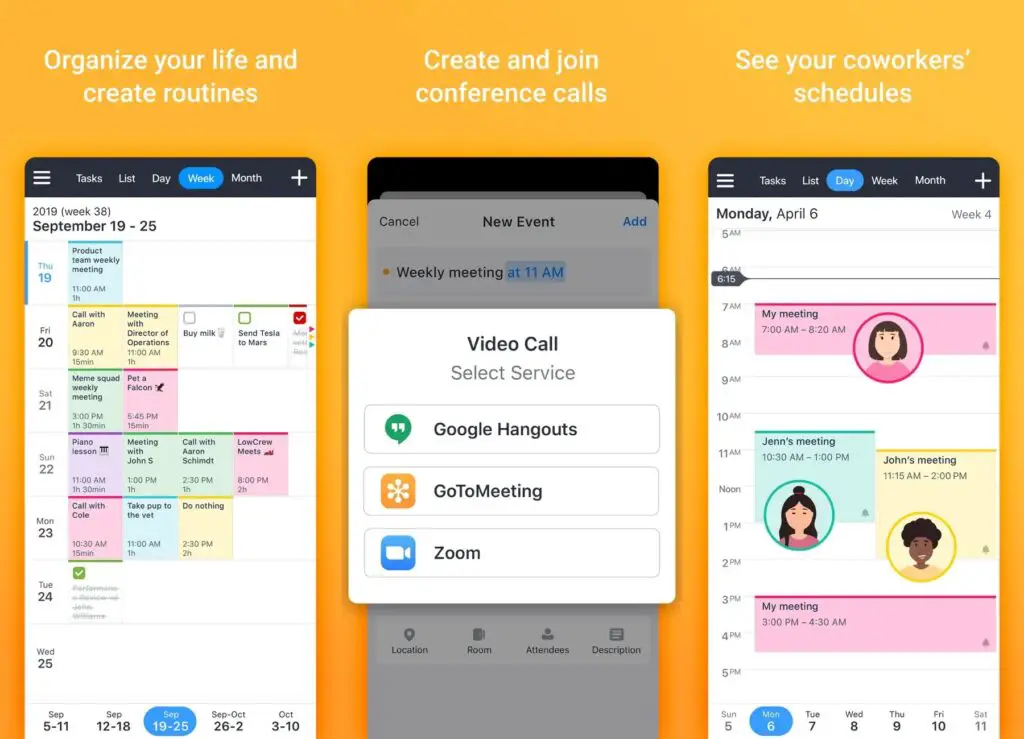 If you want a hassle-free calendar app, Calendars 5 is for you. Unlike other apps, it doesn't have unnecessary whistles, bells, or visual tweaks. However, it does have all the critical features you need.
The list view makes it easier for you to view your upcoming schedule. It displays the event information, such as web conference, location, etc., without opening an event. It can be integrated with Siri for convenient use.
4. Awesome Calendar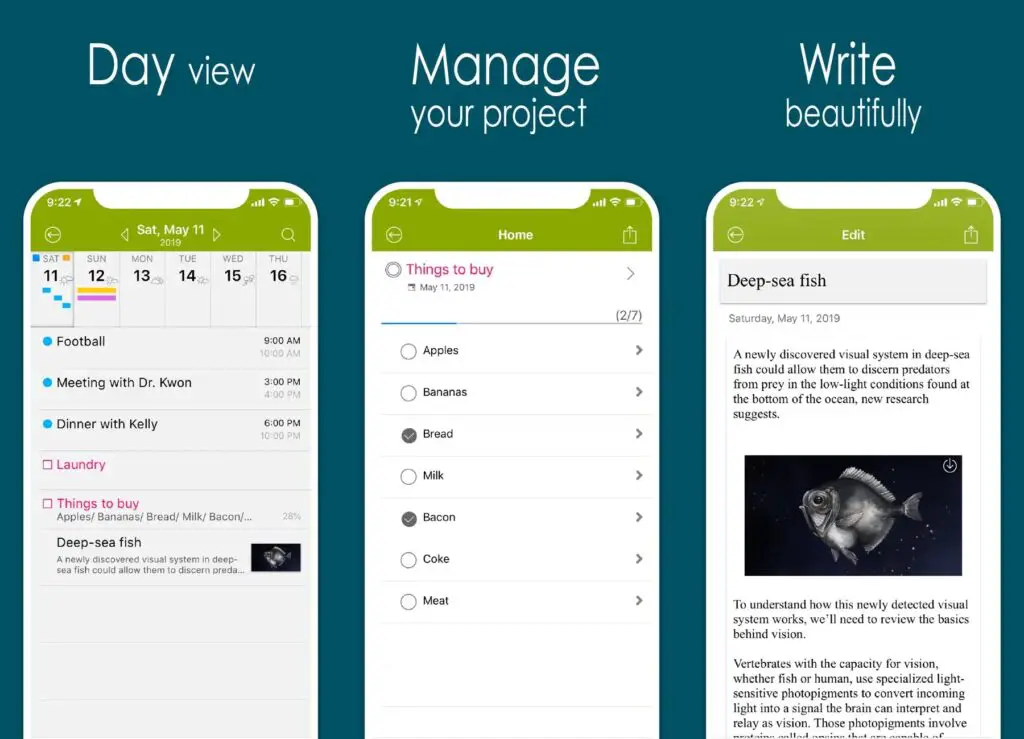 Awesome Calendar comes with essential functions and layout. You can switch between the available display options by tapping the eye icon at the bottom of the screen. With this app, you can create natural language events. Additionally, it can be synced with Apple Calendar, which makes it easier to make changes.
---
Protect Your Online Privacy With Surfshark
[The VPN that we use here at Tech Arrival]
---
It shows overlapping events in the bar at the top of the daily view. It also offers a widget for easy and quick access. The Filofax display with a page-turn, spiral-binding, and three-day display makes the app worth it.
5. Fantastical Calendar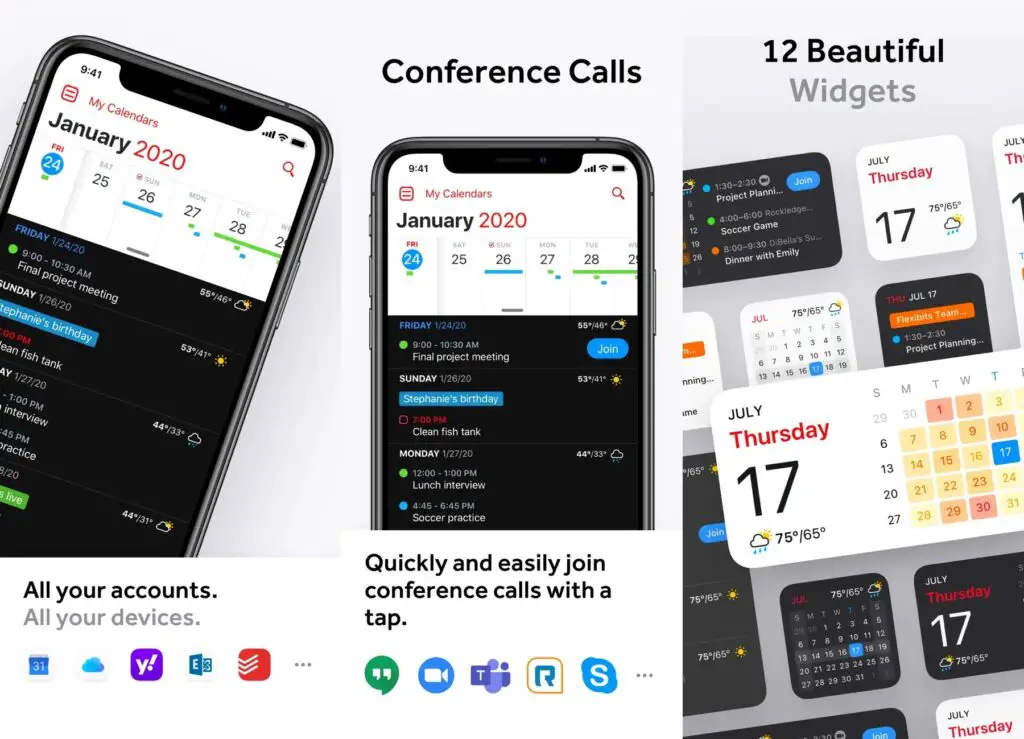 Fantastical Calendar brings you an intuitive design and attractive features you won't find in other apps. The standard app view is clear and clutter-free. The colorful bars at the top display overlapping events and other details.
Different colors indicate different calendar events. The green color is for a professional calendar, and the blue color is for your calendar. This app can create shortcuts and has Siri integration. It has an excellent natural language event creation feature. Last but not least, it comes with a widget for quick access.
6. Informant 5 Calendar
This app is ideal for users who want more control over their projects and tasks. It is more of a planner than a calendar. It has features like weekly/daily planners, triggers, projects, etc., that help you focus on your agenda. Despite all the advanced features, the app is easy to use. It doesn't require you to sign up. But to access its full features, you will need an Informant sync account.
The latest update of the app comes with support for Siri. This allows you to create events using voice commands. Like other calendar apps, you can sync your tasks and events with Informant 5. Since it is a part planner, it allows you to integrate your emails as well.
7. Google Calendar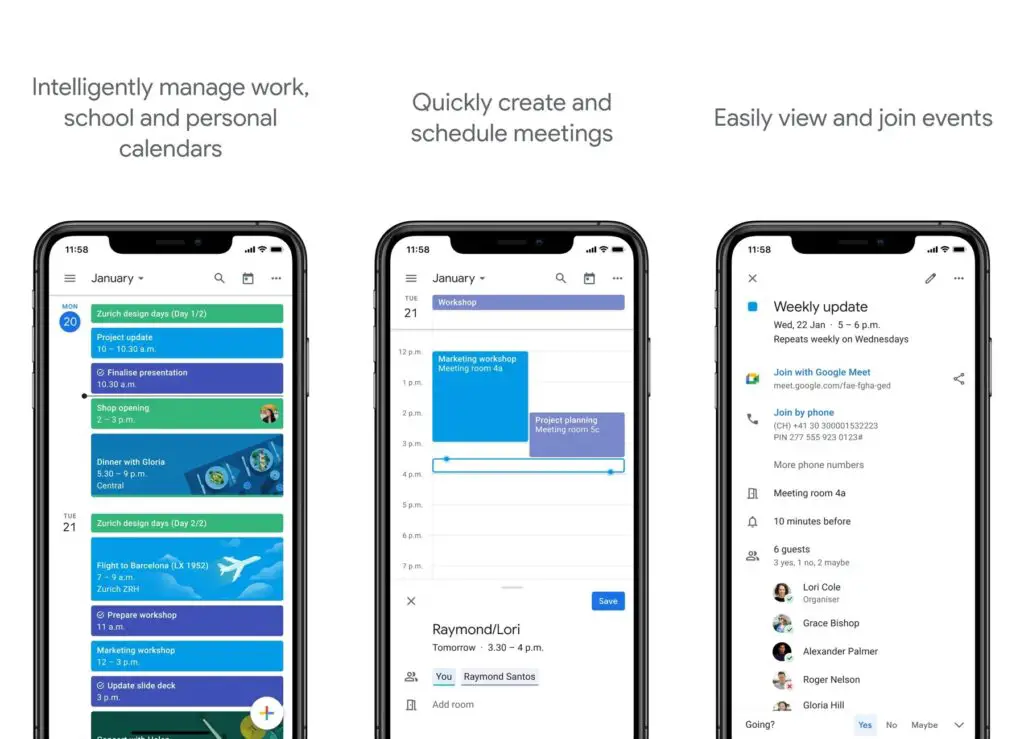 This is the most popular calendar app for iPhone and iPad users. If you are a Google Suite user, you will find this app useful. With Google Calendar, you can view all your tasks and events in one place. It automatically adds your upcoming appointments, meetings, and reservations to the calendar.
It helps you with smart suggestions to create new events. That's not all; you can also integrate other calendars, such as iCloud and Exchange. You can even integrate Apple Health with Google Calendar. The most useful features of this app are scheduling meetings, accessing data on other devices, and publishing calendars.
8. Timepage
Next in the line is Timepage, which is slightly different from the other calendar apps in the list. It has a different interface that puts everything up front. It presents all your information in an organized manner. This makes the app clutter-free and easy to use.
It has a unique feature called an intuitive heatmap that shows the dates when you are free and busy in a month. It integrates all your maps, events, weather information, and contacts in one place to give you an animated visualization of rainfall and temperature, so you can plan your outdoor activities accordingly. Best of all, it also works with an Apple Watch.
9. Choiceworks Calendar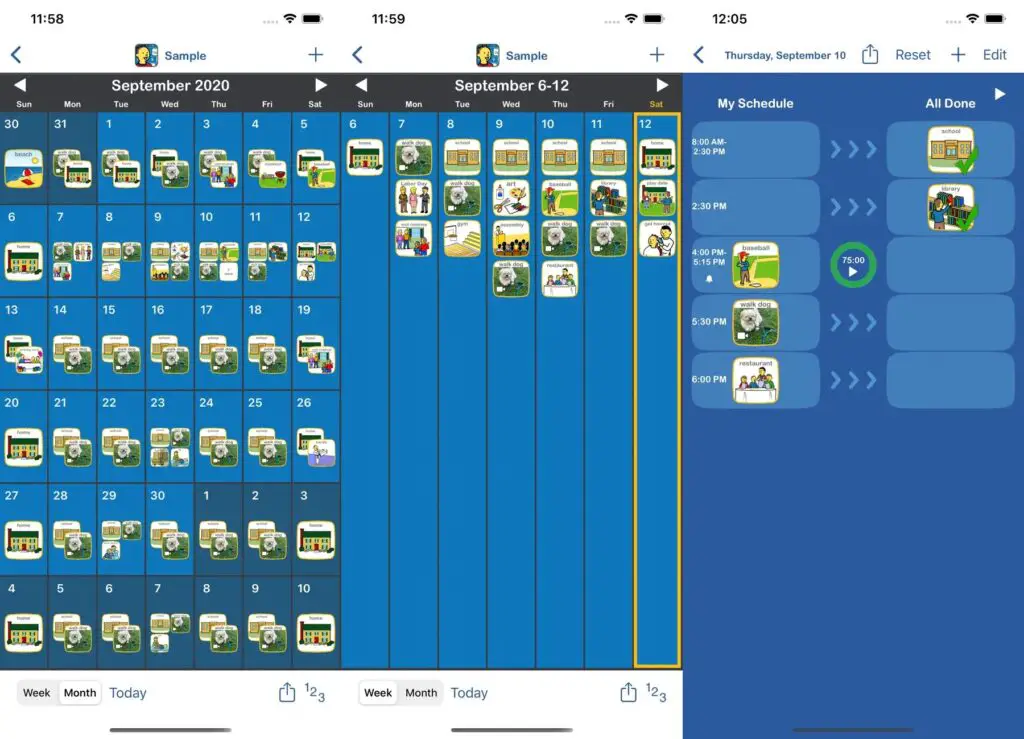 After reviewing so many calendars for adults, let's look at a kids' calendar. Choiceworks Calendar is a unique app with loads of fancy features. It is a picture-based learning app. You can use this app to help your kids learn the concept of time.
It comes with a set of pre-loaded icons for doctor appointments, guests, holidays, etc. Not just that, it also lets you add your images for a customized experience. The daily countdown tool comes in handy while teaching how far events like Christmas and birthdays are.
---
Protect Your Online Privacy With Surfshark
[The VPN that we use here at Tech Arrival]
---
10. BusyCal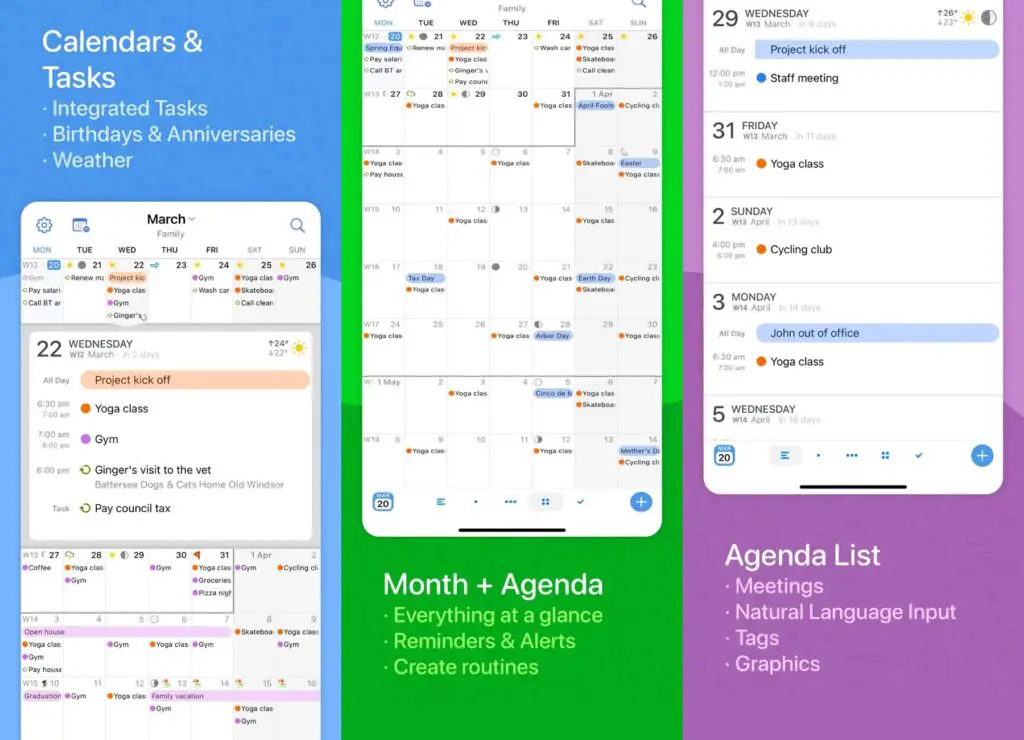 Lastly, we have BusyCal, another popular calendar app for iOS users. The app's most notable features are an integrated to-do list, natural language creation, and a customizable calendar view. It also supports other calendar apps such as Yahoo, Google Calendar, Office 365, Exchange, Fruux, and more.
If you are always traveling, you might find this app useful. It automatically shows upcoming meetings, traveling time, etc. For convenience, you can integrate it with Google Maps as well. It also allows you to add tags using color and text.
By downloading the best calendar app, you can gain complete control over your events, tasks, and projects. Apps like these help you to plan your schedule. Plus, they have features that will remind you of any upcoming meeting or event.
Also read: 10 Best To-Do List & Task List Apps
Frequently Asked Questions (FAQs)
What is the Purpose of a Calendar App?
Calendar apps help you to schedule events and meetings quickly. They send reminders about upcoming activities, so you always know what's next.
Is Apple Calendar Good?
Apple Calendar is a pre-installed app on your iPhone with all the essential functions a calendar app should have.
Is 24me Free?
You can use 24me free of cost. But it has a premium version that gives you access to more advanced features.
Is there a Calendar App for Kids on iPhones?
Choiceworks Calendar is the best calendar app for kids on iPhones. This app is designed to teach young minds the concept of passing the time.
Why is Google Calendar So Popular?
Google Calendar is a flexible and powerful app that helps you to keep track of all your events. You can use the app to add events and switch from the default week view to a day or month view.
What is the Best Calendar App for iPhone?
24me, BusyCal, and Calendars 5 are great calendar apps you can use on your iPhone.
What is the Best Free Calendar App for iOS users?
Google Calendar can be a great choice if you are looking for a free calendar app to use on your iOS device.
---
Protect Your Online Privacy With Surfshark
[The VPN that we use here at Tech Arrival]
---
Are all Calendar Apps Free?
Most calendar apps can be used for free. But many of them have a paid version that gives you access to more advanced features.
Can you use Timepage with Apple Watch?
Timepage is one of those calendar apps that can be used with an Apple Watch.
Is Awesome Calendar free?
You can use Awesome Calendar for free, but it also has some paid features.