Have you ever wondered what you would look like if you swapped your face with your friend? You can now make that happen with a face swap app.
Face swapping apps have become extremely popular these days. People use it to swap their faces with people, celebrities, pets, and even inanimate objects. All you have to do is download and install a face swapping app on your phone and take pictures with it.
Also read: 19 Best Time Killing Apps for Android
Luckily, hundreds of face-swapping apps are swarming in Google Play Store and Apple App Store.
List of Best Face Swap Apps
1. Snapchat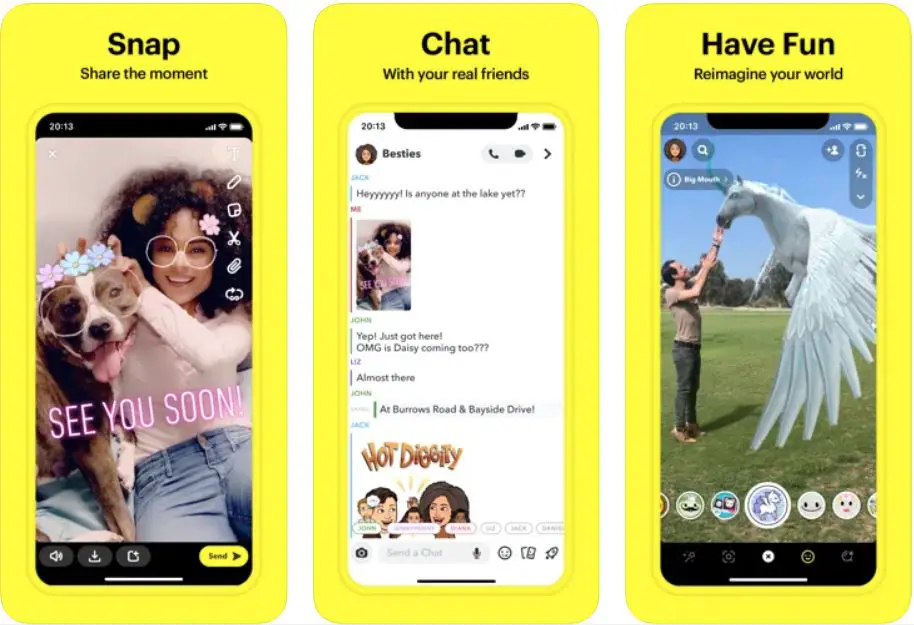 When it comes to face filters, there's no other app better than Snapchat. It is one of the very first apps to introduce the face-swapping effect. Over the years, they have perfected the face swap effect to be applied both in pictures and videos.
You can search this filter in the search bar and use it while taking pictures or videos. But you need to have a second person in the image. Some people use their pets and swap faces with them. It's a fun filter that gives hilarious results. If you haven't used it yet, you should try it now.
2. Instagram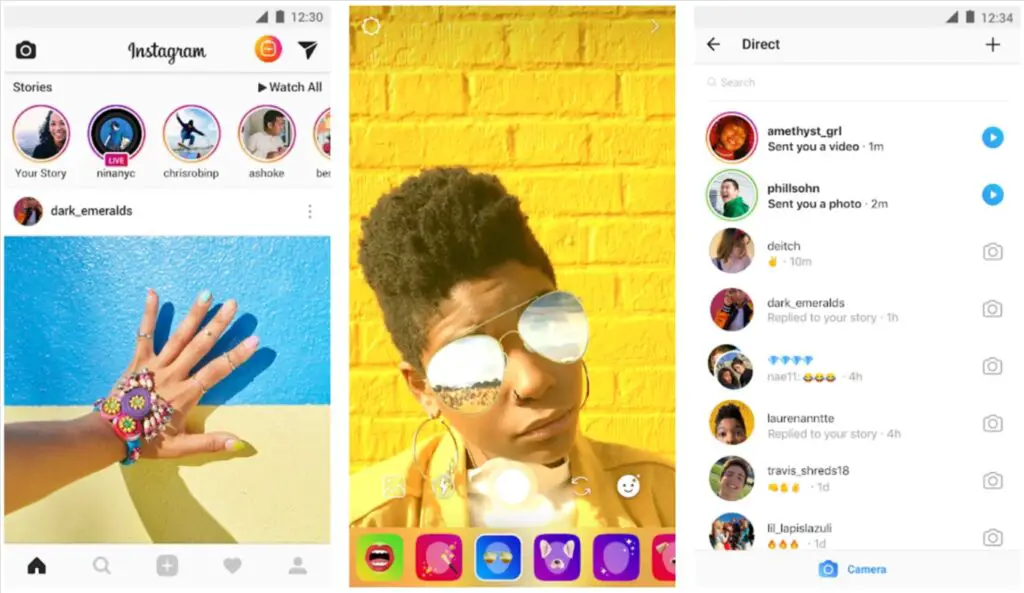 Instagram is well-known for its unique features. It incorporates something new almost every month. Speaking of which, you will find tons of filters in the filter gallery. One of the popular filters is the Face Swap Effect.
With this filter, you can swap your face and have fun in your stories. Unlike other apps, you don't need to download the filter. You can apply it directly in your store from the filter gallery. Here's how it's done:
Open Instagram and tap You Story in the upper-left corner of the screen.
Scroll through the filters to the right of the shutter button.
Tap Browse Effects
Now search for the Face Swap Effect in the text field.
You will be shown multiple options in the result.
Tap the one you want to use.
Lastly, tap Use Now to apply the filter.
3. B612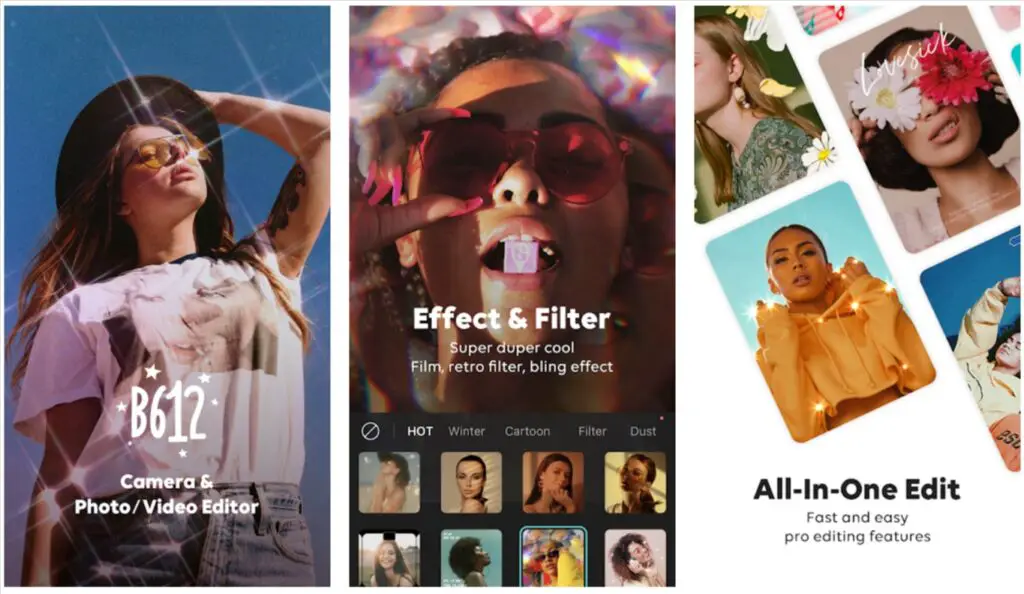 B612 is not exactly a face swapping app. It is more of a beauty camera and editor. But it offers tons of filters, including the face swap effect. After launching the app, click on the smiley icon and select the face swap option in the menu.
However, you should know that the face swap filter can be applied only in real-time, which cannot be used on existing pictures. To use this filter, you need to have two people in the shot. You can also use this filter with your pet. Once the face filter is enabled, you can click pictures or record videos, and the filter will automatically swap faces.
---
Protect Your Online Privacy With Surfshark
[The VPN that we use here at Tech Arrival]
---
4. FaceApp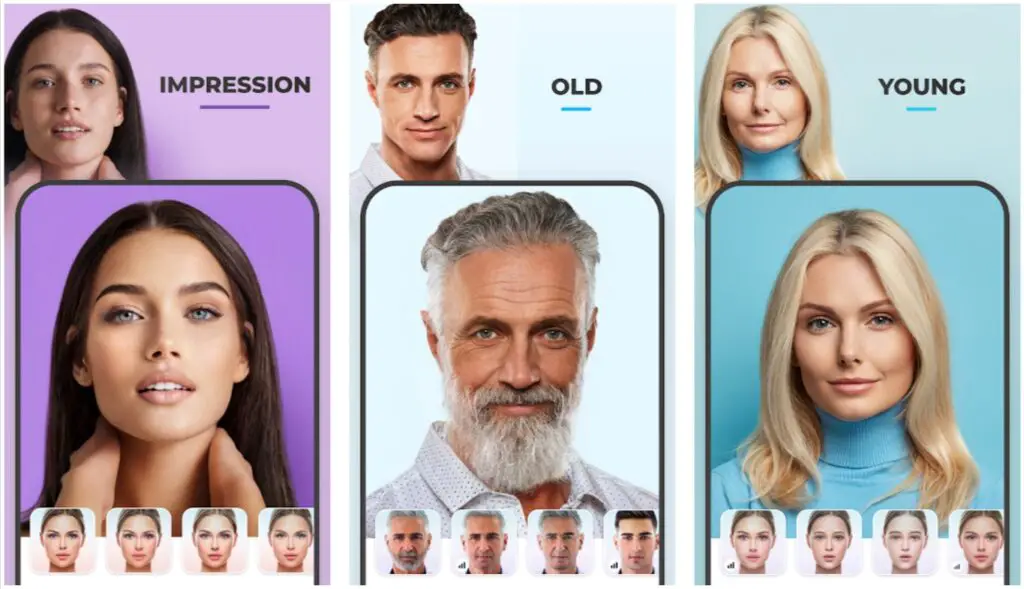 FaceApp is one of the best AI photo editing apps available. It can turn simple selfies into modeling portraits with just a few clicks. To date, it has been downloaded over 500 million times. It includes everything you need to curate stunning pictures.
Like many other photo editing apps, FaceApp also has the popular face swap filter. Along with that, you will find many other AI filters, effects, and backgrounds. This app is capable of creating seamless edits in just one tap. It has over 60 highly photorealistic filters to choose from. Besides face swapping, you can use this app to change your hairstyle and hair color, add a beard or mustache, apply makeup, remove wrinkles, enhance facial features, change eye color, etc.
5. Reface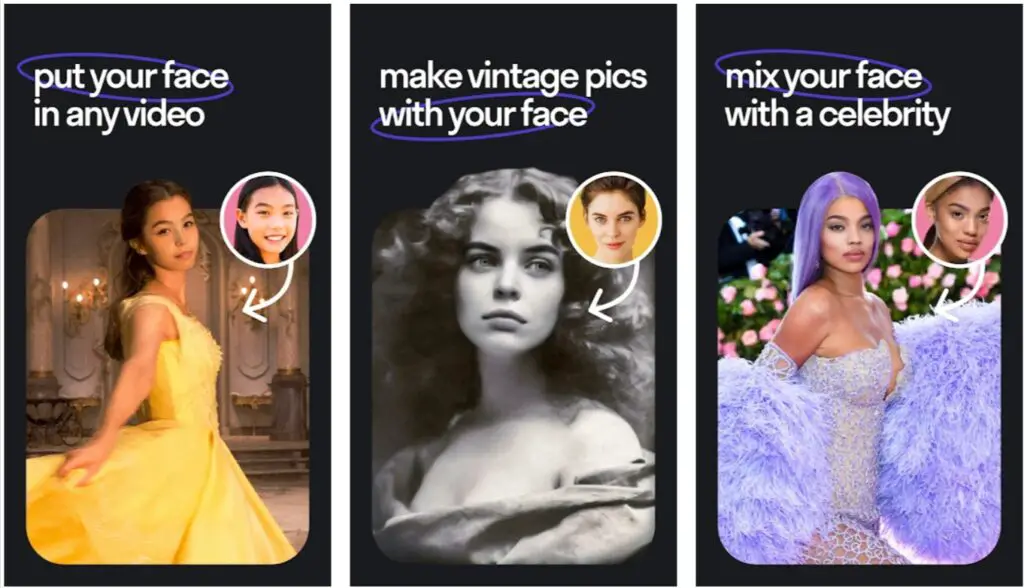 Reface is another great app that you can use for the face-swapping effect. It is specifically designed for making face swap videos. It comes with a neat interface and results in extremely high-quality videos.
It is continually updated with fresh filters and GIFs, so you can capture funny pictures and videos with it. This app offers many face swap filters, and each of them is funnier than the other. But unfortunately, this app is not free. You will need to subscribe to it to access all its features, remove watermarks, and remove ads.
6. Face Changer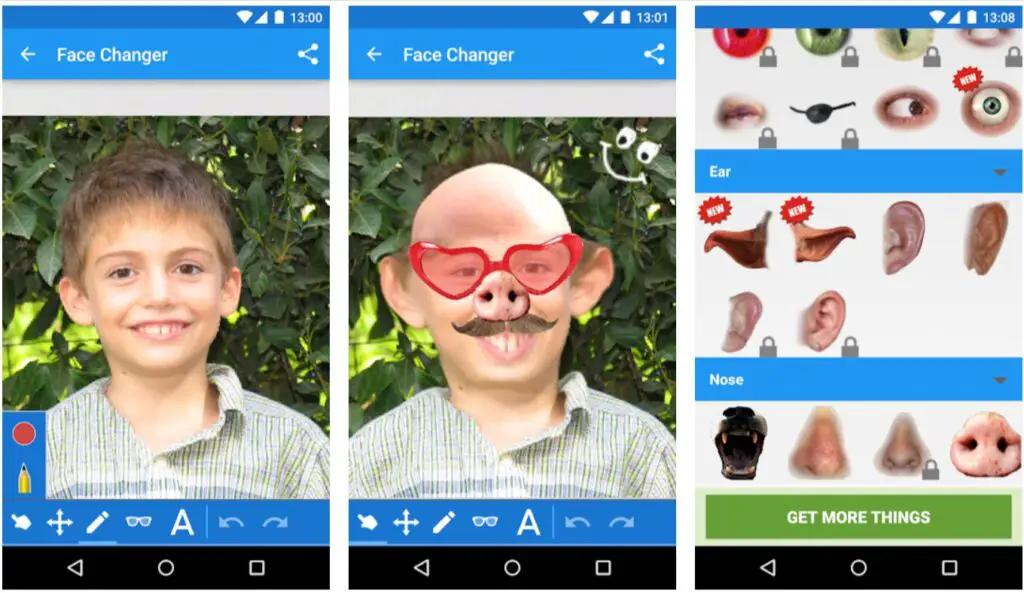 Next up, we have Face Changer, a fun face swapping app to use. With this app, you can edit your friends' faces to create unexpected results. It offers dozens of uncommon masks, stickers, and filters to use.
The best thing about Face Changer is that it can be used for instant face-swapping. You have to get another person in the frame with you. It allows you to create short videos or take pictures and share them with others on social media.
7. Face Changer 2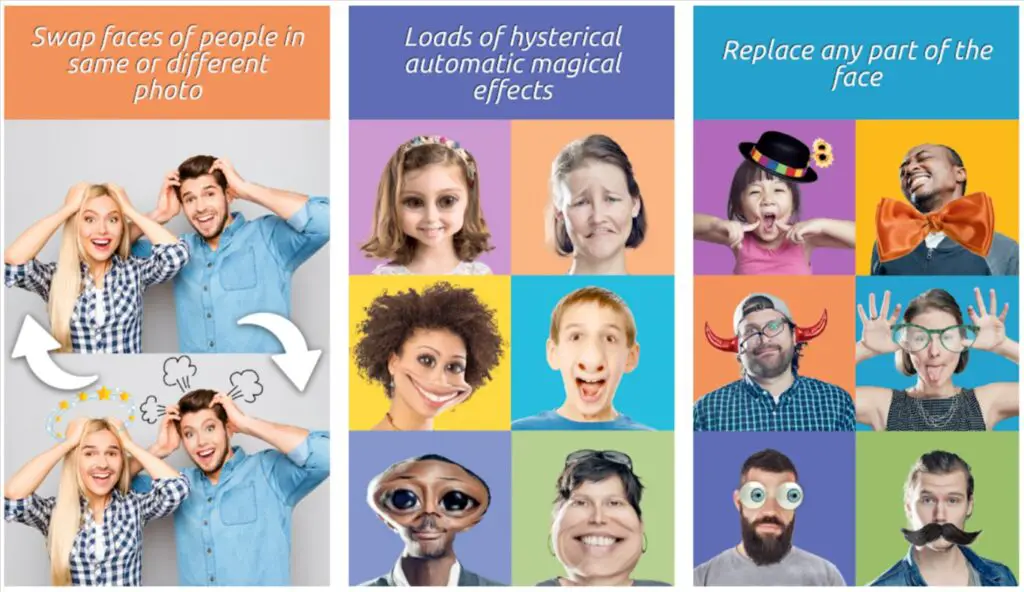 We also have Face Changer 2 on the list, which is stronger, better, and funnier. It has over 50 million happy customers. If you are a selfie lover, this app will be very useful. It allows you to take funny selfies and swap faces between your friends and favorite characters. It also allows you to add face parts, morph heads, add stickers, accessories, backgrounds, and more.
 By using the face swap filter, you can be anyone you want. You can take a selfie or import photos from your gallery or social media accounts. With this app, you can swap faces with anyone you want. Not just that, but you can also smudge the face to reshape it into a cartoon. It also allows you to create videos using the funny filters available in the app.
8. Cupace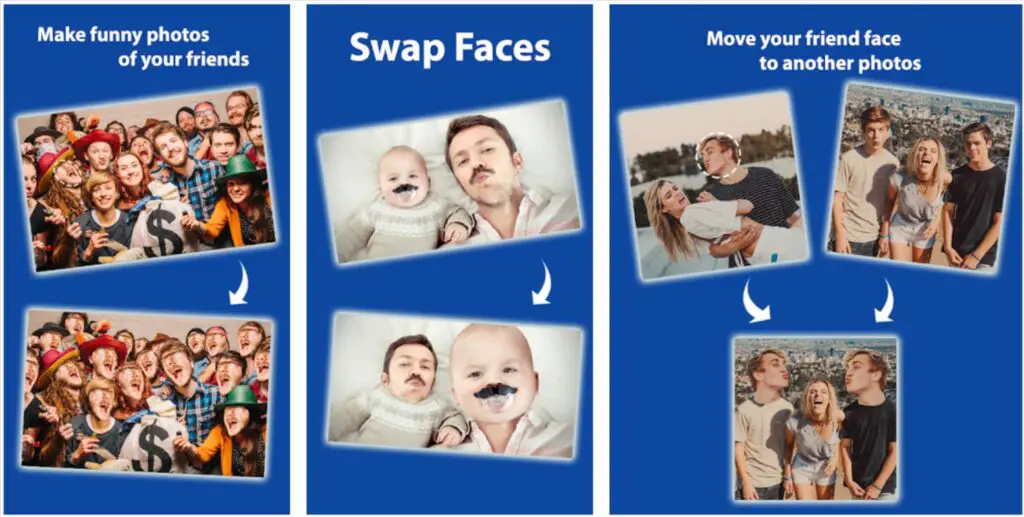 Cupace is a unique app that is perfect for making memes or other types of funny photos. It may look like a simple photo editor, but it is packed with many useful features. It allows you to cut a face from one picture and paste it onto other. With the help of this app, you can create funny photos and share them with your friends to have a good laugh.
It also has the face swap feature. All the pictures edited with Cupace get saved in the app's Face Gallery. You can use those images again and again without re-editing them. To make your pictures more interesting, it allows you to add stickers and text. After editing your picture, you can share it on social media platforms like Facebook, Telegram, Path, LINE, Instagram, Snapchat, WhatsApp, etc.
9. FacePlay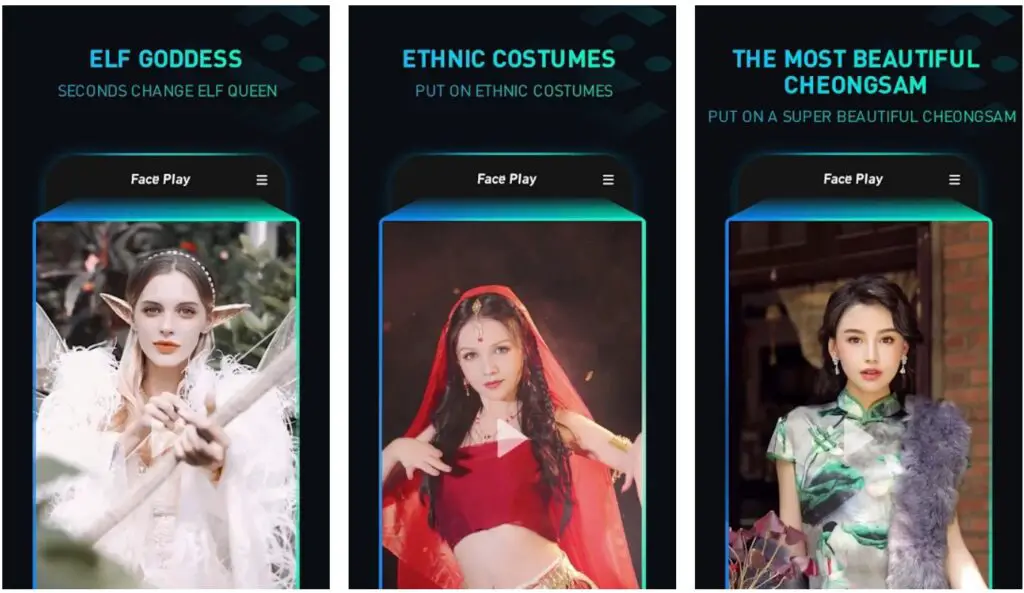 Next in the line, we have Faceplay, which offers a variety of face-changing templates for short videos. It can make you the video's protagonist you like with just a single click. You don't need to be a pro editor to use this app. It is a user-friendly app with tons of popular face effects and filters. 
---
Protect Your Online Privacy With Surfshark
[The VPN that we use here at Tech Arrival]
---
With the help of this app, you can swap faces in videos. It includes features that help you create rich video clips. It takes only a few seconds to generate a special effect face-changing video. 
10. Face Swap
If you want an app that allows you to swap faces live, this is for you. With Face Swap, you can swap faces with anyone in the world. You have to take a picture or choose one from the gallery and let the app do the trick. It is super easy to use and includes many interesting features that you will like.
Some notable features are automatic face detection, face adjustment, face rotation, face scaling, flip faces, and more. It can also let you swap faces with pets and objects. The videos and pictures you capture with Face Swap can be easily shared on Facebook, Twitter, etc.
11. PortraitAI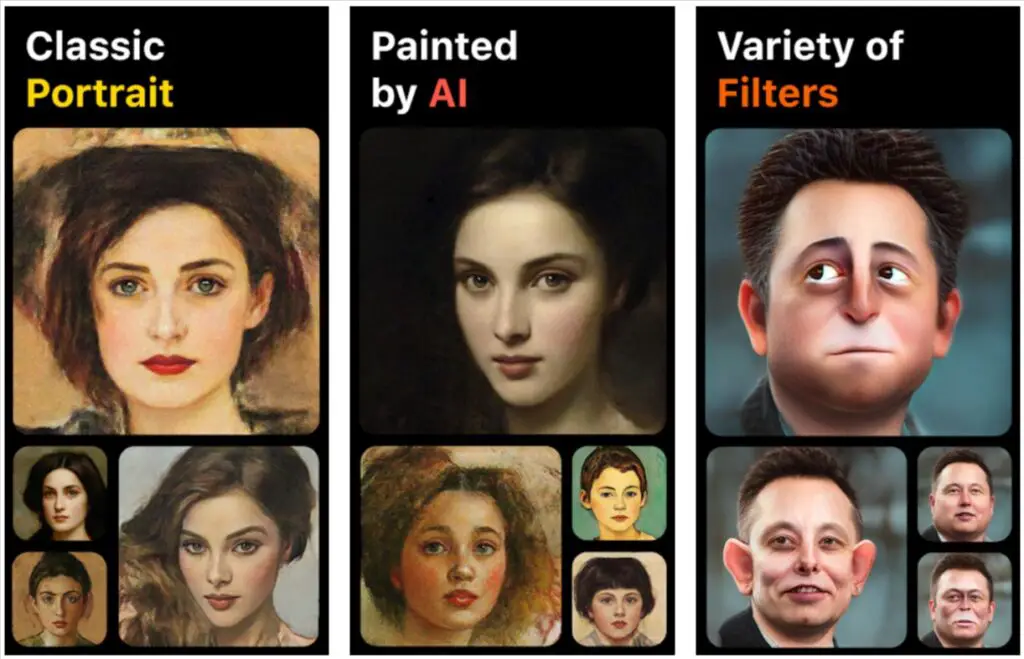 PortraitAI is one of the best face swap apps out there. This app is different because it lets you face swap with old 18th-century portraits. So if you want to know how you would look in an old portrait, this app is for you. It is also free to use.
PortraitAI is available on iOS and Android, which means everyone can use it. Currently, this app works only on people of European ethnicity. But the developers are planning to fix this in the future. However, it's a great avatar generator. For best results, you should try different photos with proper lighting on your face. It offers many exciting filters, including a joker, classic portraits, goblin, anime, etc.
Face swap apps are fun to use. You can download some of these apps and swap your face with anyone or anything you like. Some of these apps have a premium version that gives you access to better features and filters.
Also read: 10 Best Free Group Video Call Apps
Frequently Asked Questions (FAQs)
What are the Best Face Swap Apps?
You will find plenty of face swap apps in your phone's app store. Some of the best ones are Cupace, Face Changer 2, Reface, and FaceApp.
What Do You Mean By Face Swapping?
Face swapping can be described as interchanging your face with another person in a photo or video. It can be done with the help of a face swap app or filter.
What is the Most Popular Face Swap App?
Although there are hundreds of face swap apps, Snapchat and FaceApp are the two most popular ones.
Is Reface App Safe to Use?
The Reface app doesn't include a facial recognition algorithm. It has strict safety and security policy. It performs face swap by using AI.
---
Protect Your Online Privacy With Surfshark
[The VPN that we use here at Tech Arrival]
---
Which App Allows You to Use Swap Faces in Real-Time?
B612 is one of the apps that allow you to swap faces in real-time. It can be done using the face-swapping filter while taking a selfie.
Can I Put My Face on Another Body?
With the help of a face swap app, you can put your face on another body. One of the best apps to use is Cupace, as it lets you cut a face from one picture and paste it onto another.
Is B612 a Face Swap App?
B612 is a beauty and photo editor app. But it offers a face-swapping filter to use in real-time. Using this filter, you can swap faces with your friends.
What Does PortraitAI Do?
Portrait AI can paint an 18th-century portrait of your face by using AI. It can be best described as an avatar generator.
Is Face Swap a Good App?
It is one of the most popular face-swapping apps out there. It has a strict security policy, making it safer than its competitors. It is available for both iOS and Android users.
Can You Face Swap on Instagram?
Instagram offers a special face-swapping effect, using which you can easily swap faces with another person or pet in your story.
Can Kids use Reface?
Reface states that it is not suitable for kids under 13, and anyone under 18 needs to verify their age before using the app.
Is Reface a Chinese App?
Reface has Ukrainian and Mogylnyi founders. They have their business incorporated in the US.