The iPhone 11 is one of Apple's most sold iPhones to date and continues to be a major success. The phone resulted in an unprecedented growth in many countries around the world for Apple. The iPhone 11 features the A13 Bionic chipset, one of the fastest SoC on any phone. It is also slightly cheaper than its predecessor, making it perfect for people planning to upgrade their phones.
If you also have an iPhone 11, here are the best cases that will get you covered (no pun intended).
Also Read: 10 Best iPhone 12 & iPhone 12 Pro Cases
List of Best iPhone 11 Cases
1. Apple Silicone Case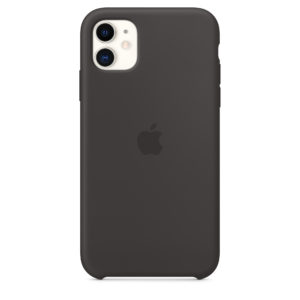 Like its phone, Apple also makes some of the best cases for them, and the Silicone case is a no-brainer if you are looking for a casual but protective case for your iPhone 11. The case has a snug fit over the phone and aligns perfectly over its volume buttons, side buttons, and curves. It has a soft micro-fiber layer on the inside that protects your iPhone from the outside's harshness.
The outside of the silicone case feels soft and silky to touch. You can keep your case at all times, even when you are wirelessly charging your device. The case has raised lips in the front and around the camera that protects your device from minor scratches and bumps. Apple Silicone Case is available in six colors – Soft White, Black, Seafoam, Vitamin C, Linen Blue, and Surf Blue.
2. Mujjo Leather Case
Mujjo's Leather case is one of the most authentic and premium leather cases you can buy for your iPhone 11. The case is wrapped up in full-grain leather that ages beautifully as you keep using it. The case has a super slim profile and a clean silhouette that follows the contours of the device. It developers a nice patina as it ages with time.
On the inside, the case is lined up with fine Japanese microfiber, which is slim, strong, and lightweight as well. It feels like a satin finish, giving a much rather premium feel in your hands. The case has raised lips around the camera module and on the front, protecting your device from minor bumps and scratches.
3. OtterBox Commuter Series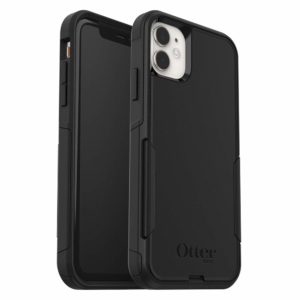 The Commuter Series Case by OtterBox is one of the most pocket-friendly cases you can get for your iPhone. Its sleek profile is specially designed to fit right into your pocket. The case has a synthetic rubber slipcover, and the outer layer is made up of a polycarbonate shell. These two tough layers absorb and deflect impacts. There's also a port that blocks dust and dirt from your device's openings.
The case has a good grip, and the edges are easy to grab and fit right into your hands. Because of its slim profile, it does support wireless charging without having to take the case off. The Commuter Series case for iPhone 11 is available in Black, Bespoke Way Blue, Cupid's Way Pink, and Mint Way colors.
4. OtterBox Strada Series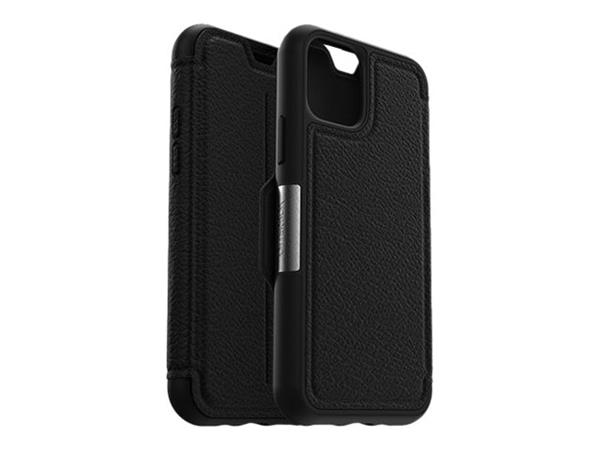 If you are looking for a Folio case, the Strada Series Case from OtterBox is one of the best cases you can get. The folio cover not only covers the screen but also includes a cardholder for cards or some cash. The case is specially handcrafted to offer premium protection to your device. The Strada Series case comes with OtterBox Certified Drop+ Protection.
---
Protect Your Online Privacy With Surfshark
[The VPN that we use here at Tech Arrival]
---
The case is slim and pocket-friendly as well. The folio covers the screen and locks itself with a polished magnetic latch. The case is made up of premium leather and features a polycarbonate inner shell for improved protection against bumps and impacts. The case is available in Espresso Brown and Shadow Black colors.
5. Spigen Ultra Hybrid
The iPhone 11 comes in some really cool colors, and if you are amongst the ones who would like to flaunt them but keep your device protected as well, you will love Spigen's Ultra Hybrid Case. The case features a colored accent bumper along with a clear back. It is slim and rigid and also feels grippy. Weighing just 1.1 ounces, it is one of the most lightweight cases you can get.
The case is made up of polycarbonate and TPU material and certified with Spigen's proprietary Air Cushion technology. Since the case is super slim, it is compatible with Qi-supported wireless chargers as well. You can get the case in Green Crystal, Clear Crystal, Red Crystal, and Matte Black colors.
6. Spigen Tough Armor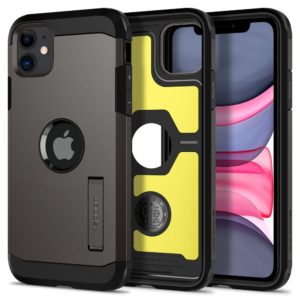 As the name suggests, the Tough Armor is built to withstand impact. It is created using extreme impact foam under durable layers of TPU and polycarbonate that can absorb anything you throw at it – all of this while keeping the overall profile slim and grippy. The case also features a reinforced kickstand that can help your device stand against while watching a movie.
The case is also military certified [MIL-STD 810G-516.6] and features Spigen's Air Cushion technology. The case also supports wireless charging and is available in Black, Red, Gunmetal, Purple, Rose Gold, and Satin Silver colors.
7. Totallee Super Thin Case
The Super Thin Case from totallee is just 0.02 mm thick and weighs just 0.01 ounces. Unlike other cases, this one does not have any branding and is just plain and simple. The case is super pocket-friendly and grippy, and the clear version also lets you flaunt your iPhone 11's colors while protecting it from dust, dirt, and minor bumps.
The case features raised lips around the front and around the camera module to protect it from bumps and scratches. Totallee guarantees a perfect fit on your device, and it also works with Qi-supported wireless chargers. You can get the case in a transparent version, or Frosted Clear, Frosted Black, and Navy Blue ones.
8. Razer Arctech Slim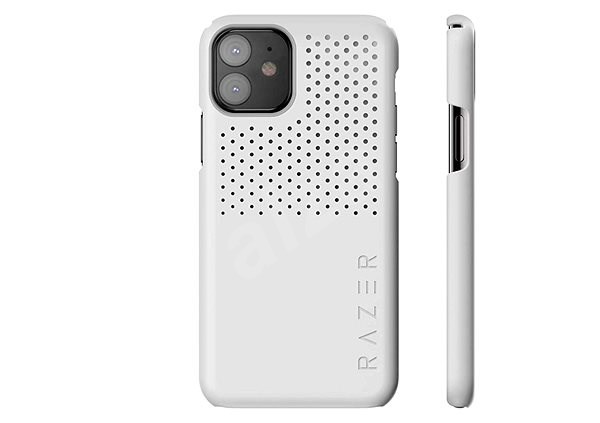 If you didn't know already, Razer also makes cases for mobile phones, and its Arctech series of cases are especially focused on gaming, just like its rest of the products. The Arctech Slim case is built from the ground up to reduce heat buildup, common in most other cell phone cases. This aids for long-term battery health and boosts overall smartphone performance.
Razer has achieved this by using Thermaphene-based heat dissipation. It essentially means that the material redirects heat through a thermally conductive lining adjacent to vented airflow channels to improve cooling compared to traditional cases significantly. The case has some cutouts for antenna lines and also for ports and buttons. It also works with Qi wireless chargers without any problem.
9. UAG Monarch Series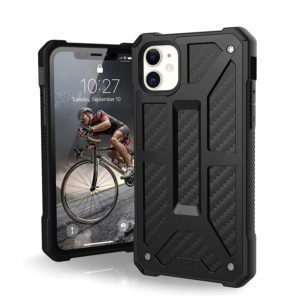 UAG makes some of the most solid cases for phones, and the Monarch series is no exception to that. It encompasses a premium design and precise engineering standards to provide a build that meets double the Military Standard for drop & shock protection. The case is handcrafted and features feather-light constructions built with premium materials. The materials include TPU, polycarbonate, alloy metal, and leather.
This makes the case perhaps the only one in our list which has 5 layers of protection. The oversized tactile button on top of the power and volume buttons makes sure there's still feedback. The case has raised lips around the camera module and towards the front, making it all-around protection for your iPhone 11. UAG gives its customers a 10-year warranty on this one, so you know how much it can withstand.
---
Protect Your Online Privacy With Surfshark
[The VPN that we use here at Tech Arrival]
---
10. Speck Products Presidio Case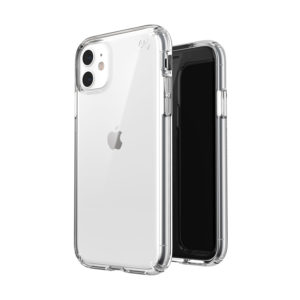 The Presidio case from Speck is one of the most grippy cases you can get for your iPhone 11. Not only is it grippy, but it also features 13-foot drop protection. The "clear impact" technology is proven to absorb shock and resist damage to your device. The clear case also prevents discoloration or yellowing for the lifetime of your device. If it does not stay clear, Speck says that they will replace it for you.
Speck says that they have also re-engineered no-slip grips on the back of the case. The case also has something called "Microban", which reduced bacteria formation on the case's surface by 99%. The case supports Qi wireless charging and comes in Clear, Clear with Gold and Obsidian colors.
Final Words
These were our top picks for the best iPhone 11 cases. We have listed everything for everyone, from super-thin cases like totallee to ultra impact-resistant ones like UAG Monarch; everyone is covered and not just your phones. Do let us know which one case would you end up using in our comments section below.
Also read: 10 Best iPhone 12 Pro Max Cases