The Apple MagSafe connector is a new way to charge your iPhone. It is one of the most well-known charging systems in the market. The MagSafe connector is a ring of magnets integrated into the iPhone's back, starting with the iPhone 12.
It's a simple concept that has become a staple in the Apple product line. Apple has made a design that is more efficient. Not only does it allows you to charge the device, but it also makes it compatible with other Apple Original or many other third-party accessories.
Many MagSafe accessories are available in the market, such as Charging Dock, Tripod, Pop-socket, Battery Bank, etc.
But, if you are looking for a new MagSafe-compatible wallet, you've come to the right place. We have compiled a list of the best MagSafe-compatible wallets for the iPhone 13 and 12 lineup.
Also read: Best Clear Cases for iPhone 13 Mini
List of Best MagSafe Wallets for iPhone 13 & 12 Lineup
1. Apple Leather Wallet with Find My Support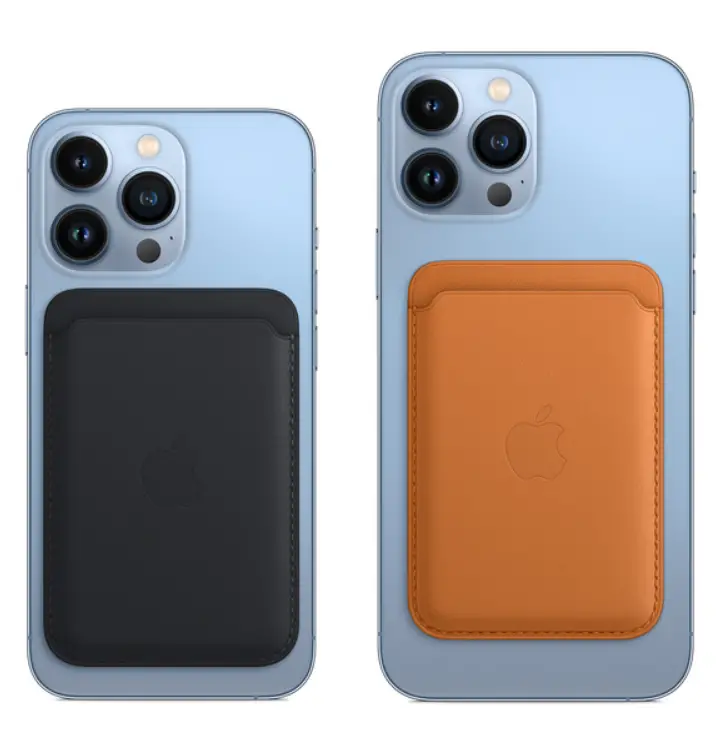 The Apple Leather MagSafe Wallet with Find My Support is a must-have accessory for anyone with an iPhone. This is a durable and stylish yet functional wallet that looks great on any Apple device. This is a first-party accessory made with European leather, and you can choose from 4 different colors. Crafted with a pocket on the outside for your ID and credit cards, it has room for up to 3 cards and is shielded, so it's safe and easily snaps into place on the back of your iPhone.
It provides an additional safety feature: Apple's Find My, so you can be notified if it gets separated from your iPhone, and it also gives you the location where it got separated, so you can even locate your wallet. If someone else finds your wallet on the ground and attaches it to their iPhone, it will show them your contact details in case they want to return it to you. If you're willing to spend more than usual, this might be your best option.
2. Vibeside Vegan Leather MagSafe Wallet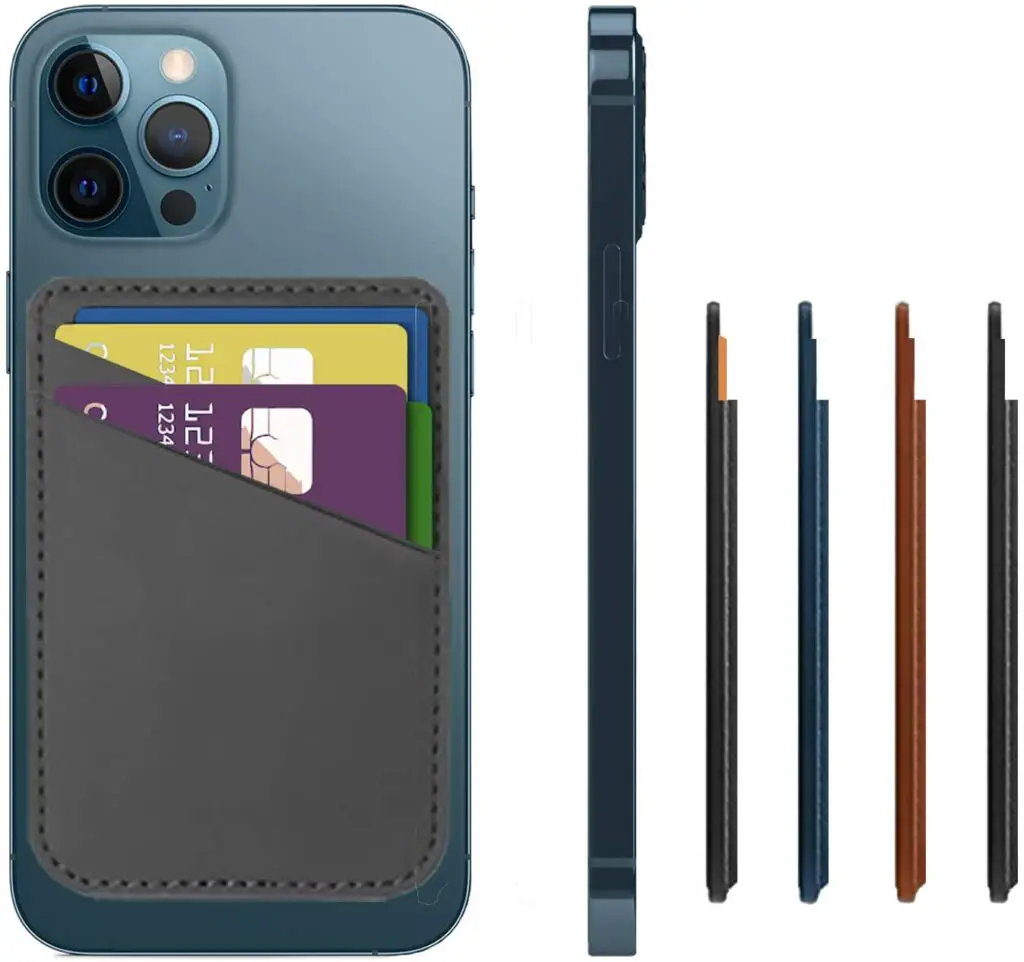 The Vibeside Vegan Leather MagSafe Wallet is one of the best wallets available in the market. It's lightweight and offers enough space for your credit cards, cash, and other essential documents. It's designed with functional features, so you can keep your cards accessible while you're on the move. The Wallet comes with 4 large card slots and 2 large MagSafe steel plates for holding up to 4 cards. This case is made of durable faux leather material that can be used without a case.
It also features a soft, smooth surface that feels great in your hand while carrying around your phone. However, the magnet is not strong enough to hold up your wallet when you have it installed on top of a phone case. So make sure you use it without a case, or else your wallet might fall off occasionally. Overall, if you are looking for a great wallet case for iPhone 12, this is the best choice available.
3. Sinjimoru Basic Magnetic Wallet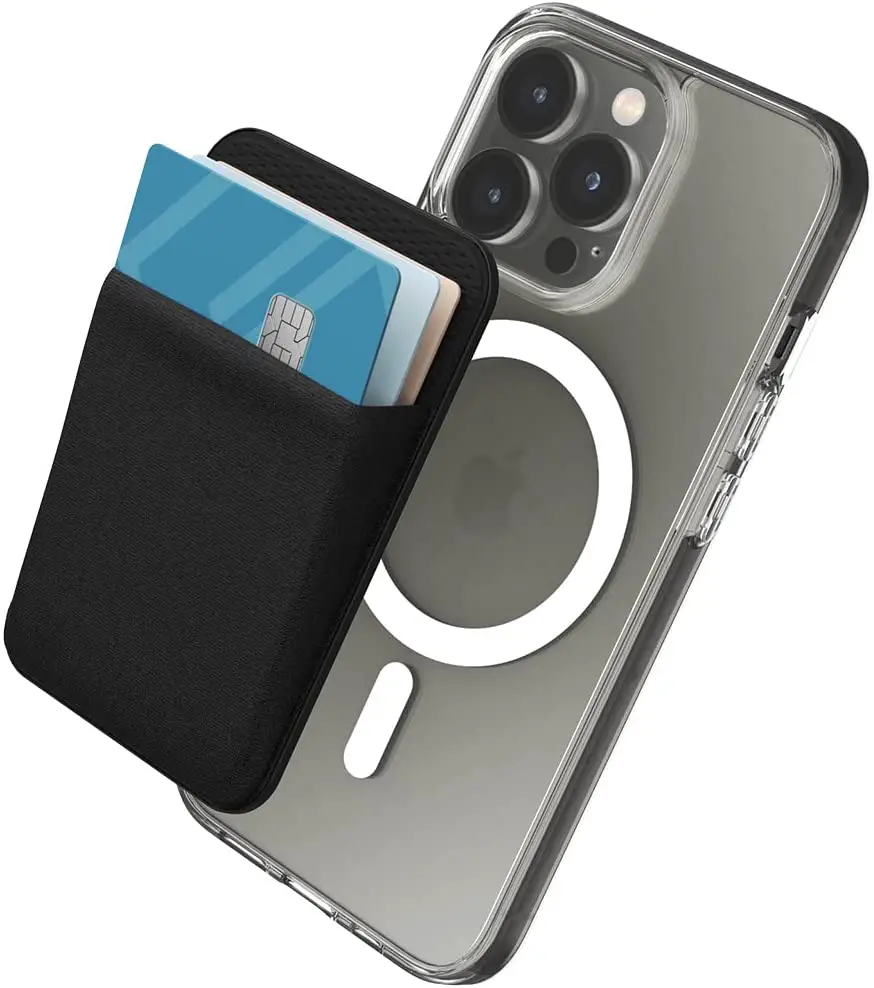 This Basic Magnetic Wallet from Sinjimoru is affordable and undoubtedly one of the best iPhone wallets you can get on the market. You can use this phone wallet to hold your cards, cash, ID, and anything else you might need to carry with you while traveling or on the go. It holds up to five cards. This magnetic iPhone wallet for iPhone 12 and 13 series is made of a high-quality fabric material that is very soft and stretchy, comfortable to use, and keeps your cards safe and secure.
---
Protect Your Online Privacy With Surfshark
[The VPN that we use here at Tech Arrival]
---
There are 6 different color options available for this product: Black, Grey, Light Blue, Navy, Red, and White to match the aesthetic of your iPhone. If you're looking for an affordable iPhone wallet that will provide enough space and comfort, then Sinjimoru Basic Magnetic Wallet is a perfect option.
4. MOFT The First Snap-On Magnetic Stand & MagSafe Wallet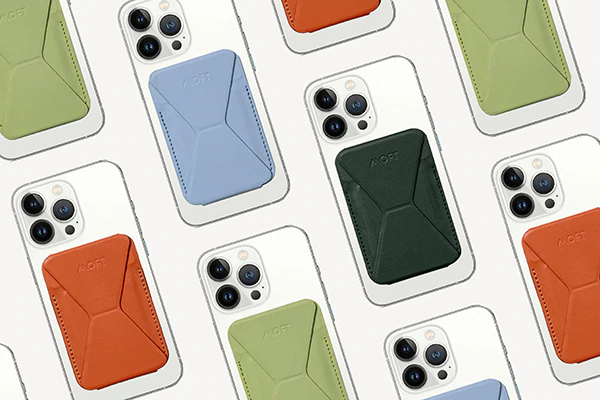 The next MagSafe wallet on the list is from Moft. Apart from being a wallet, it also doubles up as a Kick Stand, allowing you to have the phone standing up at any angle. You can use the wallet as a stand for watching videos, listening to music, or browsing the web. All of that at an affordable price makes it worth the money. There are 5 different colors to choose from Black, Grey, Blue, brown, and Carbon blue. The magnetic stand and the magnetic wallet can be used together.
The stand is easy to set up with the snap-on design that only takes a few seconds, and you can remove the stand when you don't need it. The phone stand is compatible with MOFT MagSafe cases, making magnet strength even more robust. The magnetic wallet will keep the phone safe and secure and will not interfere with the charging process.
5. Spigen Valentinus Magnetic Wallet Card Holder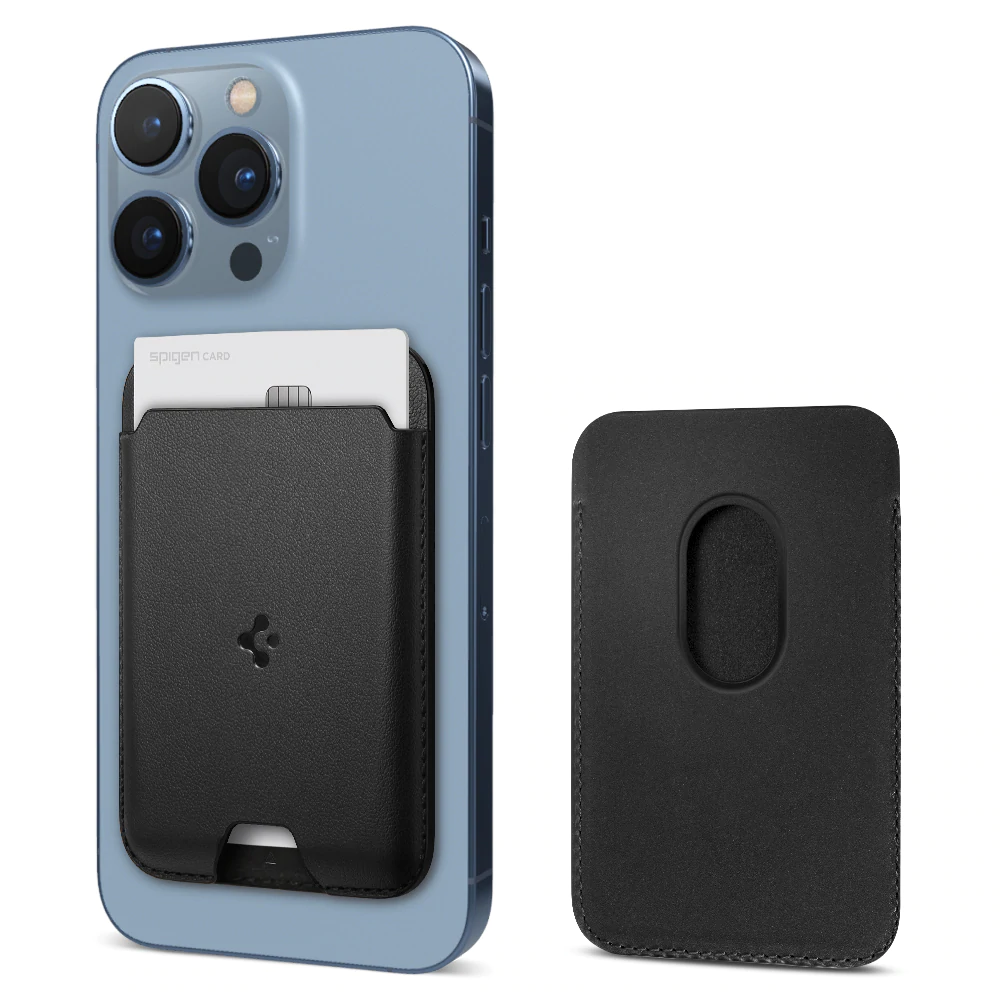 Spigen is a well-known brand for iPhone accessories, and For the price, this MagSafe wallet is an incredible value. This is a must-have accessory that won't cost you much money. Instead of carrying a bulky wallet or purse, you can use this slim and lightweight Spigen wallet. It's made from premium quality faux leather that feels sturdy, grippy, and looks great. 
You can put a total of 2 cards in there. The design is simple, so you can easily access your cards without fiddling with the wallet. The small cutout at the bottom of the wallet allows easy access to remove your cards. And for added safety, the wallet is shielded to prevent your credit cards from being scanned when your phone is left unattended.
6. AhaStyle RFID Magnetic Card Holder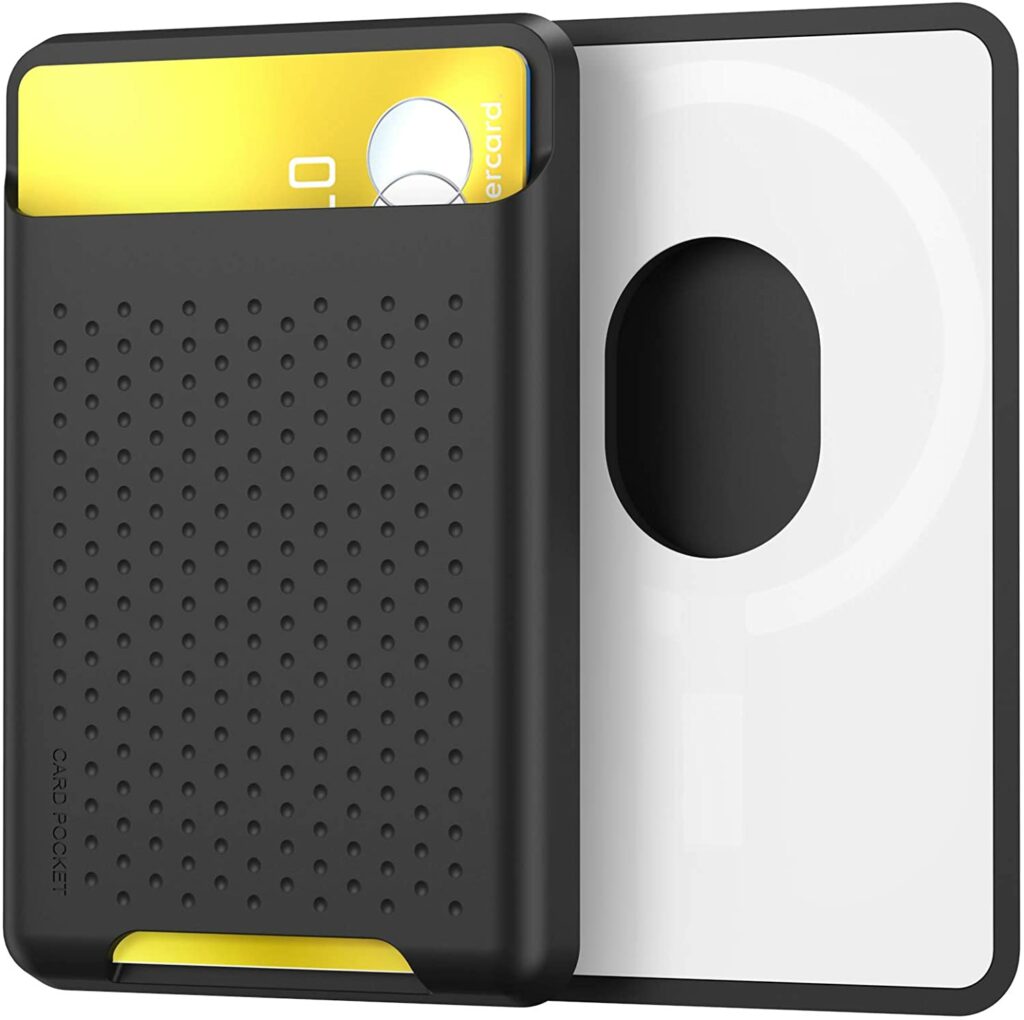 If you want a simple, stylish, and functional wallet, the AhaStyle MagSafe wallet is a suitable option. It's made to fit all iPhone 12 and 13 models and comes in several colors, including black, deep grey, midnight blue, and pink. It has a dotted pattern on the front which looks stylish. The wallet is slim and compact, so it won't add too much bulk to your phone. It's crafted from premium silicone and has a strong magnetic attachment feature that makes it easy to attach to your iPhone.
We can say that because it has received over 4.5 stars from Amazon customers. It supports up to two cards, and the RFID shielding makes it safe for your credit cards. It has a small cutout at the bottom and back, making it easier to access your cards when needed. You can easily access your cards via the top simply by pushing from the bottom of the wallet. It's affordable to upgrade your wallet collection without breaking the bank.
7. Sinjimoru 3 in 1 Magnetic Wallet as Phone Grip Stand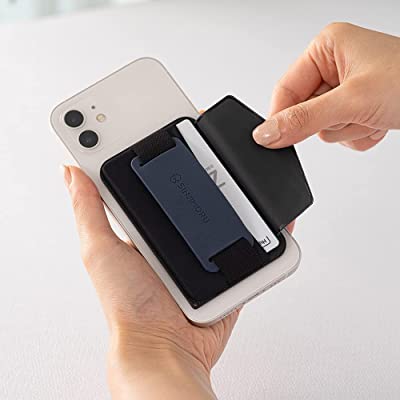 For a reasonable price, the Sinjimoru 3 in 1 Magnetic Wallet for iPhone is an amazing product. It's the perfect solution for those who want a MagSafe wallet that doesn't cost an arm and a leg. This product has three useful functions — a phone stand, a MagSafe wallet, and a cell phone holder. In addition, it's compatible with the iPhone 12 and 13 series, so you don't have to worry about finding a compatible MagSafe wallet. It's crafted from high-quality materials to ensure durability.
The product is also lightweight and compact. It's designed to look stylish, too, so it will fit right in with your iPhone. It's the right size to hold your ID and credit cards and is protected, making it safe for 4-5 credit cards. Additionally, it has a strong magnetic force that ensures it stays attached to your iPhone. At the same time, it's a practical solution if you want to keep your phone from slipping out of your hand.
8. OTTERBOX Style Folio Wallet for MagSafe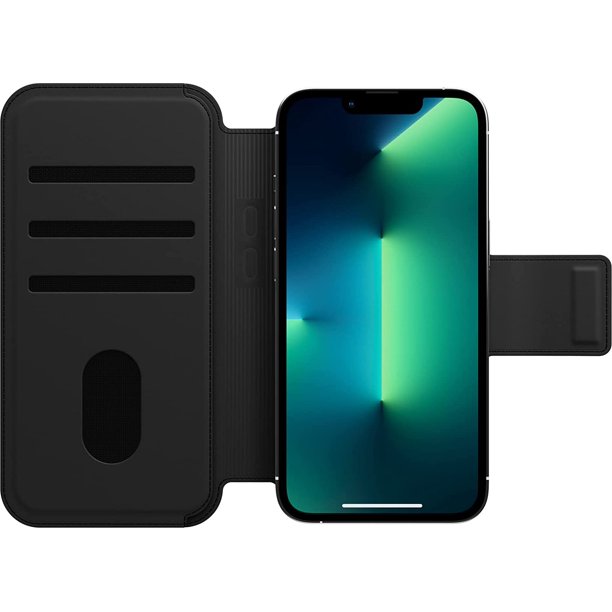 OtterBox is a well-known name in the mobile accessory industry. The OTTERBOX Style Wallet for MagSafe combines style and functionality perfectly. This wallet is made from smooth, durable synthetic leather and features a soft touch design. It clicks your valuables onto your phone. The OtterBox Style Wallet for iPhone 13 and 12 lineups with MagSafe provides easy access to all your cards and cash. This wallet is ideally suited for holding your credit card, different ID cards, visiting card, cash, and other small items.
It is equipped with a strong magnetic alignment and attachment for easy attachment to your cellphone. Strong magnetic alignment and attachment ensure your wallet stays in place. It is available in the Black color variant and has a shield that protects your credit cards from magnetic damage. The wallet comes with a limited lifetime warranty and a hassle-free customer experience. If you have an OtterBox for MagSafe case or another MagSafe compatible case, you can also use this wallet with it.
---
Protect Your Online Privacy With Surfshark
[The VPN that we use here at Tech Arrival]
---
9. PopSockets PopWallet+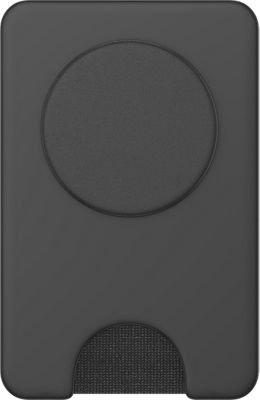 PopSockets PopWallet+ for MagSafe is a must-have accessory for the iPhone 12 and 13 series. It is a perfect combination of a stylish Magsafe Wallet and a PopSocket. It's made with a very soft fabric and has a little padding to protect your phone and credit cards from scratches. It has a knit elastic sock that can hold up to three cards. This is handy because you don't have to worry about your cash falling out. The knit elastic in the wallet also helps to keep your cards inside and away from the magnetic field.
It is a sleek and secure way to carry your cards on your phone, plus with integrated PopGrip, which is the coolest part about this case. Keep in mind that the Pop Socket is only for casual use, and you are not recommended to carry your phone around by grip. The Pop Socket folds flat when not in use, so it doesn't obstruct your regular use. It can also be removed if not needed. Overall, it's a convenient wallet for iPhone users who want to carry their cards and cash around easily.
10. Spigen Rugged Armor Magnetic Wallet Cardholder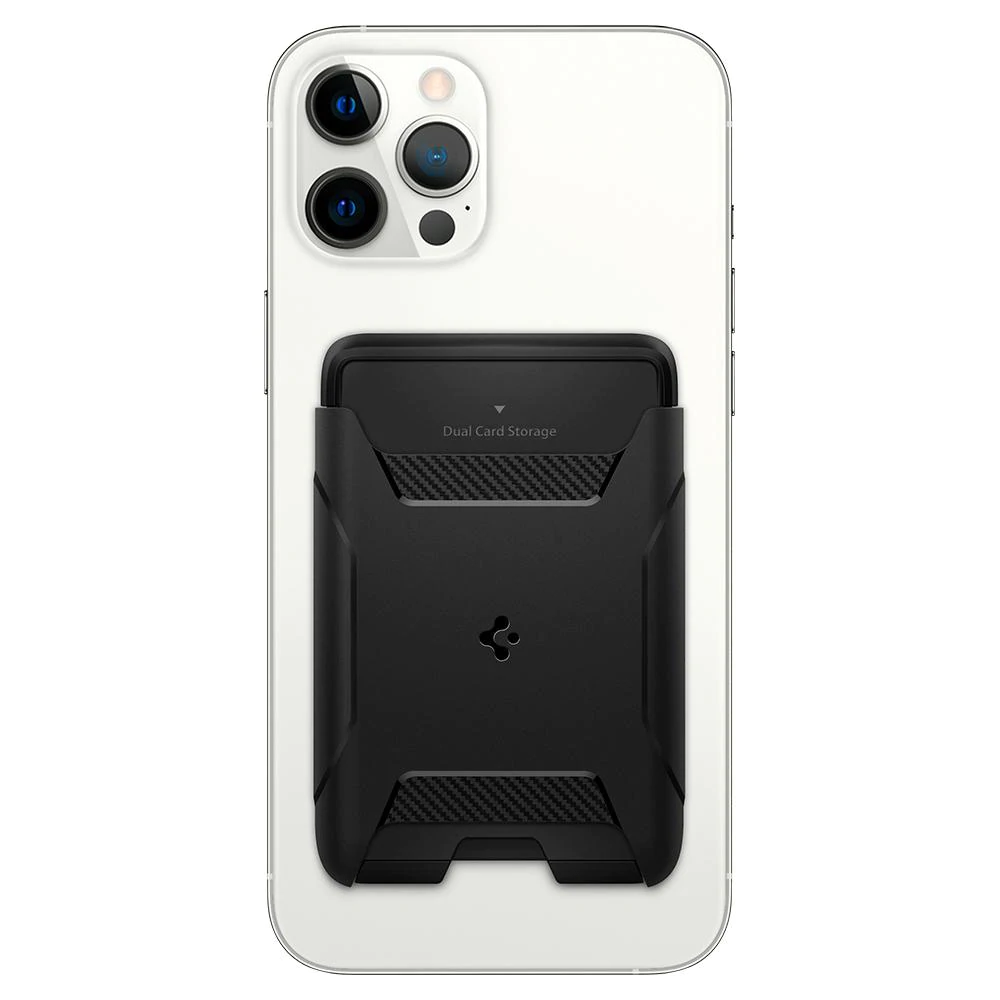 Carrying your essentials can be a hassle. With the Spigen Rugged Armor, you can carry all your essentials without having to worry about bulky wallets. Spigen is a well-known brand when it comes to smartphone accessories. This magnetic wallet cardholder is made from premium materials and has an affordable price. It is black and aesthetically suits all iPhone color variants, primarily white and black.
It's slim enough to fit in your pocket but also has multiple compartments where you can store your cards. You can hold up to two cards in this wallet. An additional access port on the backside of the wallet makes accessing your cards easy. Another handy feature is the silicone pads on the back of the wallet. These pads prevent the wallet from sliding out of the phone when you insert or remove your phone from your pocket.
Conclusion
MagSafe Wallet is a fun and simple way to store credit cards, ID, and other small items in a small wallet on the back of your phone. The best MagSafe iPhone wallet is a matter of personal preference. However, we recommend that you choose a wallet that fits your budget and lifestyle. When shopping for a MagSafe iPhone wallet, consider the following: Does it fit your budget? Will it fit your lifestyle? Does it offer enough space for all your cards?
If you're looking for something affordable, durable, and easy to use, you can't go wrong with the Apple Original Wallet with Find My Support. While the Sinjimoru 3 in 1 Magnetic Wallet is our personal favorite MagSafe wallet for its simple design, sleek design, and intuitive functionality.
Also read: Best Bumper Cases for iPhone 13 Mini
Which MagSafe iPhone 12 and iPhone 13 series wallet do you like best? Let us know in the comments below.
Frequently Asked Questions (FAQs)
Does MagSafe Wallet Work with iPhone 11?
The MagSafe Wallets are only compatible with iPhone 12 and iPhone 13 Series Lineups. The compatible smartphones are iPhone 13 Pro, iPhone 13 Pro Max, iPhone 13 mini, iPhone 13, iPhone SE (3rd generation), iPhone 12 Pro Max, and iPhone 12 mini.
Can You Charge iPhone through MagSafe Wallet?
No, You can't wirelessly charge your iPhone with MagSafe Wallet on. You must always remove the MagSafe Wallet to charge the iPhone 12 and iPhone 13 series smartphones; otherwise, it won't charge.