Although we have countless modern video games to entertain us, some of us still miss the old classics. Yes, we are talking about retro games that made our childhood.
Retro games are pure nostalgia and remind us of the old times when graphics didn't matter at all. If you are looking forward to playing some of these retro games once again, you have come to the right place. We have a collection of the best retro games for Android.
Also read: 10 Best SNES Emulators For Android
List of Best Retro Games for Android
These are some of the most popular retro games that we all enjoyed playing. Check out the list and see if you missed any of these.
1. Sonic the Hedgehog (Games by SEGA)

Sonic the Hedgehog is a series of Japanese video games created and owned by SEGA. The franchise follows Sonic, a blue hedgehog who battles the mad scientist and evil Doctor Eggman. The first Sonic game was released in 1991. They created a mascot character to compete with Nintendo's mascot Mario. The success of SEGA made the Sonic franchise one of the best collections of games in the 1990s.
2. Crossy Road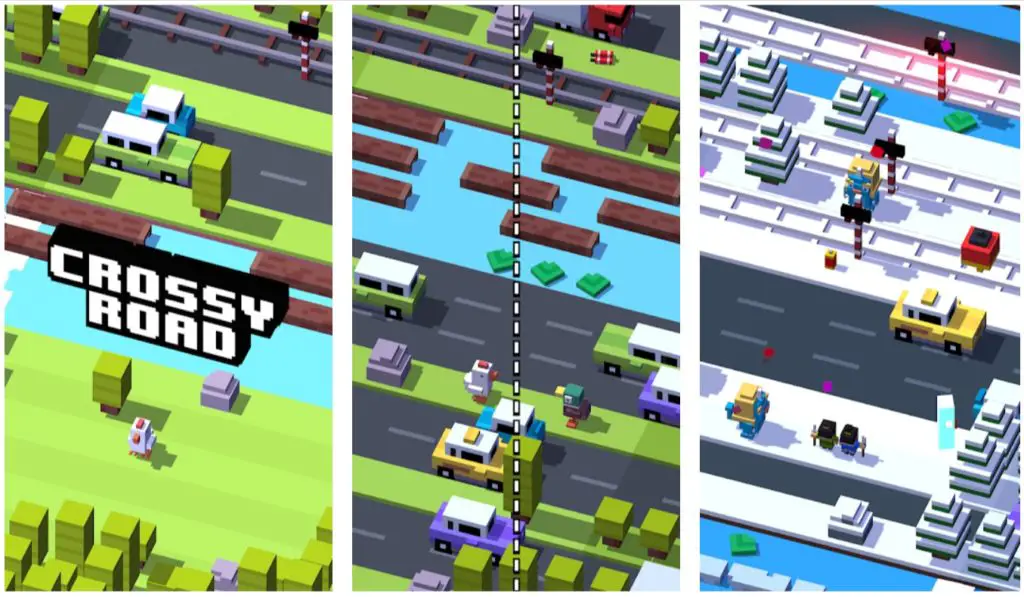 Next up, we have Crossy Road, which is yet another big hit. It is an arcade video game developed and published by Hipster Whale. The game is based on an old name and joke "Why did the chicken cross the road?" The game's objective is to cross series of roads and highways while avoiding all the obstacles on the way. The game consists of an endless series of obstacles, including cars, rivers, and trains. 
3. Minecraft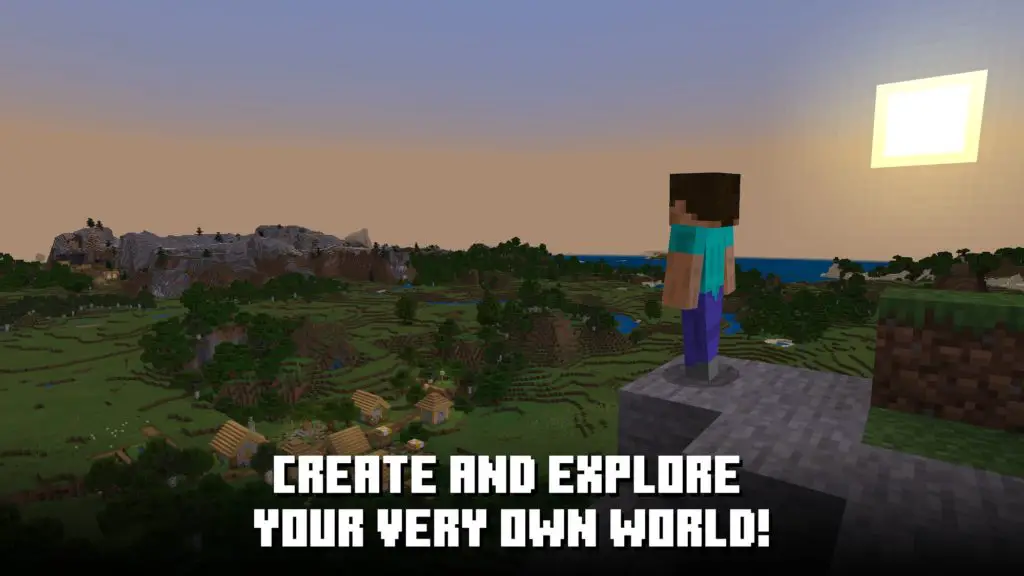 There is hardly anyone who hasn't played Minecraft before. This game is all about building things from scratch. From grand castles to simple homes, you can design them the way you like. The game has multiple modes, such as survival mode and creative mode. This is a multiplayer game that allows you to play with up to 10 friends.
4. Super Mario Run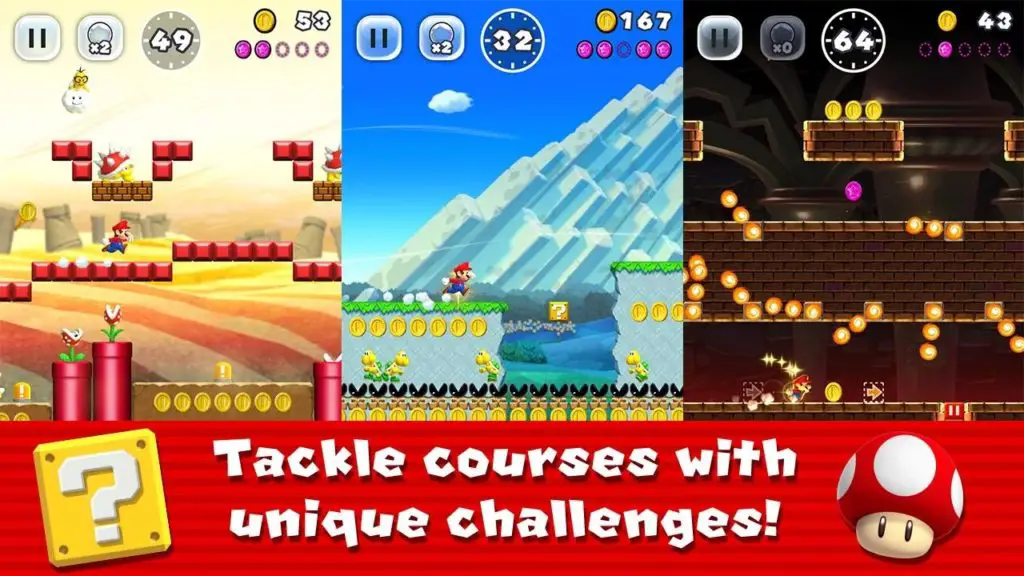 Any list of retro games is incomplete without Super Mario. This is a new kind of Mario game that can be played with just one hand. All you need to do is tap the screen to control Mario and make him move forward. By timing your taps, you can pull off stylish midair spins, jumps, and wall jumps to gather coins and reach the goal.
5. Square Enix Games Collection

Square Enix is a Japanese video game company that has given us dozens of hit titles. Titles like Final Fantasy, Dragon Quest, and Adventure of Man are all from Square Enix. If you are a true gamer, you must have played some of the Square Enix games while growing up. For example, Final Fantasy is one of the hit series of games made by them. The first Final Fantasy game was released in 1987.
6. Doodle Jump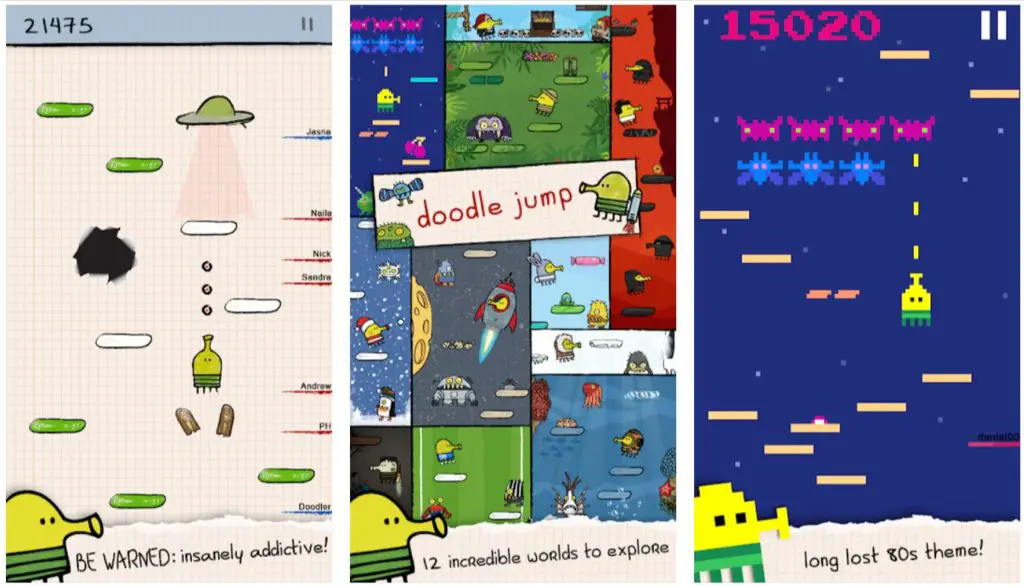 This game is as interesting as its title. It was named the Best game of 2015 by Google Play editors. This is an easy and addictive mobile game suitable for all age groups of people. The game is all about your journey up a sheet of graph paper, jumping from one platform to other, picking up jet packs, dodging black holes, and blasting baddies with nose balls along the way. 
7. Dan the Man: Action Platformer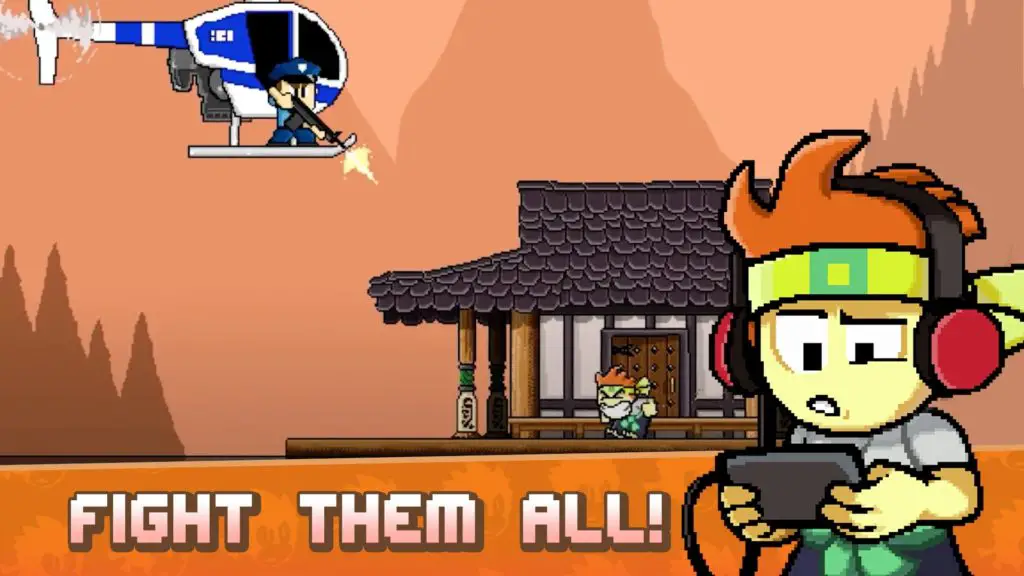 This game is yet another masterpiece you must try. This is a kind of action game with an epic arsenal of weapons. In the game, you can also upgrade your fighting skills. To make the game more interesting, it has multiple modes as well. This includes adventure mode, campaign mode, and multiplayer mode.
8. Pac-Man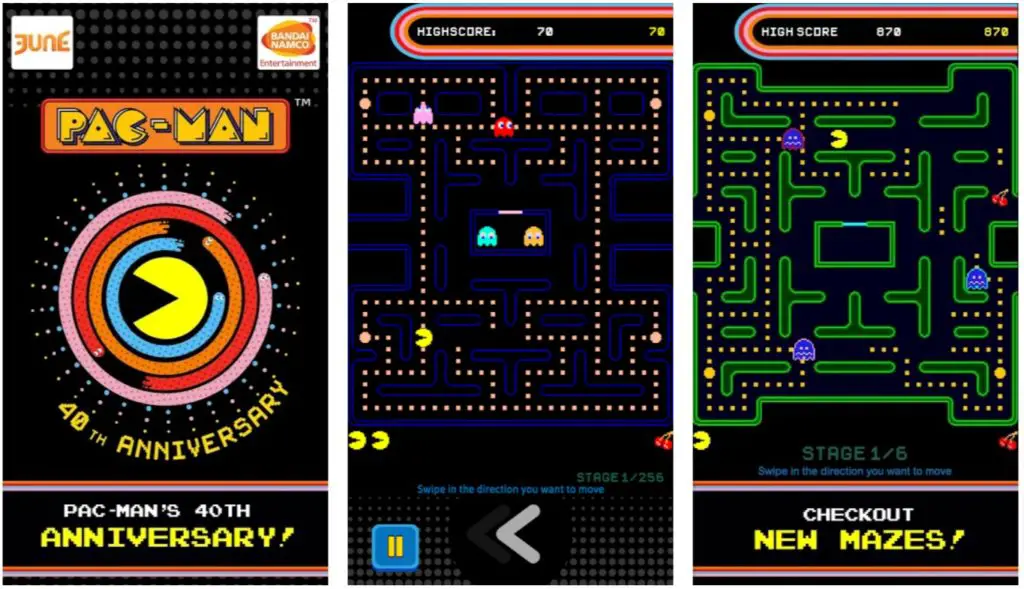 Who can forget this epic retro game? This is the world's famous arcade videogame. Earn high scores as you guide Pac-Man through the maze to eat all the fruits and pac-dots. At the same time, you also have to avoid the pesky Ghost Gang. This is a highly addictive game that won the hearts of millions when it was first released.
9. Sky Force 2014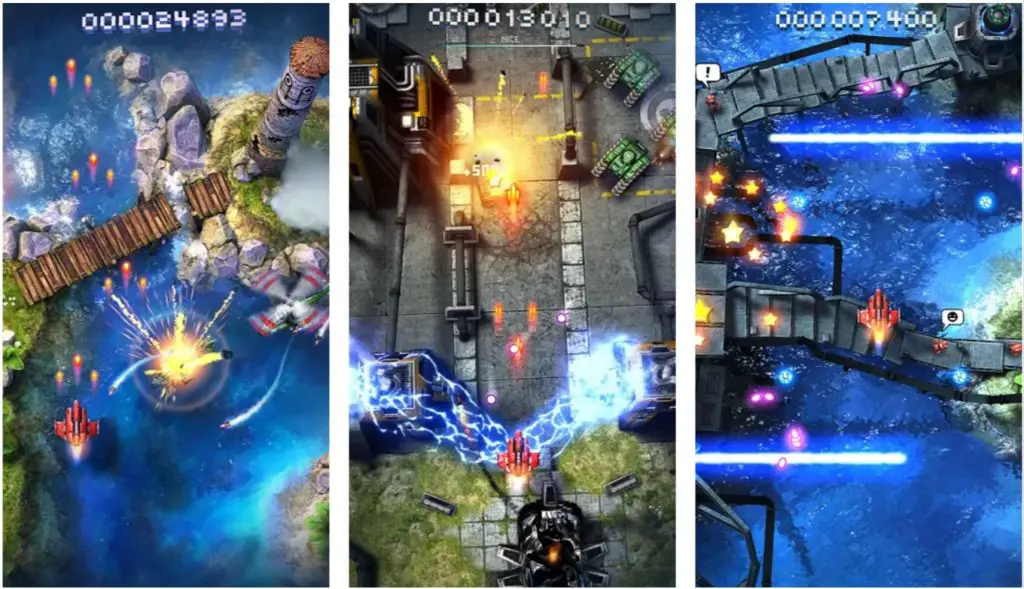 Sky Force 2014 is a stunning scrolling shooter game with an excellent social gameplay element. The game is filled with stunning 3D graphics, an upgrade system, and intuitive touchscreen controls to keep you hooked to your phone screen for hours. There are weekly tournaments where you get to battle it out against legions of other players.
10. Terraria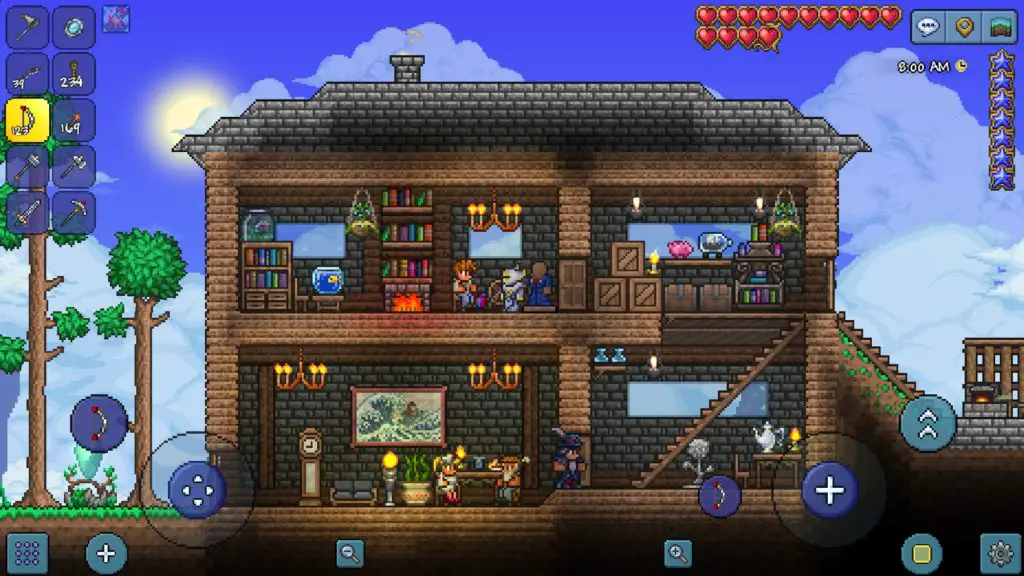 This is yet another exciting mobile game. It has been improved with new elements and features. If you have played it before, you should play it again and enjoy all the new stuff. This game tests your combat and survival skills. In the world of Terraria, you get to construct your city and make your own choices.
---
Protect Your Online Privacy With Surfshark
[The VPN that we use here at Tech Arrival]
---
11. Minesweeper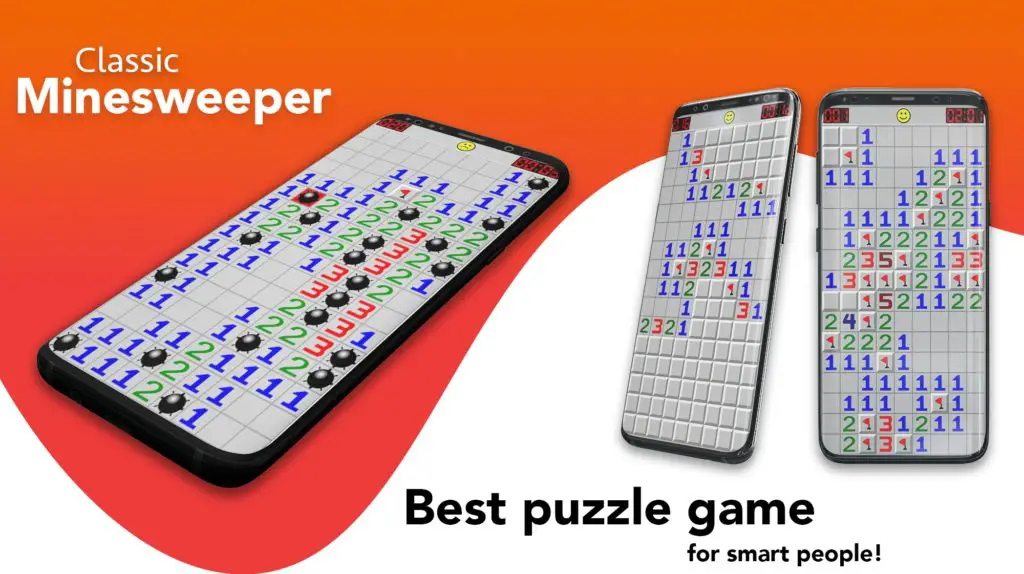 Minesweeper is an old classic game that we have all played on our PC. It is one of the best classic mine games ever made. With this free-to-play game, you can train your brain and boost your mind power. At the same time, it is also challenging and fun to play. This mines game is suitable for both beginners and advanced players. If you love puzzle games, you will surely find this one interesting.
12. Friday the 13th: Killer Puzzle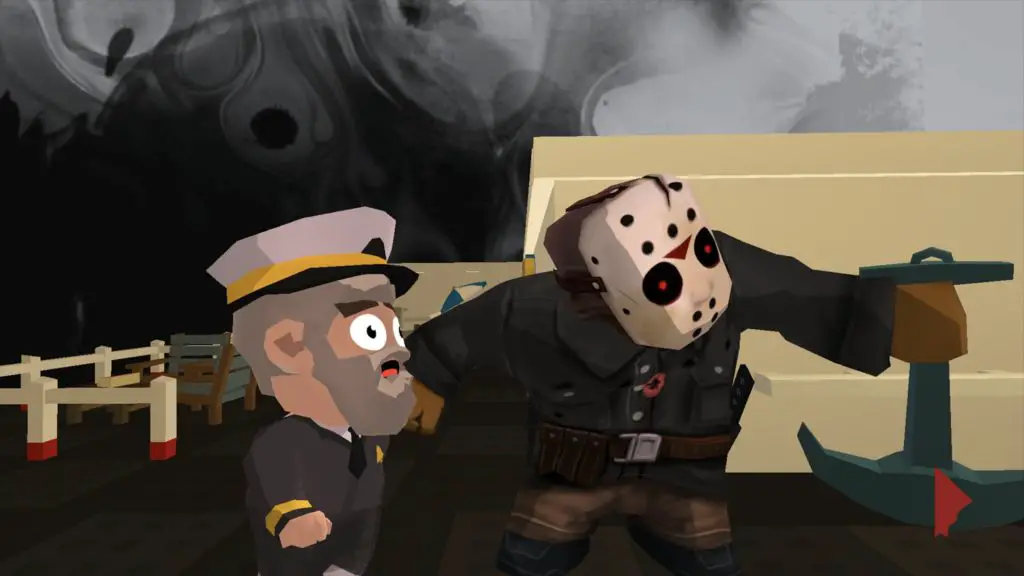 This killer puzzle game is all you need to pass your time. Slay and stalk campers across 100+ exciting puzzle levels. The game features Friday the 13th horror movie character Jason Voorhees. From the supermax prisons to the high-rises of Manhattan, Jason will terrorize victims across the world. This is a free horror game with over 100 free killer puzzle levels. For more excitement, you should choose the 'R' mode for dozens of horror movies Kill Scenes.
13. Sky Force Reloaded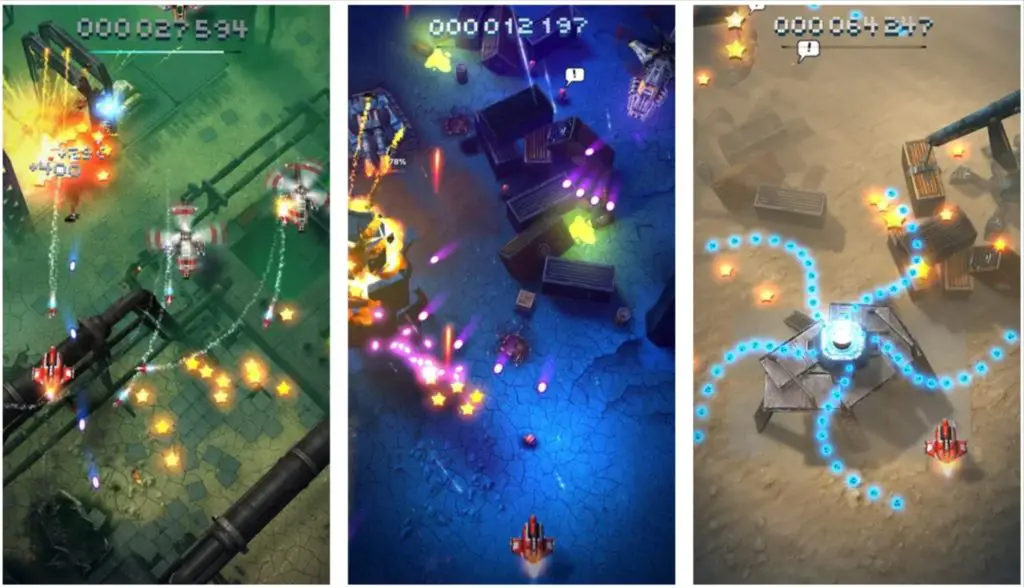 This is one of the popular retro arcade games featuring modern visuals and design. This game can keep you entertained for hours with the wide range of features it has. This is not your average top-down shooter game. The beautiful environments and intense effects are what make it more interesting. There are 15 immersive stages with challenging missions to complete. 
14. Prince of Persia: Escape
If you want to play something more legendary and classic on your mobile, then this could be the best option for you. This game is based on an old classic game, "Prince of Persia". From running fast to jumping high, you will have to avoid the spikes at any cost. It may look simple, but this is a challenging game where you will have to learn patterns and moves and proper timing to pass it.
15. Old School RuneScape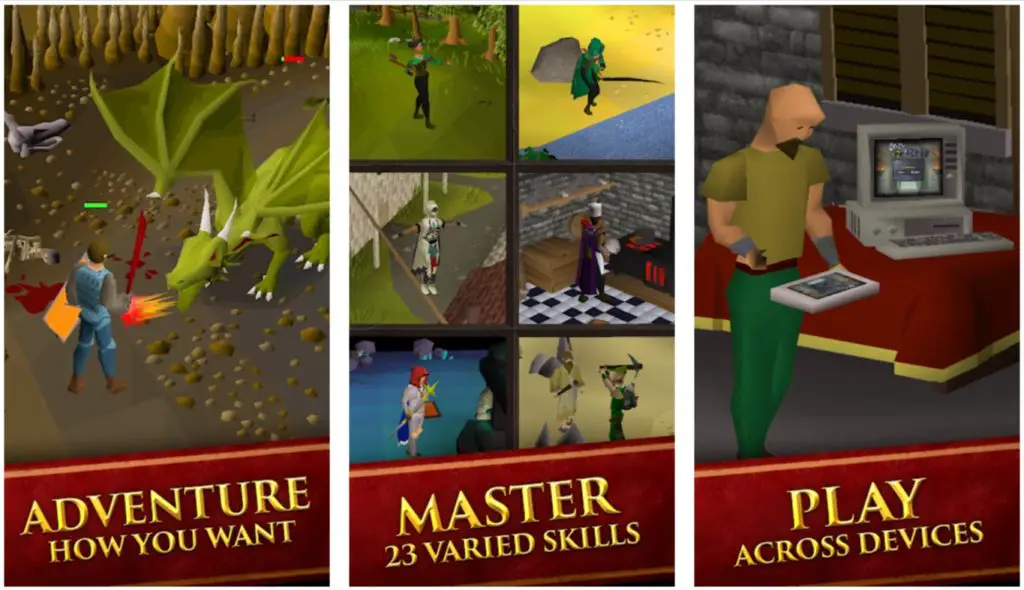 Old School RuneScape was first released in 2013, which is based on RuneScape 2007. This is an exciting open-world fantasy MMORPG game with lots of features. The 2013 version is made better and more engaging than before. This game unites the mechanics of modern MMOs with the point-and-click gameplay of early RPG games.
16. Stardew Valley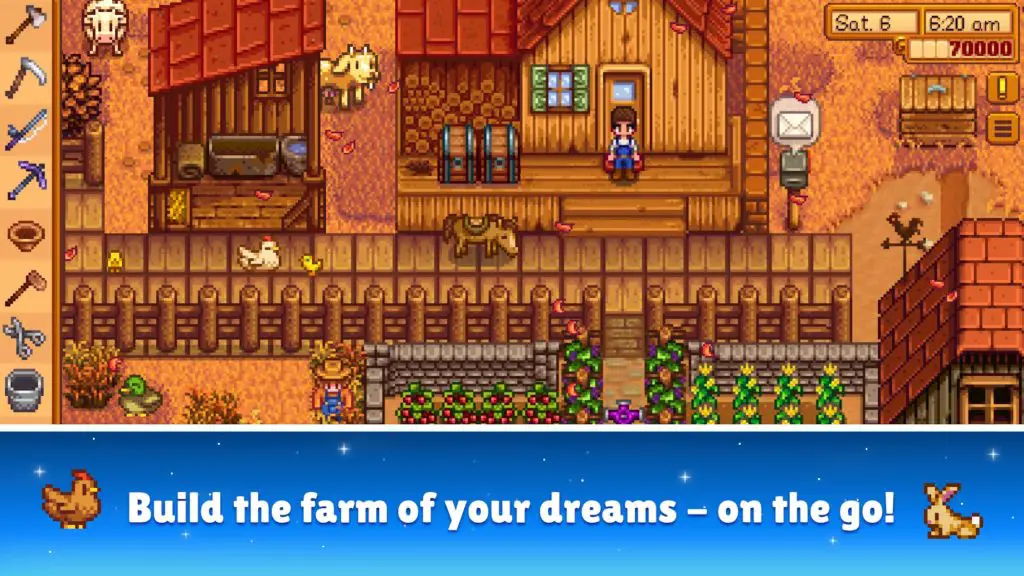 This is a hit farming RPG game for the mobile player. The gameplay takes place in the countryside, where you get to cultivate a new life. It has 50+ hours of gameplay content with new features, especially for the mobile version. This includes multiple controls and an auto-save option. With this award-winning game, you get the chance to build the farm of your dreams. Turn your overgrown fields into a lively farm, raise and breed animals, grow seasonal crops, and much more.
17. Sword of Xolan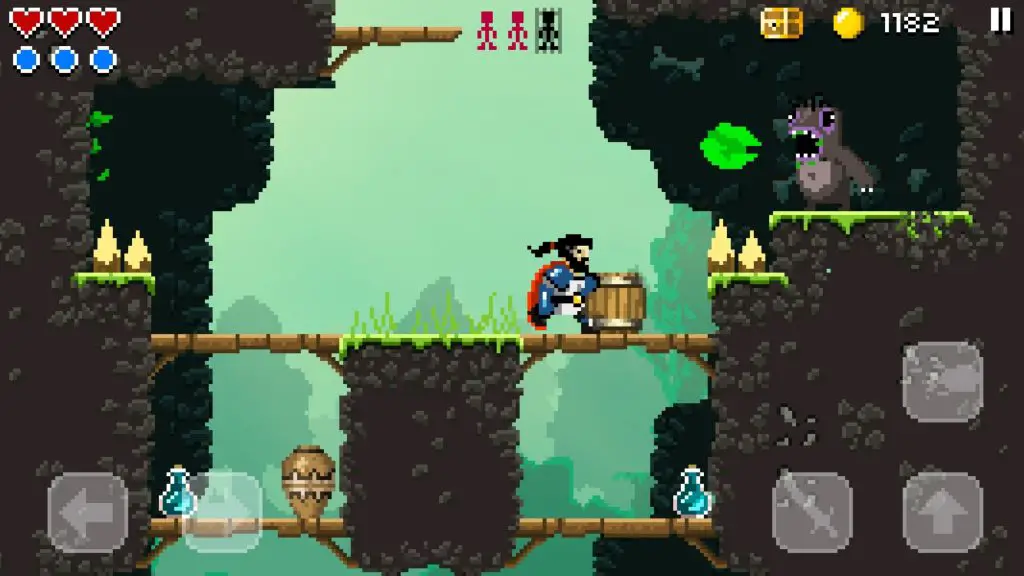 This is an action platformer game that features pixel art-style gaming. Xolan is a young and brave man who fights for justice. In this game, you help him on his adventure and fight against the darkness to bring back the peace and serenity that once existed. The game has 30 handcrafted adventure levels and 9 time-based challenge levels, along with many other features that you will love to explore.
18. Tetris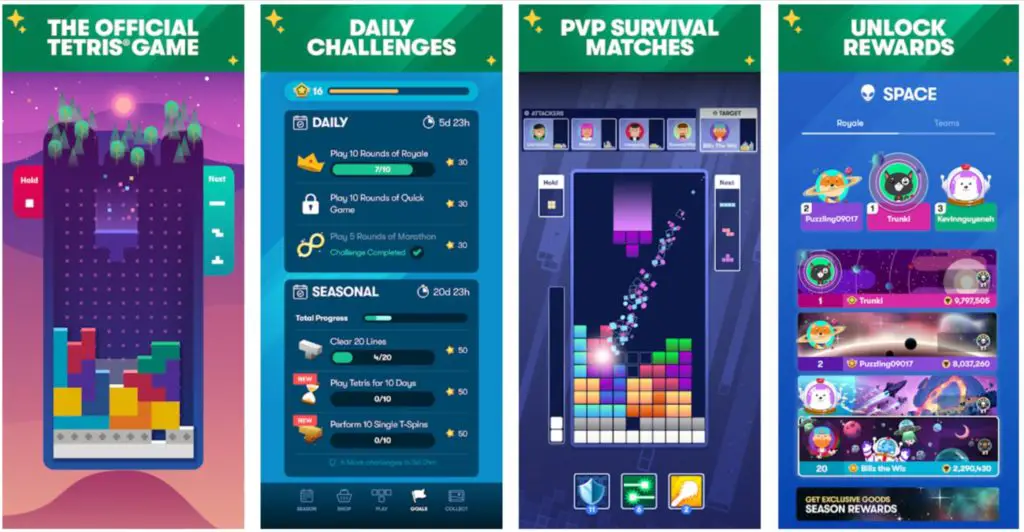 If you love puzzle games, you will surely love this one. The game also allows you to chat with friends in private. Interesting gameplay combined with multiple game modes makes this game one of the best puzzle games out there. The game comes with amazing features. You will be set up against 99 other players and the last one to survive wins the game. You can even customize the games to your group's skill level.
19. Sky Wings: Pixel Fighter 3D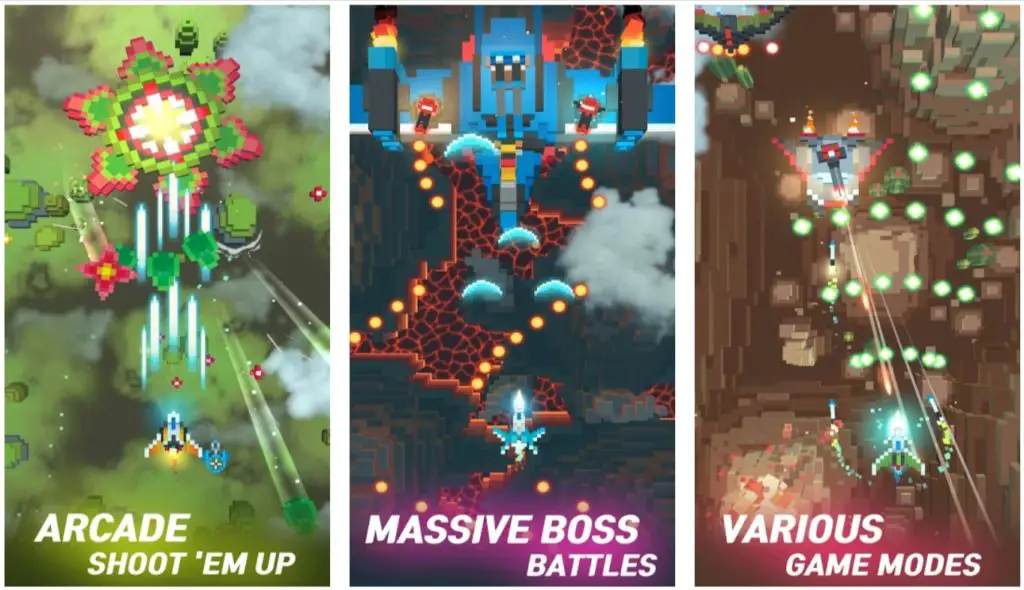 If you want to try your hands in a new style of arcade shooter, this is the game for you. It is an easy game with a great old-school style. You need to defeat powerful bosses such as Wolverine, Tiny Dragon, Metal King Crab, and many more. This is a 3D pixel-style game with 26 combat aircraft, challenging levels, and Hero difficulty modes. In this game, you get to compete with players from all over the world in the Infinite Mode.
20. Star Wars: Kotor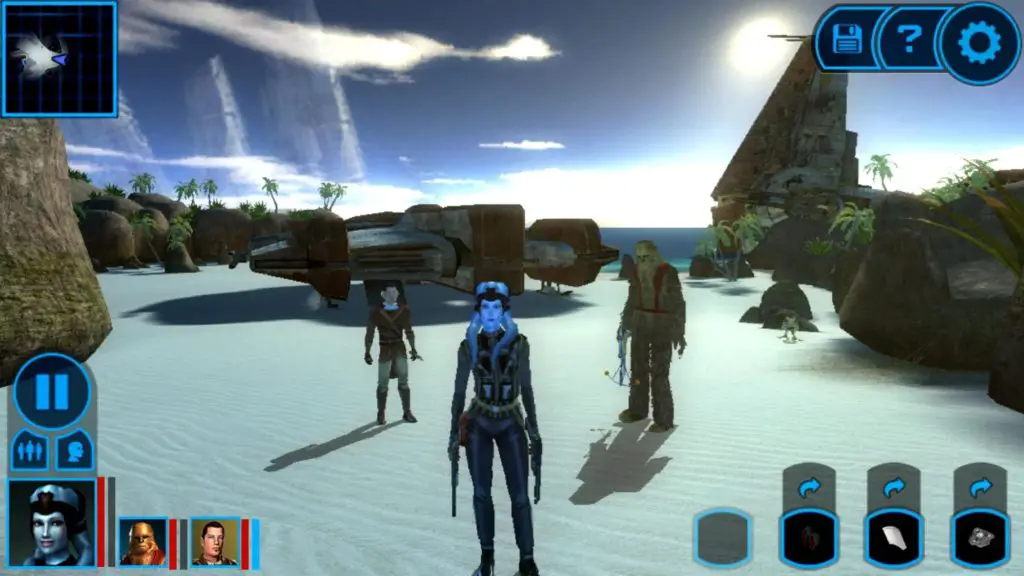 Star Wars: Kotor is all about space battle where you are the last hope of the Jedi Order. Your task is to master the power of the Force and save the republic. As you progress in the game, you will encounter many villains who you need to defeat to reach your destiny. This is an epic Star Wars RPG game with loads of unique characters, creatures, planets, and vehicles. What's more interesting is that you get to learn 40 different powers and also build your Lightsaber.
21. Rockstar Games Collection
Rockstar Games, Inc. is an American video game publisher. Over the years, the company has developed many hit games. Some of the hit game series include Max Payne, Grand Theft Auto, Red Dead Redemption, and more. All the mentioned series are popular worldwide. Ask any hardcore player, and they have already played these games. In case you missed out on any of these exciting titles, here is your chance to fix it. 
---
Protect Your Online Privacy With Surfshark
[The VPN that we use here at Tech Arrival]
---
22. Baldur's Gate: Enhanced Edition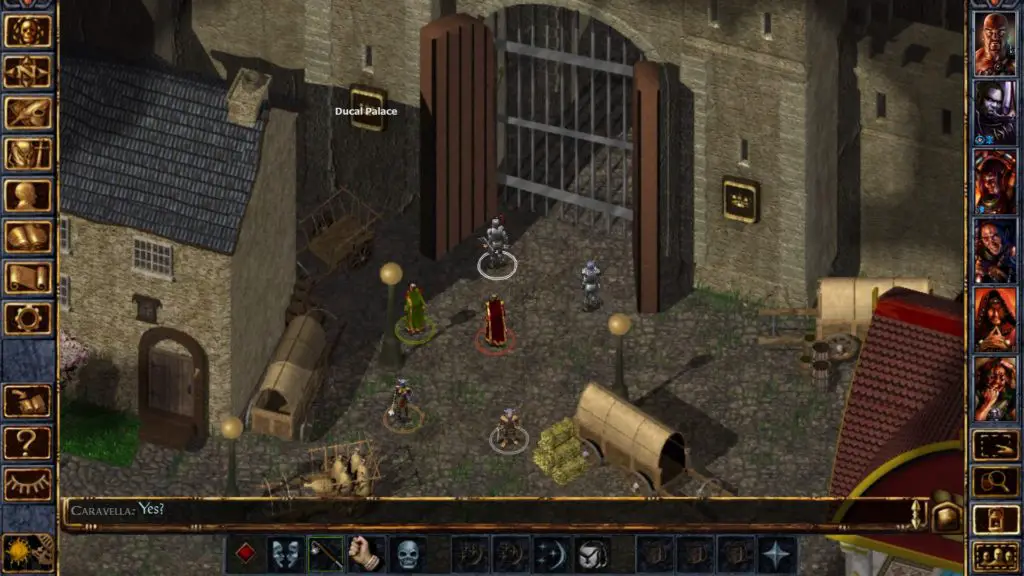 With more than 75 hours of gameplay, this game is optimized mainly for tablets. If you are playing it on your mobile phone, make sure the screen size is not less than 7 inches. This is the classic 1998 RPG game developed for modern adventurers. The game requires you to customize your hero, gather your party, and set out in the open-world setting where every choice matters. Just so you know, the developers have made countless improvements to the original game, including dynamic zooming and interface.
23. Castlevania: Symphony of the Night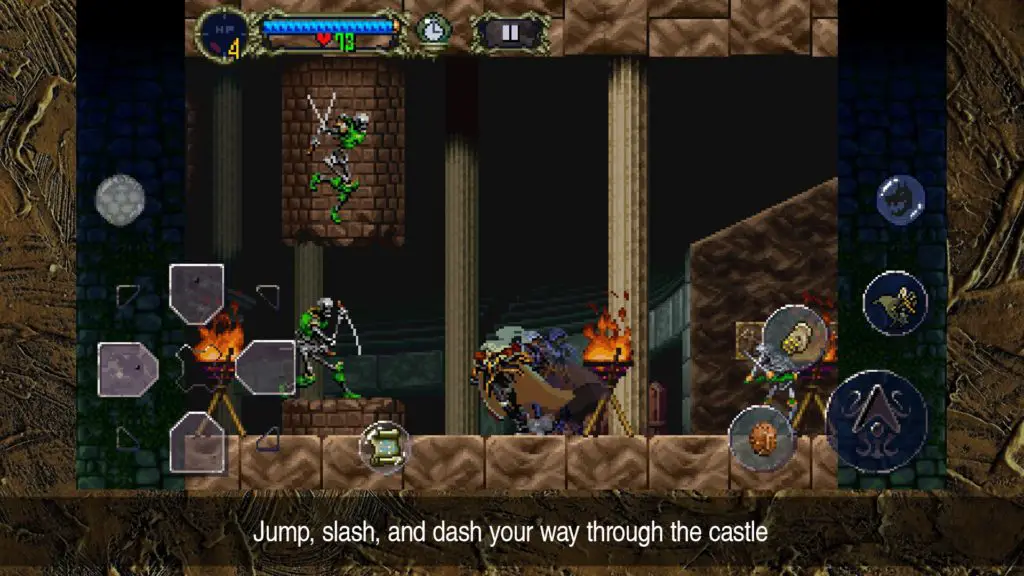 Castlevania is an iconic game series that can be now be played on mobile as well. This is a classic action RPG game where you slash and slay your way through Dracula's castle as Alucard. Along the way, you will encounter an array of enemies and other characters. To make the game more interesting, the developers have added renowned music and graphics as well. The game is available in 6 languages, including English, German, Japanese, French, Italian, and Spanish.
24. Slayaway Camp: 1980's Horror Puzzle Fun!
If you want to try something horror, then this psycho slasher game would be ideal for you. This is a darkly comic puzzle game inspired by 80's horror movies. It features 11 gut-wrenching videotapes and more than 140 puzzle levels to solve. You also get to unlock multiple psycho killers and discover dozens of kill scenes.
25. Evoland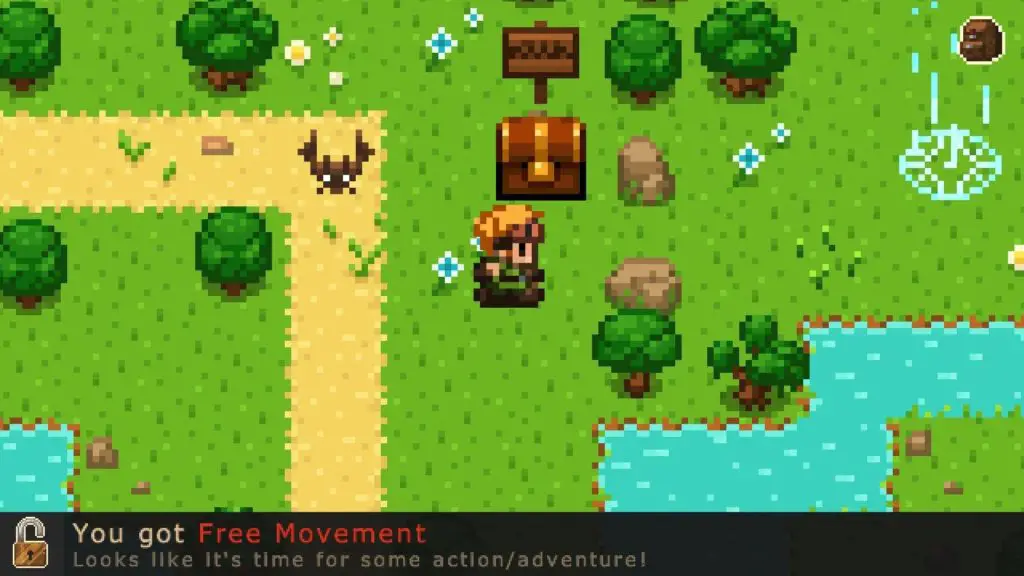 Lastly, we have Evoland, which is a popular action-adventure game. It takes you on a journey through the history of adventure and RPG gaming. The best thing about this game is that it is free of any ads or in-app purchases. As you progress through the game, you unlock new gameplay systems and technologies. This adventure gaming is fun and has a lot of humor that will keep you entertained for hours.
26. Cribbage Online
Cribbage Online features the online version of the classic game. Cribbage is a two-player game that involves a standard 52-card deck. The game aims to score points by playing cards in combination to reach 121 points. Players take turns playing cards from their hand, and points are awarded for various combinations and sequences. The fast playing style makes for an engaging and entertaining gameplay; additionally, Cribbage Online features three difficulty settings, making it ideal for players of all skill levels.
27. Hearts.land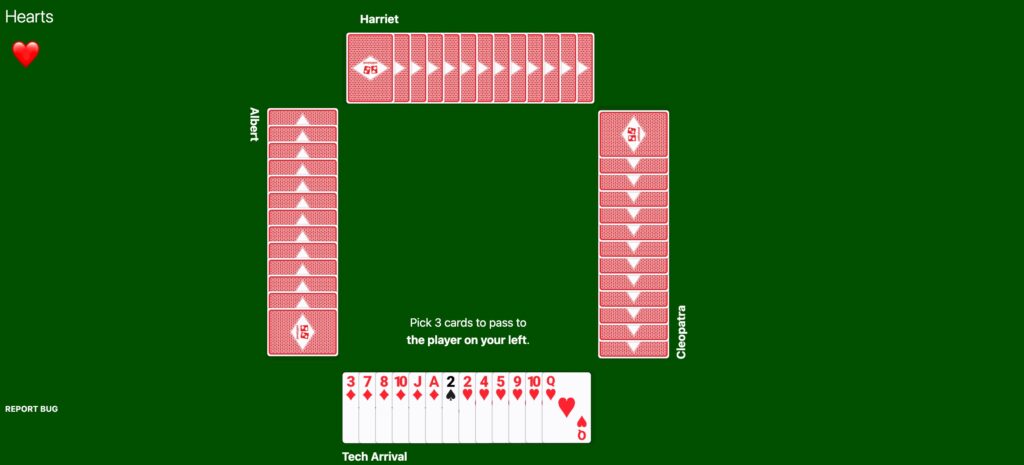 One of the most played card games of all time, Hearts is known for the strategic gameplay it requires to win. The trick-taking and evasion game has a simple goal: you must have the lowest points at the end of the game. This is done through card-swapping; players attempt to swap high-valued cards (such as the 13-point Queen of Spades) at strategic moments in the game. The online version offers single and multiplayer options and a comprehensive guide into the history, rules, and popular strategies players use.
So these are some of the best retro games you must try on your mobile phone. Some of these games have been improved to give you a better and enhanced gaming experience.
Also read: 10 Best GameBoy Advance (GBA) Emulators for Android
Frequently Asked Questions (FAQs)
What Devices can you Play Minecraft On?
You can play Minecraft on various devices, including Android, Windows, iOS, and Xbox One. It is even supported by Nintendo Switch.
Does Doodle Jump have an End?
There is no definitive end to the game. However, the end of each gameplay session happens when the player falls to the bottom of the screen, gets sucked into a black hole, jumps into a monster, or is abducted by a UFO.
Is Minesweeper a Game of Luck?
Minesweeper is a game of both skill and luck. If you have the right skills, it will help you make the highest probability guesses. However, luck plays a major role in this game.
---
Protect Your Online Privacy With Surfshark
[The VPN that we use here at Tech Arrival]
---