The wallpaper of your phone is one of the most noticeable things. After the sleek look of your iPhone, the first thing people will notice is your home screen. Having an eye-catching wallpaper is not only to look good at, but it also transforms your device's overall outlook. It also gives a sneak peek into your personality.
If you are an iPhone user, you may think you have limited options available. It can be a little annoying, but there is always a solution to every problem. Instead of searching HD wallpapers on Google, you can use a good wallpaper app on your iPhone from Apple App Store.
These wallpaper apps come with an extensive collection of high-quality wallpapers, which are specially designed for iPhone screens. This means you don't have to struggle to adjust the picture to your screen size.
This post will give you a brief overview of some of the best wallpaper apps you can use for your iPhone. If you are ready to give your iPhone screen a little makeover, you should give this article a read.
Also read: 12 Best iOS Keyboard Apps for iPhone and iPad
List of Best Wallpaper Apps For iPhone
1. Vellum Wallpapers
Our first choice is the Vellum Wallpaper app. This app is mainly known for its massive collection of wallpapers. The way they are displayed in the app, it's amazing to look at. 
This app is suitable for people who love artistic pictures. From stunning visualizations to scenic views to beautiful images, you can find it all on this app. One of the highlighted features of the app is the daily wallpaper option. The app brings to you a new picture every day, and it's guaranteed that you will not be disappointed by it.
With this app, you are never going to run out of wallpapers and it is updated daily. The only issue is that it has frequent ads popping up. But that's for developers to earn money to provide you free wallpapers, so it's justified.
Features 
Wallpaper preview
Blur filter for wallpapers
Themed packs available
Organized app
2. Icon Skin & Themes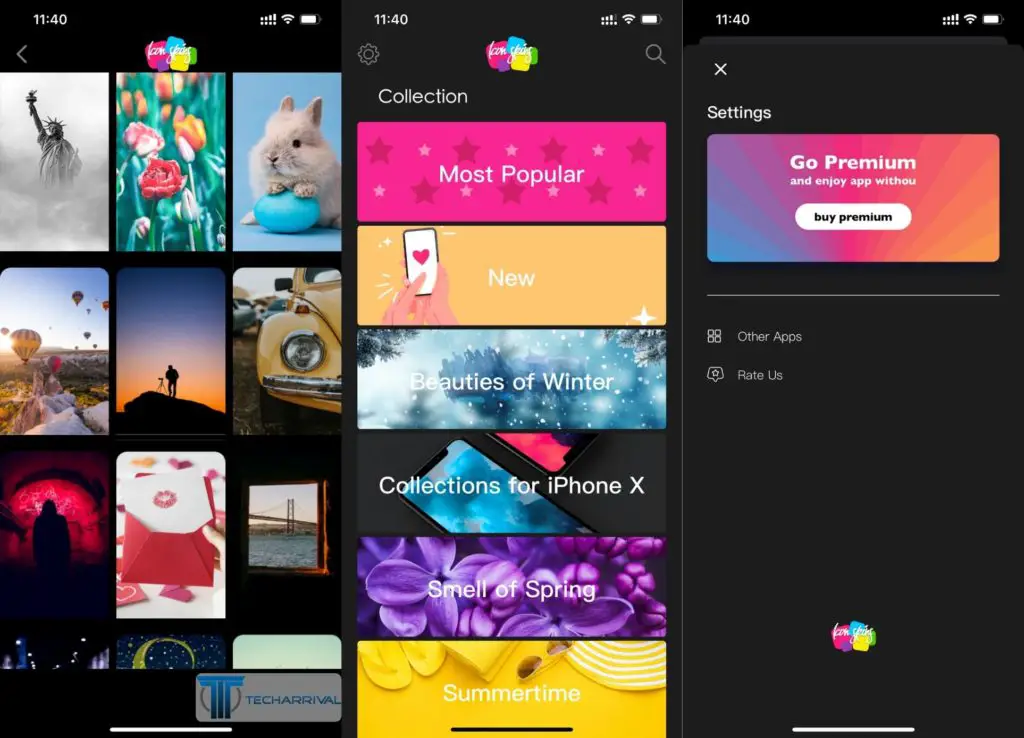 The next best option we have is the Icon Skins & Themes. If you are looking for beautiful wallpapers for your iPhone screen, then you must download this app. It is an easy-to-use app with unique choices. 
---
Protect Your Online Privacy With Surfshark
[The VPN that we use here at Tech Arrival]
---
The good thing is all the available wallpapers are grouped into different categories for easy accessibility. It also has a catchy interface, which is relatively easy to use. On this app, you can find all the high-quality images. The app is updated with new wallpapers weekly, so you will have more options to choose from every week.
If you are someone who loves to switch wallpapers frequently, this app is for you. It offers you plenty of options to choose from.
Features
High-quality wallpapers
Weekly updates
Has handmade wallpaper designs
Blurry filter for wallpapers
3. Live Wallpapers For Me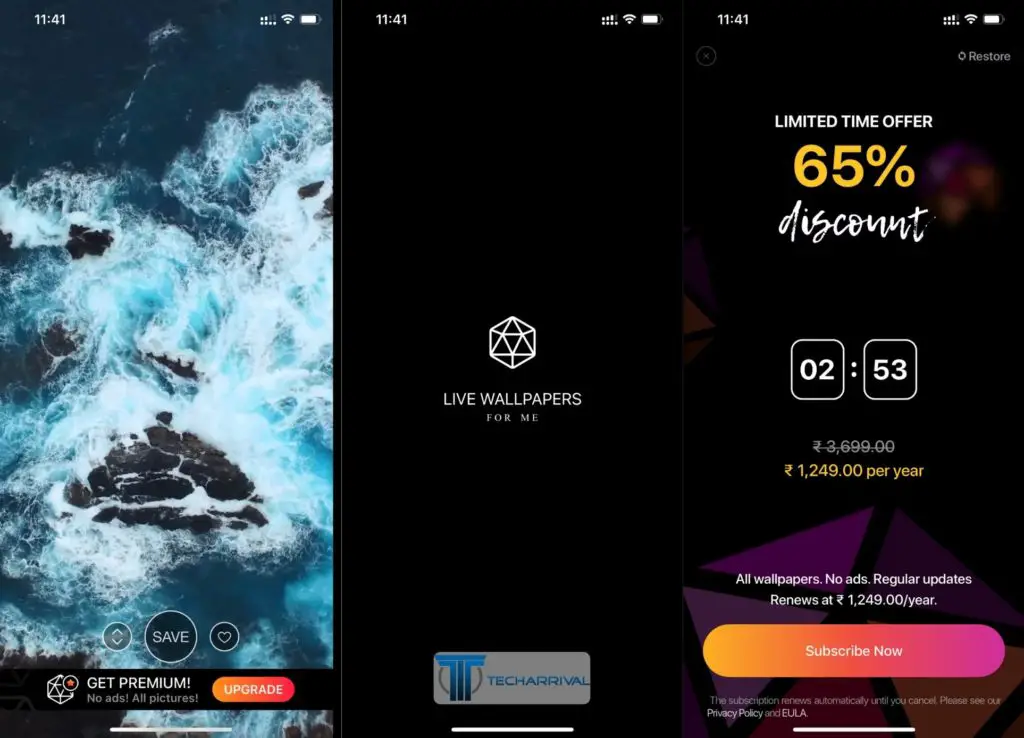 Live wallpapers look great on any phone. If you are looking for interesting live wallpapers for your iPhone, then this app is for you. It has a wide collection of animated wallpapers, and each of them is unique in design. The app also has different categories, including water, sci-fi, fire, animals, romantic, etc. You can choose a wallpaper of your choice from any of these categories.
One of the best things is that you can use this app in different languages. This makes things convenient for users. This app offers 4K wallpapers as well. 
It is available in both paid and free versions. In the paid version, you don't have to deal with annoying ads. There's no doubt that this app is worth every penny.
Features 
A categorized collection of wallpapers available
Supports different languages
New wallpapers added weekly
Provides 4k wallpapers.
4. Kappboom
Kappboom is more than just a wallpaper app. Besides a vast collection of wallpapers, the app also offers famous quotes, facts, and recipes. It is an all-in-one app developed for iOS devices.
You will find over app 200,000 wallpapers in this app. It also has all the iPhone backgrounds in HD quality. Whether you have an iPhone 11, 12, or any other, you can find wallpapers for all screen sizes. 
The app contains ads. But if you want to get rid of them, you can get the paid version of the app. The app also allows you to create beautiful collages. Download this app today and give your iPhone a vibrant look.
Features 
---
Protect Your Online Privacy With Surfshark
[The VPN that we use here at Tech Arrival]
---
Slideshow option
Collage maker
5. Unsplash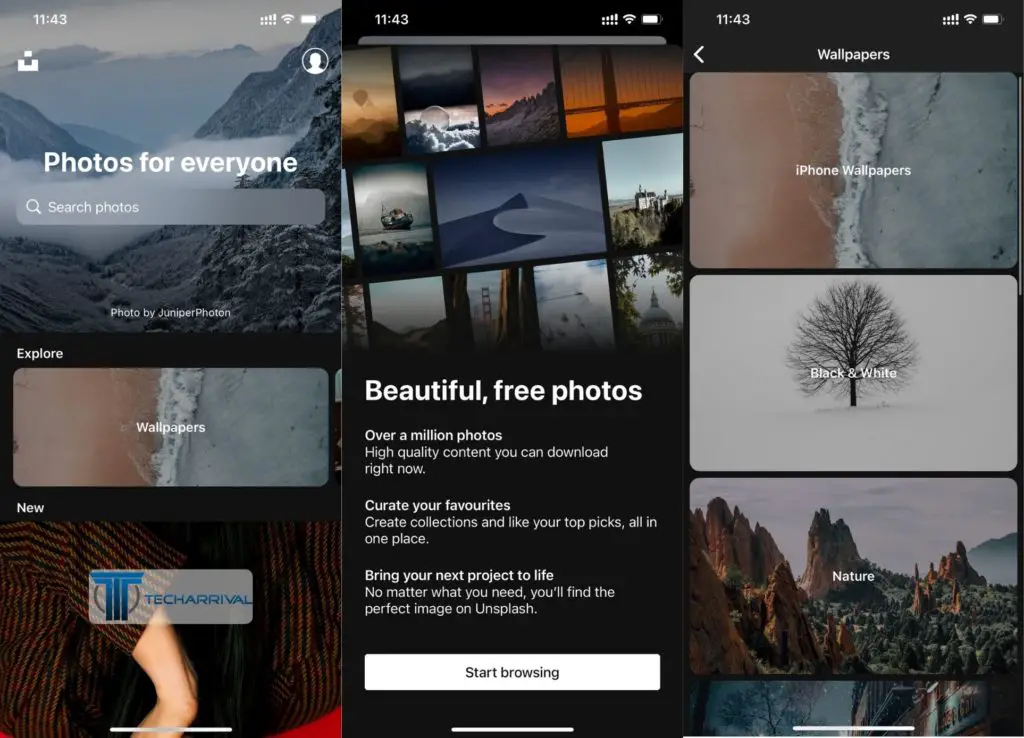 Unsplash is not exactly a wallpaper app. It is a community of artists and photographers who submit creative photos to the platform. So if you are looking for original and the best quality images for your iPhone, this is the app for you.
Many of you would assume that this is a paid app, but it's not. It is free to use and comes with a user-friendly interface that makes searching easy. All you have to do is type in the search box to find high-quality wallpapers for your iOS devices. There are no categories available. So you will have to use the search box.
All the images available on the app are HD quality and comes with detailed information. Since this app is based on artists and photographers, you have plenty of photos to choose from. The app is also free of ads, and it makes it the best wallpaper app for iPhone users.
Features 
Free of ads
Community of artists and photographers
Huge collection of images
HD quality images
6. Everpix Wallpaper App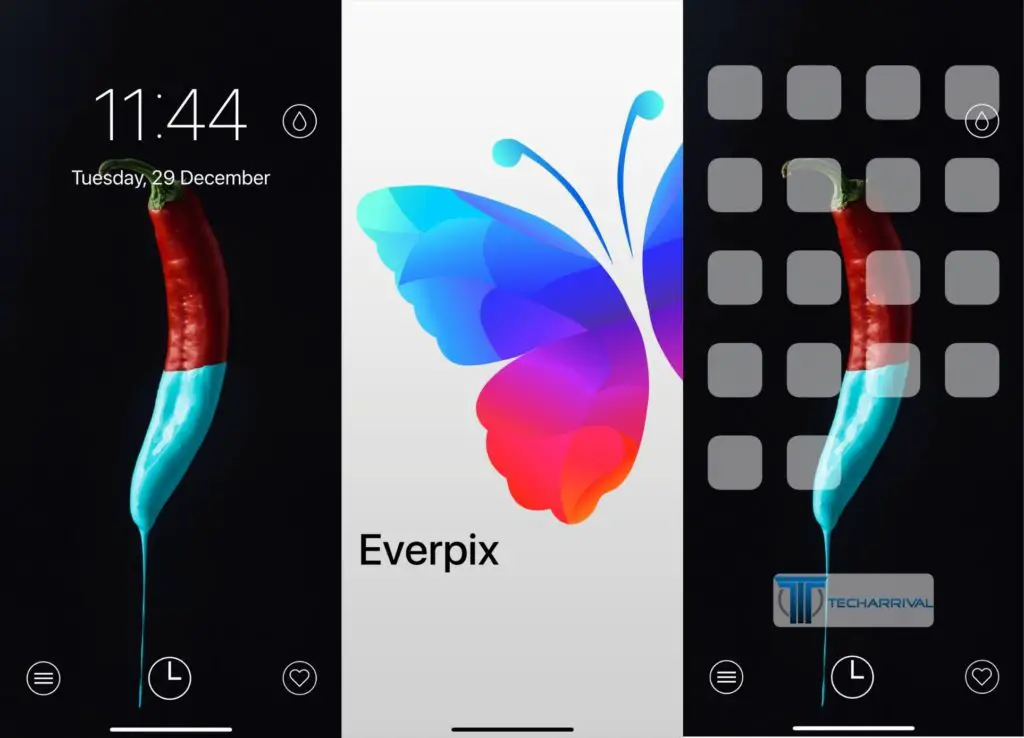 Looking for HD quality wallpapers on Google could be frustrating. This app is popular because of its high-quality HD images. It also has one of the best collections of 4k wallpapers.
The wallpapers are ranked so that you can select from the best wallpapers. It is updated daily with new images. However, the app contains a lot of ads. To use the ad-free version, you need to pay. But even then, it's worth it.
All the wallpapers available on the app are nicely grouped into categories. This makes it easier for you to search for the type of wallpapers you want. The app is also compatible with the Apple Watch.
Features
Daily updates
Ad-free version available
Huge collection of wallpapers
User-friendly interface
7. Pixs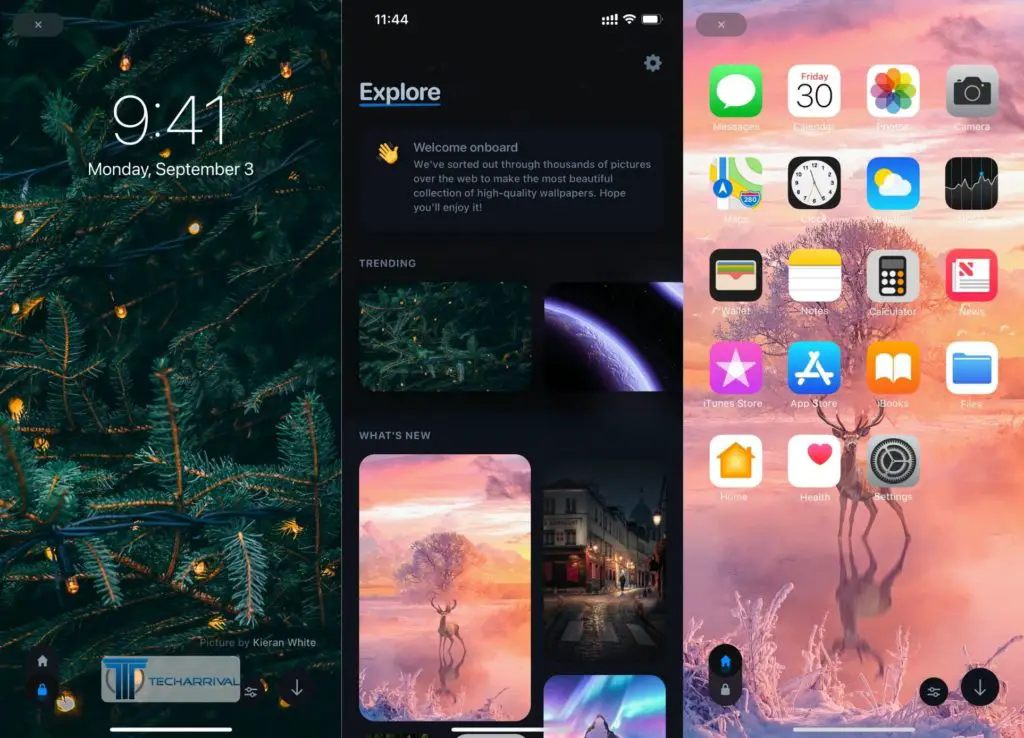 Pixs is a reasonably new wallpaper app for iOS devices. It has a clean and easy-to-use interface. Most wallpaper apps give you thousands of choices to choose from. But Pixs offers only a handful of options so that you can choose better.
Instead of quantity, the app focuses on quality. All the available wallpaper on the app are of HD quality. The images are grouped into different categories, such as city vibes, colorful, winter, art, and more. You can browse through each of the categories to find the best wallpaper for your device.
Image sizes are adjusted according to your screen size, so you don't have to put any extra effort. The app also offers a color filter to browse wallpapers of a particular band of color.
---
Protect Your Online Privacy With Surfshark
[The VPN that we use here at Tech Arrival]
---
Features
No advertisements
User-friendly and neat interface
New added wallpapers every day
Colour filter
8. Walli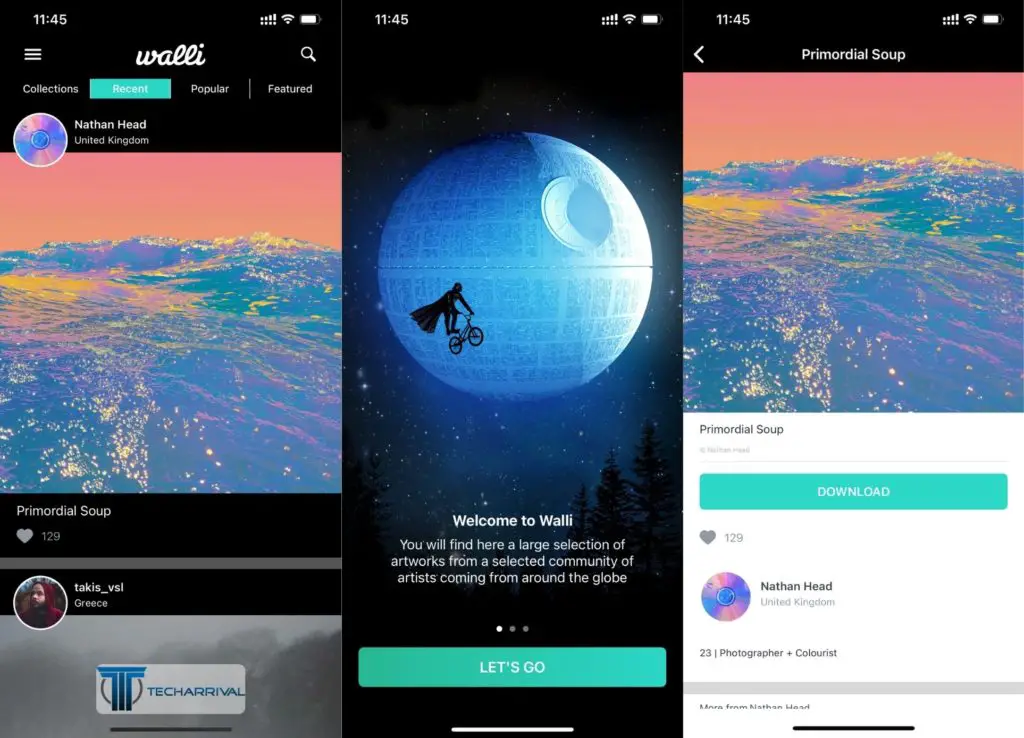 If you are searching for a creative wallpaper app for iPhone, you should try Walli. This app is not just available on iOS but also for Android. It offers wallpapers designed by different artists. The kind of wallpapers you will find here is entirely different from the others you see on other apps.
This app provides you unique wallpapers to give a colorful screen to your phone. It is based on a community of artists who design and contribute their images to the app and get paid for their work. You will find different categories of photos to choose from.
You can also follow your favorite artist to get more beautiful images from them. This app is the hub for creative photos that you will not find anywhere else.
Features 
Wallpapers made by paid artists
Different categories available
Multiple sizes available
Interactive interface
9. Papers.co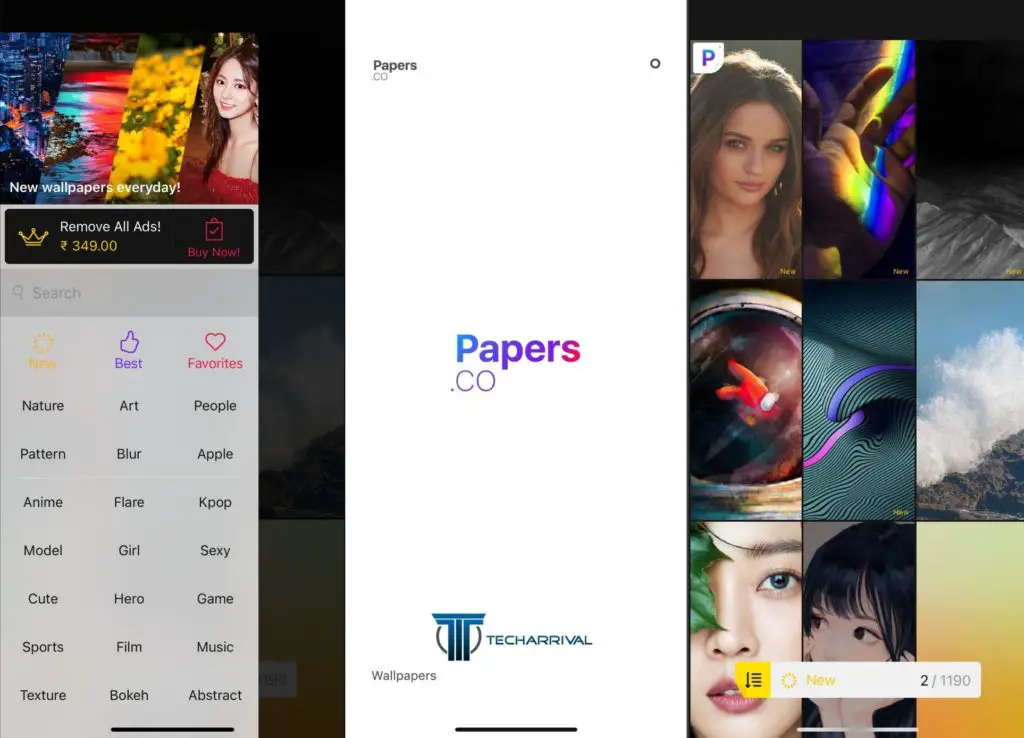 With Papers.co's extensive collection, you can indeed find the wallpaper of your choice. The app is filled with thousands of stunning images grouped into different categories. Some of the most popular categories include people, art, texture, night, space, and sunset. 
Unlike other similar apps, this one is packed with features. It has the preview option to see how the wallpaper will look on your home screen. Papers.co also offers you images of your favorite comic hero, football team, and vintage art.
You can download as many images as you want without paying a single dime. The app is entirely free to use. Another good thing is that it is updated daily so that you will have more options every day. With an easy-to-use interface, you can use the app with ease. To use the app without ads, you can get the premium version for a minimal price.
Features 
Daily added wallpapers
User-friendly interface
Huge collection
Premium version available 
10. Magic Screen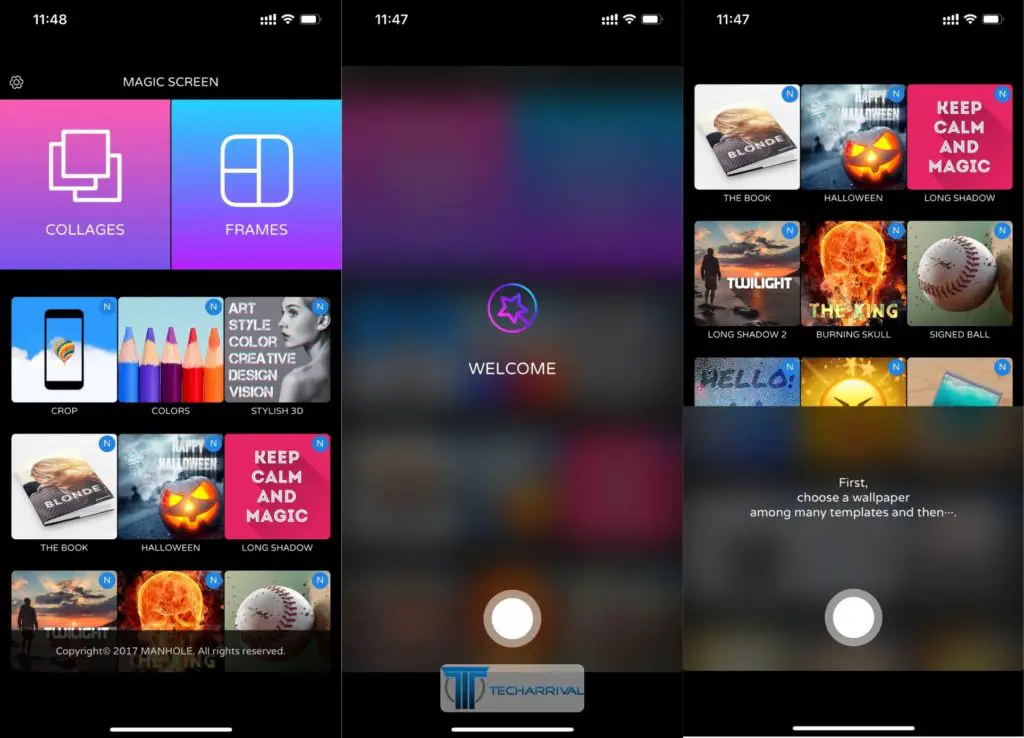 Next in the line, we have Magic Screen, yet another great app to download wallpapers. The app provides you a massive collection of animated wallpapers to give your iPhone a vibrant look. If you are looking for customized backgrounds to decorate your phone screen, you should download this app.
The app not only provides you with wallpapers to download, but you can also design your wallpapers. This feature is not readily available on other apps. You can even turn your photo into a live wallpaper or GIF. Many more unique features make this app stands out from the rest.
---
Protect Your Online Privacy With Surfshark
[The VPN that we use here at Tech Arrival]
---
Besides wallpapers, the app also offers fonts and template calendars to choose from. You can even share the wallpapers you created via Wi-Fi. It also gives you the collage making feature.
Features 
Lots of features
Allows you to create your wallpaper
Live wallpaper available
Offers fonts and templates
11. WLPPR App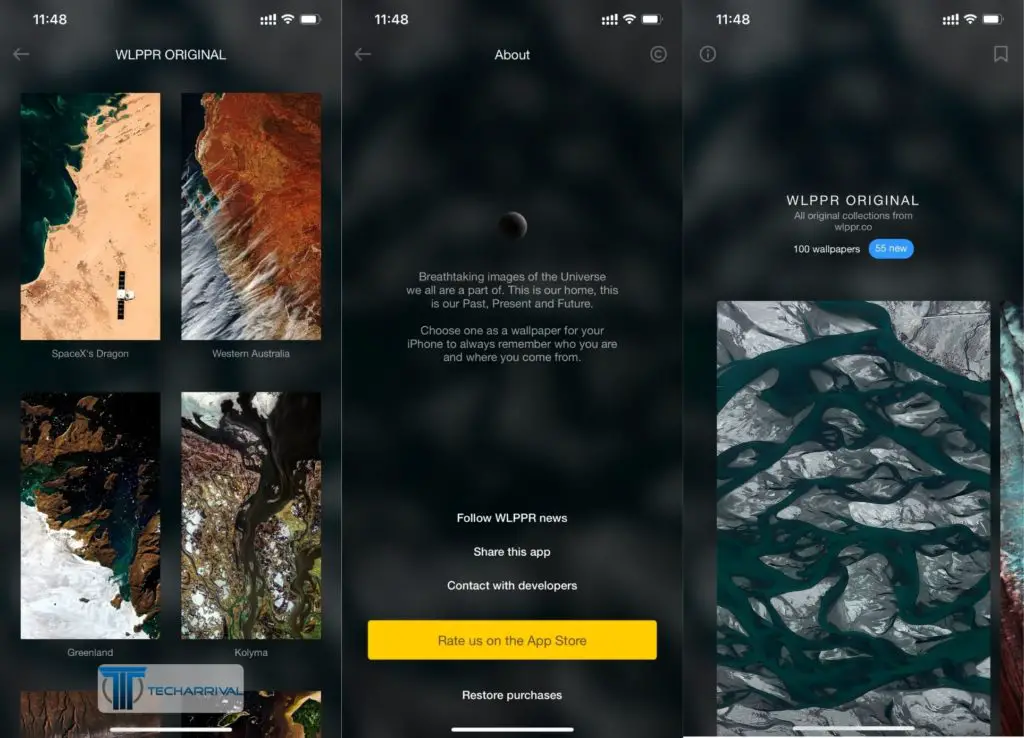 Lastly, we have the WLPPR app. If you are someone who admires the universe, you will surely love this app. It has a good collection of iPhone backgrounds and wallpapers to choose from.
It offers HD quality wallpapers, so you don't have to compromise on quality. The app also provides scientific sources of images along with their descriptions. The good thing is the app is available for free. But to access all the options available, you need to make an in-app purchase.
The app has many other features like bookmarking your favorite wallpaper, sharing the wallpaper's location with friends and others. It is because of these features that the app stands out from the rest. If you want something refreshing, give this app a try.
Features 
Easy to use interface
Lots of features
Bookmark wallpaper
HD quality images
Having a nice wallpaper transforms the outlook of your phone. Download any of these apps for your iOS device and find beautiful images to give your phone screen a makeover. Most of these apps are free, while some of them have paid versions available. With these apps, you are never going to run short of wallpapers.
Also read: 10 Best Apple Mail Alternatives for Mac & iPhone
Frequently Asked Questions (FAQs)
Does iPhone X support live wallpaper?
Yes, iPhone X can support live wallpaper or any other type of wallpaper easily.
What are some of the best wallpaper apps for iPhone?
Some of the best wallpaper apps for iPhone are Magic Screen, Pixs, Vellum wallpapers, and the WLPPR app.
Does Papers.co offers free wallpapers?
Yes, Papers.co has an extensive collection of free wallpapers. But the app has an ad-free version, which is paid.
---
Protect Your Online Privacy With Surfshark
[The VPN that we use here at Tech Arrival]
---
Why do people use dark themed wallpapers on iPhone?
Dark themed wallpapers look attractive and sophisticated. It helps change the outlook of your phone.
How do I make my iPhone wallpaper better?
You can make it better by using the apps mentioned above to find the best wallpaper for you.