When it comes to the social media, everyone is concerned about their online privacy. Having the friends in common (mutual friends) is one them.
There are times when you need to hide friends list on facebook from others like your friends and family. Doing so can be helpful in several situations. Let us take an example:
For example, one of your friends do not have a good relationship with the other guy but you and the other guy are good friends. If you have an open friends list then everyone can see who you are friends on Facebook. However, in this type of situation, it can cause conflict.
So in times like that, it is quite necessary to hide facebook friend list. Let us know if you agree with us.
Also, one thing we forgot to mention. That is, it can also be beneficial for your friends that your friend list is not visible. Let us explain how. Some people in a blind run of getting the maximum friends on facebook(Although the friends limit on Facebook is 5000), will send the friend requests to all peoples on your list(Probably to invite them all to like their Facebook page). This is not good and must be prevented.
Facebook is regularly updating its policies and adding new features to ensure that their users can get the best possible privacy protection. So let's see how you can take advantage of these features:
Steps to Hide Friends List on Facebook
There are only several baby steps that you need to follow to get this done(Facebook Privacy Settings). Follow the steps given below:
For Desktop Users
First of all, go to facebook.com and log in.
Go to your profile page.
Click on Friends Tab.
Click on the Top Right corner edit button that says "Manage" or "Edit Privacy".
You will see a pop-up that will let you choose who can see your friend list. For the best privacy settings, we will recommend you to turn everything to "Only Me". In that way, no one will ever see your friend list.
For Mobile, Android & iOS Users
Note: We have searched a lot but we were unable to find the privacy settings to hide friend list on Android and iOS app. So here is something you can do to hide friend list from mobile browser.
Open any browser on your smartphone and go to facebook.com & login.
Now go to your profile using the top right button and tapping on view profile.
Now scroll a little and select friends tab.
Similar to that of desktop, you will find a little edit icon from where you can change the privacy settings of your friend list. Select the appropriate option.
You can verify whether it worked or not by simply asking your friends.
Bonus Tips
Bonus Tip #1: If you only want specific peoples to see your friend list or only want to hide it from selected peoples then this is also possible. You can select the custom setting and can do it from there.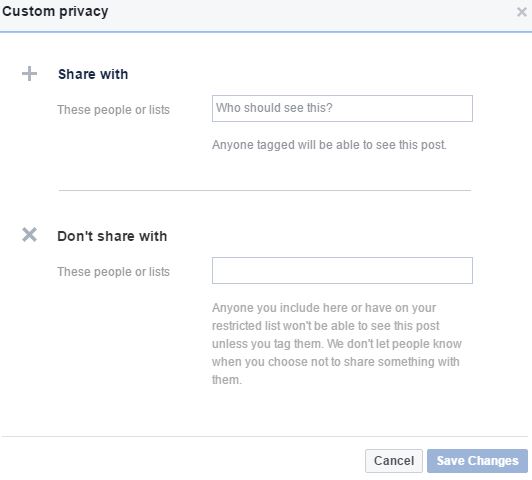 Bonus Tip #2: You can also hide specific posts from certain peoples. You just need to change the privacy setting while publishing a photo/video/status on Facebook. This may come in quite handy when you don't want your neighbors to know that you are dating their daughter. Just kidding :P
---
Protect Your Online Privacy With Surfshark
[The VPN that we use here at Tech Arrival]
---
Bonus Tip #3: If you are creating a group of all of your friends. Then instead of adding all of them manually, you can use a script to add all friends to the Facebook group.
That was easy, wasn't it? Let us know if you encounter any problems while performing the process. Also if you want more tutorials like this then do you can tell us using the comment section below.
If you like this post and you think that it will be helpful for others then do let them know by sharing this post with your friends. We would highly appreciate it.