The old adage, "You get what you pay for" might have been true for prior generations of consumers. But in today's tech world, with start-up developers looking to make a name for themselves, open-source software, and products in their beta stage made available to users in the hope of improving the product before it's launched, that adage simply doesn't ring true.
The truth of the matter is that today's consumer can often get quite a lot for very little, and sometimes quite a lot for actually nothing at all. This is the case when it comes to video editing software.
Whether you are making promotional or marketing videos, content for your YouTube channel, a short or feature-length film, a few video editing software programs for Mac and PC are available on the market that you can use for free.
In this short article, we'll take a look at a few options. Perhaps you need video editing software for Mac and PC to complete a punctual or one-off project, and you don't feel it would be worth the expense to invest in purchasing video editing software. Or, you are planning to buy video editing software but want to try it out first before taking the plunge. In this article, we've curated our picks for the best solutions for free video editing software for Mac and PC.
Also read: 7 Best Video Editing Software for YouTube
Pros and Cons of Using Free Video Editing Software
For a professional filmmaker or content creator – or someone with professional ambitions and the means – video editing software is too important not to use the one best suited for your needs and preferences and simply pay for it. 
If you are a freelancer who is looking to break into one of the most resilient and profitable tech jobs such as digital marketing, content creation, or social media management, you might want to start out using free video editing software until you've built up enough of a client base and can afford to invest in a more professional or premium solution.
On the other hand, you may need to use video editing software so sporadically that it simply just doesn't justify purchasing video editing software.
There are free video editing software for Mac and Pc solutions available to you, but you should keep in mind a few caveats or downsides to using free video editing software.
The Pros
Free trial periods allow you to take the video editing software for a test run so that you can make a more informed purchasing decision later.
Using various free video editing software solutions for the different projects you're working on will help you better develop your skills as an editor. And it will help you to identify what your preferences are and where your strengths and weaknesses lie.
You save money.
The Cons
Free versions of video editing software often limit access to more advanced features.
There is always a learning curve when using a video editing software program for the first time. Free trial periods don't often give the user enough time to get familiar with the software to make an informed decision.
Watermarks or the developer's branding placed on the video content render whatever project you are working on virtually null and void for professional or commercial purposes.
Lightworks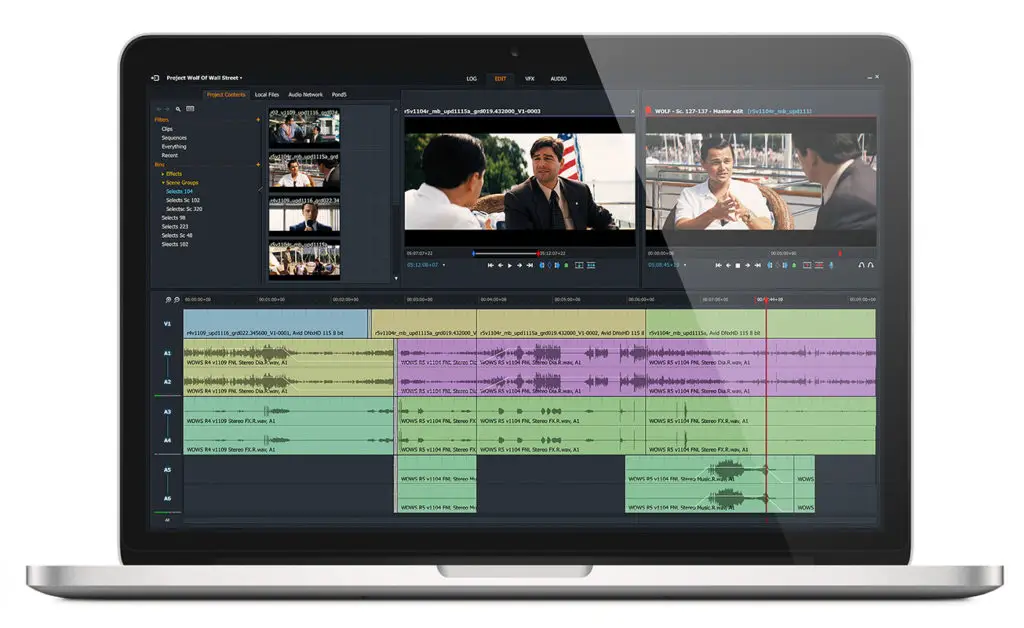 We might as well start with the best. And when it comes to high-quality video editing software that is 100% free to use with no waterworks or branding (and free forever, not merely limited to a free trial plan), Lightworks is hands down on the top of our list.
---
Protect Your Online Privacy With Surfshark
[The VPN that we use here at Tech Arrival]
---
How free is it?
As we know, when it comes to offering products or software "for free", there is often a sliding scale as to what is meant by "free". In the case of Lightworks, there are two premium subscription plans: Lightworks Create, at $9.99 per month, and Lightworks Pro, at $23.99 per month.
These premium subscription plans give you access to advanced effects, higher export capacity, cloud editing and collaboration, social media export templates, advanced metadata, and more. If you are a freelancer, what you should know about entertainment jobs in 2022 is that collaborating on projects through cloud technology is becoming more and more the norm. 
For working freelancers, a premium subscription may be worth it for that reason allow. Conversely, you can sign up for the free plan. 
In the free plan, there are no watermarks or Lightworks branding embedded in your videos. There is no time limit on how long you can take advantage of the free plan. There are no restrictions on the number of files you can export (though all projects in the free plan are limited to exporting in 720p). And there is no need to submit your credit card details.
The free plan is an excellent way for you to take your time familiarizing yourself with the many features of Lightworks video editing software. Then you can decide later if you would like to upgrade to a premium plan or look for another video editing software for Mac or PC. You may also find that the free plan meets all the requirements you need in a video editing software program. In that case, you can simply stay on the free plan. 
How well does it perform?
Lightworks is a robust precision video editing software system. Their motto boasts "Hollywood strength video editing for everyone", and the performance of their video editing software backs it up.
Lightworks is excellent for picture-in-picture editing.
When you need to layer an image onto your video – a common effect found in product marketing videos and YouTube content, for example, Lightworks gives you unparalleled control over the image, how it is displayed (including size, angles, appearance, and vanish) and for how long.
Lightworks is excellent for optimizing the audio of your project.
Every bit of audio in your project can be boosted, EQed, muted, etc., either as an individual element or in a sequence. The control Lightworks gives you is impressive. And because you are working on a visual display of the audio tracks, any manipulation of them is done in an intuitive and easy-to-grasp way.
Lightworks video editing is stable
---
Protect Your Online Privacy With Surfshark
[The VPN that we use here at Tech Arrival]
---
While no software is completely 100% crash-proof, Lightworks performs much better in this regard than other similar video editing software programs on the market. Lightworks continuously autosaves the project you are working on, so in the rare event that the program does crash, the chances are that you won't have lost much of your work – if any at all.
Lightworks video editing in the free plan has basic effects
With the notable exception of picture-in-picture editing and adding text, the effects that are offered in the free plan aren't likely to wow experienced video editors. Basic fades and screen wipes, as well as filters and color correction, are available in the free plan, and this should be enough to satisfy non-professional users.
How easy and intuitive is it to use?
With any new software you are going to use, there is a learning curve. The learning curve in Lightworks is quite possibly a fair bit steeper than in other video editing software programs.
When you click on an element on the video track you are currently editing, there are a number of vastly different ways the program will interpret what you want to do. These interpretations depend on where exactly you clicked on the element and if the action is a part of a sequence of actions or if it is independent.
Once you get the hang of the system and of the logic that is behind it, then it becomes intuitive – and it's quite impressive just how many functions you can get out of just one click. However, until you get the hang of the element selection logic that is unique to Lightworks, the chances are quite high that you will experience a few moments of hair-pulling frustration.
Furthermore, when you make a mistake editing, that mistake is likely to affect more than the track you are working on (if you committed the Lightworks sin of not de-selecting the tracks you are not working on). This is not always apparent or even easy to spot at first. Mistakes can snowball quickly in Lightworks (especially if they are corrected manually and not by pressing Cntrl z).
Once you have ruined a project by not spotting how one mistake was tied to multiple tracks, you will learn to always de-select the tracks you are not working on. This is something that isn't necessarily intuitive as it is not a habit you need to develop when using other video editing software.   
The Verdict
The free version is 100% free (no credit card required, no watermarks, and no time or export limits). Lightworks is a high-quality, high-performance, professional-grade video editing software program. However, it does come with a particularly high learning curve. And you are likely to experience some moments of high frustration levels as you familiarize yourself with the logic behind this software and you develop the necessary habits to best work with it.
Other Free Options 
HitFilm Express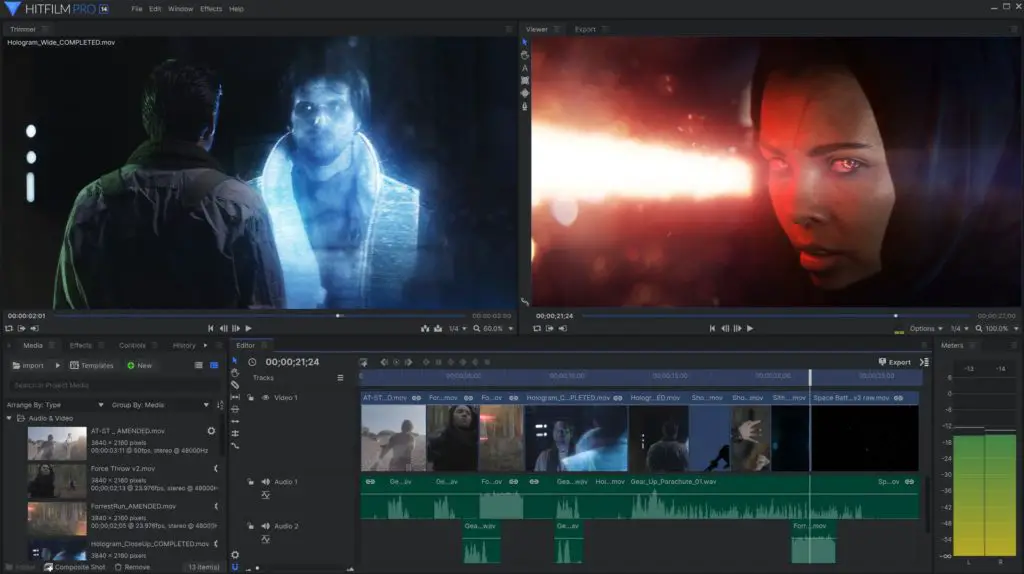 Although they have a pro subscription package, the free version is not limited in time, comes with no waterworks (provided you simply create a free account and sign up for a free license), and gives you access to enough features to satisfy most non-professional users – this includes unlimited exports in 4k.
While HitFilm Express video editing software does have impressive audio editing features, they don't come close in terms of quality and controllability to what Lightworks offers.
---
Protect Your Online Privacy With Surfshark
[The VPN that we use here at Tech Arrival]
---
On the other hand, HitFilm express offers motion tracking and animation tools.
OpenShot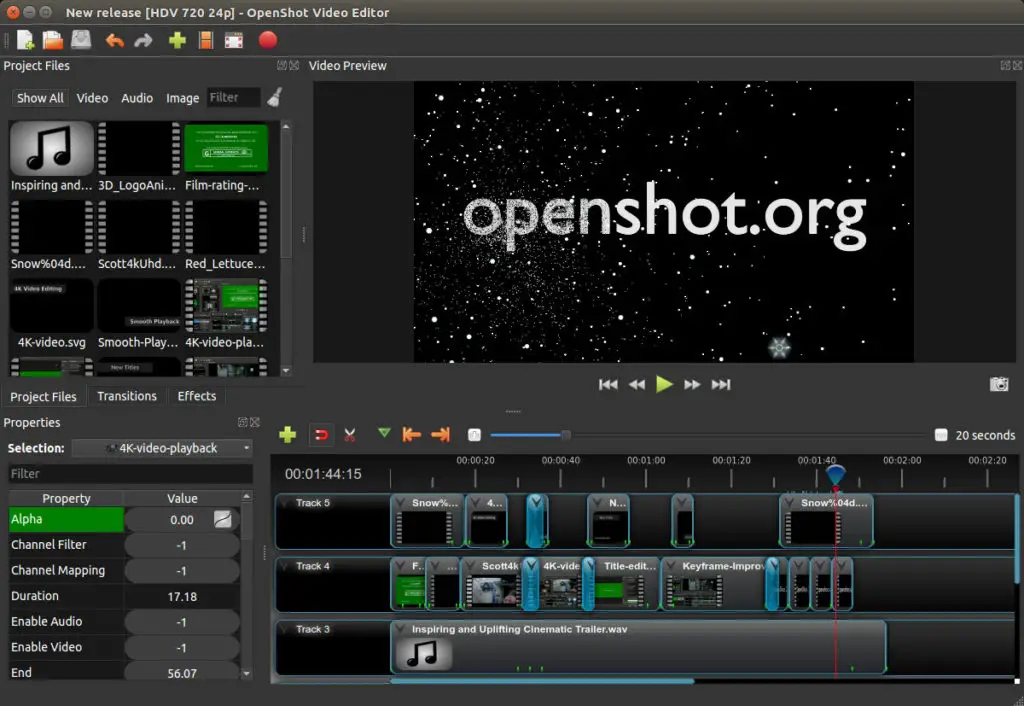 If you have a simple video editing project to do, if you don't have much experience in video editing, and you don't want to take the trouble of learning complicated software, OpenShot may be the right choice for you.
OpenShot is a scaled-down drag-and-drop video editor. It is far and away the easiest video editing software program to learn (as it's relatively limited in terms of features). The software does crash more than other video editing software solutions you could choose, so when using OpenShot, it is especially important to remember to periodically back up your work.
OpenShot comes with basic fades, crossfades, and a few different types of screen wipes. The videos you work with in OpenShot are easy to trim and splice, but you are severely limited in terms of the control you have over the audio.
The Bottom Line
Whether you simply need to use video editing software on an occasional basis or you're looking to gain experience and try out a few options before investing in a premium subscription, there are a few excellent video editing software solutions you can take advantage of at absolutely no cost.
Avoid offers of a free trial that come with waterworks or branding striped across your videos. This renders your projects completely useless for any professional, semi-professional, or commercial context. All the video editing software solutions mentioned in this article are free of watermarks and come with no time limits as to how long you can use their respective free plans.
Also read: 9 Best Video Editing Apps for iPhone
Bear in mind there will be a learning curve in whatever video editing software you choose. Lightworks might have the steepest learning curve of them all (HitFilm Express is also quite difficult to get the hang of at first). But ultimately, if you want to make quality video content, you'll need to use quality video editing software, and they all require time and practice to get a handle on their various features.