There is no need to introduce a platform as big as Instagram. The social media giant that started as a photo and videos sharing platform is now home to over 1 billion active users. They may have introduced new features and services over time, but its main purpose is still sharing photos and video-based content.
However, sometimes even Instagram doesn't let you post photos or videos on the platform. If you're one of them facing this, then don't get shocked. Many users encounter this problem daily, and there can be several reasons behind it.
The developers invest heavily in Instagram to make it user-friendly and less prone to bugs. So, sometimes the problems can be from your end too. In this article, we will mention all those methods that you can use to fix the posting problem on Instagram.
Also read: How to Clear Instagram Search Suggestions and History
List of Ways to Fix Instagram Not Posting Photos/Videos
1. Check Your Internet Connection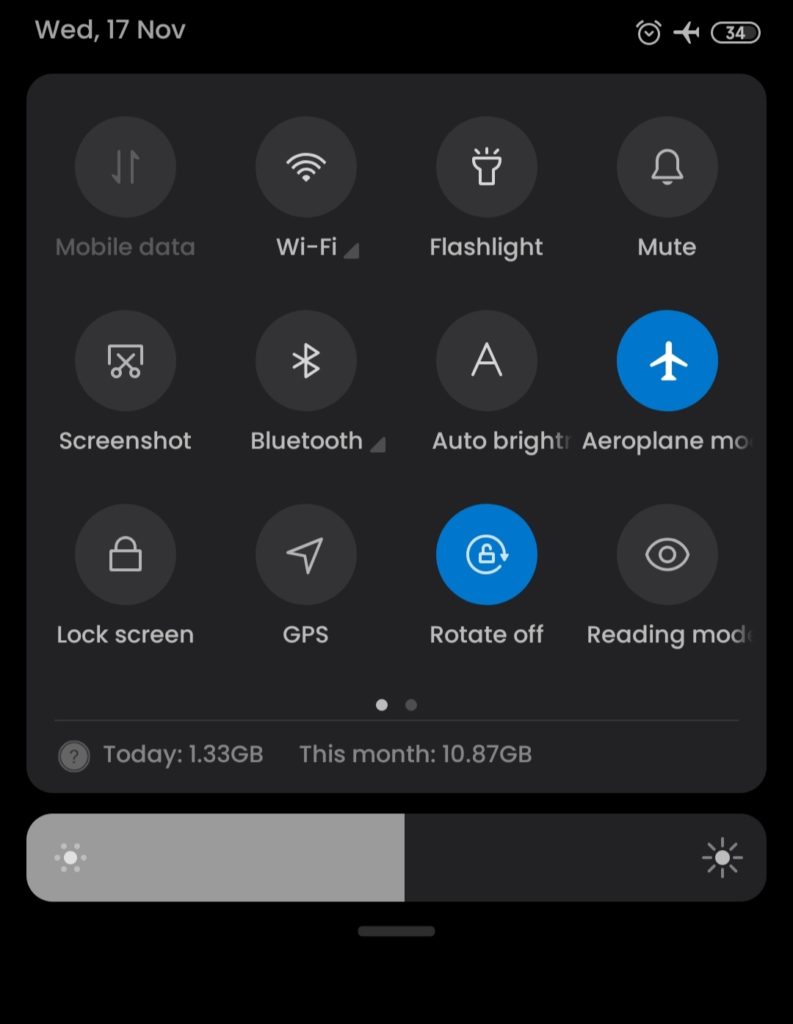 This is the first thing you have to check if you're unable to post on Instagram. Make sure you have a stable Internet connection. Most of the time, the problem with Instagram posting occurs because of a shady internet connection.
If your network connection is fine and you're still facing this problem, try resetting it. You can turn on the flight mode for a minute, then turn it on later and see if anything changes. You can also try turning off and on your mobile data connection. If you're on WiFi, try reconnecting to it again. 
2. Restart Your Phone
The next solution you can use is simply to restart your device. It looks so easy but can solve this problem in minutes. Restarting your phone will also restart all the applications and services running in the background and fix temporary software issues. 
If you're using an Android, just hold the power button for a few seconds. A pop-up will appear with an option to restart the device. Tap on it and wait until the phone gets restarted. After this, try posting the photos/videos on Instagram and see if this fixes the problem. 
For iOS, press and hold power and home buttons together. If you're on iPhone 11 or later, just hold down a volume button and power button for 3 sec. 
3. Clear Instagram Cached data
Instagram stores cache data in the background while we use the app. This cache data is useful to suggest content based on your previous browsing history and several other things. However, this data can also be the reason that is stopping you from posting on Instagram. The best thing you can do to tackle this problem is clear the cached data, which is a very simple process. 
---
Protect Your Online Privacy With Surfshark
[The VPN that we use here at Tech Arrival]
---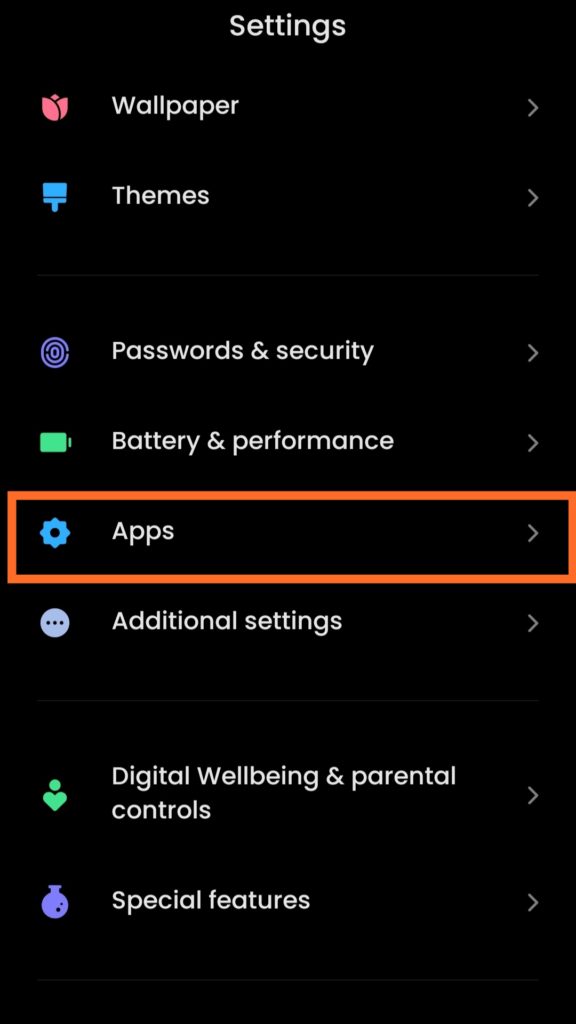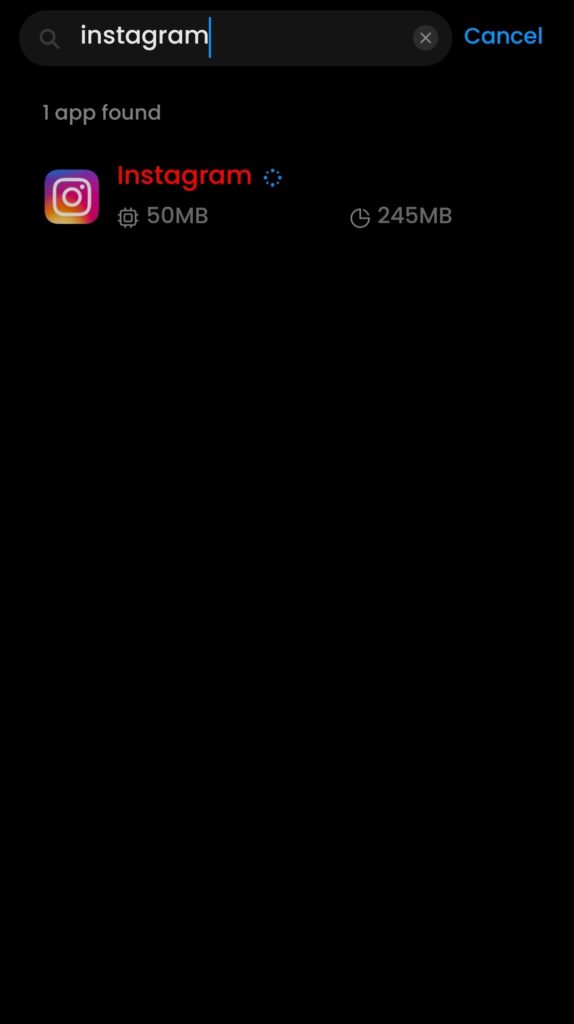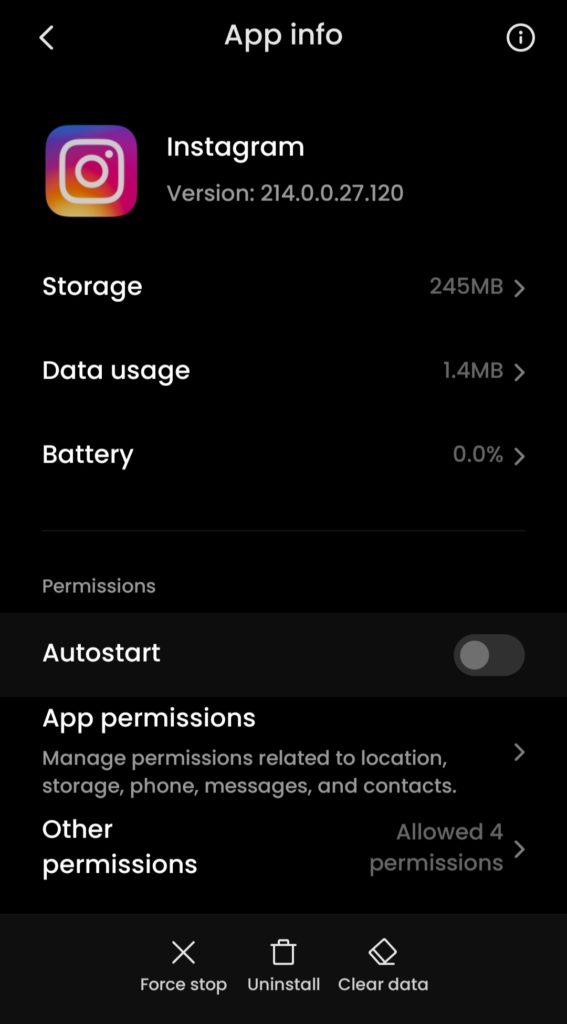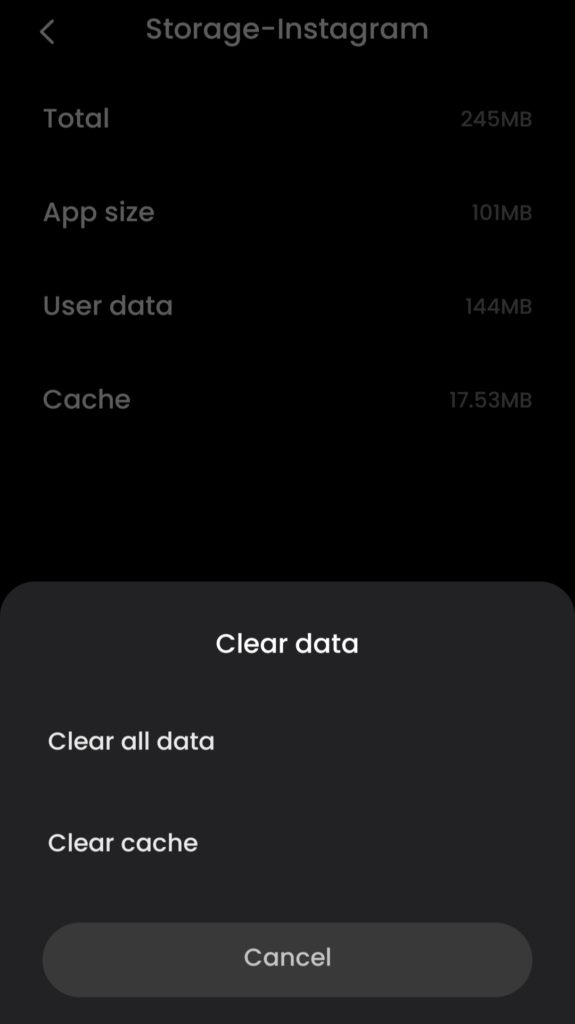 If you have an Android device, head over to the Settings app. Now select Apps,  then Manage Apps, and search for Instagram from the list. Once you find tap on Storage and then select Clear Cache.
The process is almost very similar in iOS too. Open the Settings app and tap on General. Now select iPhone Storage and search for Instagram from there and tap on it. Now you can see an option Offload App; select it to clear your cache from iOS devices.
4. Reduce File Size
While uploading high-quality media on Instagram, the app compresses the file size to make it suitable for posting. But sometimes, it fails to do so and eventually gives you an error. This happens when you shoot your photos and videos with more advanced and professional gear.
Instagram also advises following certain resolutions to optimize the platform's content. If your media has unusual resolutions that don't fit on Instagram, you might be unable to post them. 
For this, you can use any professional editing tool like photoshop and reduce the file size. It will surely fix the issue. For photos, the maximum file size should be 30MB, and with videos, it is 650MB for 10 min video or 4GB for 60 mins. 
5. Check If Your Phone Lacks Storage Space
Storage Space is one of the very common things that trigger this issue. If your phones' storage is filled, Instagram won't let you post. When you upload any content on Instagram, it also gets saved on your device's local storage. Although you can disable this in settings, you have to clear some storage from your device before that.
You can delete some apps, photos, videos or may backup them. Once you have enough space on your smartphone, you will be able to start posting on Instagram again. You can also disable the Save Posted Media option to not get your storage space filled again unnecessarily.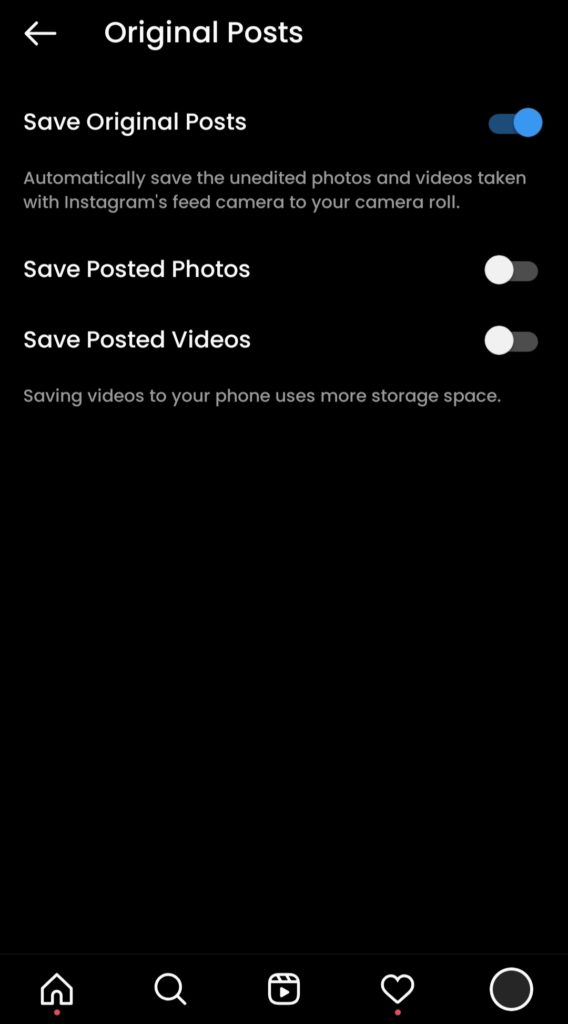 For this open Instagram, go to Settings, then tap on Account. From there, select Original Post Settings and make sure to disable the save posted photos and save posted videos option.
6. Change The App Data Usage Settings
You may know the data usage options on your smartphone. Instagram also uses it to save your data by limiting the amount of content you can post and the data you can use on the app. Especially if you're posting a lot of files with large sizes simultaneously, it will limit your posting.
However, you can disable this option just by changing some settings. If you're sure the problem has occurred due to the Data Usage Settings, just follow these steps and see if something changes.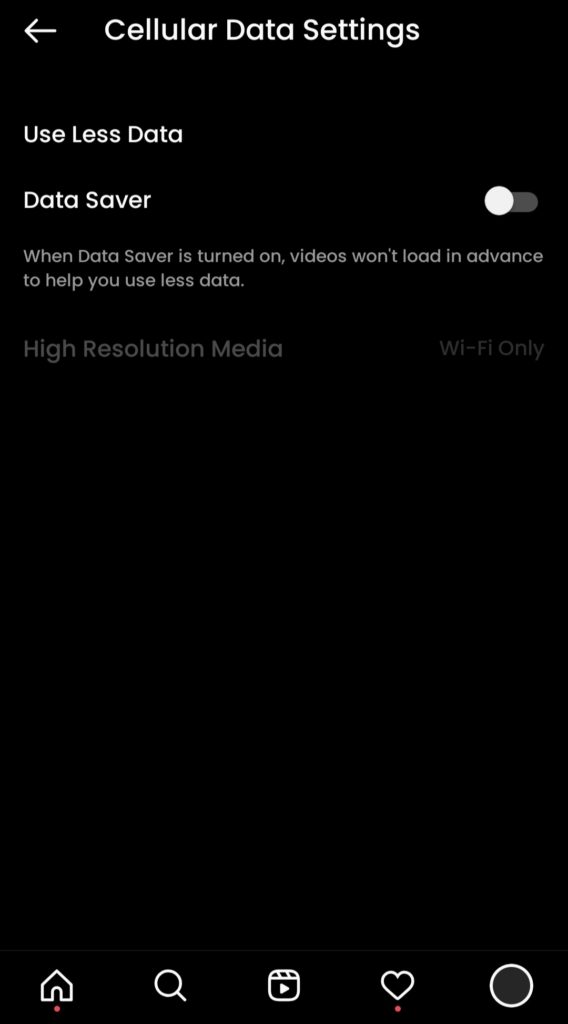 Firstly, open Instagram Settings and tap on Accounts. Now select the Cellular Data Use option and disable the Data Saver option.
---
Protect Your Online Privacy With Surfshark
[The VPN that we use here at Tech Arrival]
---
7. Reinstall or Update the Instagram App
Another quick and simple option to fix the posting issue on Instagram is reinstalling or updating the Instagram app. If you haven't updated your app for a long time and there is an update available too. Updating the app will fix all the existing bugs in the app with the new version and might solve the issue.
You can also reinstall the app as it will remove all the current data from your app, and you will start from scratch. This could also fix this issue or any other bugs you face on the Instagram app.
8. Photos or Videos Violating Instagram Policy
Instagram restricts the certain type of content to be posted on their platform. That's why they have made various terms and policies that any creator should follow before posting their content over Instagram. 
If the photos or videos you're trying to post violate their policy, then there's no way you would be able to post them. Some of the major policy violation errors you may have for your content are Copyright, Spamming, Unlawful Activities, Threats/Hate Speech, Self Injury, etc. 
The only solution for this problem is to make sure that your content does follow all the community guidelines. If not, you will still be facing the problem over and over again, and it might terminate your account too. 
9. Uninstall Third-Party Applications
Have you ever given access to your Instagram account to any third-party app? You may be using an application to check who follows or unfollows you or a tool that lets you download IG videos, or some people even use apps that increase followers and likes on their account. These types of apps have direct access to your account, which Instagram doesn't like at all.
Because Instagram can easily detect these activities and block you from posting on Instagram, if you're using any of these tools, just delete your account from there and uninstall them from your device, see if this solves your problem. 
10. Problems With The Instagram Servers
Instagram is a very big social media platform, but still, you may have noticed server problems from their end time to time. Sometimes these server delays can also be account-specific or based on location. So, if you ever encounter the problem of posting content on Instagram, check if their servers are up and running.
There are many websites to check that like UptimeRobot, Downdetector, Pingdom, etc. If the server spikes are falling, the problem is surely from Instagram. As soon as they fix it, you will be able to post again.
These were some of the most simple ways that you can use to fix the problem of Instagram posting. Do try all of them, and if still, you're encountering the problem, the only option you left with is contacting Instagram support. They may assist your further.
Also read: How to Tell If Someone Blocked You on Instagram
---
Protect Your Online Privacy With Surfshark
[The VPN that we use here at Tech Arrival]
---
Frequently Asked Questions (FAQs)
What are the Common Issues Behind Instagram Posting Problem?
There can be several reasons, but the most common are Internet connection, App settings, or minor bugs.
Can Policy Violation Cause Instagram Posting Error?
Yes, it can; as most of the time, Instagram limits certain actions you can perform through the account, it can disable your posting too.
How Many Photos/Videos Can You Share Through One Post on Instagram?
Instagram allows you to share up to 10 photos/videos simultaneously.