Although the Mac platform is considered the best for professionals, Windows programs and applications are still widely popular in the business world.
For the majority of programs, Microsoft has a Mac version available. But some programs like Microsoft Publisher don't have a Mac version. As a result, you cannot run Publisher on Mac unless you run the software on a virtual machine.
Speaking of a virtual machine, Parallels is considered the choice for Mac users. It is an emulator tool that helps you to install Windows on both Intel and Apple Silicon Mac computers. To put it in other words, it is a program that runs within macOS and duplicates the behavior of the Windows environment.
Once you get the emulator, you can install & run Microsoft Publisher on Mac. If you are interested to know the steps, read this post till the end.
Also read: How to Use Internet Explorer on Mac | 9 Ways
Steps to Run Microsoft Publisher on Mac
1. Installing Parallels
By now, you must have understood there's no way to run Microsoft Publisher directly on your Mac. To use this software, you will have to launch it via a virtual machine or, in this case, Parallels.
Out of all the virtualization options available, Parallels make the best choice. It offers a convenient way to install and run Windows OS on a Mac computer. After this tool is installed, you can run any Windows application or program on your Macintosh. Also, Parallels is safe and easy to use.
Before you install Parallels, ensure you get the Microsoft Office 365 installer file saved on your Mac's hard drive. Besides that, you must also have 30GB of storage available on your device. With that being said, let's look at the steps below.
The first thing you need to do is download Parallels on Mac. Make sure to get the download link from official website.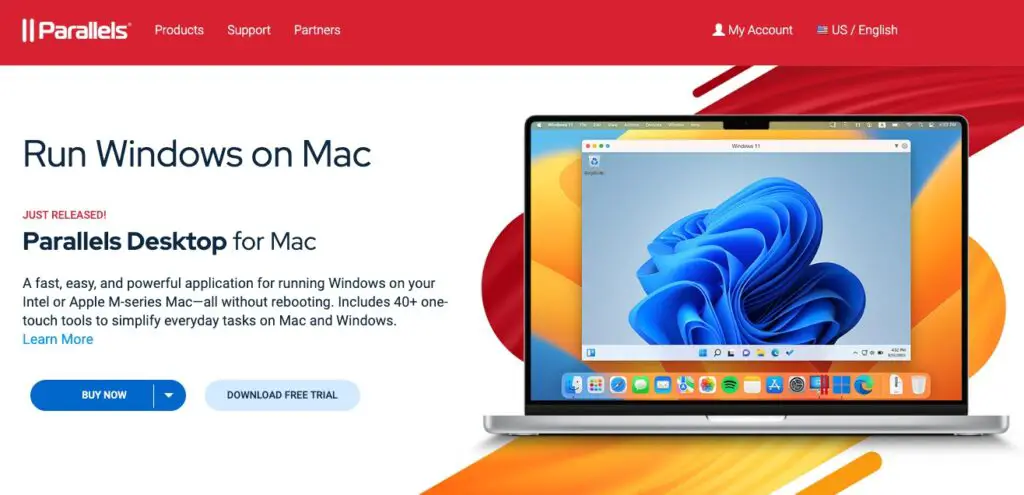 Once the Parallels setup file is downloaded, it will be saved in the Downloads folder of your device.
Double-click the Parallels installer to access the setup wizard.
2. Installing Windows 10/11 on Mac Using Parallels
With Parallels 12 and higher versions, you can download Windows 11 directly from Microsoft. The best part of using Parallels is that it allows you to install Windows 11 for free and use it without activating it. However, you will have to activate your Windows 11 if you ever feel like customizing it.
Parallels will show you different options to install Windows 11 on your Mac. Click on the option "Get Windows 11 from Microsoft." This way, you can install the operating system without leaving the setup wizard.
A new window will open, where you need to select "Get Windows 11." Microsoft no longer requires you to provide a license key as it is not essential to activate Windows anymore.
After all the above steps are done, Parallels will automatically download Windows 11.
Before the Windows 11 installation gets over, you will be asked to create a Parallels account. For this, you just have to create a new password and provide your email address. Alternatively, you can also sign-up with your Facebook or Google account.
If you are prompted, choose "Express Installation." Also, uncheck the box beside "This version requires a product key."
After you tick "Express Installation," you need to select what you need Parallels for. In this case, you should choose the option "Productivity."
Once the installation process is over, you are ready to run Windows 11 on your Mac.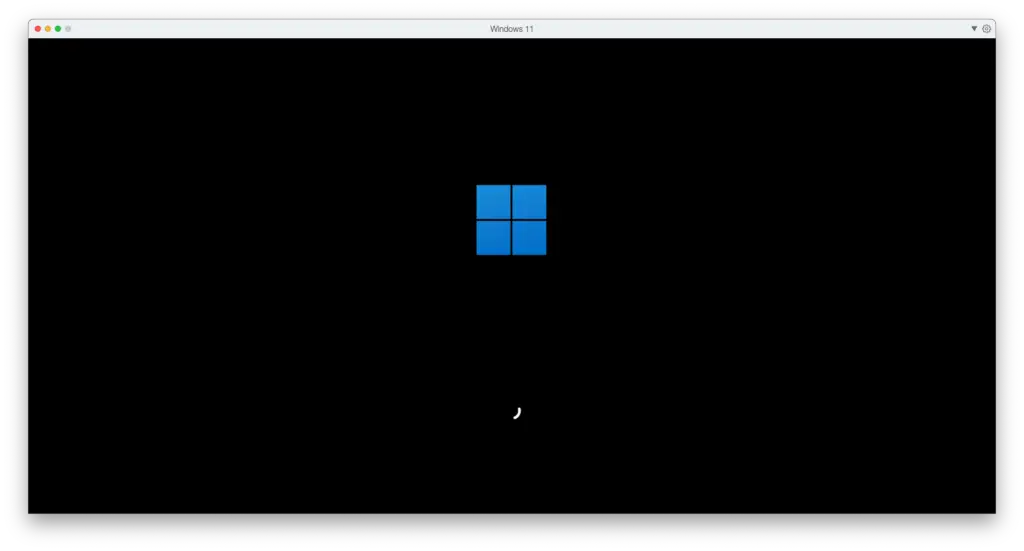 3. Installing Microsoft Publisher on Windows 10/11 using Parallels
Now we come to the part where we will tell you how to run Microsoft Publisher on Mac. For your information, Microsoft Publisher is now included in Office 365. This means you will need to subscribe to Office 365 to run the application.
---
Protect Your Online Privacy With Surfshark
[The VPN that we use here at Tech Arrival]
---
Assuming that you don't have an Office 365 subscription, we will suggest you get one. It costs $7.99 per month, but you can cancel the subscription anytime you want. They also offer a free trial period for new users.
Since you already have the Microsoft Office 365 installer file saved on your device, double-click on it and start the installation process.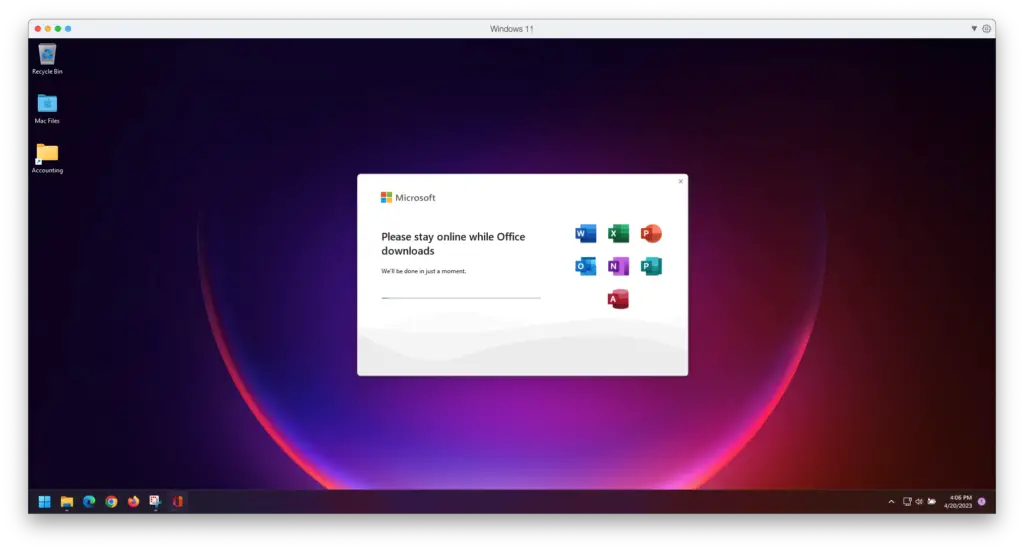 Once the installation process gets over, you will be sent a confirmation message.
Now go to "Start" and then to "All Apps" in Windows and choose "Publisher."
When you launch an Office program for the first time, you will be prompted to accept it. Hit the "Accept" option to proceed ahead.
Well, that's all you need to do to run Microsoft Publisher on Mac. This process might be lengthy, but it is the most effective way to launch Publisher on a Mac.
The advantage of using Parallels on Mac is that you can switch between the two operating systems anytime you want without shutting or rebooting your device.
Having Microsoft Publisher installed on your Mac allows you to open Publisher files easily. Also, if you choose to launch Publisher via Parallels, you can switch between macOS and Windows 11 any time you want.
Also read: 6 Best Windows Emulators for Mac
Frequently Asked Questions (FAQs)
Can Microsoft Publisher be installed on Mac?
Yes, it is possible to install and run Microsoft Publisher on Mac using a virtual machine like Parallels.
Is there a Mac version of Publisher available?
Unfortunately, Microsoft has not made a Mac version of Publisher. So you will need the help of virtualization to run this application on your Mac.
Is Parallels free to download?
Parallels is not free. You will have to pay a fee of $80-$99 per year after the 7-day free trial period is over.
Is Parallels safe to use?
Parallels is a completely safe program. It is considered one of the best virtual machines for Mac.
Is Microsoft Publisher included in Office 365?
Yes, Microsoft Publisher is now available in Office 365. However, you can download the Publisher app individually as well.
What type of apps can I run using Parallels?
With Parallels, you can run all Windows apps and games on your Mac. It offers a seamless performance without slowing down the device.
---
Protect Your Online Privacy With Surfshark
[The VPN that we use here at Tech Arrival]
---
Is it harmful to run Windows OS on Mac?
It is not harmful to run the Windows operating system on Mac. However, it may slow down your device if Windows OS consumes more resources.
What is Microsoft Publisher needed for?
Microsoft Publisher is used to creating professional-looking publications without investing lots of time and money in a complex publishing application.
Can I get Microsoft Publisher for free?
To use Microsoft Publisher, you will need to get an Office 365 subscription, which costs $6.99 per month.