Competition is everywhere. Whether you're preparing for an entrance exam, or you're on a 9to5 schedule in an MNC, we all have witnessed competition in different walks of our lives. We all wish to outperform our competition, and to do so, we need to know what are the strategies of our competitors.
SEMrush helps us to do the same. When Google Search was new, it was pretty easy for websites to rank high up even if their content isn't worthy enough. At that time, SEO was quite simple. You could rank high up with just a couple of keywords placed strategically and some links here and there.
But then Google started improving its algorithm and with each update, things became messy. In fact, it is so complicated, even industry experts have no idea how this algorithm works. Now, more than 200 different factors are responsible for ranking up higher in the search results. And all of this gets complicated by the addition of hundreds of websites day by day
But with different tried and tested methods and analyzing other websites, you can still rank better than your competitors. And perhaps the best tool for doing it is SEMrush.
What's SEMrush?
As you've already read in the title, SEMrush is the Swiss Knife of SEO tools. From monitoring social media to website auditing and even SERP (search engine results pages) rank tracking and more, SEMrush has got it all.
Started in 2008, SEMrush took a different path than the-then SEO marketing tools. SEMrush became a web-based marketing suite. With time, it added a more comprehensive set of tools which increased the usability and performance of the overall solution.
SEMrush helps you deploy the right tactics and strategies for your website so that you can always stay a step ahead from your competition. It provides you with a complete analysis of your website as well as your competitions' such as data about link building, display advertising, organic and paid search.
With SEMrush, you gain knowledge about the strategies your competition is implementing, no matter whether it is successful or not. With that information, you know which strategies to implement yourselves. It even tells you the reasons why your website is performing poorly. Thus you can avoid unsuccessful campaigns and build more resources towards useful ones.
SEMrush Features
Search Engine Optimization (SEO)
SEO determines how well your pages rank on a search engine. SEMrush provides with an organic search function which tells you about the best keywords possible for your niche and how these keywords will target your market.
Each keyword has its details like competitive density, CPC, search volume, traffic, trends, etc. You can even see keywords your competition is using, analysis of their weaknesses and strengths and more which will help you build your own strategy. There's also the Keyword Magic tool which is pretty handy if you have a specific keyword in your mind and want to know how it performs for your competition.
For pointing out SEO errors, SEMrush does some reverse engineering and crawls through your entire webpage to analyze more than 120 technical errors that might affect your search engine rankings.
Analysis for Paid Advertisements
One of the best features of SEMrush is paid advertisement analysis. It has an in-built ad-builder which lets you create some of the best-in-class advertisements for your customers. It has got dynamic keyword insertion features and advanced editing tools so that you always stay a step ahead of your competitors.
Additionally, it drafts out a template of your competitors' successful campaigns so that you can add some tweaks to it and use it yourself. There's also a PPC Keywords tool for your ads for when there are errors in your ad campaigns.
It eliminates all the poor performing keywords and adds brilliant keyword recommendations for your ads. It even has a PLA research feature which lets you know about other's ads from which you should be worried about.
Content Marketing
Content Marketing is perhaps the most crucial aspect of blogging. With the right choice and strategies, you can make your webpage soar high up in the sky of search results. SEMrush's topic research feature automatically generates relevant information about the topic you entered. This even includes attractive headings for your posts.
It also provides you information about the search terms that are driving traffic for such topics. All of this information assures you have a perfect content rich blog. SEMrush also provides you with a suggestion of other websites through which you can acquire backlinks, thereby promoting your content even further.
Social Media Marketing
SEMrush also provides a social media tracker which essentially analyses all of your competition and lets you know the type of content, posting frequencies and much more.
It also unifies all social media. What it does is that you will be able to post on all the platforms from a single dashboard.
This makes it super easy to manage all of your social media campaigns. It also lets you schedule your posts and also from third party sources via RSS feeds. It uses different analytic tools to track the progress if your social media campaigns as well provide you with all of this information in a neat PDF report.
Various SEMrush Tools You Must Know About
Let's have in depth look at each of SEMrush's tools:
Domain Overview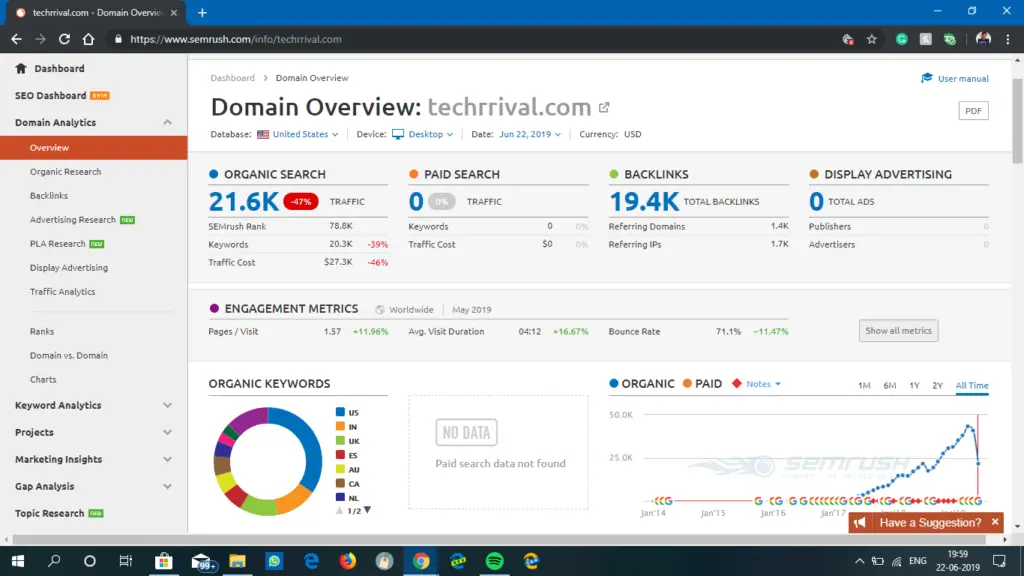 Domain Overview, as the name suggests, provides you with an overview of how the site is performing. It gives you a lot of information about organic search, paid search, backlinks, advertising and even about top anchors and referring Domains.
Organic Research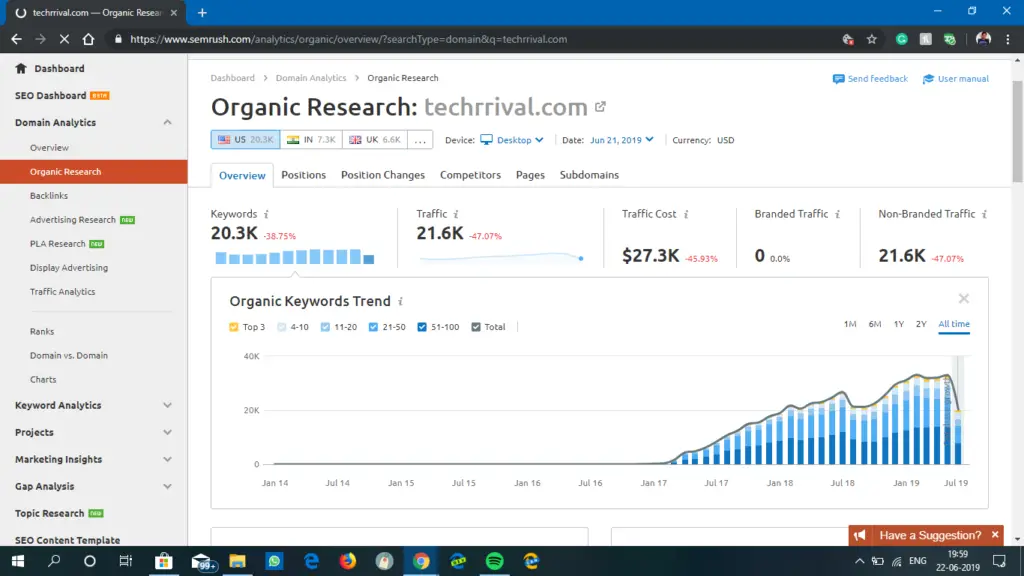 In the Organic research tab, you can get an overview, positions, position changes, competitors, pages and subdomain. This section tells you about the keywords your competitor is ranking for, an estimated number of people visiting the website and traffic cost.
---
Protect Your Online Privacy With Surfshark
[The VPN that we use here at Tech Arrival]
---
In the positions tab, you can determine the keywords through which your competitor's website is ranking for. Thus you have an idea of the keywords your competition is using and outperform them by building an appropriate strategy.
Traffic Analytics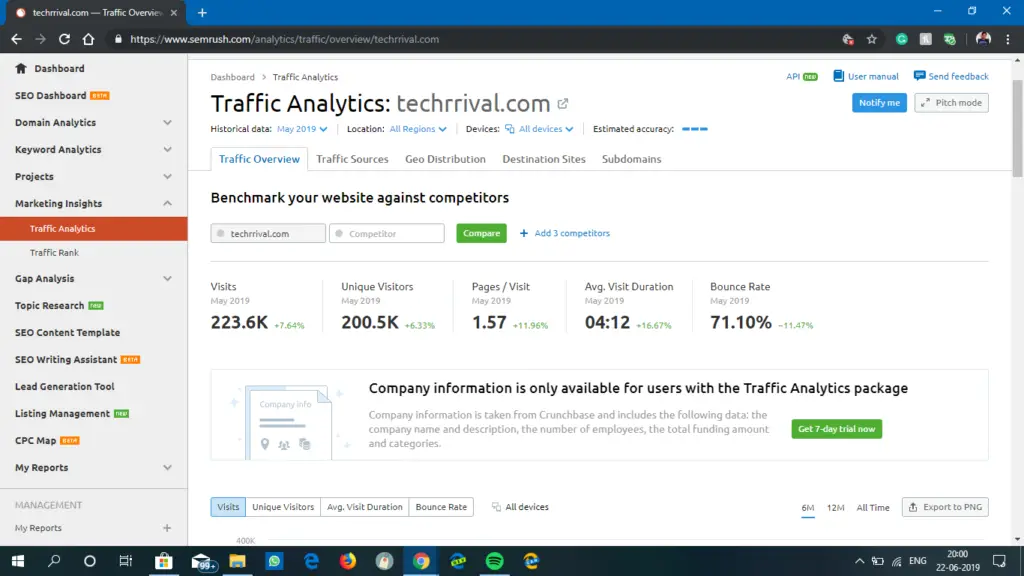 This metric shows you the data about a website's overall traffic. It also tells you the information about how many people interact with the site. You can check out average page views, bounce rates, session duration, etc.
The metric also provides you with a chart depicting how it has changed over time. But the most exciting feature is "Traffic Sources". Here, it shows you from where exactly is the traffic incoming from. The numbers are broken down into categories like Direct, Referral, Search, Social, etc. It even includes a list of websites that send your competitor's website the most traffic.
Paid Search
People use SEMrush not only for analytics but also for SEO Campaigns. Turns out, it indeed is a great tool for advertising as well!
You can have a look at the keywords your competitors use most often and also see the exact ad campaigns your competitor is using. You can observe and learn from your competitors and even replicate their ad strategies for your success.
Keyword Gap
Using Keyword Gap, you can see which keywords are used by multiple websites for them to rank. This tells you that if a particular keyword is working for many of your competitors, it might work for you as well.
Keyword Overview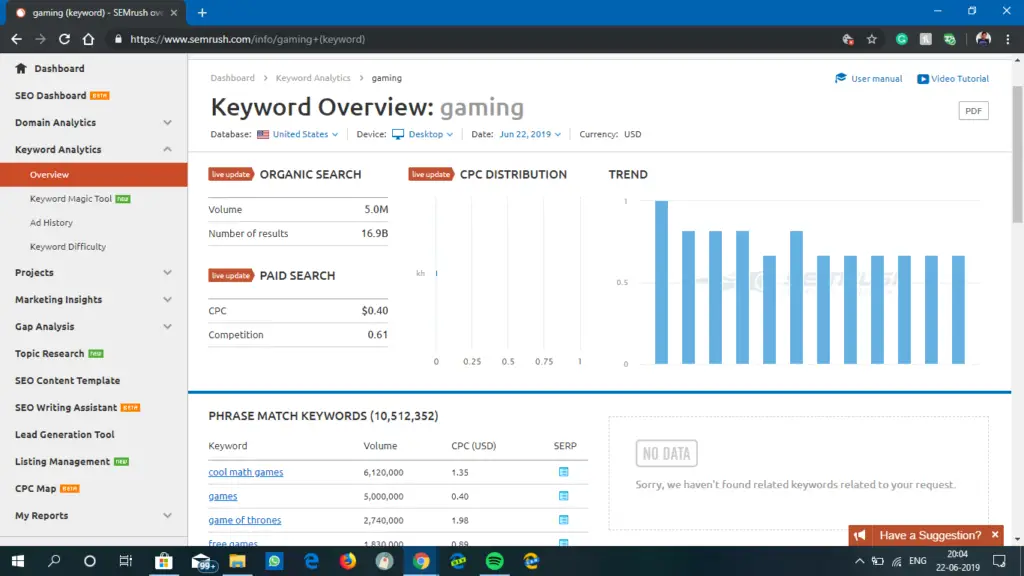 If you are looking for new unique keywords instead of analyzing your competition, here's when Keyword Overview comes into the picture. You can enter a keyword into this tool and it will create a list of keywords and other metrics on that keyword.
The various metrics include CPC (cost per click) distribution, organic search, and paid search. It also tells you about the difficulty score of those keywords. Phrase Match Keywords suggest you with other keywords related to your topic.
Keyword Magic Tool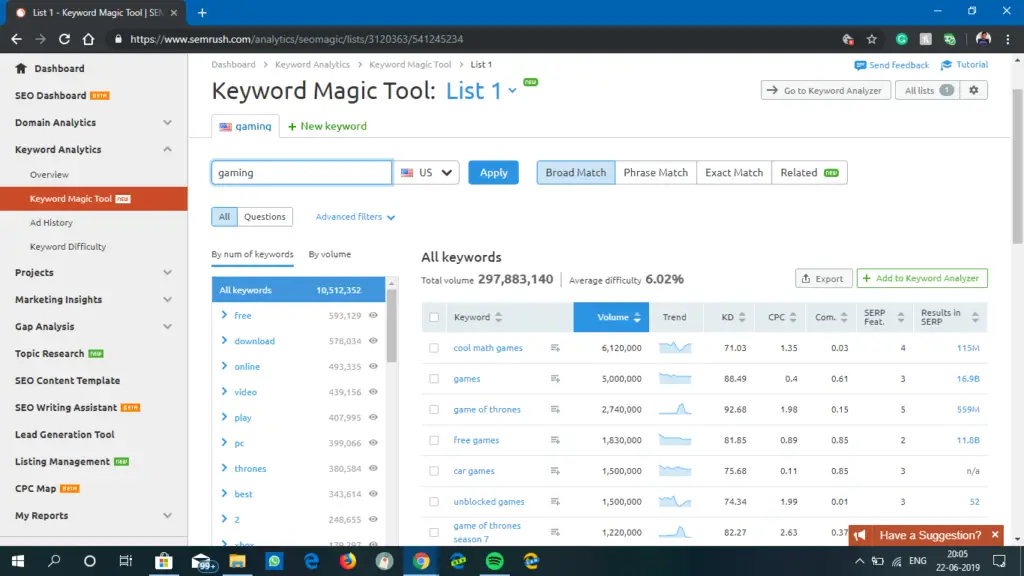 Just like Keyword Overview, the Keyword Magic Tool also generates keywords, but without any other metric included. It will tell you literally hundreds of thousands of related keywords, although you can always sort out the list using difficulty, search volume and more.
Position Tracking

Position Tracking is one of the most useful tools in SEMrush. It's a rank tracking tool which tracks whatever keyword and domain you have entered and gives you daily updates about it.
It provides different metrics such as visibility trend, estimated traffic and average position of your domain and keywords.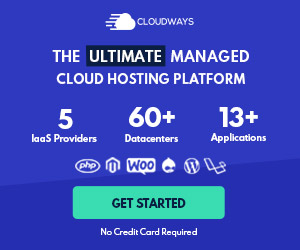 Site Audits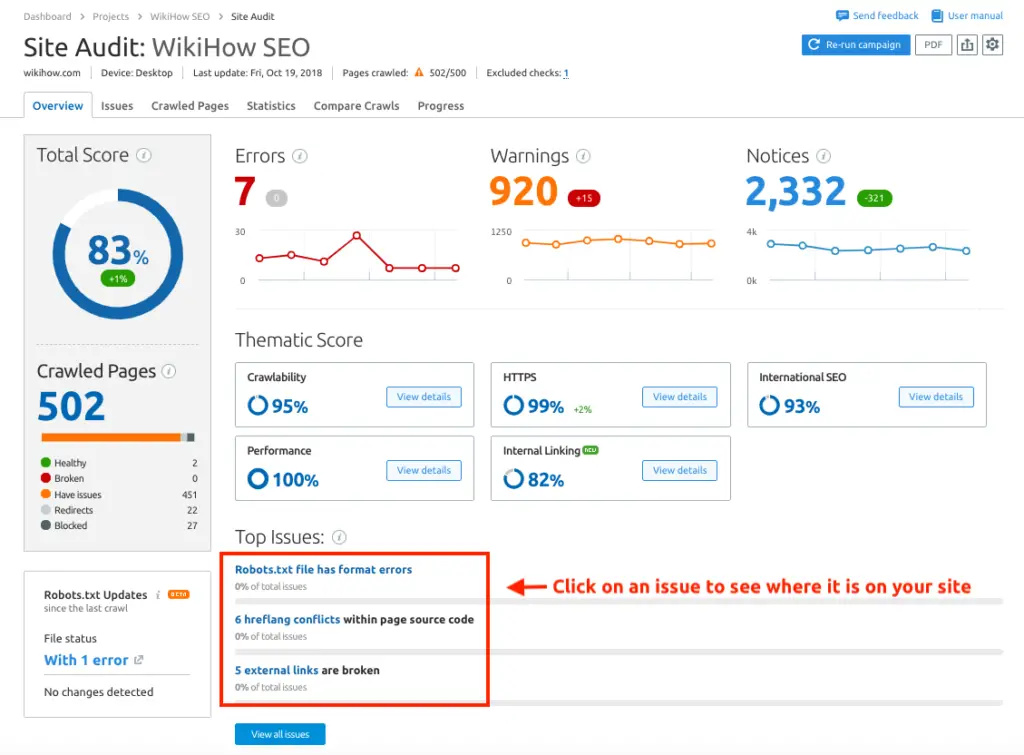 This tool helps you with site audit and error reports about your website. It also prioritizes which issue needs to be fixed first and which isn't. If you have AMP implemented, it also detects the issues where it isn't working properly.
Site Audits also helps you optimize your internal as well as external links. It detects error and duplicate pages and fixes other SEO problems.
Site Audits run automatically so you need not worry about manually auditing your website.
SEO Content Template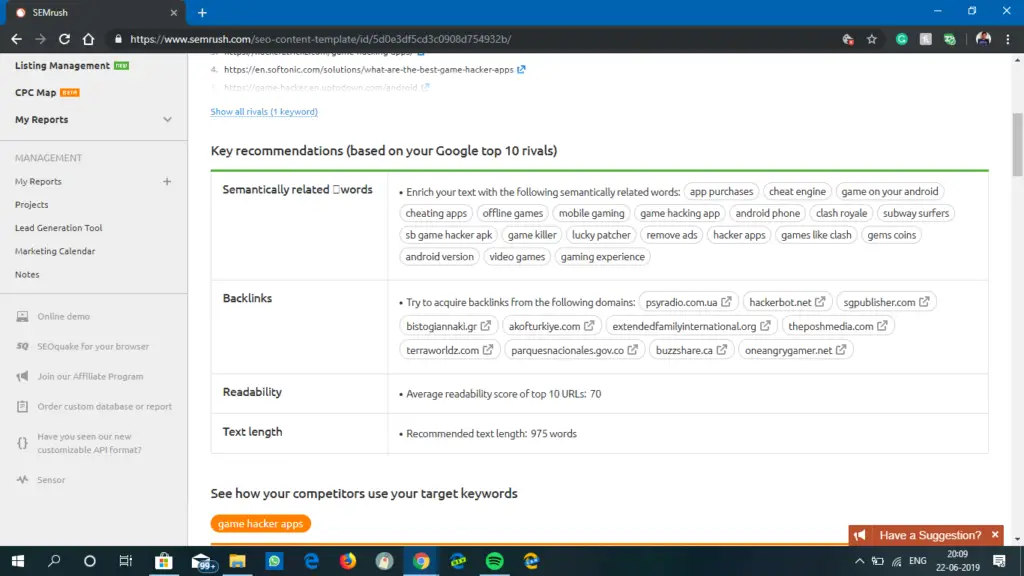 SEO Content Template generates a template for SEO friendly content when you enter a bunch of keywords. This template tells you the necessary length of your article, readability score, semantically related keywords, potential backlink targets and more.
These specific SEO recommendations are based on actual content from your Top 10 rivals for the keyword you chose. You also get the ability to see how your competitors used that particular keyword.
Organic Traffic Insights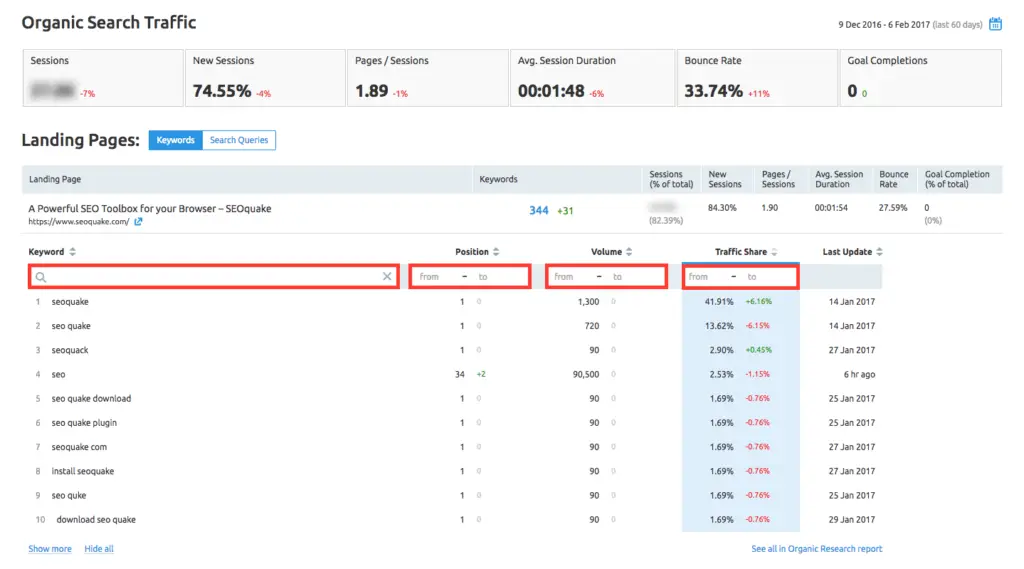 If you use Google Analytics and Google Search Console, you'll find this tool very convenient. Organic Traffic Insights combines all of your Google Analytics, Search Console and SEMrush data into one place. So all of your data such as click-through rate, sessions, and volume with organic keywords with rankings are presented to you in a neat dashboard.
You can even uncover the "not provided" keywords from the old days of Google Analytics and cross-reference data sources to get the most accurate insight of your website traffic.
Just connect your Google Analytics and Google Seach Console account with SEMrush. After this, SEMrush will analyze the data and figure out which keywords bring the most traffic.
Link Building
SEMrush has got one of the most powerful link building tools we've ever used. It collects a list of link building opportunities for your website and also provides you with an interface to actually acquire those links.
With this tool, you can run a competitive analysis of your SEO rivals and operate an outreach campaign at the same time. It also has Gmail and Google Search Console integration which makes things a bit easier.
You can view total backlinks, referring domains, referring IPs, Authority Score and more with this tool. After you enter your keywords, SEMrush will find out the websites the keywords are ranking for. In the Prospects tab, you can reach out to people to acquire backlinks which will be beneficial for your domain.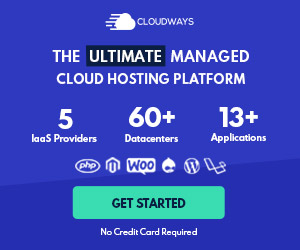 On Page SEO Checker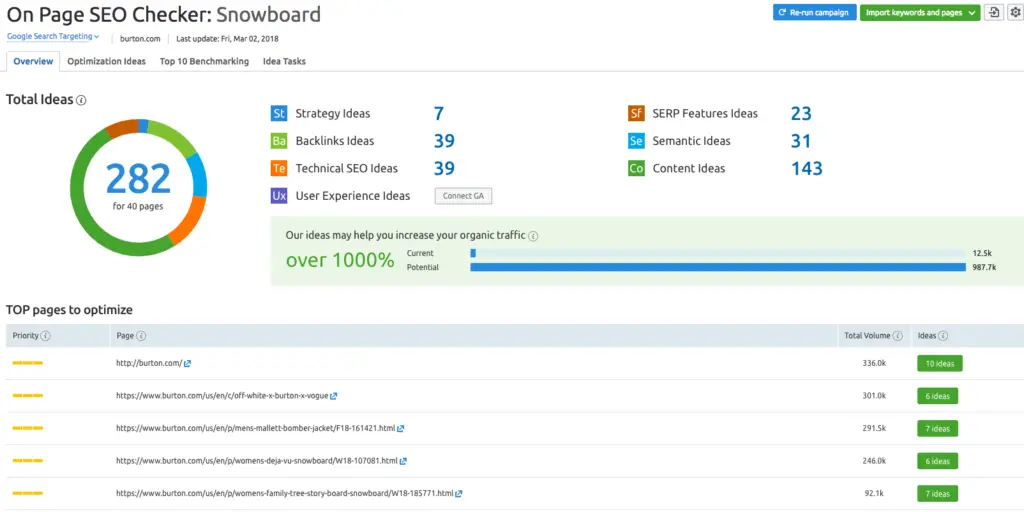 This tool makes sure that your website complies with all of the on-page SEO elements such as content quality, backlinks' trustworthiness, and reputation, page title, H1 tags, meta description, etc.
The tool defines a plan on how to improve your page rankings for the top 10 search results on Google. Also, the semantically related content is specified so you exactly know what things to include in your pages.
Keyword Difficulty Tool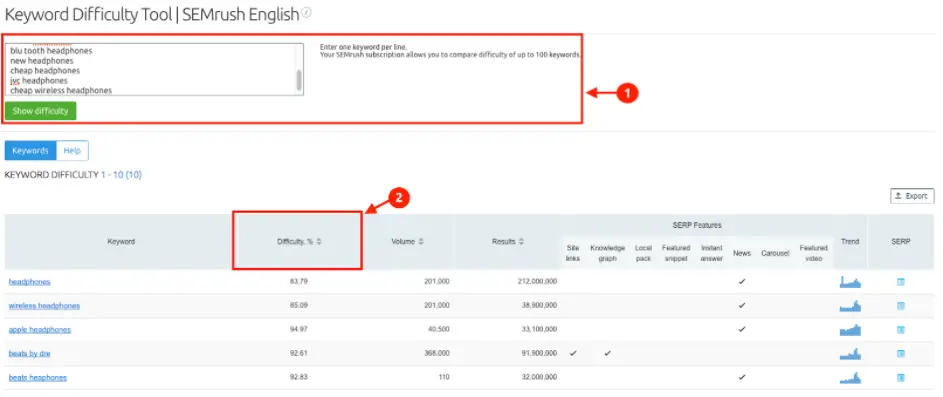 Even if your content is spot-on, finding the right keyword to use might be a tough job. Here's when SEMrush's Keyword Difficulty Tool helps you. After entering your keyword, you will see Difficulty, Volume, Results, Trends, and SERP sources.
Using this tool, you can compare multiple keywords to see which ones rank better for your website than others.
Why SEMrush is the Best All-in-One SEO & SEM tool?
SEMrush, with all the above tools, is a pretty strong tool. It gives you a complete analysis of your competitor's website and helps you set proper strategies so that you can rank better than them.
But let's face it, understanding all the tools is not an easy task and only high-level marketers will be able to grasp such knowledge initially. But if you give it some time and properly use each of the features, your benefits will exceed the time required for the initial learning curve.
SEMrush Pricing
SEMrush's pricing is based on different tiers and is targeted for different people – be it small scale adopters and freelancers to large scale enterprises.
SEMrush Pro – $99.35 per month / $999 per annum
This is best for small scale business and freelancers. With this, you get – 5 Schedules PDF reports, Tracking up to 500 words, 5 Projects, 3,000 daily reports, crawls through 100,000 web pages, 12,000 results per report, etc.
2. SEMrush Guru – $199.95 per month / $1999.40 per annum
This is best suitable for SMB and growing marketing agencies. You get – all the Pro features, branded PDF reports, historical data, crawls through 300,000 web pages, 20 scheduled PDF reports, tracking up to 1500 keywords, 50 projects, 5,000 daily reports, 30,000 results per report.
3. SEMrush Business – $399.95 per month / $3999.40 per annum
---
Protect Your Online Privacy With Surfshark
[The VPN that we use here at Tech Arrival]
---
If you own a considerable sized business, then perhaps the Business option will be the best for you. With this you get – product listing ads, all guru features, historical data, 50 scheduled PDF reports, crawls through 1,000,000 web pages, tracking up to 5,000 keywords, 200 projects, 10,00 daily reports, 50,000 results per report.
4. SEMrush Enterprise – Cost Negotiable
This is for large scale enterprise owners. Such users can contact users and decide a price according to their organization's needs. With this, you get unlimited site crawling, all the above features, on-site training, custom keywords databases, custom limits.
Final Words
SEMrush is indeed a Swiss Knife of all the SEO and SEM features. With so many tools, it can be a little overwhelming for newcomers. When implemented with the right strategies, it proves to be super useful for customers of all tiers. Although a little bit pricey, it has got more tools and their benefits which make the prices pretty reasonable.
Strongly Recommended: 10 Best Keyword Research Tools for SEO