Everybody wants to rank first on Google but for that bloggers and SEO professionals have to work on their target keywords. Many bloggers and writers make the mistake of writing and publishing articles without targeting any keywords at all.
Finding keywords for your article is not difficult at all. It will take only 10-15 minutes to find targeting keywords using popular keyword research tools like Ranker or Google keyword search tool. Using the words which users search the most will help your website show up on one of the first few pages in no time.
But your work is not done here. After finishing your SEO optimized article/post you have to keep track of its search engine rankings and build backlinks with the right anchor text.
What is Keyword Rank Checking?
Keyword Rank Checking is a commonly used technique used by bloggers and SEO professionals to check if it is appearing on Google search for the query they want to appear for. To put simply, the ranking measure shows which page your site will show up for any given keyword.
Say you have a website for your local bakery shop and you want to get your website on top whenever people search for bakery shops in your area. The thing is you may see your website in the top ten results if you search for "bakery shops in your area". But whenever you go for a wider search like "cake shops your area" or "birthday/wedding cakes in your area" your search results drop to the 2nd or 3rd page of Google search results.
This means your site is ranking on top 10 for the term "bakery shops in your area" and since a single results page contains 10 search results, you are ranking on top 50 for "birthday/wedding cakes in your area".
Also Read: How to Find Competitors Keywords That Brings More Traffic
How is Keyword Ranking determined?
Your website in Google search is ranked according to how relevant it is to the searcher's keyword or query. That is why "bakery shops in your area" rank higher than "birthday/wedding cakes in your area". But the question is can you rank higher in "birthday/wedding cakes in your area".
Yes, you can. But it can misfire too. If users are not getting their desired expectations and move to another site your rankings will suffer. So it's better to focus your rankings on keywords that can confidently fulfill your visitor's wish.
Why Should You Worry About Checking Your Keyword Ranking Position?
A study reveals that the websites on the first search engine results page receive almost 95% of the web traffic which means people will hardly look into your site if it comes in the 3rd or 5th page. Ranking below means less traffic and if you see your site drop a ranking from a keyword search ranking if #3 to somewhere #30 your earnings will also drop eventually.
Keyword ranking will also help you land you deals in real life. Take the example of the bakery shop. People searching for a bakery shop in the area will likely go for your site if it ranks higher. So the choice of Keyword matters. Also, you may have a big list of keywords and you don't know which one you should be using. This is where Keyword research and SEO comes in. It will help you select the best-ranked keywords that you can use to rank your site higher in search results.
Also Read: Beginner's Guide to SEO
What is Rankz?
Rankz is a keyword ranking tool that helps individuals and companies to get 100% accurate data of their keyword rankings on search engines like Google. Since there is a lot of SERP beyond blue links, they use enhanced results like rich snippets, images, maps. Definitions, answer boxes, videos while rendering the latest rank for any specific keyword.
The tool offers three pricing plans: Individual, SEO Ninja, and Company. The Individual pricing plan let you track up to 10 domains, 200 keywords, 2-time daily refresh, auto keyword suggestions, search volume, and CPC data, Whitelabel Report and Team Member Access. The SEO Ninja plans allow 25 domains, 500 keywords, 3-time daily refresh, auto keyword suggestions, search volume, and CPC data, Whitelabel Report and Team Member Access. The highest Company plan allows you to track 75 domains, up to 2,000 keywords, 5-time daily refresh, auto keyword suggestions, search volume, and CPC data, Whitelabel Report and Team Member Access.
If you aren't sure about the plans or you want to test the feature before purchasing, you can go for the 7 Days free trial which has no limitations and requires no Credit Card. However keep in mind, that you will lose your data if you do not opt for any premium plan once the trial gets over. It is also offering a 30 days money back guarantee if the data that is shown for your website's rank is not accurate.
How to Register?
To use the Rankz keyword tool you have to register yourself first. Go to rankz.io where you will see the homepage with options like Features, Pricing, FAQs, and Blog.
Go to Login and use your email to create and count. You can also use your Facebook ID or Google to log into.
Step-By-Step Guide on How to see your Keyword Rankings using Rankz
In this guide, we will be showing you how to see your keyword rankings using a real website and keywords. We will be explaining the features the indicators provided in the tool.
After logging in, you will be taken to your dashboard. You can see options like Refresh, Delete and upper indicators like Kwd up, Kwd Down.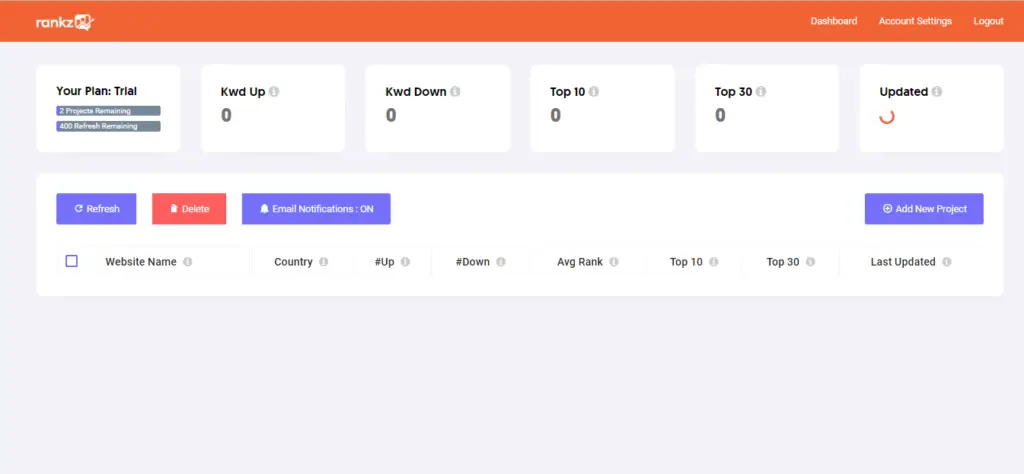 Select Add New Project and then enter your project name and your website's URL. In this case, we will be using our blog to see its keyword rankings.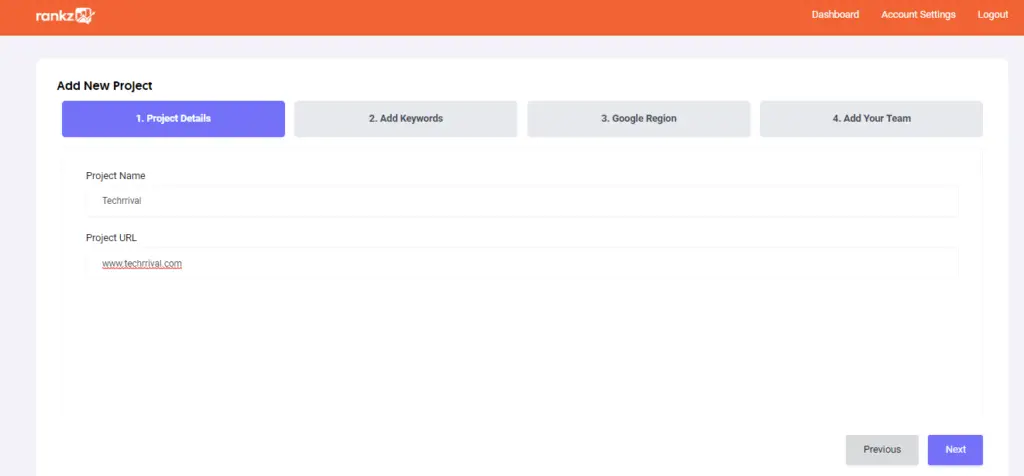 In the next section, we add the keywords that we want to the rankings of. You can use multiple keywords by typing one keyword per line and click Next.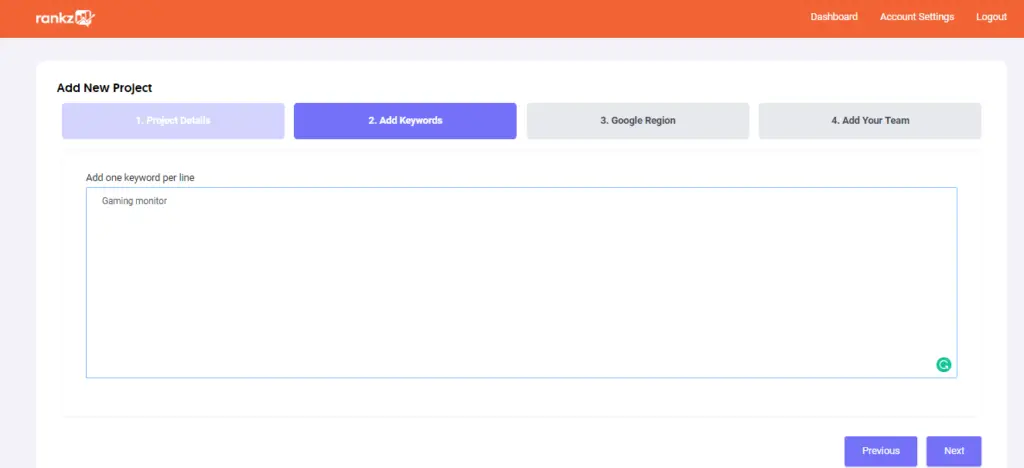 Choose your preferred country from the list of 110+ countries where you want to see the rankings and click Next.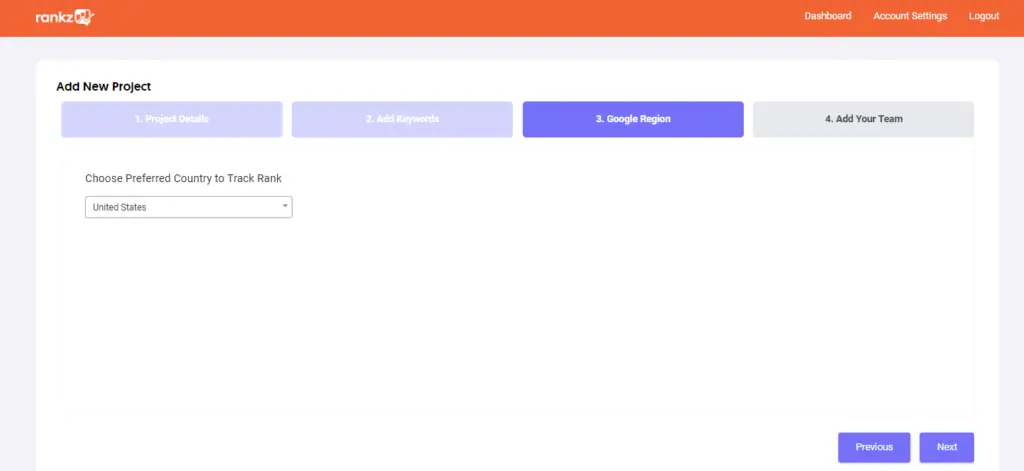 You can add additional members by entering their Email ID on the tabs. Click Next
From the list, you can see your list of keyword and their desired rankings.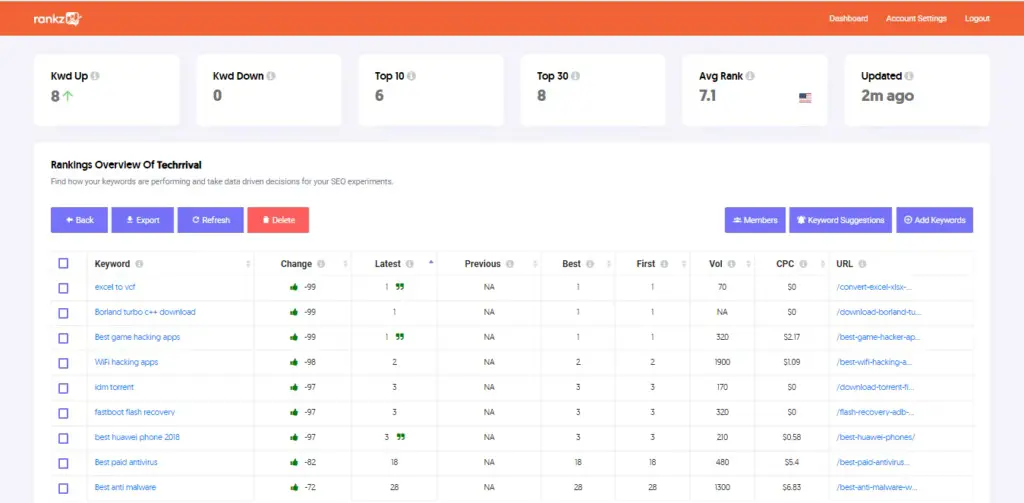 To see how it is ranking in Google you can click the keyword and it will show the top results in Google search for that specific keyword.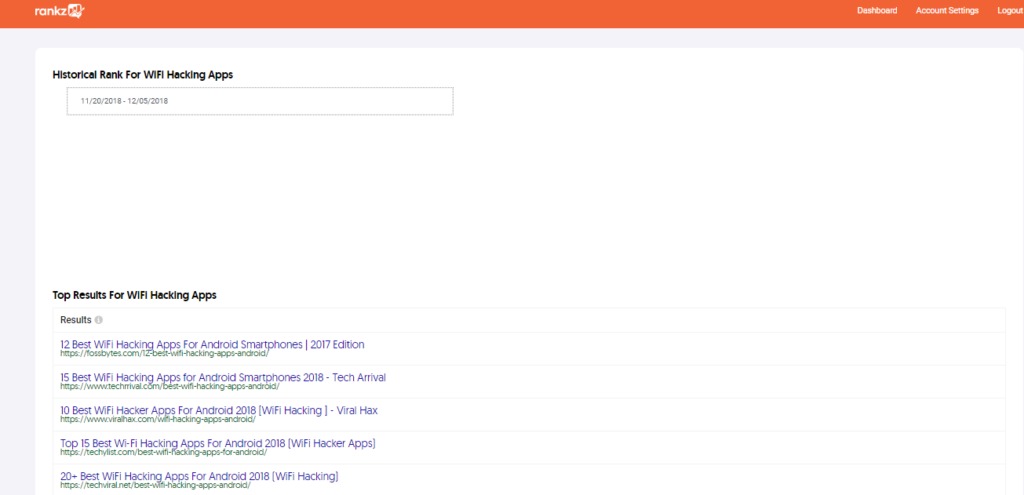 How to Read the Data: Part 1
You may be bogged down by the data provided on the results which is why we will break it down one by one to give a clearer picture.
Change tab reveals the changes in Keyword ranking and you can arrange it in ascending or descending by clicking on the blue button on the respective tabs.
Latest Tab shows the latest ranking of the keywords. The Green "  symbol means that particular Keyword is ranking in Featured Snippet Box.
The Previous tab shows that previous ranks of the provided keywords.
The Best tab shows the best rank the keyword has achieved since you started tracking it.
The First tab shows the initial rank of the keyword when you first added it on Rankz.
The Volume tab gives you useful information about the monthly search of that particular Keyword.
CPC or Cost-Per-Click is the amount in that particular area your internet you get from a particular click.
Finally, the URL tab leads the particular article/post in your website where the keyword has been used.
The Keyword Suggestion tab gives you the best keywords according to your niche while the Add Keyword tab allows you to add more keywords to your project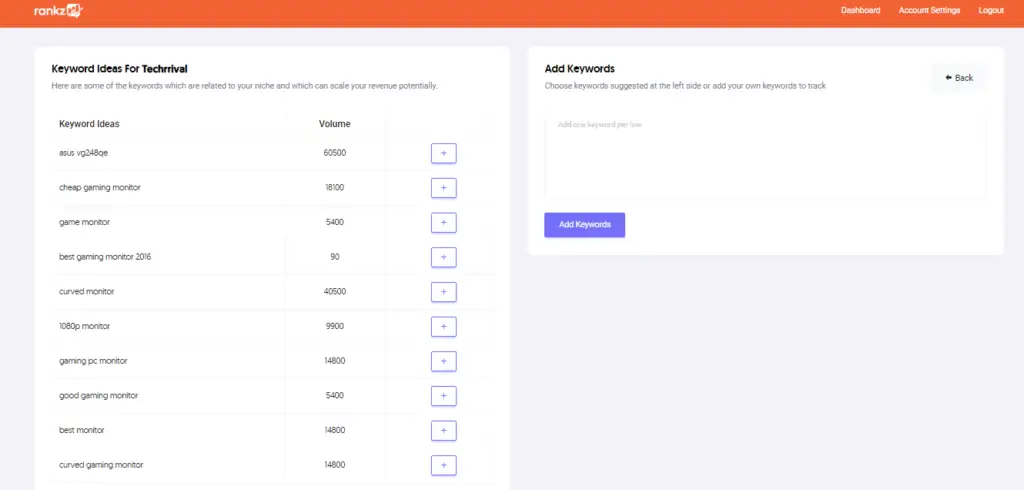 The Export tab allows exporting all the entered keyboard into an excel sheet while the Refresh tab will show the latest rank of the selected keyword in real time
How to Read the Data: Part 2
In the top of the main menu, there are some additional options which are explained below:
Kwd Up shows the number of keywords which has shown improvement in the last 24 hours
Similarly, Kwd Down shows the number of keywords which dropped their position in the last 24 hours
Top 10 shows the number of keywords which are ranking in Top 10 positions in SERPs.
Top 30 shows the number of keywords which are ranking in Top 30 positions in SERPs.
Average Rank shows the average rank of all the keywords for your website
Updated is the timestamp when your keywords positions are updated last time by Rankz crawlers.
Conclusion
Rankz is currently available only for Google search. For people that are worried about other search engines like Bing and Yahoo, Rankz is planning to add their support in the near future.
Rankz is one of the best tools to check your keywords rankings and hence improve your future articles. Follow them and you will soon lead to a higher ranking and you will definitely see an increase in the website traffic.