Exciting News! TuneFab Spotify Music Converter has released its latest version 3.1.19, packed with fantastic enhancements for even faster and more stable conversions and downloads. As a dedicated multimedia software development company, TuneFab is committed to enhancing our digital lives. And, among all the star products, TuneFab Spotify Music Converter truly shines.
With the latest update, TuneFab Spotify Music Converter now boasts an astounding 35X conversion speed enhancement and extends support to two additional lossless audio formats. These enhancements distinctly position TuneFab Spotify Music Converter to reinforce its leading stance among comparable products, convert and download your favorite Spotify tracks and playlists could never be easier. Dive into this article to discover more about the exciting updates.
What is New in TuneFab Spotify Music Converter 3.1.19
Speedy and Stable Conversions
In TuneFab Spotify Music Converter 3.1.19, the most pivotal enhancement is significantly faster and more reliable conversions. Through a substantial update of the music conversion underlying algorithm, this latest version has achieved a remarkable performance boost, increasing the conversion speed from a modest 5X to an impressive 35X faster. Now, converting Spotify Songs/Playlists to MP3 is a matter of mere seconds.
This update's standout advantage lies in considerable time and energy savings. Conversion speed and stability are now concerns of the past, leaving you with a seamless and efficient experience.
Spotify Video Podcasts are Now Downloadable
In the latest TuneFab Spotify Music Converter V3.1.19 update, it introduces new support for Spotify video podcasts. Now, not only can you enjoy your favorite Spotify video podcasts using the built-in player, but you can also download them for offline listening as audio files. However, it is worth noting that this update does not extend support for downloading Spotify podcasts in video formats.
With this exciting update, TuneFab Spotify Music Converter now covers a wide range of content on Spotify, including songs, albums, playlists, audiobooks, and both video and audio podcasts. Your options for downloading and enjoying diverse content have never been more extensive.
2 More Supported Lossless Formats
TuneFab Spotify Music Converter adds support for downloading audio files in two additional lossless formats: ALAC and AIFF.
ALAC, an abbreviation for Apple Lossless Audio Codec, is a format developed by Apple Inc. It excels in lossless data compression, preserving every detail of your digital music.
AIFF, on the other hand, is renowned for its CD-quality audio. It is specifically designed to store high-quality uncompressed audio and detailed musical instrument information.
Certainly, it is worth noting that files saved in ALAC or AIFF formats tend to be larger than common formats. However, this update underscores TuneFab's commitment to expanding user choices and delivering exceptional music experiences in the highest quality possible.
---
Protect Your Online Privacy With Surfshark
[The VPN that we use here at Tech Arrival]
---
Flexible Music Management
TuneFab Spotify Music Converter V3.1.19 introduces a custom output function to enhance your download management. With this feature, you can now categorize and save your Spotify downloads into neatly organized folders. For example, selecting 'Archive output tracks by playlist' will automatically place all songs from the same playlist into a dedicated folder.
Furthermore, you have the flexibility to edit the output music names according to your preferences. Simply choose from various tags such as 'Title', 'Artist', 'Album', and more to personalize the names of your Spotify downloads. This level of customization ensures that your downloaded music is perfectly organized and named according to your exact specifications.
Steps to Convert Spotify Playlists in TuneFab Spotify Music Converter
Before reading: TuneFab Spotify Music Converter is currently available for Windows and Mac users.
Start by installing and launching TuneFab Spotify Music Converter on your computer. Click 'Open the Spotify Web Player' to access the built-in Spotify web player, and then hit 'Log In' at the top-right corner.
Next, simply drag and drop your chosen tracks onto the green '+' button on the side.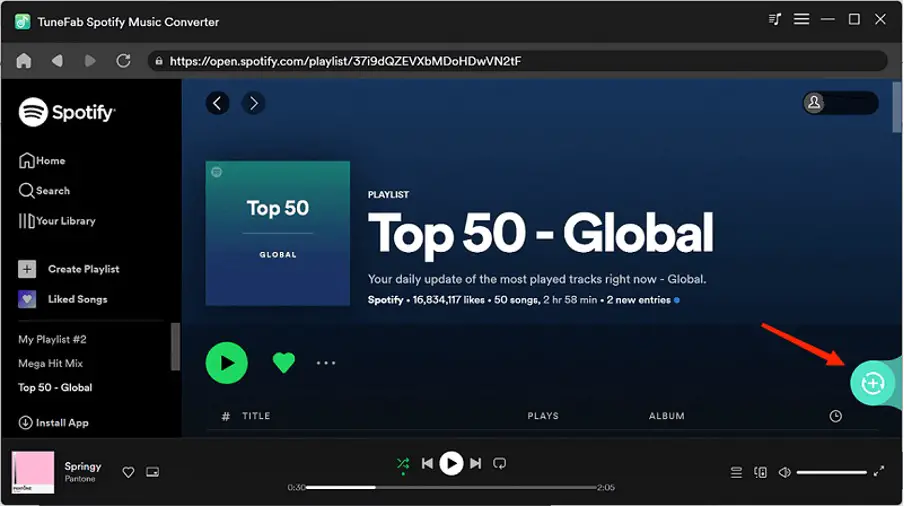 Click on the three-line button in the top-right corner, and select 'Preference.' Here, you can fine-tune your output format settings.
In 'Advanced', pick your desired audio format, such as MP3, M4A, WAV, FLAC, AIFF, or ALAC. You can also further adjust parameters such as SampleRate and Bitrate (with lossless options at 48kHz and 320Kbps available) to customize output quality in preferences.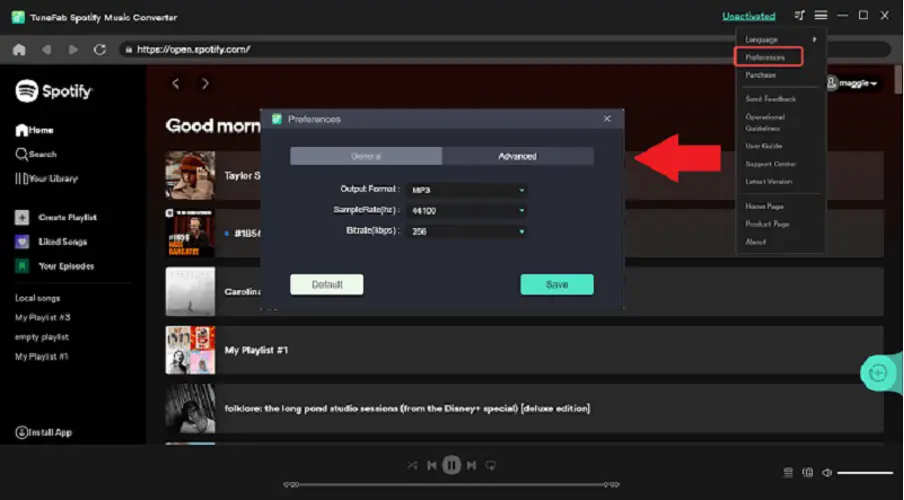 Within 'General', customize your output folder and categorization preferences. You can opt for output file names based on track number + title. You can also organize output tracks by Playlist, Artist, or other available options to automatically categorize the downloads effortlessly.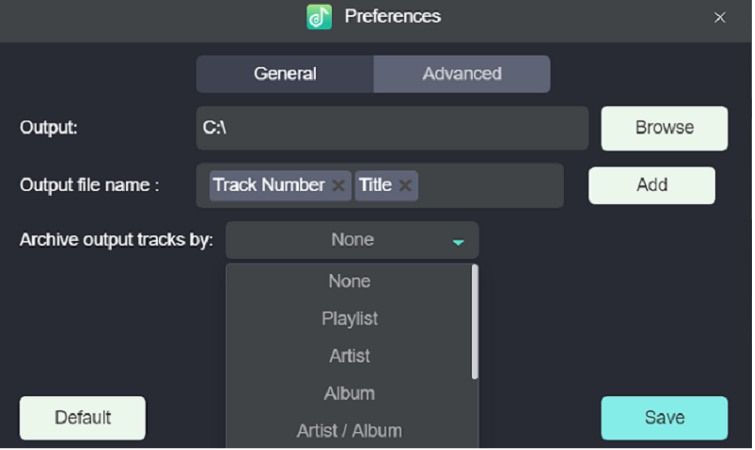 Hit 'Convert All' to kick off the batch downloading process or 'Stop All' if you need to halt it. Once the conversion wraps up, click 'View Output File' to inspect your downloaded Spotify songs. You can even opt to play the tunes directly within TuneFab Spotify Music Converter.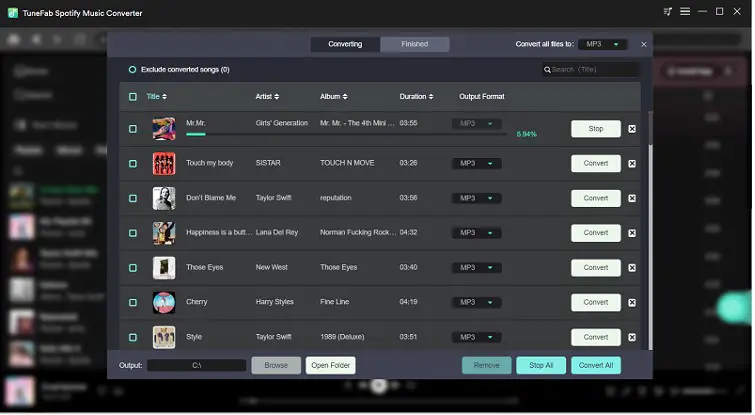 Why Trust TuneFab?
TuneFab's Commitment to Enhanced User Experience
TuneFab is dedicated to delivering products that not only meet but exceed your expectations in terms of convenience, efficiency, and safety. Our competitive products are meticulously designed to provide you with the highest-level experience, ensuring a smooth and straightforward journey.
We take pride in offering hassle-free music conversion and convenient downloading experiences backed by advanced technology and meticulous feature design. For instance, our built-in Spotify player within TuneFab Spotify Music Converter not only improves efficiency but also ensures great stability and enhances the conversion success rate up to 98% or even higher. It is a testament to our commitment to streamlining your experience, making music conversion and downloading as seamless as possible.
Dedicated Support
TuneFab understands that robust support is the backbone of a seamless user experience. That is why it goes the extra mile to ensure users have all the resources needed.
On TuneFab's official website, there is a treasure trove of detailed supportive documents. From comprehensive how-to articles to technical solutions, frequently asked questions (FAQs), and step-by-step tutorials, these resources are designed to empower users with the knowledge and guidance to navigate TuneFab's products effortlessly.
But TuneFab does not stop there. The dedicated customer support team is staffed by knowledgeable and responsive experts who are always ready to address users' questions and tackle any problems that may arise. "Your satisfaction is our priority, and our support teams are here to make sure of it."
Flexible Pricing and Supportive Refund Policies
TuneFab understands the importance of enabling users to make well-informed decisions. To ensure customers can confidently choose the right path, they offer free trials for all software products. This means potential users can download trial versions from the official website, fully assess the program, and make choices aligned with their needs.
The pricing strategy caters to various preferences, offering monthly, yearly, and lifetime subscription options. TuneFab recognizes that one-size-fits-all doesn't work for everyone, allowing users to select the plan that suits them best.
Also read: TuneFab Apple Music Converter Review: Convert Apple Music to MP3 with Ease
---
Protect Your Online Privacy With Surfshark
[The VPN that we use here at Tech Arrival]
---
In addition, TuneFab backs its products with thoughtful refund policies. For those who have made purchases but find themselves less than satisfied, TuneFab's refund policies are available for review. Non-subscription product refunds must be requested within 30 days of the initial order. For subscription plans, users can request a full refund within 5 days of purchase by reaching out to TuneFab's dedicated support team.