Making your video look professional is the key to getting lots of clicks. For anyone with a YouTube channel, it can be extremely laborious & time-consuming to get the perfect shot, the perfect audio mix, and then adjust contrast or color to get that sharp look.
It can be difficult to produce engaging videos. For non-Vlogging amateurs, it can also be tedious to use video editing software. A couple of minutes into a video, and you'll get the feeling that you're losing potential viewers due to its blandness.
There are a lot of video editing software available on the market, but most of them are restricted to some features. Due to this feature limitation, you may have to buy another software to get those missing features from the first one.
Solution? VideoProc Vlogger is an intuitive & powerful video editing application allowing you to create awesome videos in minutes instead of hours. It has been designed to make the entire process enjoyable, easy, and efficient. In this article, let's take a closer look at what VideoProc Vlogger has to offer:
VideoProc Vlogger Review: Is It Any Good?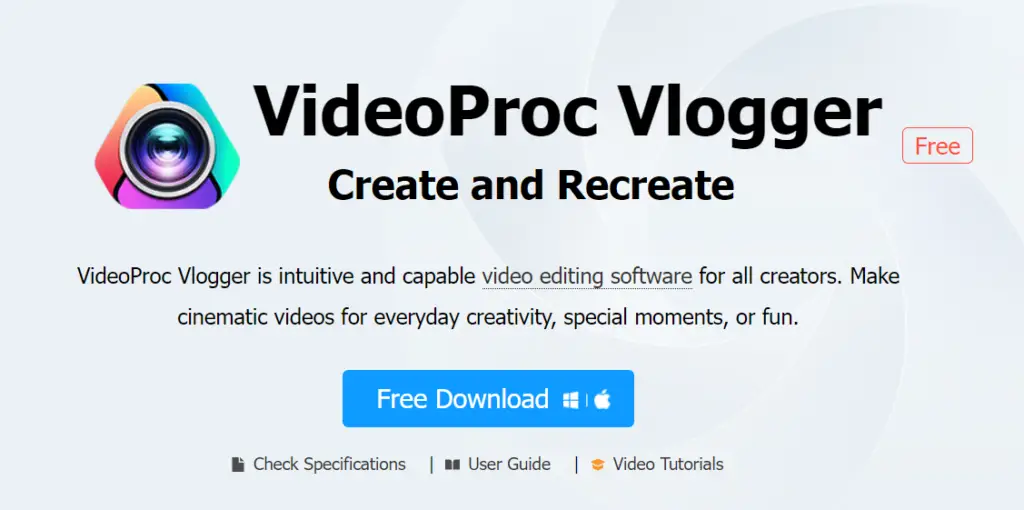 The process of editing and uploading videos by the average vlogger (especially in the beginning when there is a learning curve) is both: boring and tiresome. Learning is hard, time-consuming, and, most of all, boring.
What if you could create videos like the pros in no time at all? With VideoProc Vlogger, you can!
VideoProc Vlogger is a powerful and user-friendly video editing software with a focus on ease of use. It makes your life easier as it offers some unique features that no other software offers. You can do all sorts of video editing tasks with it, including video trimming, adding special effects, and more.
Also read: 13 Best Free YouTube Downloaders
It is a perfect blend of both pro and consumer-level tools in one workhorse tool. VideoProc Vlogger should make your life easier. This program should take the stress out of your workflow and leave you free to focus on vlogging strategy and production instead of using various tools.
Let's take a look at some of the main VideoProc Vlogger Features and Benefits:
---
Protect Your Online Privacy With Surfshark
[The VPN that we use here at Tech Arrival]
---
Speed Ramping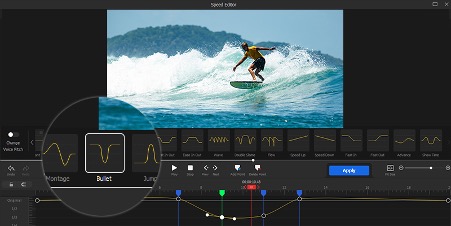 VideoProc Vlogger lets you edit the video to your desired goals and provides you with a cutting-edge set of tools to help you succeed. With precise control over speed and duration changes, there is no limit on what it can do.
It allows you to edit videos with a unique feature called Speed Editing, which helps enhance your projects in many ways. For example, you can use it to highlight action in sports videos by accelerating the clip to build up anticipation before suddenly slowing it down to focus on key moments – and it all transitions smoothly and without any glitches or jumps.
The program features 14 built-in effects and the option to manually control the rate of speed change. Vloggers now find speed editing simple to do with the Bezier curve editor. An easy-to-navigate representation of different speeds lets you produce the smoothest possible transitions. Videos always maintain their original quality, even with extremely fast-paced action sequences.
Motion Editing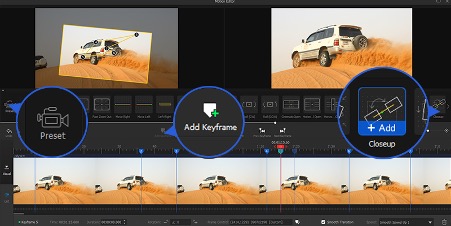 Motion editing has been the most convenient feature created for video editors. The Motion Editing Feature of VideoProc Vlogger Video Editor allows you to control the behavior of the camera movement. This new feature from VideoProc Vlogger allows users to create a smooth transition from one scene to another. With its comprehensive graphic UI design, even beginner users can take full control. One can edit the initial and ending states of a scene rather than fiddling with numbers and numbers.
Motion editing is a feature that allows you to create camera movement and reframes for social sharing. VideoProc Vlogger offers 28 motion presets; these include Zoom in/out, Pan, Tilt, Dolly, Truck, and more. As well as giving you the option of adding keyframes and customizing the motion paths and directions. You can also reframe clips for various aspect ratios and easily resize videos for different social media platforms.
Color Grading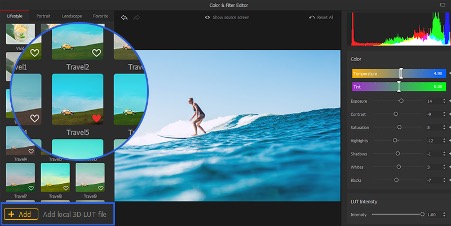 VideoProc Vlogger has a wide variety of features that can drastically change the look and feel of your video. One such feature is the color grading tool you can use to fix overexposed and underexposed footage, enhance low-light videos, and reduce image noise.
With features such as color adjustment and aesthetic color grading, the video editing system gives tough competition to most other expensive video editors without sacrificing a bit in quality.
There are many options to adjust a particular color's hue, saturation, and blending modes. The Color Grading Filter also includes 93 built-in Luts/filters to help get the desired effect.
Audio Editing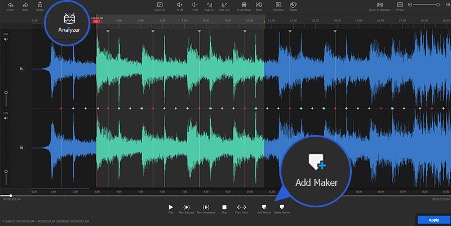 VideoProc Vlogger offers a professional audio editor for creating engaging videos. VideoProc Vlogger provides an array of professional video editing and sound design features to produce high-quality content for your social media channels.
Apply equalization, volume levels, left-right channel editing, and sound filters with the 10-band EQ on the Audio Editing feature of this video editing software.
Audio editing is one of VideoProc Vlogger's strengths; advanced users can adjust audio curves for high-pass, low-pass, pitch, and boost. 12 tools are available with one click or more accessible for customized effects that filter out noise, boost vocals, balance frequencies to more natural tones, and similar.
---
Protect Your Online Privacy With Surfshark
[The VPN that we use here at Tech Arrival]
---
How To Download and Install VideoProc Vlogger on Your PC?
The process is pretty straightforward, and the instructions are easy to follow.

macOS
To download software on macOS, open the Safari app or any other browser installed on your computer and visit the website of the VideoProc Vlogger Software and find the download button.
Now click on the download button. Depending on what type of software it is, you will need to accept a prompt for permission before downloading.
Once downloaded, open the file by double-clicking it. Now you have to drag the downloaded file on the Application Icon. This will initiate the installation process.
Once installed, you can launch the software from the Application Icon.
Windows
Start by downloading the software just like we explained in the MacOs section. Once the program is downloaded, find the downloaded file and then double click on it.
A security prompt will appear, and then click on Install.
A new installer window will appear. Click on next; Now, you need to accept the license agreement, then click on Next.
Now follow the on-screen instruction, and it will begin the installation process. Once done, you can launch the software from the desktop icon.
Also read: 17 Best Free YouTube to MP3 Converter & Downloader Apps
How to Edit Videos on VideoProc Vlogger
If you're just getting started with VideoProc Vlogger, it might take you a few days to learn the ins and outs of the interface.
The interface is simple, so it doesn't take long to learn – there are just a few tools you will use the most. If you find yourself stuck and confused with the user interface, many official tutorials on YouTube and the website can help.
Since different types of video editing require different tools and features, it cannot be covered all in this article.
So here's the official guide on how to use VideoProc Vlogger video editing software, and you will find many different videos in the playlist to help you get started.
System Requirements
Type
Minimum
Recommended
OS
Windows: Windows 7 or later
Mac: macOS X 10.11 or later (Also Supports New M1 Architecture)
Processor
2 GHz Intel® or AMD® processor
2GHz or above Intel Quad Core i5 or better
RAM
1GB RAM
2GB or above recommended 4GB RAM for HD media 8GB RAM or higher for 4K, 8K media
Graphics Card
512MB GPU VRAM or higher
2GB GPU VRAM for HD, 4K media, or higher resolutions
Hard Drive Space
600MB free hard-disk space for installation
SSD recommended for current video projects, especially for high bitrate 4K, 8K videos and HDD for video storage of finished projects
Pros:
Beginner-Friendly Interface: Easy to use interface, complete beginners can start creating videos within minutes. You will never struggle to find where you should begin editing your video.
Free to Use: VideoProc Vlogger is a free and powerful video editor that is not limited to watermarks or any other limitations.
Reframing for Social Sharing: Don't be constrained by boundaries when you edit your videos. It offers flexibility for various aspect ratios that makes sharing your edits easier.
Enhance Editing Workflow: It has a built-in timeline and an intuitive interface, as well as powerful editing tools including a set of effects and filters.
Ideal For All Users: It has basic editing for beginners as well as advanced features for more experienced users.
Cons:
None: As this is a free to use software it is hard to complaint about anything.
Conclusion
If you are looking for a good, free, easy-to-use video editing software, you need to check out VideoProc Vlogger. This is a One-stop video editing software; VideoProc Vlogger is constantly being developed, constantly being upgraded to meet customers' needs.
We had a chance to test this program out, and let us tell you; it is really easy to use. This tool is absolutely amazing! It allows you to make a professional-looking video in just a few minutes quickly. The interface is intuitive, and the editing tools are easy to use. We would highly recommend this product. This is a must-have tool for any vlogger or filmmaker!
Download VideoProc Vlogger for Free Now!
Frequently Asked Questions
What Languages Does VideoProc Vlogger Support in their Product?
VideoProc Vlogger supports 5 different languages: English, French, German, Italian, and Japanese.
Does VideoProc Vlogger Have a Watermark?
No, VideoProc Vlogger doesn't cover your video with a Watermark.
---
Protect Your Online Privacy With Surfshark
[The VPN that we use here at Tech Arrival]
---
Is There any Paid Version of VideoProc Vlogger?
No, VideoProc Vlogger is currently free to use; you don't have to pay for anything.