A Malware is a type of software which is designed intentionally to harm our computers. Even though Windows 10 has got Windows Defender and Microsoft provides security updates multiple times a year, there are always workarounds for them to harm your PC.
Malware can be used against you to gain your personal information, identification numbers, bank and credit card details, etc. Malware is sometimes even used by Governments to steal personal, financial and business information.
But there's absolutely no need for you to worry as there are multiple software solutions for your PC to restrict such malicious software from entering in the first place. In this post, we are going to discuss the best Anti-Malware Applications for your Windows 10 PC.
Also read: 11 Best Photo Viewers for Windows 10
List of Best Anti-Malware for Windows
1. Bitdefender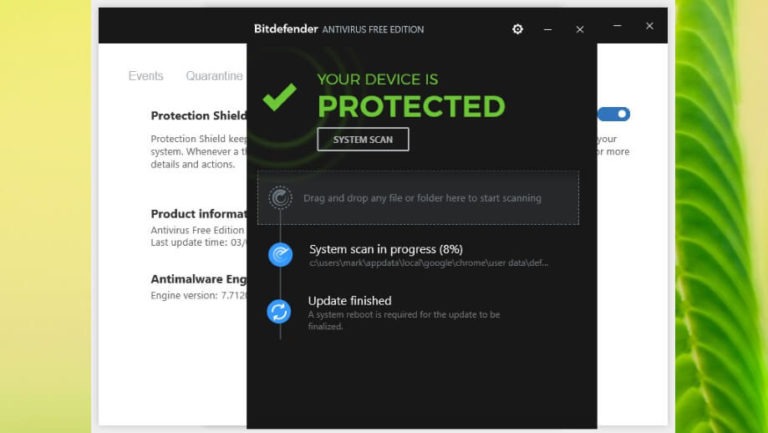 Bitdefender provides some of the deepest malware defenses in the industry. From file encryption, ransomware protection to even a game mode and a great browser, Bitdefender isn't just your average anti-malware. Bitdefender's malware protection works in three steps.
The first one is where its file-scanning engine compares the suspect code to known malware signatures. Then a monitor watches the behavior of the file and inspects the code. If there's anything suspicious, it goes up to Bitdefender's servers for analysis and it cleans it out.
Your browsing history and recent activities are collected along with suspicious files. But Bitdefender provides you the option to opt out of this while still getting excellent malware protection. The anti-malware also scans USB drives automatically. The only downside right now is that it takes a lot of time for a full system scan, especially if you aren't using SSDs.
2. Malwarebytes
Malwarebytes has a unique perspective for defending your PC from malware. It focuses on catching the newest forms of malware and other threats the fastest, which most traditional companies haven't caught yet.
After scanning, Malwarebytes will provide you with two options. Either place the suspected item in a secure area that Malwarebytes controls. Or ignore and exclude it from future scans. The most used feature of Malwarebytes is Chameleon. It acts as a countermeasure for malware that tries to disable anti-malware applications on the computers they infect.
---
Protect Your Online Privacy With Surfshark
[The VPN that we use here at Tech Arrival]
---
There's also a Malwarebytes Anti-exploit, which monitors attacks that'll get into your computer via software flaws instead of malware. It is also one of the lightest anti-malware applications with minimum impact to your system.
3. MalwareFox
MalwareFox is another lightweight anti-malware with multiple features to ensure your system is always free from any threats. It also includes ransomware protection, browser cleanup, and more.
The default scan only searches in the internal drive but you can provide access to any drive in the settings. The user interface is neat and the application doesn't hog up your computer's resources.
MalwareFox uses Pro-Active technology to detect threats. This technology basically checks the threat with a signature and sends it to its servers. If the signature matches with known malware, it is removed from your computer.
4. Norton Power Eraser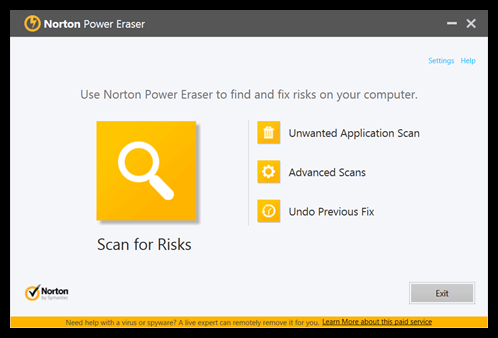 As you probably know, Norton is one of the most trusted brands when it comes to internet security. With Norton Power Eraser, your PC will be clear of malware and other malicious content. The software is a simple yet effective tool to eliminate all the possible threats from your PC.
It also removes scamware and pop-up ads on your computer. The Power Eraser aggressively removes all the spam. It's very easy to scan your system, and once the scan is over, it displays the result in a user-friendly manner.
Norton Power Eraser even detects and clears Crimeware to effectively avert cyber threats.
5. McAfee Antivirus
McAfee antivirus is also one of the most popular and trusted names regarding computer security. Even the cheapest options packs in a lot of options like a file shredder and a vulnerability scanner.
---
Protect Your Online Privacy With Surfshark
[The VPN that we use here at Tech Arrival]
---
McAfee's Antivirus Plus covers license up to 10 systems and even for your Android or iPhone. It has got system optimizer, spam filters for emails apart from the anti-malware protection stuff.
It has even got new identity theft protection and Safe Family parental controls. The software also includes Ransom Guard, which copies files under attack if it detects encrypting ransomware activity.
6. Kaspersky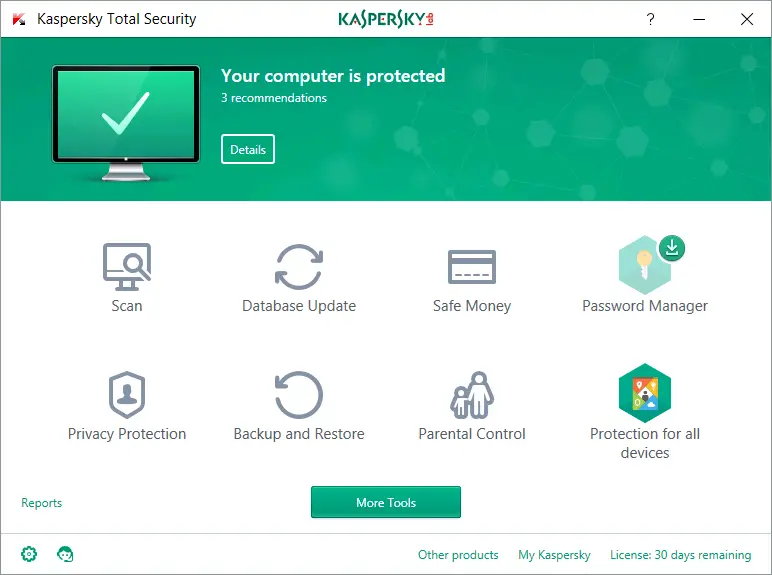 Kaspersky provides top-notch malware protection along with minimum impact to your system. It includes most of the features you'd expect like file encryption, file shredder, anti-spam, system optimizer and also includes some pretty nifty features like a two-way firewall and webcam protection.
Its Internet Security monitors all of your devices on your network and prevents unwanted software and malware from being installed. It also includes both iOS and Android for your Mobile safety as well.
Kaspersky's main feature is to catch known threats, behavioral monitoring to spot unknown "zero-day" malware, and cloud-based analysis of suspicious software uploaded from users' machines. All of this makes Kaspersky, a worthy anti-malware for your PC.
7. Hitman Pro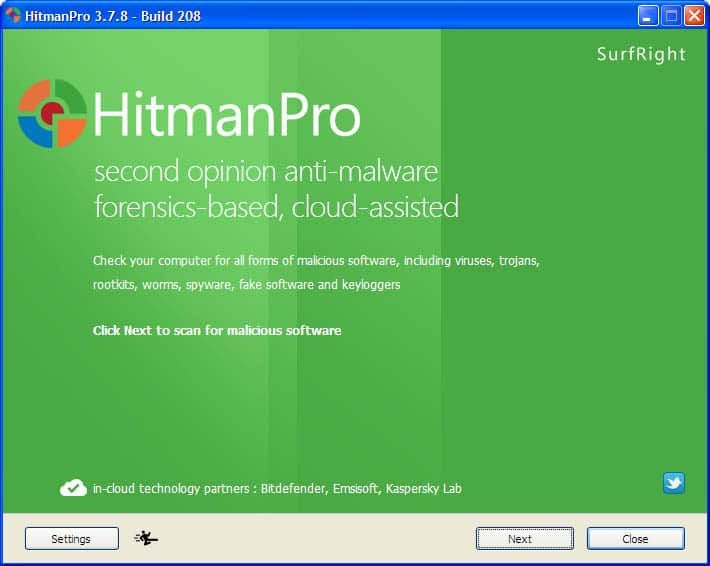 Hitman Pro is a very effective scanner tool that performs a thorough scan of your system to find clean lingering infections effectively. It uses specialized scanning while searching for infections to help you remove infections easily. You can use Hitman Pro with your existing anti-malware software to create an additional layer of security for your valuable data.
The software specializes in scanning advanced kind of malware like ransomware and rootkit. To detect malware, Hitman Pro uses anti-virus engines like Prevx, Dr.Web, G Data, IKARUS, Emsisoft, Kaspersky, and Bitdefender. All of this is cloud-based. If it finds any malware, it is immediately quarantined.
Being just a scanner tool and doing all the hard work upon the cloud, Hitman Pro doesn't slow your PC down in any way. Moreover, you can even move it to your USB Drive and use across different systems.
---
Protect Your Online Privacy With Surfshark
[The VPN that we use here at Tech Arrival]
---
8. Zemana AntiMalware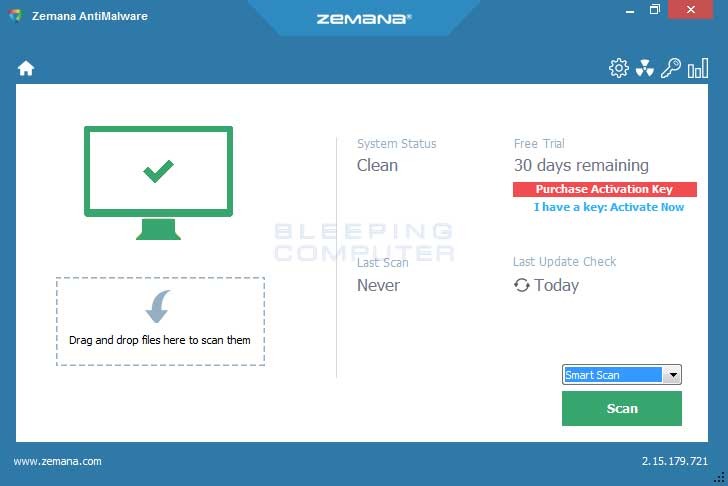 Zemana AntiMalware is also an online malware scanner with the paid version including real-time scanning as well. It doesn't store virus definitions on your computer but rather on-demand uploading the file fingerprint to their cloud server.
It scans pretty much anything you'd expect, including viruses, trojans, rootkits, worms, spyware, adware, and more. Zemana AntiMalware also uses zero hour detection rates for all types of malware. This makes sure it detects any malware before it spreads further into your PC.
The software's UI is very clean and simple. It also provides excellent tech support.
9. Emsisoft Anti-Malware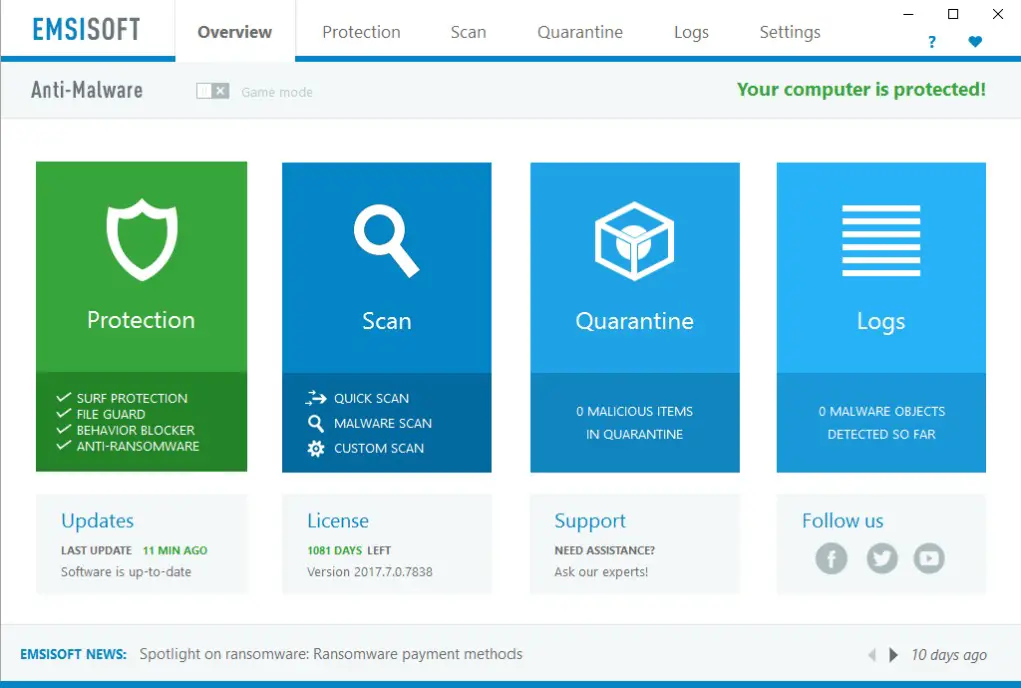 Emsisoft is perhaps a little known name in the industry but doesn't miss on features than the big players. Not only does it help you detect malware and remove it, but it also boosts your system's performance. It has improved protection towards bots and backdoors which might steal your precious information.
Its File Guard feature scans downloaded and executed files using Emsisoft's dual-engine scanning technology. There's also anti-ransomware, behavior blocker, web surfing, and anti-phishing.
One very cool and unique feature Emsisoft's Anti-Malware has is "Emergency Kit Maker". What it does is that it creates a portable package that can be saved anywhere, even on a USB device. Once you do this, you can scan other computers as well.
Download Emsisoft Anti-Malware
10. Avira Antivirus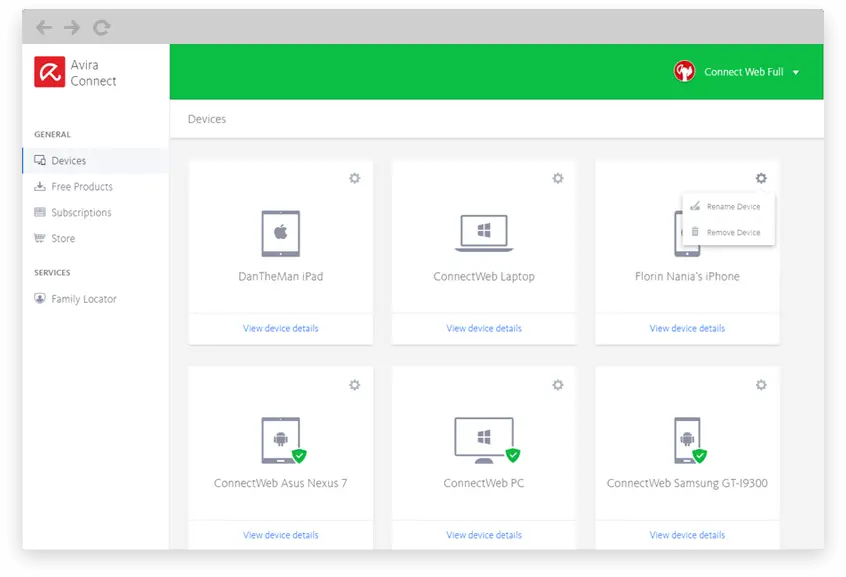 Avira also makes so really good computer security software. And its Antivirus makes no difference. The software provides basic tools like antivirus protection, ransomware protection, web protection, and mail protection.
Lab tests conclude that Avira Antivirus earned a 100 percent performance against the zero-day, web, and email threats test. It also includes features such as software updater, a system speedup utility and also a Home Guard, which scans your home network for threats.
Avira Antivirus's Privacy Pal is a great feature which lets you control your privacy in this age where everyone is tracking everyone. It mostly erases browser data and other temporary caches and files. It even stops Cortana tracking, assuming that you use Cortana in the first place.
---
Protect Your Online Privacy With Surfshark
[The VPN that we use here at Tech Arrival]
---
11. Comodo Antivirus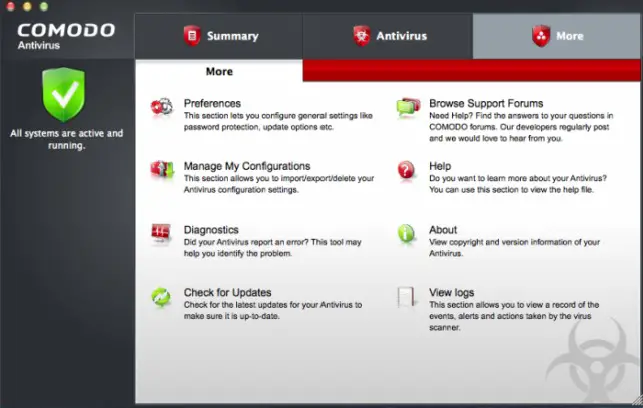 Comodo Antivirus for Windows 10 is a very powerful antivirus tool which protects your computer using multiple security layers. It also provides you the ability to run an application in a sandbox, if you think that application is suspicious.
Then there's Host Intrusion Protection System for advanced users through which you can control what apps can do on your system. Just like other anti-malware software, Comodo Antivirus also provides real-time malware detection which can detect and block known malware before it can do any harm.
12. Avast Antivirus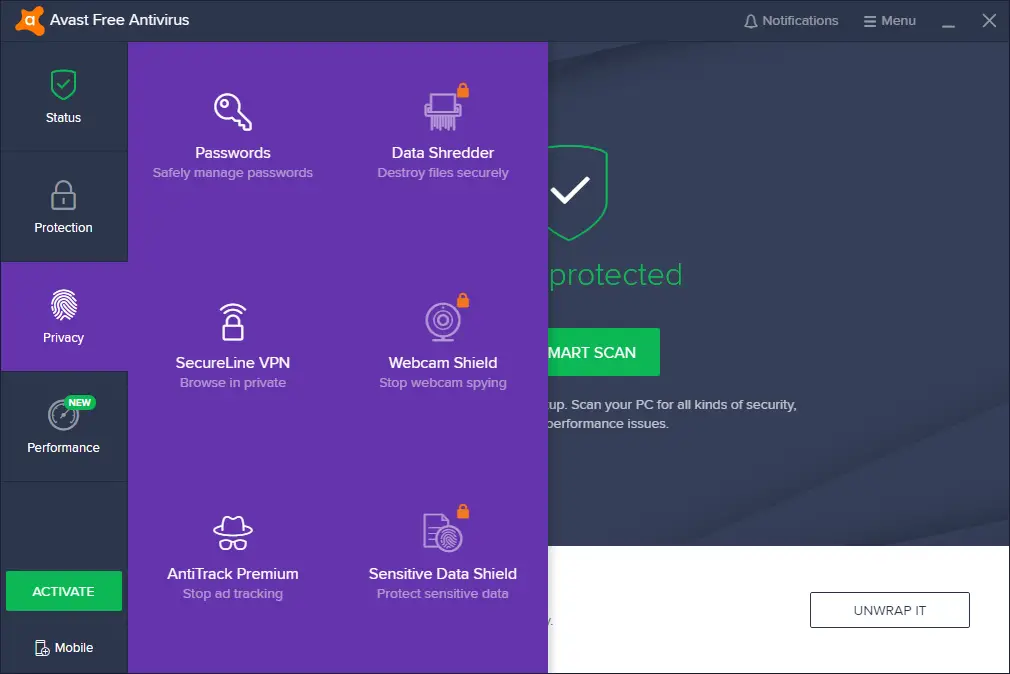 Avast Antivirus is a free antivirus tool which is packed full of features. It even has a secure browser and a video downloader as well. Its malware detection is best in class for free software and it doesn't compromise on anything.
It's also one of those lightweight anti-malware applications and doesn't make your system slow by any means. In fact, the "performance issues" tab lets you identify issues that are affecting your PC's performance and helps you clean them.
Conclusion
No computer is safe from malware these days. Even after getting continuous software updates, there's always a chance some kind of malware might attack your system. But with these anti-malware software solutions, be assured that your system is in the right hands.
Also read: 11 Best PC Cleaner Softwares for Windows 10
If you happen to use any of the above anti-malware applications, please feel free to let us know what you think about them in the comments below.