Why use the same wallpaper on your Android phone when you have the option to change it every minute? Several wallpaper changer apps automatically change your wallpaper every minute or hour.
If you want more variety in your wallpaper, you should download the best automatic wallpaper changer app on your Android device. 
If you are unsure which app to use, we have your back. In the post below, we have listed some popular wallpaper apps worth using.
Also read: 17 Best Wallpaper Apps for Android
List of Best Automatic Wallpaper Changer Apps For Android
1. Wallpapers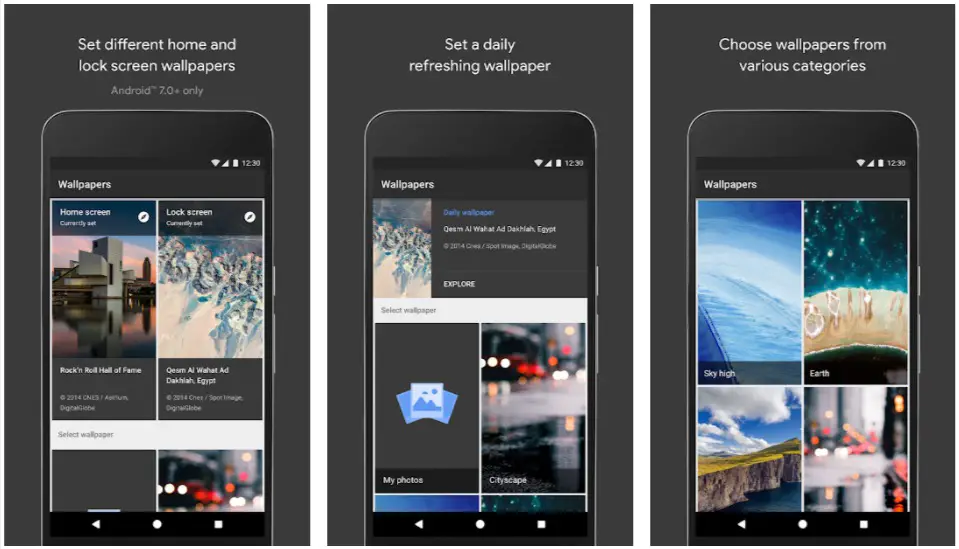 Wallpaper is a unique app with advanced features. It offers amazing wallpapers to beautify your home screen and lock screen. You can choose your photos; pick the desired image from Google+, Google Earth, and more. With the help of this app, you can change your wallpaper as you like.
With an ever-growing collection, you will never run short of new wallpapers. You can also choose wallpapers from your favorite category. Select a fresh image daily and give your home screen and lock screen a new look.
2. Tapet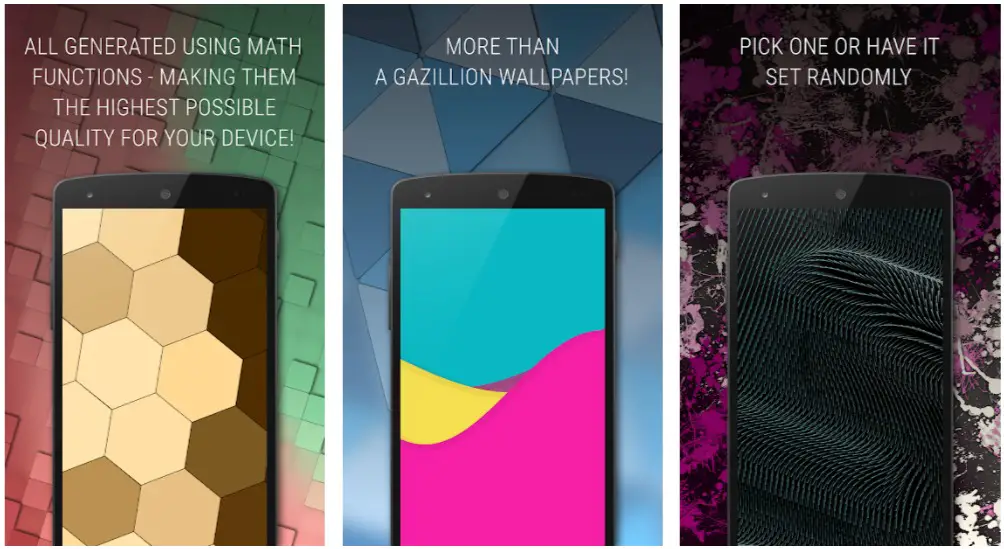 Tapet has been around for a long time. It is an advanced app that automatically generates high-quality wallpapers and backgrounds. But it also includes the option where you can choose random wallpaper manually. If you opt for the automatic option, the app will change your wallpaper hourly or daily, depending on the setting.
Apart from providing HD wallpapers, Tapet has many new features like patterns manager, color picker, app shortcuts, and more. The unique thing about this app is that it generates wallpaper according to your device's screen resolution. The images fit your screen perfectly to create a more pleasant look.
3. IFTTT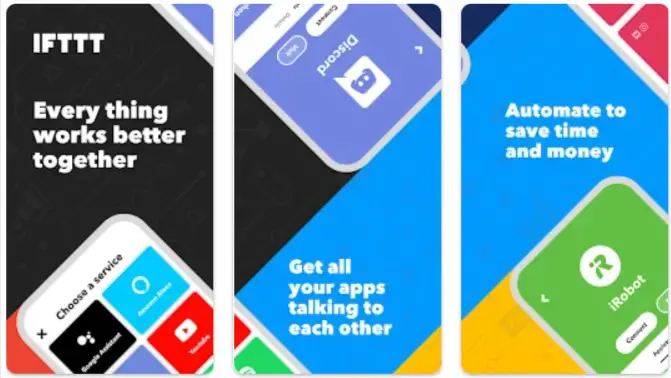 IFTT is an automation app, but you can use it to change wallpapers on your phone. It helps you to automate your favorite devices and apps with a no-code interface. It combines more than 700 services to automate. It brings you dozens of pre-built automation and allows you to build your own. 
With the help of this app, you can control every aspect of your phone, including changing wallpaper. Stay prepared for bad weather with custom weather notifications. It also works with Google Assistant to make things more convenient for you.
---
Protect Your Online Privacy With Surfshark
[The VPN that we use here at Tech Arrival]
---
4. ZEDGE Wallpapers & Ringtones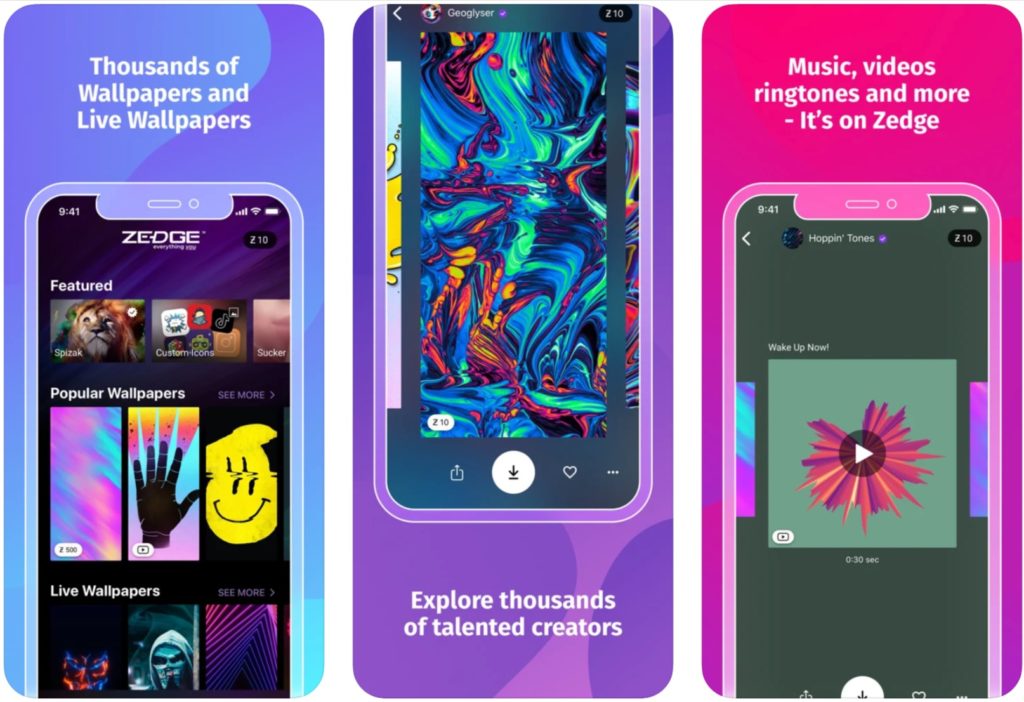 There's hardly anyone who doesn't know about ZEDGE. It is one of the most popular apps for wallpapers and ringtones. It brings you a massive collection of wallpapers that can be accessed for free. It makes personalizing your phone easier.
It offers different wallpapers, including live wallpaper, HD wallpaper, backgrounds, etc. Besides, it has millions of free ringtones, stickers, notification sounds, and alarm sounds for your Android phone. You can save your favorite wallpapers and ringtones without downloading.
5. Muzei Live Wallpaper
If there's anything better than static wallpapers, it has to be live wallpapers. To get the best collection of live wallpapers on your phone, you should use the Muzei Live Wallpaper app. It refreshes your home screen with beautiful artwork every day.
It also recedes into the background, dimming and blurring artwork to keep your widgets and icons in the spotlight. It also allows you to choose pictures from your gallery and other apps. It will rotate through your gallery photos every few hours, so you can see a new picture whenever you pick up your phone.
6. Wallpaper Changer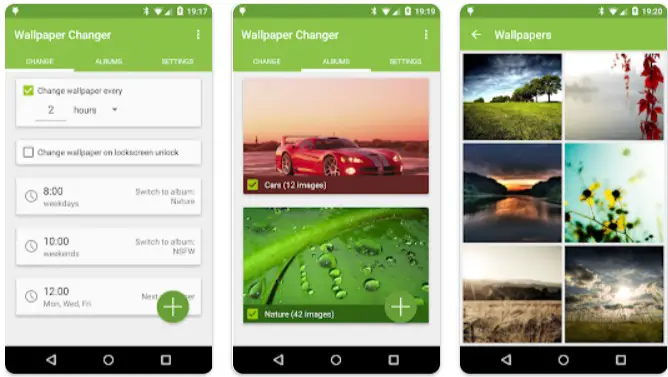 Changing wallpapers on your phone is made easy with the Wallpaper Changer app. You can change the wallpaper on your home screen with a single click. The timer enables you to predefine time, so you don't need to change the wallpaper manually.
Unlike other wallpaper apps, Wallpaper Changer doesn't drain your device's battery. Instead, it is optimized for battery life and performance. This app can change your home screen and lock screen image through a customizable widget. Even though it is a free app, it doesn't have any ads.
7. Walpy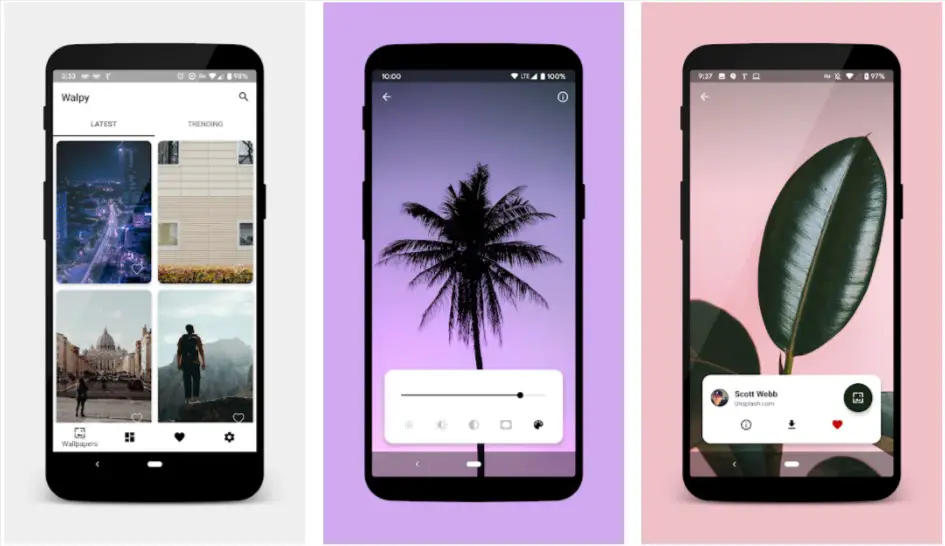 Next up, we have Walpy, which provides new wallpapers every day. It sources new images from unsplash.com. It is slightly different from other apps. Instead of following fixed-time alarms, it lets your device figure out when it is the best time to change your wallpapers. 
However, you can configure constraints to change wallpaper while your device is idle, on a charge, or connected to a Wi-Fi network. It consumes very little power, so you can use this app without hurting your device's battery life.
8. Auto Wallpaper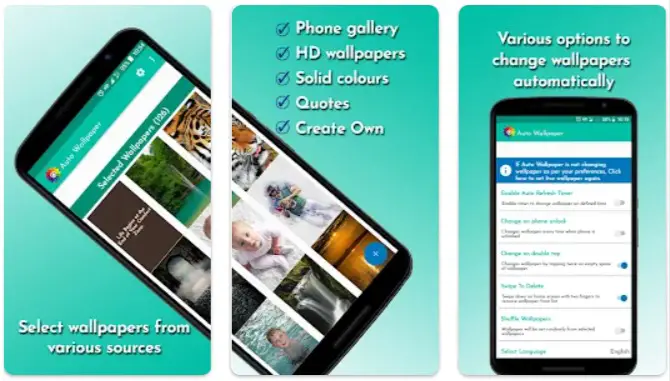 As the name suggests, Auto wallpaper is capable of changing wallpaper automatically from the list of selected wallpapers. It requires you to select wallpapers from your gallery or web. This allows you to create your wallpaper roll. 
You can crop the pictures to best fit as wallpaper without compromising the quality of the original image. There are multiple options to change wallpaper. This includes double-tap; the phone unlocks and refreshes time.
9. Auto Wallpaper Changer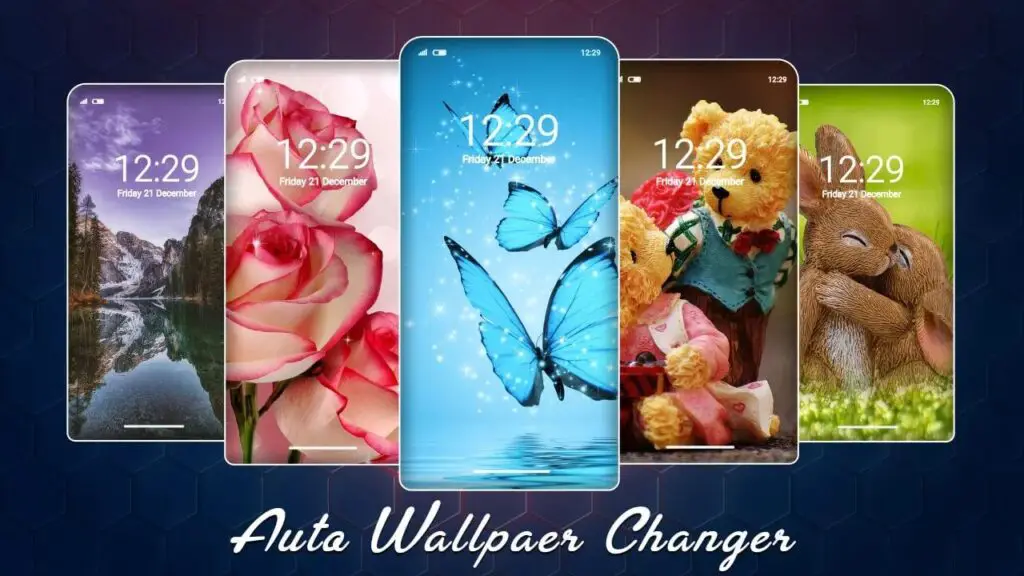 This is another wallpaper app that automatically changes the wallpaper on your phone. It surprises you with new wallpapers every day. With Auto Wallpaper Changer, you don't have to stay stuck with the same wallpaper for a long time.
---
Protect Your Online Privacy With Surfshark
[The VPN that we use here at Tech Arrival]
---
This app is specially designed to enhance your wallpaper experience. It has different types of wallpapers, including manual wallpaper, auto wallpaper, custom wallpaper, backdrop wallpapers, and more. In addition, it also supports 4K wallpapers. It allows you to set the frequency to change wallpapers automatically. It consumes very low battery power and lets you change wallpaper with a double-tap or shaking your phone.
10. Auto Change Wallpaper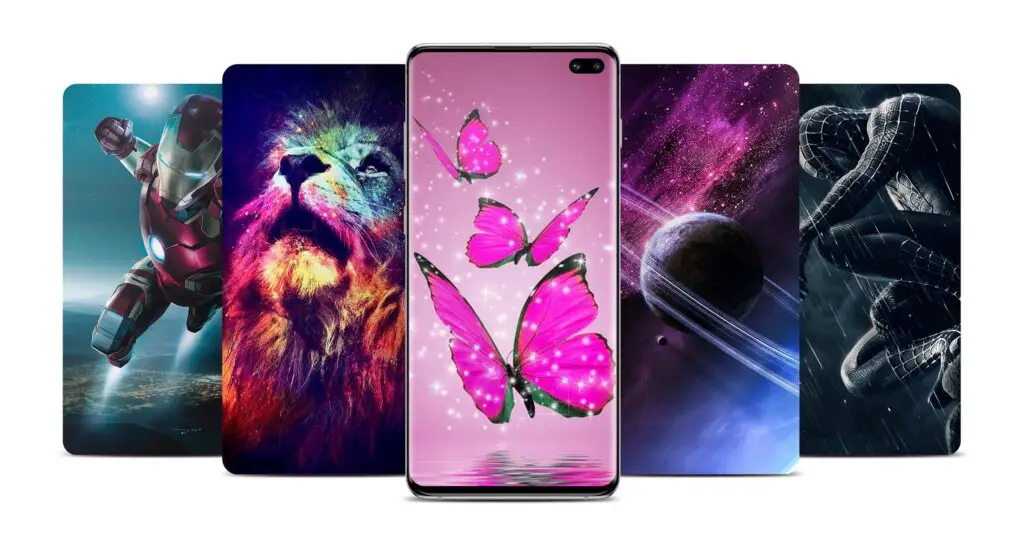 If you are tired of looking at the same home screen picture daily, you should download Auto Change Wallpaper. This is a wonderful app that automatically changes your Android wallpaper in seconds. With the help of this app, you can give an attractive look to your phone.
You can select your favorite images and let the app rotate them as your wallpaper. You can also set the time gap for the wallpapers to change. It allows you to add unlimited images. If you want, you can add your entire gallery. You can access all these features for free.
11. Casualis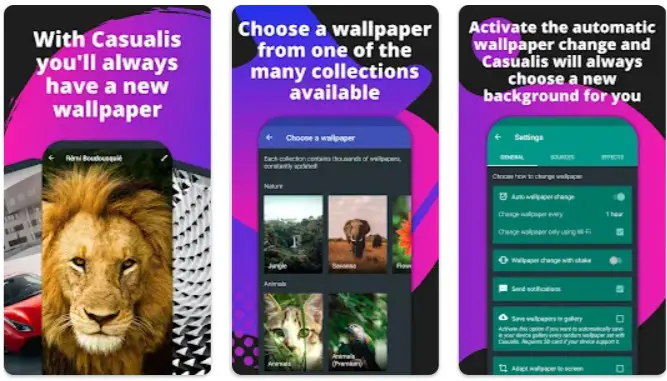 After downloading Casualis, you don't need to worry about changing your wallpaper manually. All you have to do is select wallpaper from the available collections and activate the automatic wallpaper change option. The app will choose new wallpaper for you.
Casualis is a very convenient app to use. It allows you to set new wallpaper by just shaking your phone. Alternatively, you can also use the widget. It is a hub of great wallpapers and backgrounds. It can change wallpapers for both your home screen and the lock screen. You can also make your wallpapers look unique by applying effects.
12. Bing Wallpapers
Bing Wallpapers is from Microsoft. It brings you a beautiful collection of pictures from the Bing homepage. Browse images, and set them as your wallpaper. It also lets you know where the images are from.
Using the available filter, you can select the kind of category, location, and color you like. Whether you want colorful wallpapers to mono-colored images, Bing has it all. The app is updated daily, so you get fresh wallpapers daily. You can set your wallpaper to update automatically every morning. It also has support for both landscape and portrait modes.
13. Changer – Wallpaper Manager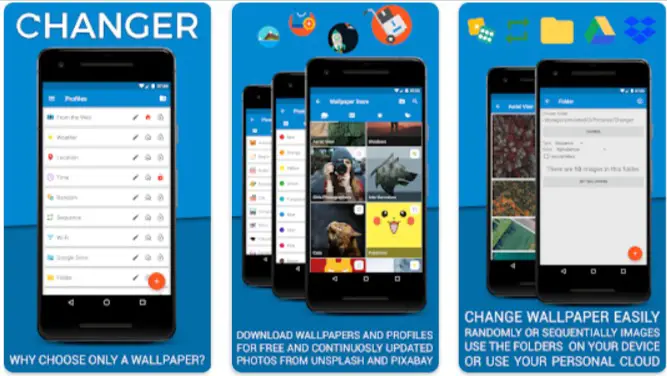 Lastly, we have Changer, a dynamic wallpaper app for your Android phone. It provides the best collection of wallpapers that fits perfectly on your screen. It consumes very little battery power, so you can change as many types of wallpaper as you want. You can also choose your photos to use as wallpapers.
This app can change wallpaper according to location, weather, time, or Wi-Fi. Not just that, but it can also change wallpapers based on the user's choice and preference. You can create an infinite number of profiles and get the best wallpapers for your phone. It allows you to select photos from Google Drive and Dropbox folders.
Download any of these apps and get new wallpapers every day. These wallpaper apps have all kinds and categories of wallpapers you want to see on your phone.
Also read: 11 Best Wallpaper Apps For iPhone
---
Protect Your Online Privacy With Surfshark
[The VPN that we use here at Tech Arrival]
---
Frequently Asked Questions (FAQs)
Why Do People Change the Wallpaper?
People change the wallpaper for various reasons. They mostly want new wallpapers because they are bored with the current wallpaper.
What is the Best Wallpaper App for Android?
Tapet is one of Android's best and most popular wallpaper apps. It offers a massive collection of images to choose from.
Do live wallpapers consume more battery?
Yes, live wallpapers consume more battery than static ones. That's because live wallpapers depend on GPU and CPU for rendering purposes, and thus, they consume more energy.
How Much Battery Does the Wallpaper Use?
According to XDA experts, wallpapers at maximum brightness consume 5% of the battery in 15 minutes. On the other hand, pure black wallpapers consumed 3%.
What are the Types of Mobile Phone Wallpaper?
There are two types of mobile phone wallpaper: static and live. While the former lacks movement, the latter is animated.
What are Live Wallpapers?
Live wallpapers are animated backgrounds that provide ever-changing screens to make your phone look attractive.
Are Wallpapers Apps Safe?
Most wallpaper apps are safe to use as long as you are downloading them from the native app store of your device.
Can Live Wallpapers Have Sound?
No, live wallpapers cannot have sound. That's because the lock screen doesn't support audio.
What is the Best App for 4K Wallpapers?
If you want 4K wallpapers for your phone, then Muzei Live Wallpaper would be the best choice for you.
Is Zedge Good?
Zedge is one of the best free wallpaper apps for Android users. It is updated with fresh wallpapers every day. Besides wallpapers, it also offers a good collection of ringtones.