If you don't find Minecraft building city seeds or jungle seeds challenging enough, you should try Minecraft island seeds.
Islands in Minecraft are both fun to explore and difficult. You are on a small land with limited resources. If that's not enough, you should switch to survival mode to take things up a notch.
We have your back if you are looking for the best Minecraft island seeds. Check out the list below to familiarise yourself with some of the famous and most exciting Minecraft island seeds.
Also read: All the Minecraft Villager Jobs Explained
List of Best Minecraft Island Seeds
1. Jungle Eclipse
We are kicking off the list with one of the most interesting Minecraft seeds. It allows you to spawn in a jungle area surrounded by only water. It seems like a perfect vacation spot, but you can also explore the nearby biomes.
You will come across other biomes if you travel towards the east or west. This seed will remind you of those old cartoons where they get stuck on a barren island with a coconut tree.
Key Locations:
Ruin Cluster: -248, 72
Shipwreck #1: -344, 152
Shipwreck #2: -360, -184
Shipwreck #3: 232, 184
Portal to the underworld: 360, 136
Seed Code: 2038737658577796220
2. Hawaii
If you are looking for a vacation seed in Minecraft, what can be better than Hawaii? The Hawaii seed is where you can sit back and have a great time.
Even though it looks nothing like actual Hawaii, it is fine by Minecraft standards. You will spot a village and an ocean monument near the spawn location. You may also get lucky to find some treasures.
---
Protect Your Online Privacy With Surfshark
[The VPN that we use here at Tech Arrival]
---
Key Locations:
Village: 56, 232
Buried Treasure #1: 136. 8
Buried Treasure #2: 72, -40
Buried Treasure #3: 72, -104
Ocean Monument: -200, -200
3. The Smallest Island with Shipwrecks
This seed is the smallest island in Minecraft. The island is the size of 6 blocks, out of which 4 are gravel blocks. To navigate around this island, you must learn how to make a boat.
You will also spot a shipwreck nearby that can help you survive on this island. The shipwreck brings 3 loot chests containing several precious items and a treasure map. Near the shipwreck, you will find Mountain Island. There will be another shipwreck with 3 loot chests, a treasure map, and a few other useful items.
Key Locations:
Shipwreck #1: 35, 45, -232
Shipwreck #2: -202, 48, -369
Mountain Island: -6, 66, -400
Seed Code: 3563281288540707748
Biomes: Mountains
4. Large Starting Island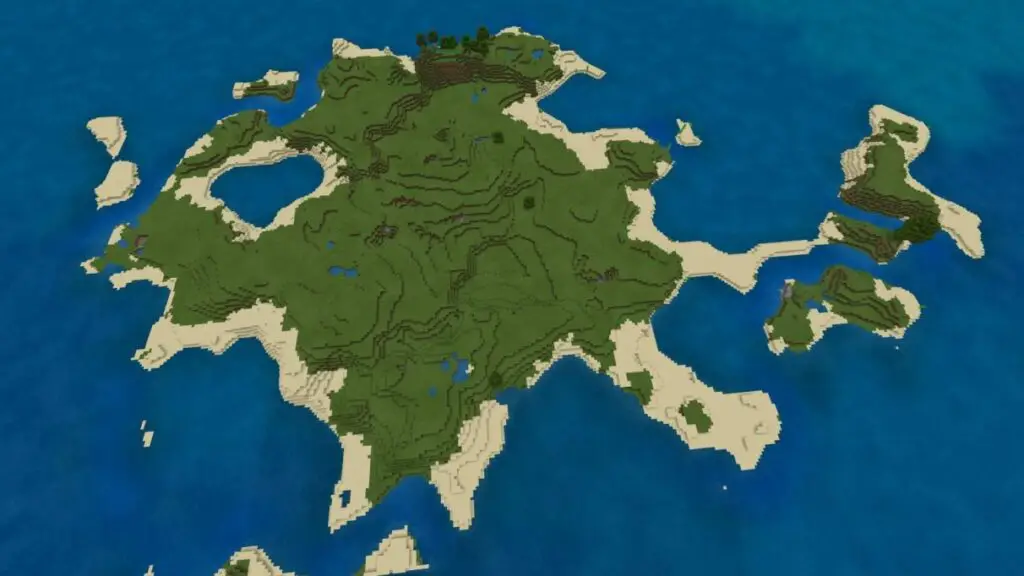 This seed takes you to a large starting island where you can build anything. It is an island full of possibilities, where you can build a forest, Mushroom Island, or even a fishing village.
All you have to do is gather the required resources like wood and other crafting materials. It gives you a chance to showcase your creativity.
5. Forest Island Close to Mushroom Island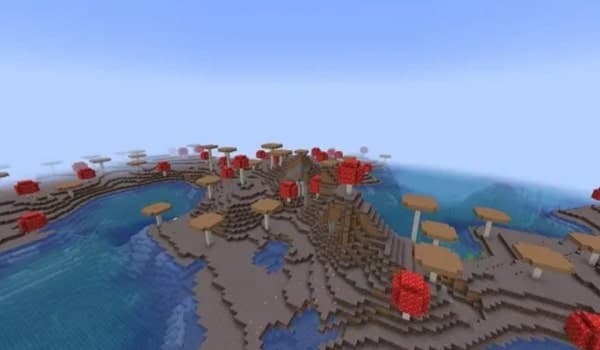 This is one of the most exciting Minecraft seeds. It lets you spawn in the largest Mushroom islands. The unique thing about this island is that it is generated naturally. There's a smaller forest-based island nearby this island where you will find a lot of useful resources. 
The drawback is that no food-based animals or plants are available on the forest island. You will find multiple caves below the mushroom island. You can explore those caves to collect various craft items.
Key Locations:
---
Protect Your Online Privacy With Surfshark
[The VPN that we use here at Tech Arrival]
---
Mushroom Island: -174, 64, 33
Mineshaft: -247, 31, -169
Mineshaft Entrance: -247, 64, -169
Seed Code: 4728820744748531090
Biomes: Forest & Mushroom Fields
6. Seaside Savanna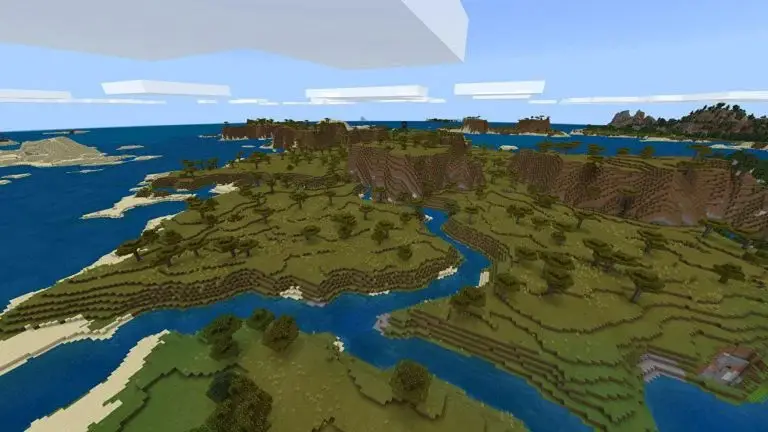 Seaside Savanna is a beautiful Minecraft biome surrounded by blue ocean waters and green Savanna grasses. This seed has everything you need, including wildlife, villages, and ponds.
This island has enough resources to make you want to stay forever. If you like adventures, you should get a boat and explore the beautiful ocean surrounding the island.
7. Island Near Ocean Monuments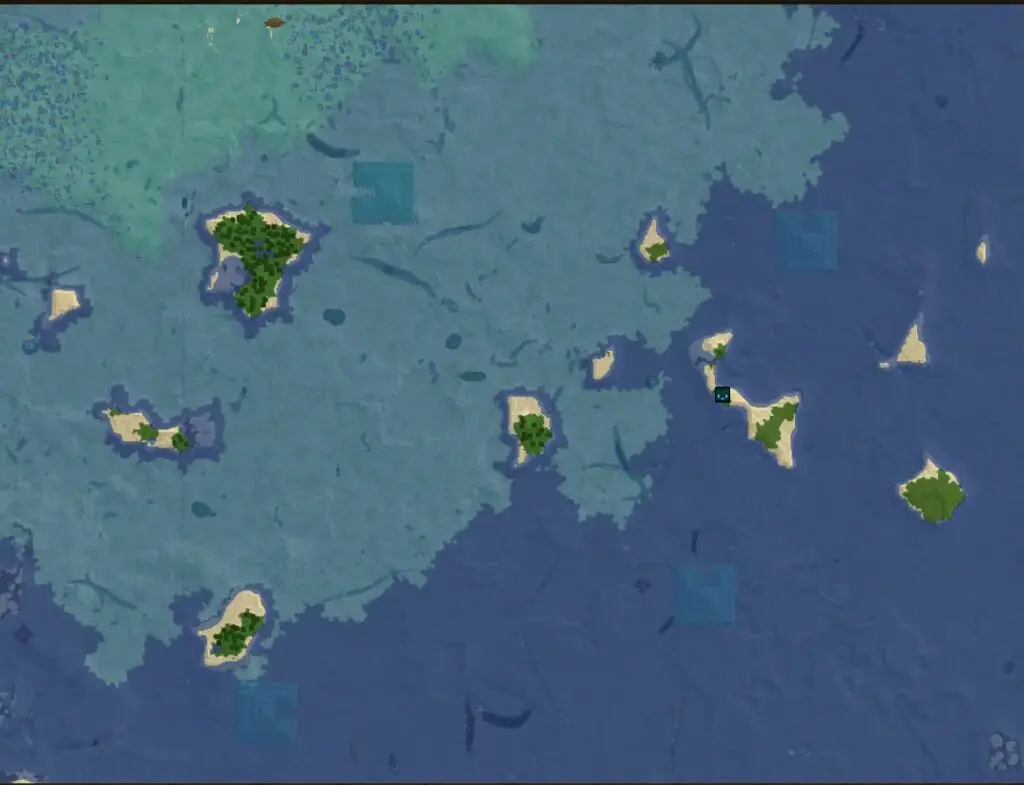 Ocean monuments are difficult to come across in the Minecraft world. This seed takes you to a small forest island near 4 ocean monuments. Not just that, but you will also find the rarest shipwrecks close to the spawn. The shipwrecks have treasure maps and loot chests for you to find.
If you explore a little more, you will come across 3 more shipwrecks and a ruined portal near the monuments. While you are on this island, make sure to collect as many resources as you can.
Key Locations:
Complete Shipwreck: -111, 41, -176
Broken Shipwreck: 83, 36, 143
Sideways Shipwreck: 23, 39, -287
Half Sideways Shipwreck: -221, 38, 174
Ruined Portal: 56, 35, 19
1st Ocean Monument: 112, 56, 29
2nd Ocean Monument: -304, 56, 142
3rd Ocean Monument: 207, 56, -305
4th Ocean Monument: -193, 56, -352
Seed Code: 7223734528149163847
Biomes: Forest
8. Crater Mountain Island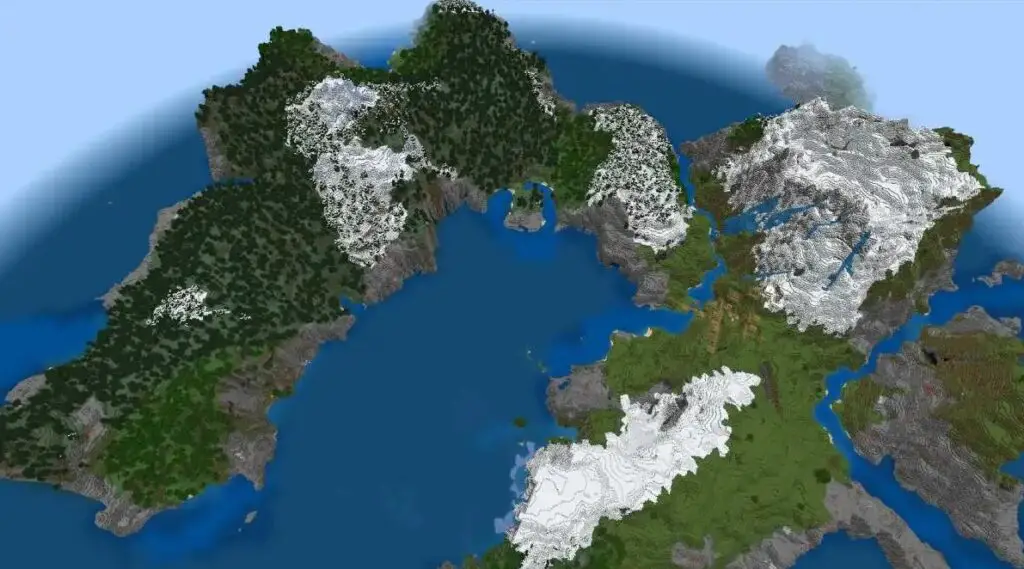 This seed is a large starting island with a village in the middle of a massive mountain crater. While some players may find it challenging to go up and down the mountain, it can be adventurous for some players.
You can use this island to build a safe base. Plus, you can collect plenty of resources. If you want, you can also build a nice home. You must look for the buried treasure. This island has at least 50 treasures.
Key Locations:
Village: -296, 200
Ruined Portal: -600, 24
Shipwreck: 248, 104
Ancient City: -296, -232
Ancient City 2: -552, -280
---
Protect Your Online Privacy With Surfshark
[The VPN that we use here at Tech Arrival]
---
9. Tree Bonanza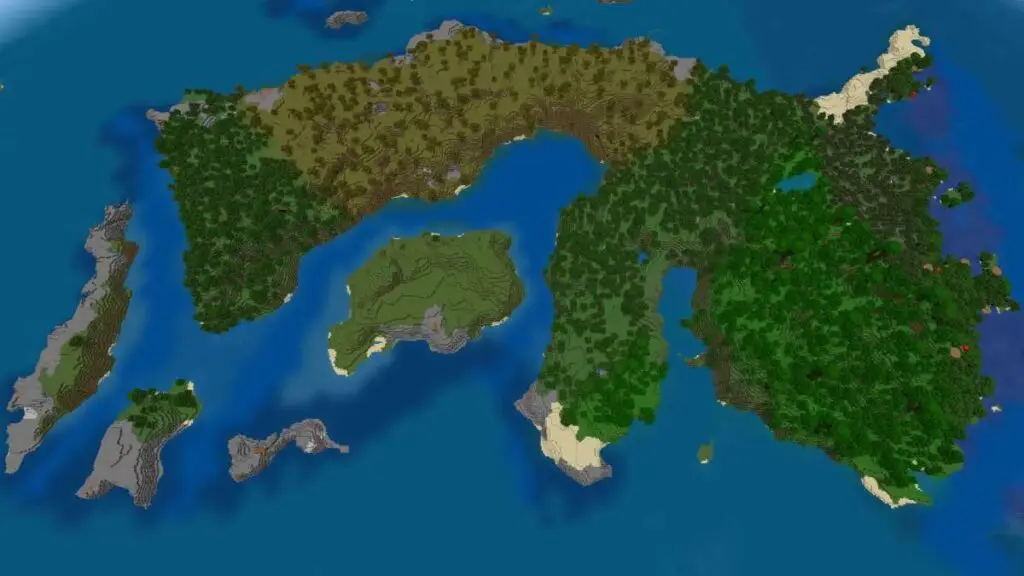 This unique seed gives you access to all types of Overworld wood. Players find this seed exciting because it allows them to reach other nearby biomes.
Every biome has a tree within them which makes them more unique. This makes the island perfect for players who use wood as the primary building material. This island is also great for players who love variety in their builds.
Key Locations:
Ocean Monument: -392, -264
Shipwreck #1: 72, -248
Shipwreck #2: -120, -120
Ruins Cluster: 24, -136
Nether Portal: 8, -600
10. Stranded in Ice Island Seed
This island is full of ice structures. But don't worry; you will find many other biomes in every direction. However, you will have to travel a little far to find a suitable biome. 
There are plenty of trees and a small cold ruin at the spawn level. You can spawn using a fishing rod with Unbreaking III enchantment, so you never run out of food. You will also locate a few ocean ravines for mining ores. Additionally, there's a shipwreck that comes with a hidden treasure map.
Key Locations:
Cold Ruin: -163, 36, -216
Shipwreck: 184, 38, -88
Seed Code: -452616212506859587
Biomes: Forest, Ice
11. Bamboo Island with Jungle Temple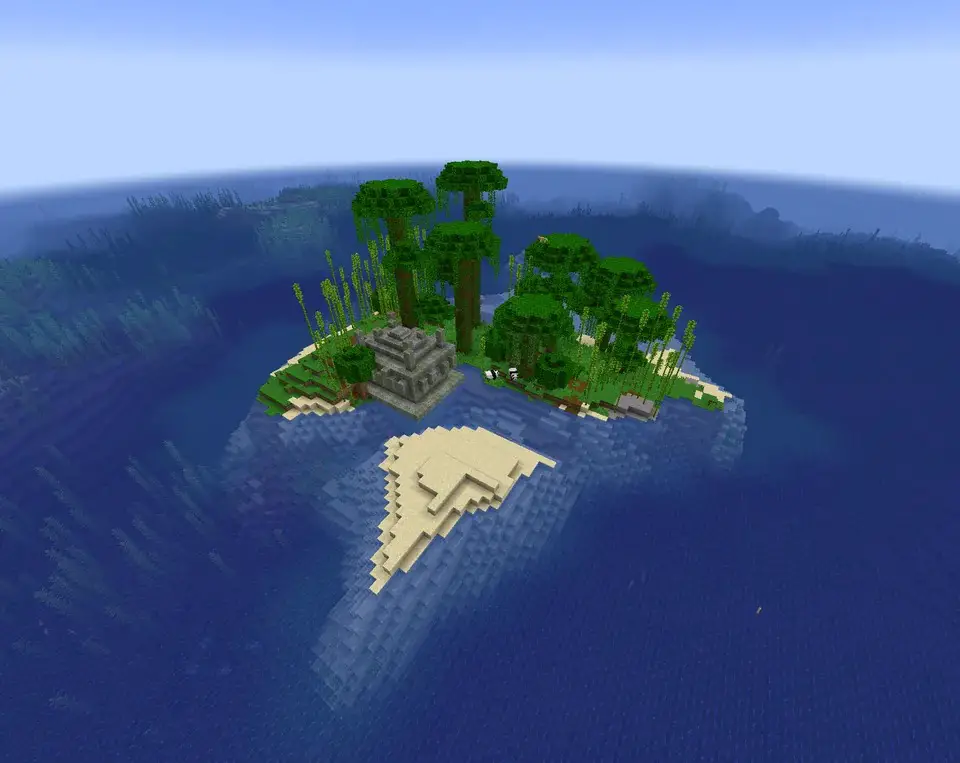 This is the bamboo jungle with a Jungle Temple and cute pandas. On one of the nearest islands, you will find a huge jungle with a ruined portal and two temples.
All the Jungle temples bring exciting loot, including gold ingots, iron ingots, and other precious items. You will find obsidian and a few magical tools in the ruined portal.
Key Locations:
---
Protect Your Online Privacy With Surfshark
[The VPN that we use here at Tech Arrival]
---
Spawn Jungle Temple: 22, 64, 62
Ruined Portal: 645, 65, 66
Jungle Temple: 622, 67, 70
Jungle Temple: 678, 68, -210
Cluster of Cold Ruins: 85, 41, 143
Seed Code: 6622662217031624373
Biomes: Bamboo Jungle
12. Floating Islands Seed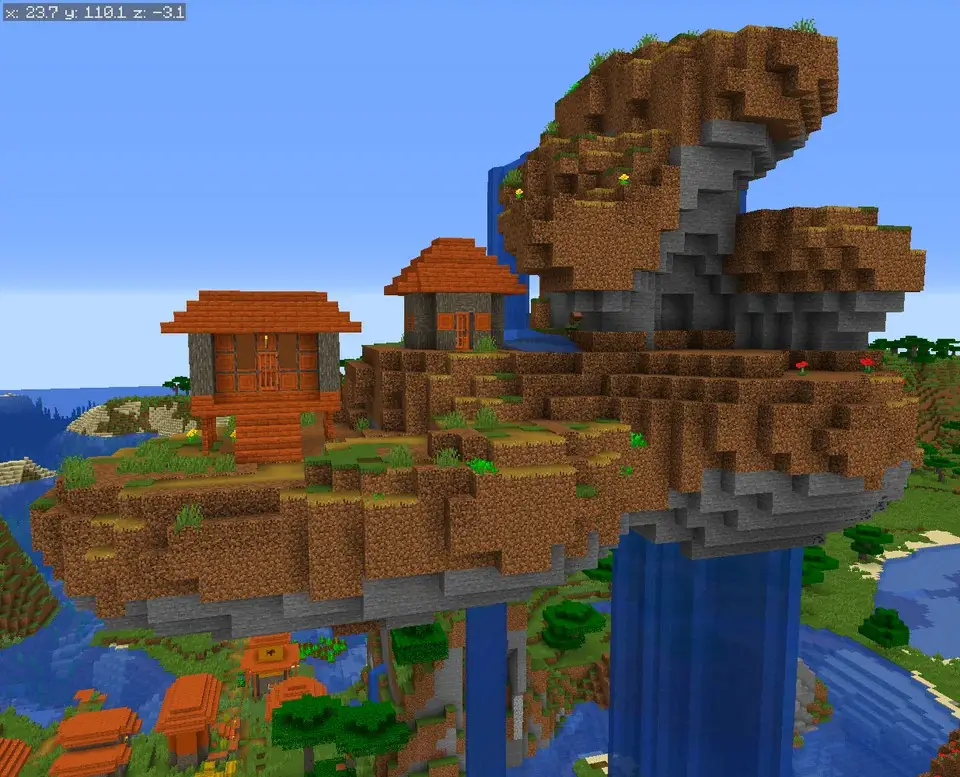 This could be for you if you are looking for a useful seed. It offers several unique and cool features. You will spawn under a floating island that has village houses on it. Expect a few mobs to be around, especially during the daytime.
If you visit the toolsmith's house, you will find a chest containing 19 Obsidian blocks. Almost all the non-floating houses have a chest. The village also has farmers, an iron golem, a cartographer, and a cleric. Besides, the village has multiple lava, ravines, water sources, and caves.
Key Locations:
House with Obsidian: 26, 93, -4
Seed Code: 3200248607299056939
Biomes: Shattered Savanna and Desert
13. Captain Jack's Hideaway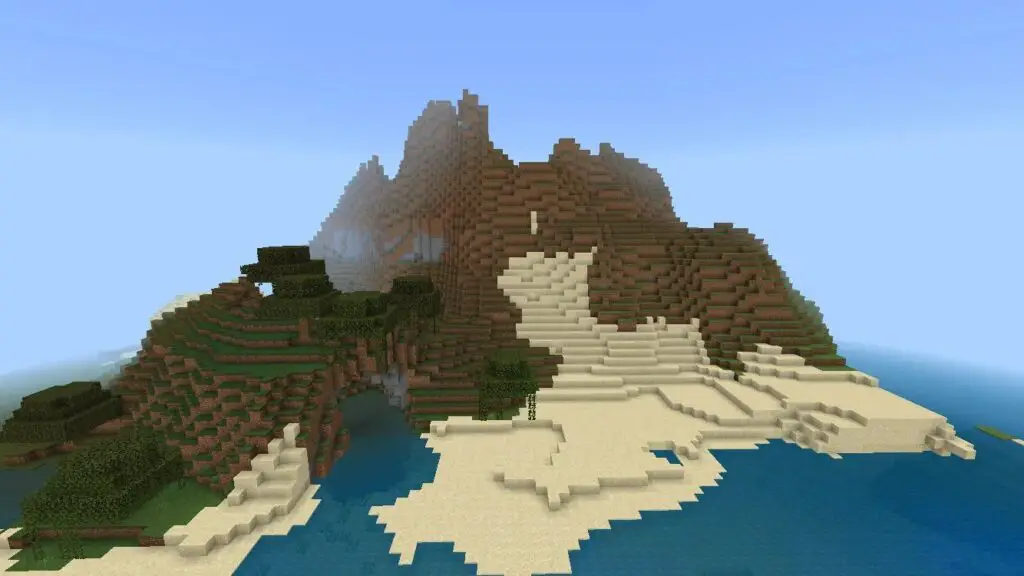 Sometimes, you just need an island to relax. In that case, you will find this seed useful. This island has limited resources. All you have is trees, your ship, and water around you.
On this island, you start spawning with a huge Pirate ship that can be found near the island. This island is perfect for those who like humble beginnings, isolation, and Pirate ships.
Key Locations:
Ship #1: -360, 24
Ship #2: -200, -184
Hidden Treasure: -248, 72
Ruins #1: -312, 136
Ruins #2: -504, 56
14. Explorer's Delight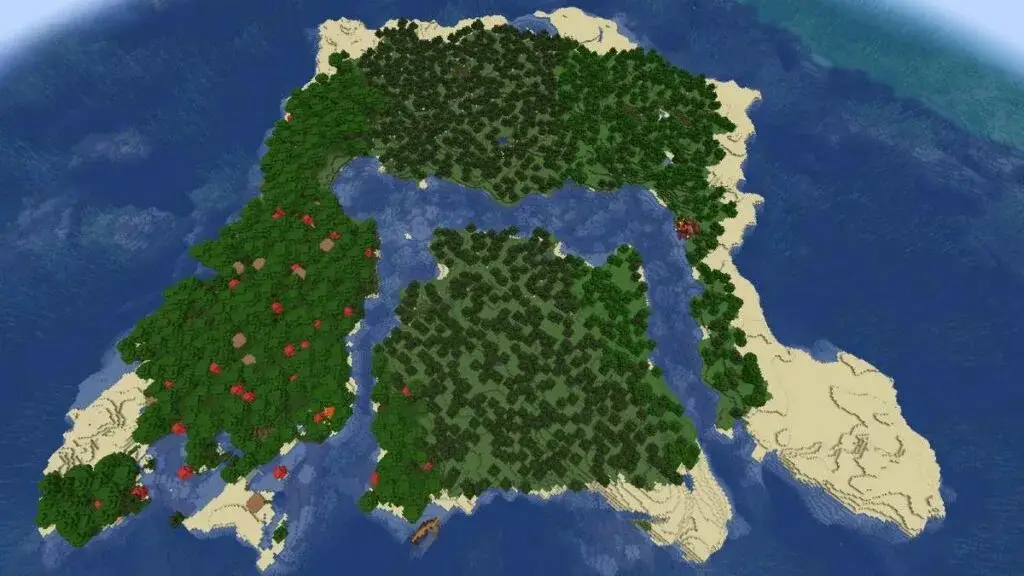 This island seed is perfect for both veteran and new players. It features a simple survival island with a lot of things to explore. While exploring this island, you will find evidence of the existence of past civilizations.
The good thing about this island is that it offers plenty of resources. It has buried treasures, a nether portal, several ruins clusters, and shipwrecks. If you continue exploring, you will soon come across a large cavern filled with water.
---
Protect Your Online Privacy With Surfshark
[The VPN that we use here at Tech Arrival]
---
Key Locations:
Shipwreck #1: 72, 104
Shipwreck #2: 184, -264
Buried Treasure #1: 264, 200
Buried Treasure #2: 264, 136
Buried Treasure #3: 8, -120
Buried Treasure #4: 318, -184
Small Ruins #1: 120, 120
Small Ruins #2: 72, -184
Small Ruins #3: 360, -264
Ocean Monument: 856,-216
15. Archipelago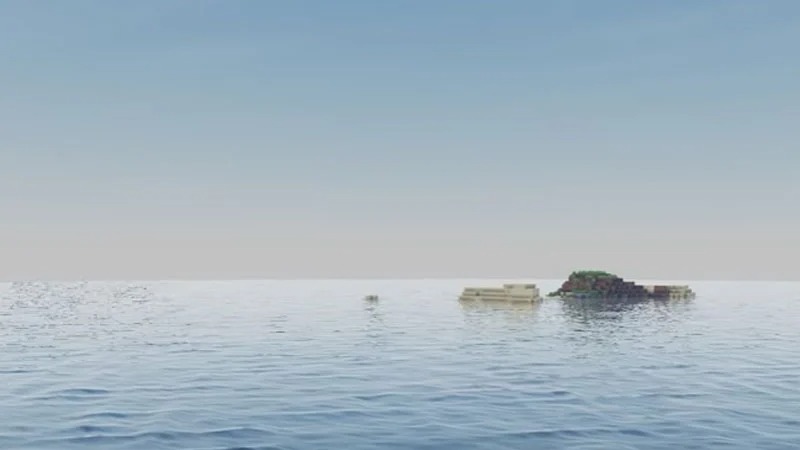 If you want to build a beautiful world on an Island, this seed is for you. Not giving a suitable location makes things more challenging for players. 
This seed is perfect for players ready for a real-life Island survival experience. If that's not enough, you will have a lot of adventures coming your way. This island is surrounded by water and has plenty of trees. You can also explore the other nearby Islands.
Make your Minecraft game more challenging and exciting with these amazing island seeds. For a more challenging experience, you have survival mode waiting for you.
Also read: 15 Best Minecraft Seeds for PS4 & Xbox One
Frequently Asked Questions (FAQs)
What are the Best Island Seeds?
Bamboo Island with Jungle Temple and Floating Islands are two of the best Minecraft island seeds.
How to use a Minecraft Seed?
To use a Minecraft seed:
1. Select the option to create a new world and select 'more options.
2. Enter the seed value in the seed field.
3. Type out your seed, and you are good to go.
Why do Minecraft Seeds don't work?
If a Minecraft seed is not working, you should double-check the release version and platform.
What is a Survival Mode in Minecraft?
The survival mode requires players to build structures and collect resources while surviving in their generated world.
---
Protect Your Online Privacy With Surfshark
[The VPN that we use here at Tech Arrival]
---
What are the Four Modes in Minecraft?
There are four playable game modes in Minecraft: Survival, Creative, Adventure, and Hardcore. Each mode is different and has different gameplay features.
What is the Peaceful Mode in Minecraft?
In the peaceful mode, hostile mobs will not spawn except the ender dragon.
Can Kids Play Minecraft?
Kids above the age of 8 years can play Minecraft.
Is there Violence in Minecraft?
There is very little violence or graphic content in Minecraft. However, players can kill or hit each other or animals in multiplayer mode.
Is Minecraft Good for your Brain?
Studies have found that playing Minecraft develops important cognitive skills.