With the increasing popularity of digital art, the demand for painting and sketching apps has also increased. You can find an array of apps to create digital masterpieces, but hardly any of them comes close to Procreate.
Procreate is one of the best apps developed for artists. It comes with tons of features and tools that help improve your craft. But sadly, Procreate is only available for iOS users. If you are an Android user, you will have to look for some other app.
The good news is you will find many great apps to create amazing digital crafts. Some of these apps are also free to use. To help you out, we have shortlisted some of the best alternatives to Procreate for Android users. So without wasting any time, let's get into the details.
Also read: 10 Best Procreate Alternatives For Windows
List of Best Procreate Alternatives for Android
1. Autodesk SketchBook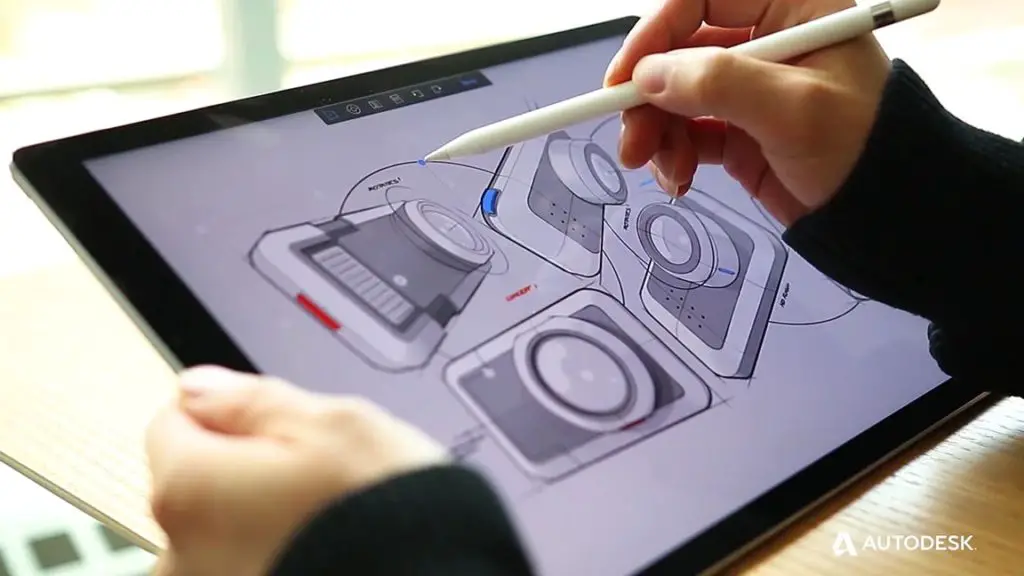 When it comes to sketching, Autodesk SketchBook is one of the best apps you will find. This is a highly efficient app with lots of tools and features. If you are searching for a great alternative to Procreate, this could be the right option for you. This app is appreciated mostly because of its intuitive interface. It helps you to give your imagination shape. With this app, you can design and create amazing crafts smoothly.
Features
Can handle the large canvas
Easy to use
Impressive interface
2. PaperColor
If you want to enhance your painting skill on your Android device, then PaperColor is one of the best apps you can use. It comes with a variety of paint styles along with a library full of painting materials. This app is best for digital doodling and drawing. The good thing is both beginners and professionals can use it. You can use the app features to practice your drawing skills. This is one app that offers you a realistic experience.
Features
Easy to use
Best for doodling
A large variety of paint styles
3. Adobe Photoshop Sketch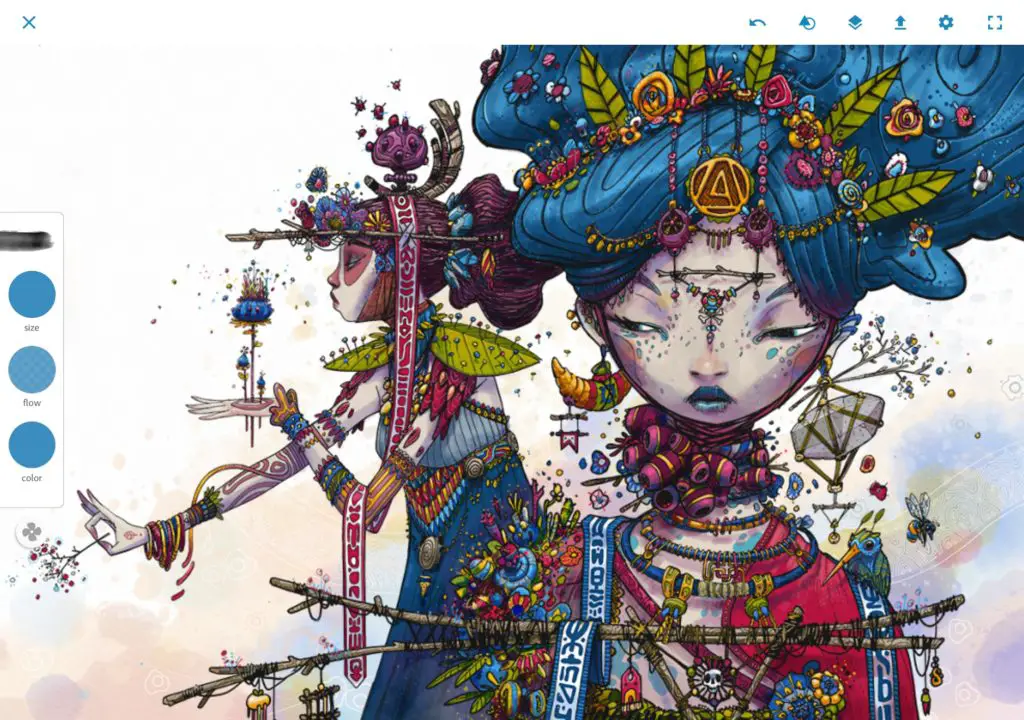 Adobe is a brand that needs no introduction. Coming from a reputable brand like Adobe, you can expect this app to be a killer one. It is also considered to be a noted rival to Procreate. If you need a lot of designing tools, you will find Photoshop Sketch to be the best option. It comes with a huge library consisting of professional tools like pencils, pens, and other stuff that you need to create your drawings. It also has an excellent interface for a better user experience.
Features
---
Protect Your Online Privacy With Surfshark
[The VPN that we use here at Tech Arrival]
---
A large variety of sketch brushes
Huge library of professional tools
Allows to add multiple drawing layers
4. ArtFlow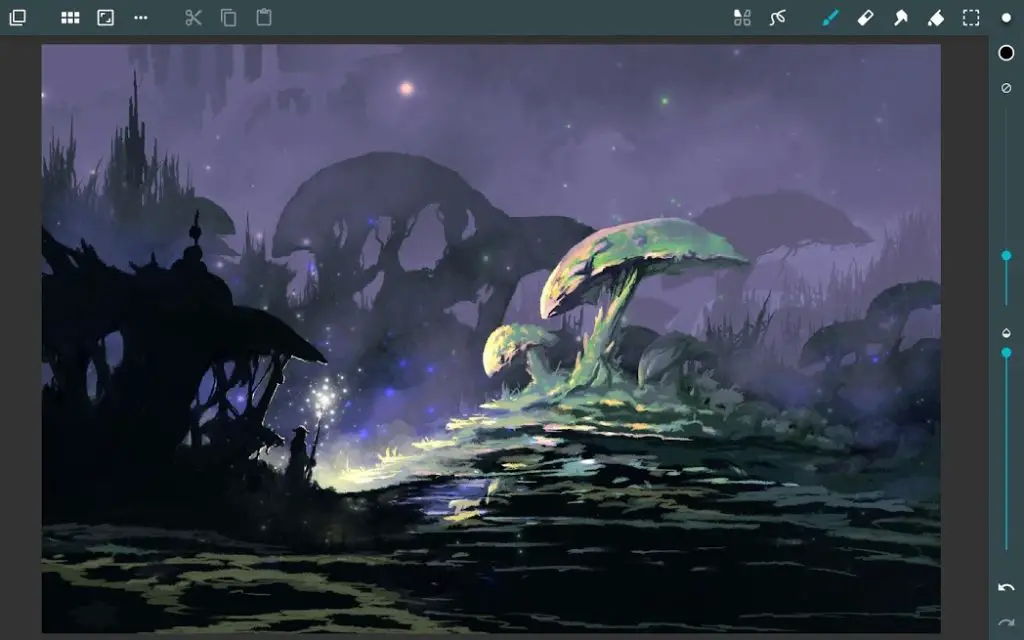 If you like to use their stylus to create digital drawings, you will find this app useful. With this app, you can sketch, design, or draw with better control. It comes with many great features that are hard to find in any other app. For instance, it has the palm rejection feature. This feature is useful in preventing accidental zooming and panning while drawing. With GPU accelerated paint engine, you can expect it to run smoothly on your Android devices.
Features
Supports stylus
Can support up to 50 layers
Palm rejection feature
5. ibis Paint X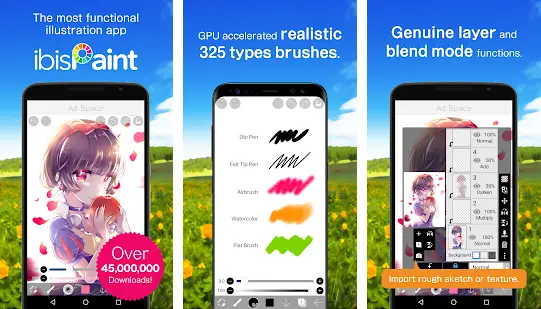 The next best substitute is ibis Paint X. This is yet another app with a good collection of professional designing tools. With the help of this app, you can create stunning artworks and graphics. This app's best feature is the library, which consists of more than 800 fonts, 380 brushes, and other materials. You can use all of these tools to create the best art pieces. Even the quality of the interface is great, and you will love it from the first use.
Features
Huge library of designing materials
Stroke stabilization feature
Tone curve filter
6. MediBang Paint
If you want an easy-to-use alternative to Procreate, MediBang Paint could be the best option for you. This app is suitable for beginners who have just started their designing journey. It may not have an impressive interface like the rest, but it is still worth a try. It gives you a simplified user experience which is great for learners. It also comes with a growing library of materials that you can use to create your artwork. Also, it saves all your data to the cloud.
Features
Speech to text option
Stores data on cloud
Great library collection
7. Adobe Illustrator Draw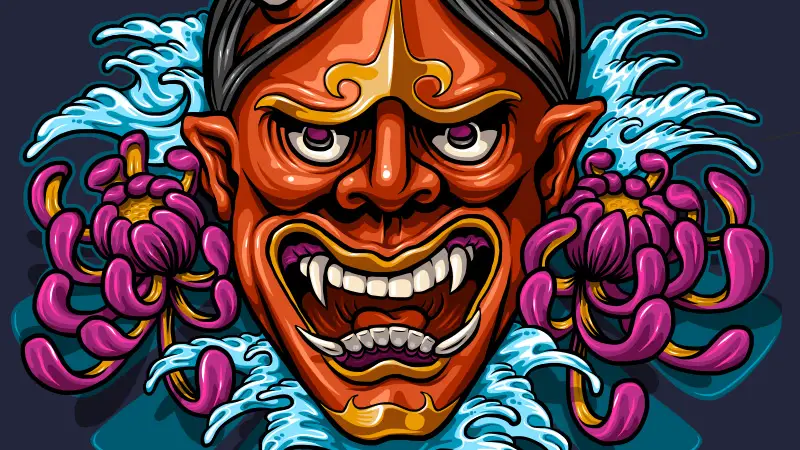 We have yet another Adobe product on our list. If you are looking for a high-quality alternative to Procreate, then Adobe Illustrator Draw is the best option for you. It allows you to work with vector artwork with multiple drawing and image layers. This is one of the most efficient drawing apps you will use. This app is used by many professional graphic designers, artists, and illustrators. It offers more than five different pen tips along with many other drawing tools.
Features
Used by professionals
Adjustable color, size, and opacity
Can create vector artwork
8. Infinite Painter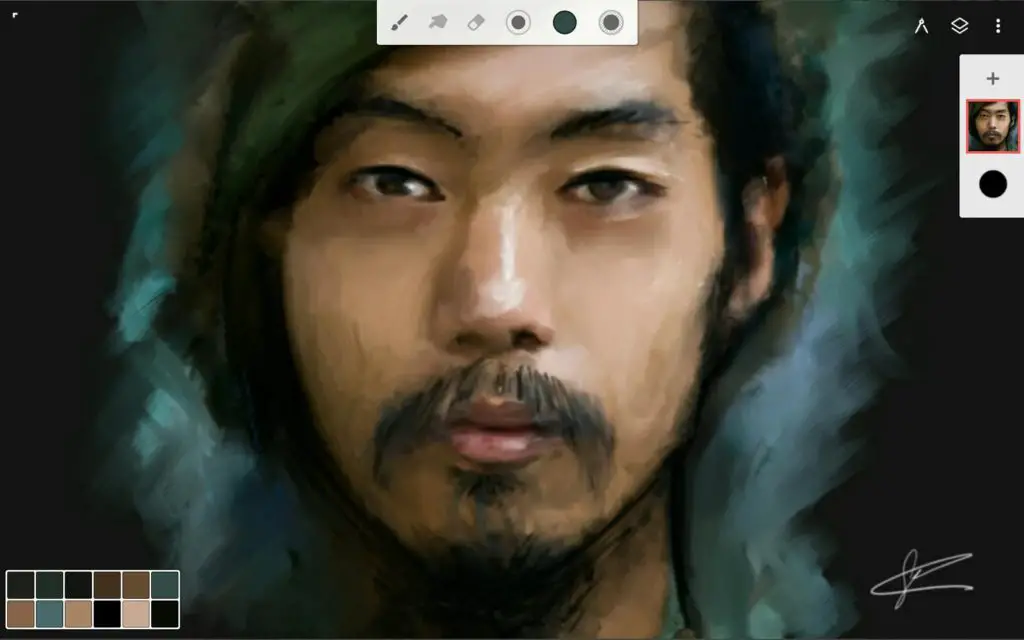 This app may not be as popular as the rest of the options on the list, but it is still worth your attention. Infinite Painter is mainly popular because of its brush collections. It also offers many other useful tools that you can use while drawing. It has a simple interface, so you shouldn't find it difficult to handle. One of the notable features is that it allows you to turn your photo into paint. You can also export and import your artwork in the PSD format. This app is best suited for users who want a simple alternative to Procreate.
Features
Offers over 160 brushes
Easy interface
Allows you to share your artwork with the Infinite community
9. Drawing Desk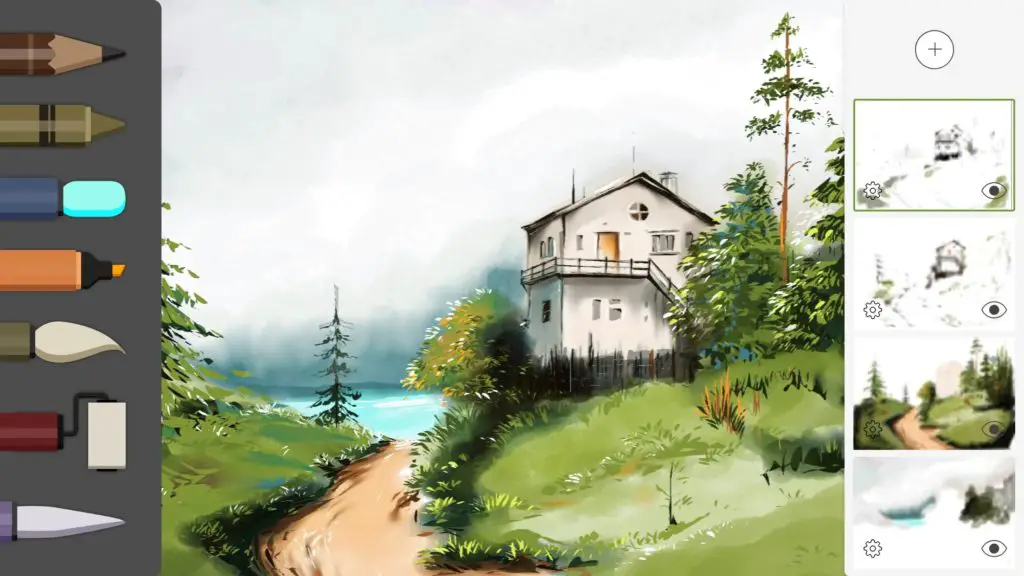 Next in the line, we have Drawing Desk, which is yet another great alternative for Procreate. It is suitable for sketching, drawing, and doodling. It comes with a simple interface, so both adults and kids can use it. One of the notable features is the color palette. Along with that, you get over 1000 colorful pages to improve your coloring skills. Besides, that it also has a great collection of touch effects with live brushes. In short, this app has everything you need for drawing.
---
Protect Your Online Privacy With Surfshark
[The VPN that we use here at Tech Arrival]
---
Features
Provides over 1000 colorful pages
Has a full-colorful pallet
Great collection of touch effects
10. Concepts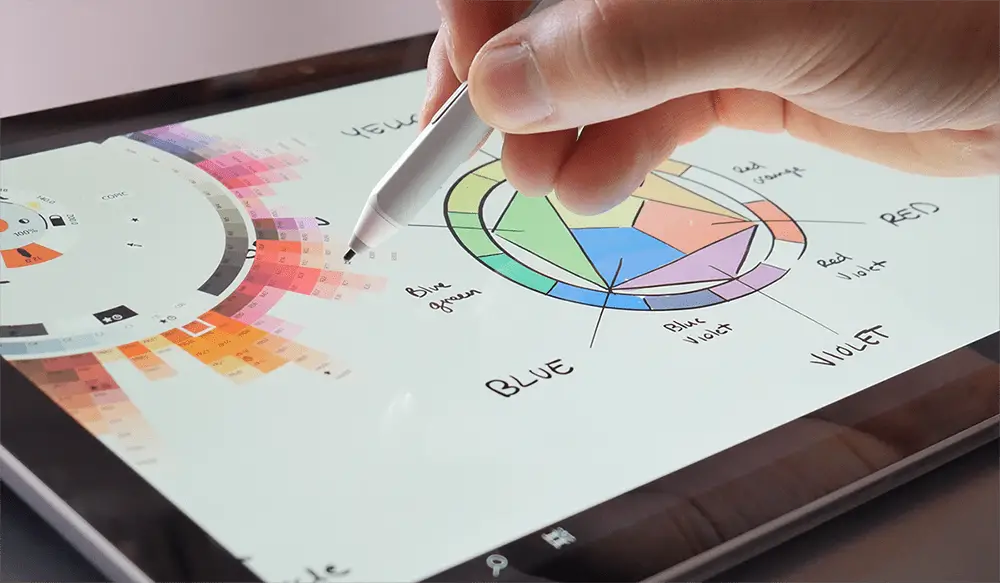 This is yet another great substitute for Procreate. If you want to create some praiseworthy work, you should consider this app. It is great for sketching and doodling. This app comes with all the necessary features that you would want in your digital drawing app. The best thing is the layering system that helps you to create perfect designs with full control. It also supports multitasking gestures such as drag and drop. Another good thing is that it allows you to create an infinite canvas.
Features
Efficient layering system
Multi-tasking gestures
Can create an infinite canvas
11. ArtRage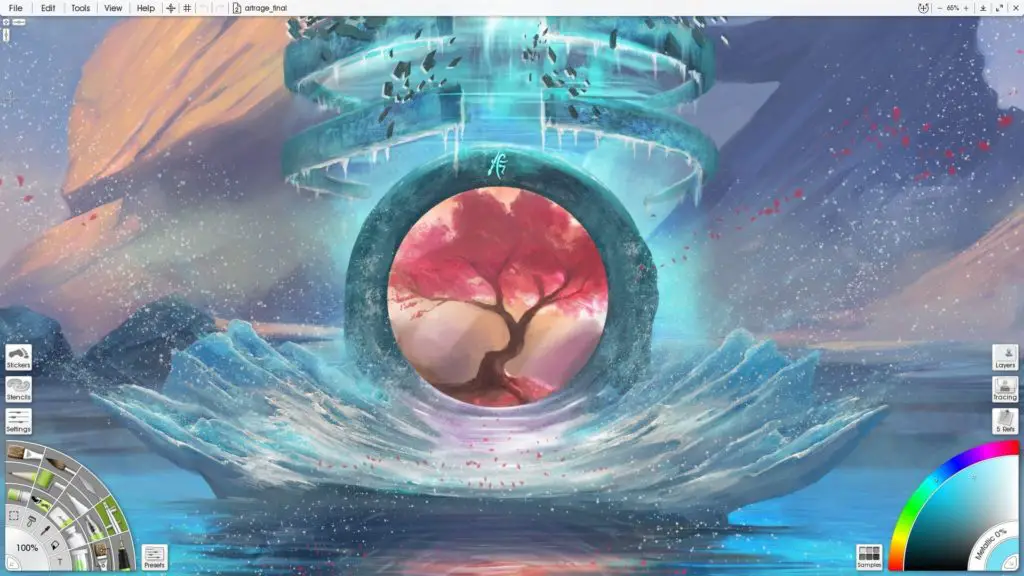 If you are into digital art, you must have heard about ArtRage. It is quite popular among users and is great for creating oil and watercolor paintings. The best thing about this app is that it mimics real paint with a natural flair. This adds a classic look to your craft. The app also offers you a good collection of special effects tools. To make things easier, it allows you to store your preferred settings as custom presets. Another good thing is that it supports S-Pen.
Features
Great for oil and watercolor painting
Large collection of special effect tools
Lots of features
So, what if Procreate is not available on Android. You can download any of the best alternatives and unleash your creativity. The recommended apps in the list are equally good as Procreate. You can use them to create amazing digital art.
Also read: 10 Best Drawing Apps for Android
Frequently Asked Questions (FAQs)
Is there an Android equivalent to Procreate?
Yes, you will come across few apps that are equivalent to Procreate. This includes Adobe Photoshop Sketch, Autodesk SketchBook, and Concepts. These apps are similar to Procreate and are available for Android users.
What app is like Procreate but free?
Both Adobe Photoshop Sketch and Autodesk SketchBook are like Procreate. But they are free to use.
Can you use Procreate on an Android tablet?
Sadly, Procreate is not available on Android tablets. Instead, you can use Autodesk Sketchbook or Adobe Photoshop Sketch.
Does Procreate have a monthly fee?
To download Procreate, you need to pay $9.99. It doesn't involve any renewal or subscription fee. All you have to do is pay for the app once, and you can use it for the rest of your life. But this app is available only for iOS devices.
---
Protect Your Online Privacy With Surfshark
[The VPN that we use here at Tech Arrival]
---
Is Procreate only available for Apple?
Yes, Procreate is only meant for Apple iOS devices. People with Android and Windows devices cannot use the app.