Are you tired of getting spam calls? Are you being harassed by telemarketers or fraud calls? If you can relate to these questions, you are in the right place.
In a day, we receive several unknown calls. Most of these calls are from spam numbers or telemarketers. They call at odd times and destroy your mental peace.
The best way to stop these calls is to use a spam call blocker app. Luckily, there are plenty of such apps for both iOS and Android users. Here is a brief rundown of the best spam call blocker apps:
Also read: 11 Best WhatsApp Alternatives You Can Use
List of Best Spam Call Blockers for Android & iPhone
1. Truecaller
Truecaller is one of the most popular call blocker apps in the iOS and Android communities. With a 4.5-star rating, it is the largest spam-blocking app in the world. It is loaded with many features that allow it to detect and block spam calls efficiently.
It is one of those few apps with a free subscription plan. The features included in the free plan are caller ID, spam call blocking, and profile creation. To access advanced features like who viewed my profile, call recording and incognito mode, you must get the premium version.
It is good to see that core features like caller ID and call blocking are offered for free. This is what makes it popular among smartphone users. You can stick to the free version if you don't mind the pop ads.
2. Robo Shield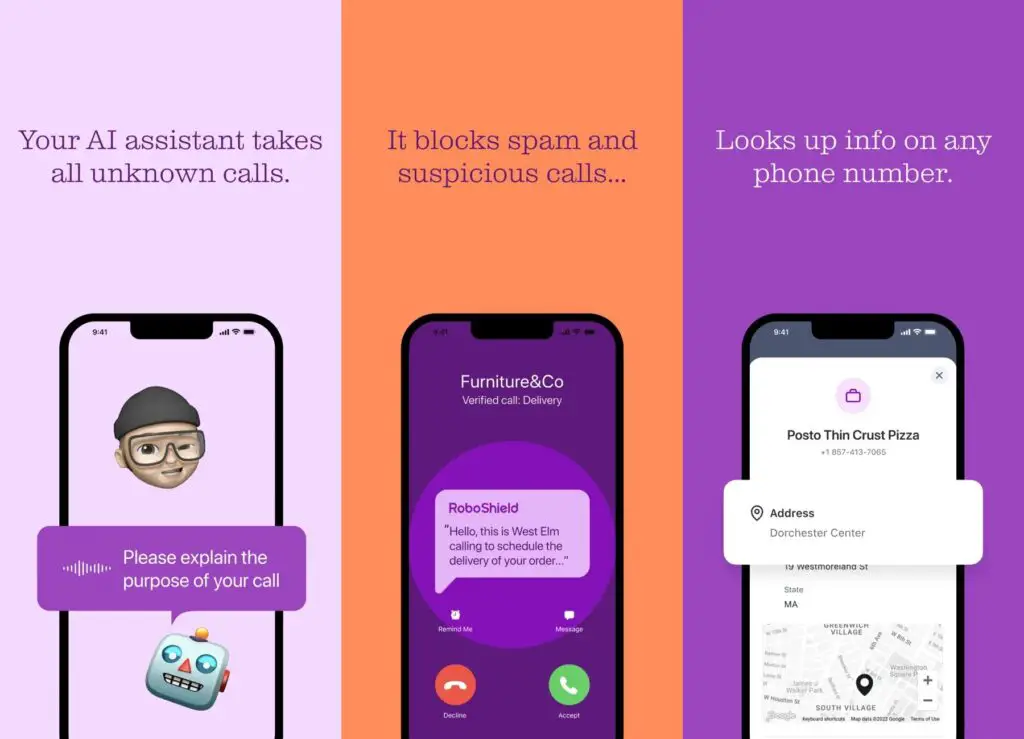 Although this app is new, it is impressive to see how quickly it has built a reputable position in the market.
Robo Shield offers automatic call filtering that blocks spam calls based on its spam database. It also includes a number lookup option and automatic number blocking.
Robo Shield includes a category-based call-blocking option that allows you to stop specific types of calls, such as political agencies, charities, customer service, etc. Enabling this option will send those calls directly to your voicemail, so you don't have to bother picking up the phone.
---
Protect Your Online Privacy With Surfshark
[The VPN that we use here at Tech Arrival]
---
3. Nomorobo Robocall Blocking
This app may not be as popular as the other options on the list, but that doesn't imply it is terrible. Nomorobo makes an excellent choice for iOS users. It offers a 14-day free trial to all new users. This allows you to try out the features before getting the paid plan.
You can use Nomorobo for blocking ads and looking up phone numbers. It also serves as an anti-tracker for web browsing. You can set the app to block spam calls or send them to your voicemail automatically.
4. YouMail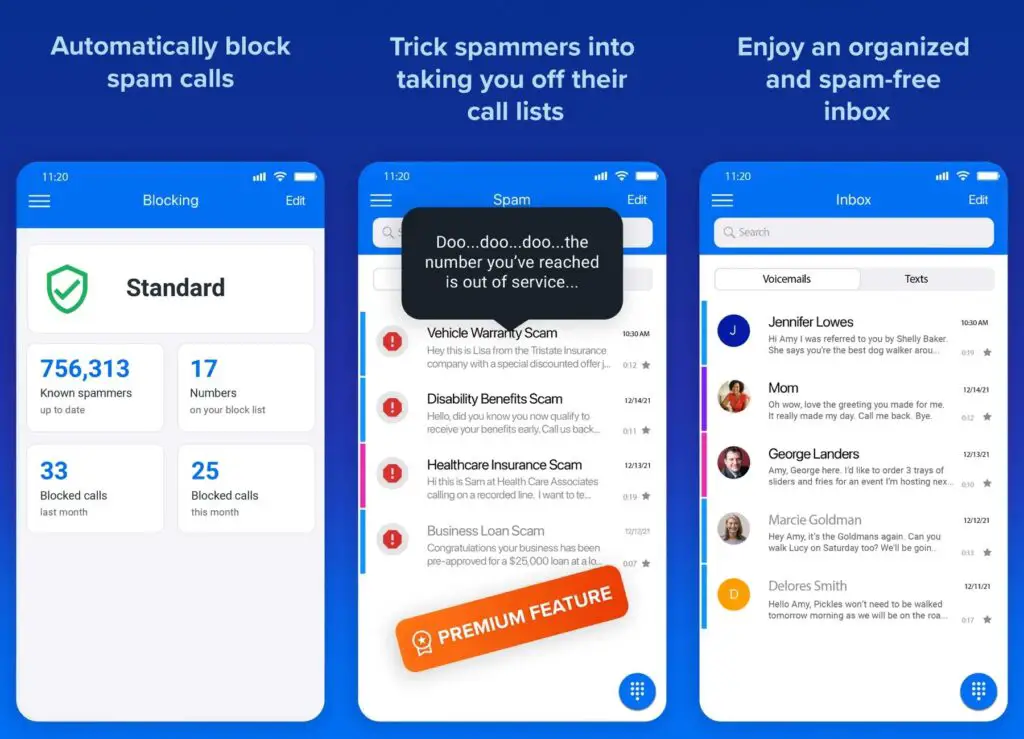 YouMail spam block can detect and block spam calls and robocalls. Whenever you receive such types of calls, it plays the "out of service" message.
It has an extensive database of spam numbers. When you receive an unknown incoming call, YouMail will match the number against its spam database.
It allows you to set a voice message that will play whenever you get an incoming call. This way, you can greet people whenever they call you.
Besides the free version, it offers a premium service that gives access to features like auto attendant, call routing, automatic text messages, call recording, and more.
5. Calls Blacklist
Next up, we have Calls Blacklist that helps block both calls and messages on Android phones. Having this app installed on your phone means you don't have to deal with inappropriate texts and calls. It simply blocks such calls on your behalf.
The personal blacklist feature allows you to add phone numbers of people you don't want to receive calls or texts from. Once you blacklist a number, the calls will be automatically blocked.
Calls Blacklist has a robust algorithm that identifies and prevents robocalls from disturbing users. You can use the caller ID function to identify unknown numbers. It also includes an SMS blocking option that blocks robot and spam messages.
6. Call Blocker by UnknownPhone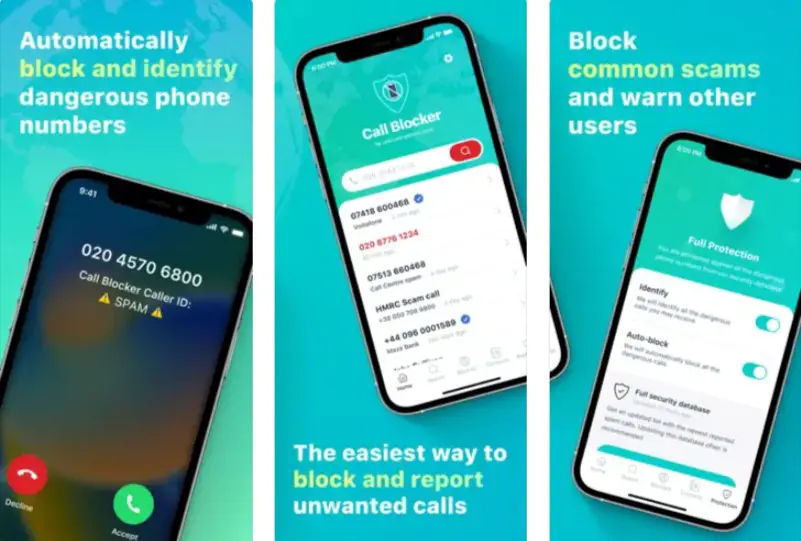 With the help of this app, you can get rid of unknown calls once and for all. It allows you to report harassment calls so other users can benefit from it.
With UnknownPhone, you never have to worry about unknown numbers calling you. The reverse phone number search allows you to find out who the caller is.
---
Protect Your Online Privacy With Surfshark
[The VPN that we use here at Tech Arrival]
---
7. CallApp
CallApp identifies telemarketing and spam calls and stops them from disturbing you. It also includes the blacklist feature, so you can avoid calls from people you don't want to talk to.
The best feature of this app is the social media coverage. It allows the app to update contacts from your social media accounts, such as Instagram, Facebook, and LinkedIn.
It is an easy-to-use app with a simple interface. All you have to do is create an account using your phone number and get access to the app's features.
8. RoboKiller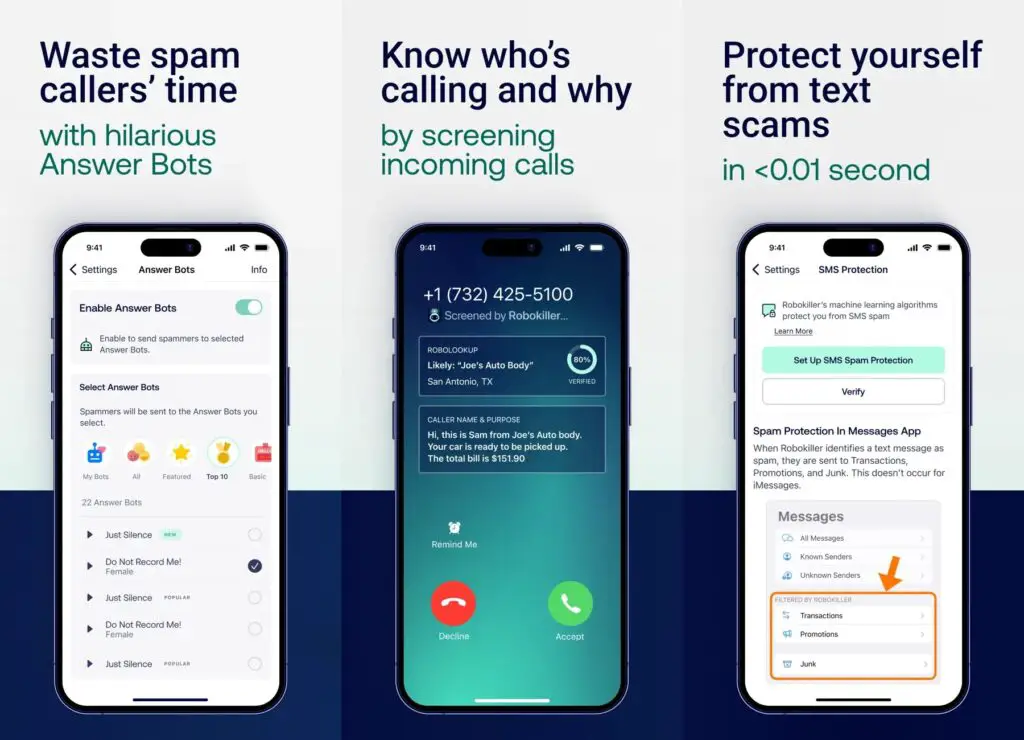 RoboKiller can block 99% of all spam numbers, so you stay unbothered. It can filter and control incoming calls by automatically adding them to the block list.
It has a feature called Allow List that allows you to keep all your essential contacts safe. The numbers added to this list will not get blocked by the app. Besides calls, RoboKiller can also identify and block spam text messages. It will notify you every time you receive unwanted texts.
You can also report a specific number and protect other users from spammers. This app is free to download; however, you will need a subscription plan to use the service. It offers a 7-day free trial for new users.
9. Hiya
Hiya is a widely-used spam call blocking app offering reliable service to users. From telemarketers to robocalls and fraud calls to unknown numbers, it can block all annoying calls for you.
It can also stop "neighbor spoofing" calls from phone numbers that look similar to yours.
Hiya has a vast database that helps you identify unknown numbers. It lets you know who's calling you, where they work, and other details. To use this service, you must subscribe to its yearly or monthly plans.
10. AT&T ActiveArmor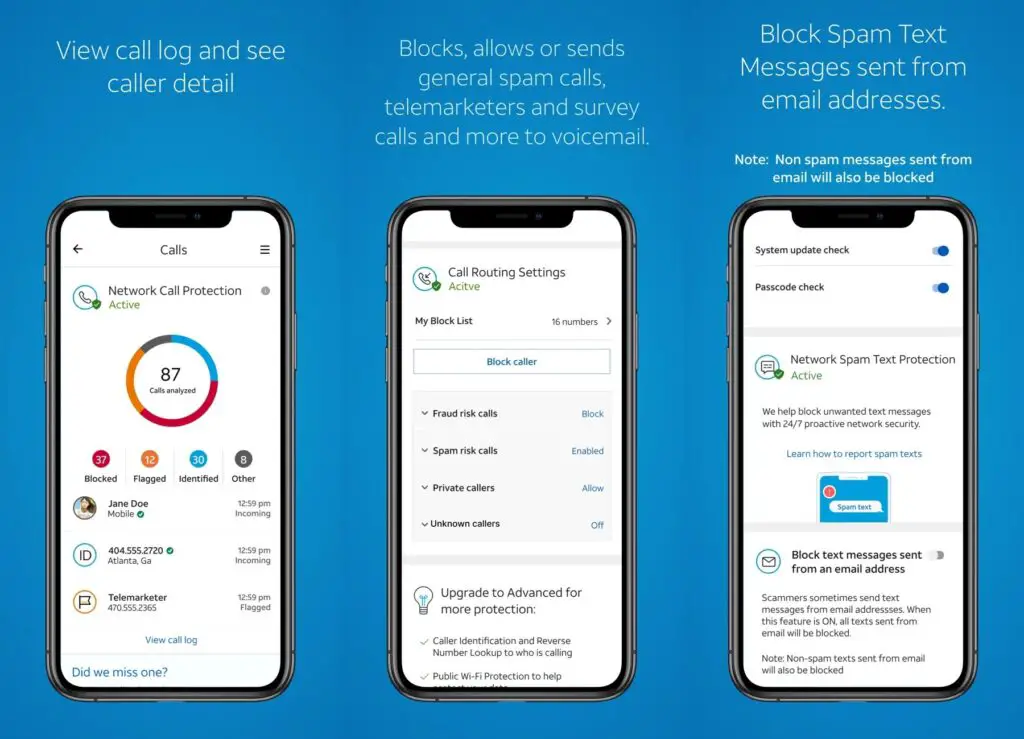 Next in the line is AT&T ActiveArmor, which provides complete protection against spam and fraud calls. Once you install this app on your phone, you no longer have to bother about receiving unwanted calls. It offers 24/7 service and detects spam calls even before your phone rings.
It will alert you whenever you receive calls from surveys, non-profits, telemarketers, political callers, and account services. You can set the app to send unknown calls directly to your voicemail.
---
Protect Your Online Privacy With Surfshark
[The VPN that we use here at Tech Arrival]
---
This app is not just meant for blocking unwanted calls. It has formed a community of people who help one another eliminate spam numbers. It allows you to report specific numbers, so other users can too know about it. To get access to all the features, you will have to get the premium plan.
11. Should I Answer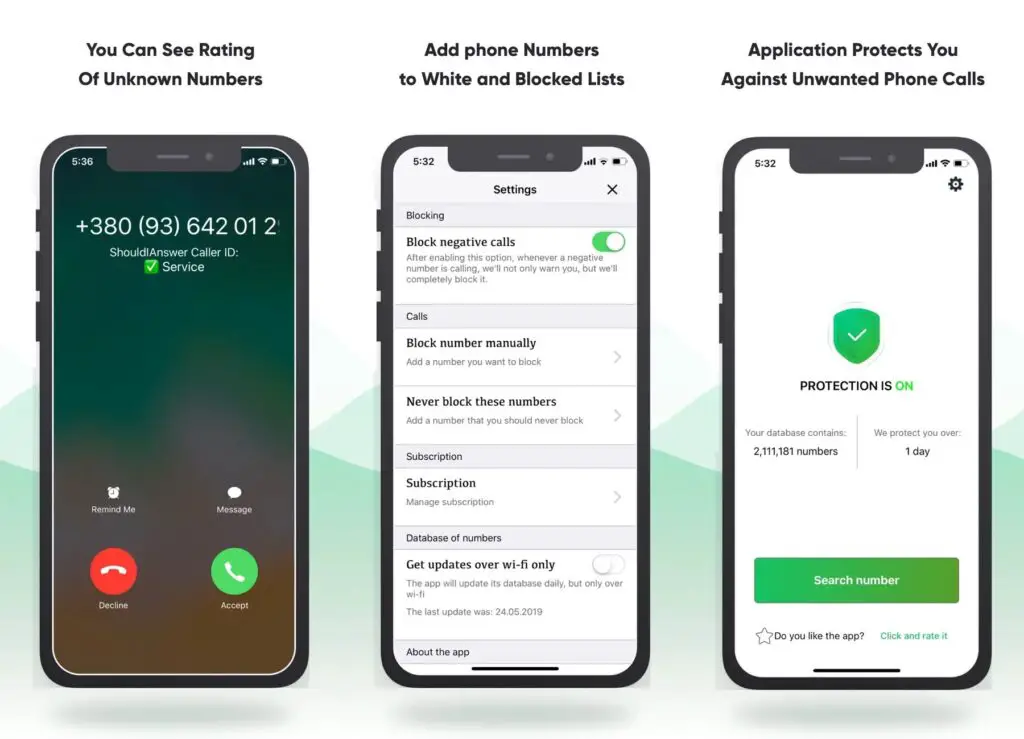 Should I Answer is an efficient app that protects you from unwanted calls and messages. When you receive an unknown call, it checks the number instantly and updates the database.
If the app finds that other users report the incoming number, it will inform you immediately. You can then block the number so the caller can never bother you again.
The specialty of this app is that it categorizes unwanted calls and spammers under different sections with assigned ratings. Whenever you receive a call from a spam number, the rating is shown on your screen.
Receiving spam or unwanted calls can feel highly annoying. But you can get rid of such calls by using a spam call blocking app. The apps mentioned in this post are known for their quality service. We have included free and paid apps, so you can choose as per your requirements.
Also read: 15 Best Adblock Browsers for Android & iPhone
Frequently Asked Questions (FAQs)
What is the purpose of spam-blocking apps?
Spam-blocking apps identify spam numbers and block them from disturbing people. A spam-blocking app matches the incoming call number against its database.
Are spam call blockers free?
Most spam call blocking apps are free to use, but to get access to all the features, you need to get the paid version of the app.
What type of calls can a spam call blocking app block?
A good spam call blocking app will stop spam numbers, unknown calls, telemarketers, non-profits, political calls, fraud calls, and private calls.
What is the best call blocking app?
Truecaller is considered the best call blocking app in the market. It has a free and paid subscription plan that allows you to see who viewed your profile.
Is Nomorobo app free?
Nomorobo is a premium category call blocking app that offers a 14-day free trial to first-time users. Once the trial period is over, you will have to pay to use the service.
---
Protect Your Online Privacy With Surfshark
[The VPN that we use here at Tech Arrival]
---
Is Robo Shield reliable?
Robo Shield is one of the top spam call blockers that efficiently stop unwanted calls from reaching your phone. It is developed by Pango and trusted by 650 million users worldwide.
What is a blacklist?
Some call blocking apps offer a blacklist feature that allows you to block unwanted calls manually. If you want to stop a person from calling or texting you, add that person's number to the blacklist.
What is a robocall?
A robocall is an automated telephone call that delivers a recorded message on behalf of a company or political party. Sometimes, these types of calls are also used by spammers to target innocent people.
How to block telemarketer calls?
You can block all annoying telemarketer calls using a call blocking app. Apps like Truecaller, RoboKiller, and Hiya are very efficient in blocking telemarketer calls.
How to know who's calling you?
To identify an unknown number, you can use a call blocking app. Most of these apps have the reverse number lookup feature that lets you know who the caller is along with other details.
What happens if you answer a robocall?
Spammers use robocalls to identify potential targets. This is why you should avoid taking these types of calls. You can use a call blocker app to avoid robocalls from bothering you.