If you are reading this guide, it means you are looking for a solution to upload videos to your Instagram stories.
Sometimes, you try to post a video to your Instagram story; an error message pops up. Well, you are not the only one to face this issue
There may be a few reasons causing this issue. We will discuss all that and how to fix this problem in the post below.
Also read: How to See Who Viewed Your Instagram Posts
Reasons You Can't Post Videos On Instagram Stories
If your network connection is unstable or weak, your videos will fail to upload.
The video content you are trying to post is against the community guidelines of Instagram.
Instagram does not support the format of the video.
Your Instagram account is banned, blocked, or disabled.
List of Ways to Fix Can't Upload Videos To Instagram Stories
You can do a few things to get rid of this problem. All the solutions are explained in detail below.
1. Switch On and Off your Network Connection
If the network connection is weak, it will create problems for you when posting videos on Instagram.
Switch off the network and switch it on again. However, if this doesn't work, you should try connecting your phone to a different network.
2. Restart your Phone
You can reboot your mobile device to fix the issue. All you have to do is hold down the device's Power button until it turns off. Press the button again to switch on the device.
After restarting your phone, go to Instagram and see if you can share your videos.
3. Logout and Login of your Instagram account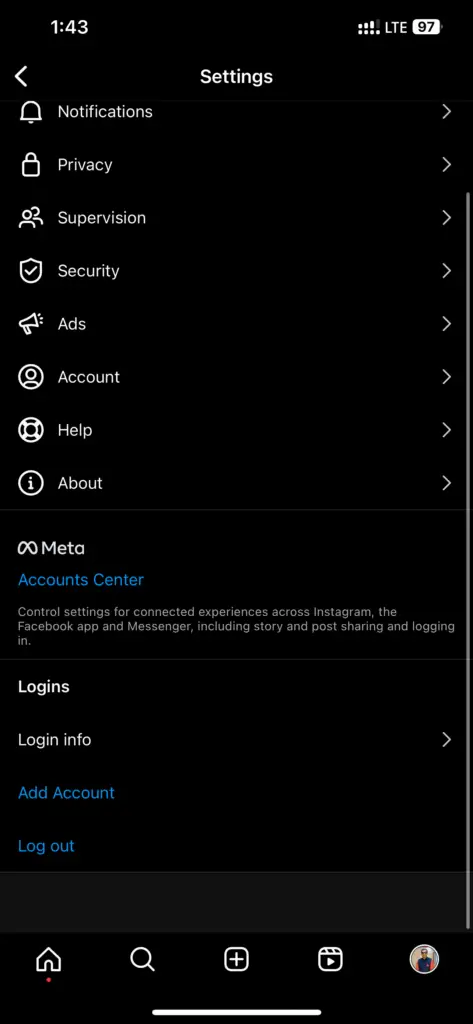 This might sound silly to some users, but logging in and out of your account can sometimes solve issues like this.
After logging out of your Instagram account, wait a while before logging back in. You will find the logout option in the Settings section of the app.
---
Protect Your Online Privacy With Surfshark
[The VPN that we use here at Tech Arrival]
---
4. Clear the App Caches
Sometimes problems like this arise due to cache files as they interfere with the app's functioning. The only logical solution is to clear the cache files from your device.
Launch the Settings app.
Go to Instagram.
Locate the option "Clear Cache" and click on it.
This will instantly delete all cache files from the device.
iPhone users will have to uninstall and reinstall the app. This is because iOS devices don't have the cache cleaning option.
5. Change the Video Format
If Instagram does not support the format of your video, then you cannot upload it. In this case, you must change the video format using a video converter app. Before that, check out the video format requirements of Instagram.
Resolution: Maximum width of 1080 pixels
Formats: H.264 codec/MP4
Frame Rate: 29.96 fps
Audio Codec: AAC audio codec at 44.1 kHz MOV
Bit Rate: 2500 kbps video bitrate
Duration: 3 to 60 seconds
6. Reinstall Instagram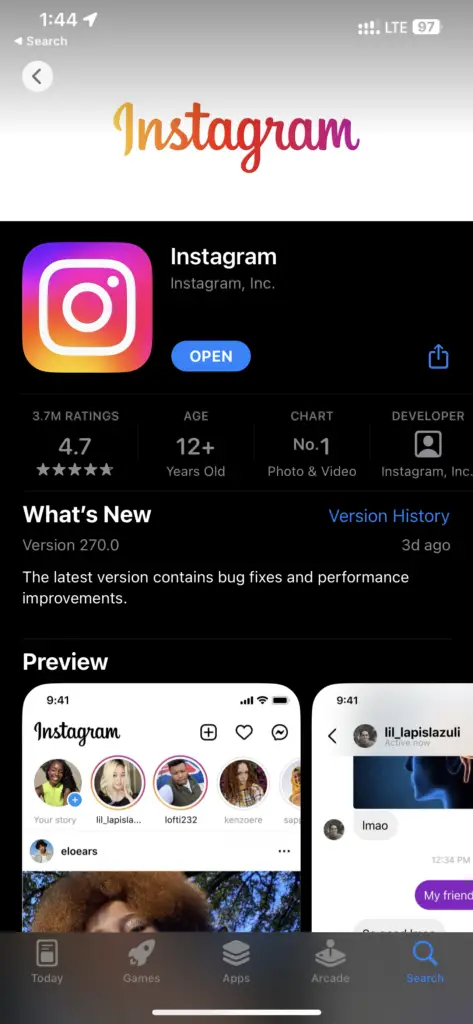 There might be some bugs or other issues that are preventing you from uploading your videos. In this case, try uninstalling and reinstalling the app.
7. Reduce your Video Size
If your video size is more than 4GB, it won't get posted, which means you will have to reduce the size.
You can take the help of a video compressor tool/app to reduce the video size. Make sure it is below 4GB. Try posting the video again after you are done compressing it.
We understand how frustrating it is when you are unable to post your videos on Instagram. You may have to try multiple methods before the problem gets solved.
Also read: How to Fix Instagram Not Posting Photos/Videos
Frequently Asked Questions (FAQs)
Why can't I post videos to my Instagram stories?
You can't post videos to your Instagram stories because your internet is slow or your videos violate the community guidelines. It is also possible that your account is banned.
Can I upload pre-recorded videos to Instagram stories?
Yes, you can post pre-recorded videos on your Instagram stories.
What should be the size of a video file to post on Instagram?
The video you want to post on Instagram should be below 4GB. If the file size is bigger, you must compress it.
---
Protect Your Online Privacy With Surfshark
[The VPN that we use here at Tech Arrival]
---
How to change the format of Instagram videos?
You can use any video converter app to change the format of the videos you want to share on Instagram.
How many videos can I post to Instagram stories in a day?
You can post as many videos as you want to your Instagram stories in a day. There's no limitation to that.