Comments are the best way to share our thoughts and opinions on anything over the Internet. But sometimes, we make a typing error that might force you to remove the comment.
Unlike other social media platforms, you are limited to doing only a few things once you comment on Instagram. So, if you have mistakenly commented on something on Instagram, deleting it would be your best bet. 
When it comes to your content, you can also delete or even hide someone's else comment. But with your comment, you can only delete it. Here is how to delete a comment on Instagram.
Also read: How to Change Profile Picture On Instagram
Steps to Delete a Comment on Instagram App
To delete an Instagram comment on the app, make sure you have the Instagram app installed on your Android or iOS device.
Then open the Instagram app on your device.
Now navigate to the post from which you want to delete the comment. You can check your recent notifications if someone has left or replied to your comment. 
You can tap on the comment icon next to the like button when you're on the post. It will show all the comments on that post.
Now find out the comment that you want to delete. As we mentioned, if it's your post, you can delete any comment, but if it's not, you can only delete your own.
If you're on an iOS device, you can just swipe left on the comment you want to delete. Then tap on the trash icon with a red background to delete the comment.
For Android users, tap and hold the comment you want to delete until you see a trash icon in the top toolbar. Tap on the trash icon to delete the comment.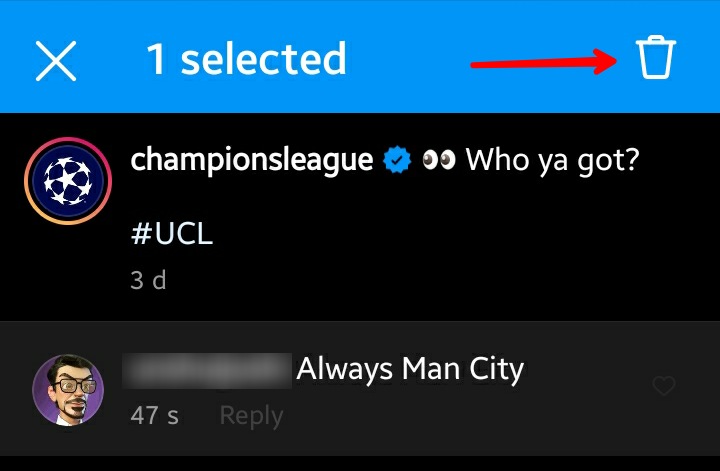 Once you delete the comment, a pop-up banner from the bottom will show that the comment has been deleted. If you mistakenly deleted the comment, you have a few seconds to get it back by tapping on the Undo button from that banner.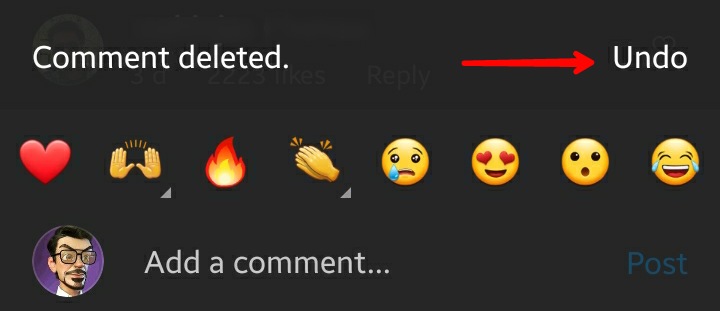 Steps to Delete an Instagram Comment on the Website
If you're using  Instagram on your PC, you can do the same thing from the Instagram website. 
First of all, open a web browser on your PC, and log on to Instagram the Instagram website from there.
Find out the post from which you want to delete the comment. Click on the post, and it will show in a pop-up form. You can see the comment section right side of the post.
Now hover over your mouse pointer over the comment you want to delete. A three-dot menu will show right to the comment; just click on it.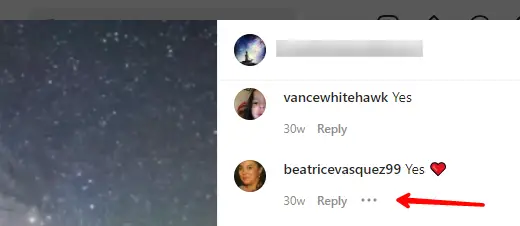 Click on the delete option from the pop-up window.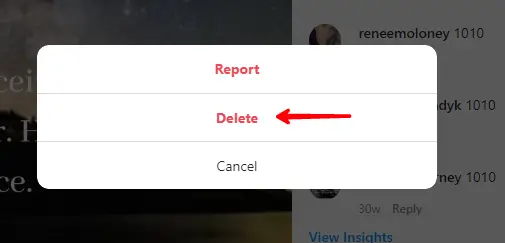 Once you select delete, the comment will no longer be seen in the post.
These were the easy methods that you can use to delete Instagram comments in no time. Now comment without any doubts because you know how to fix it if you mess up.
Also read: How to Change the Instagram App Icon on iPhone & Android
Frequently Asked Questions (FAQs)
Can We Edit a Comment on Instagram?
Unlike Facebook, Instagram doesn't have any option to edit a comment once you post it. The only thing you can do is delete the comment.  
When I Delete Someone's Comment, Will They Get Notified?
No, as it's your privacy concern, Instagram won't notify the other user if their comment has been deleted. 
Can We Recover a Deleted Comment?
If you're using Instagram on the app, you can undo the deleted comment until you see the Undo option at the top. Once that is gone, the comment has been deleted forever.
---
Protect Your Online Privacy With Surfshark
[The VPN that we use here at Tech Arrival]
---
Can We Delete All My Comments on Instagram?
Yes, you can delete all of your comments from Instagram. But you have to delete them one by one. Although there're are some third-party apps that allow you to delete comments in bulk.
How to Delete Comments from Instagram Live?
Unfortunately, you can't delete comments from an ongoing live. You can do it once Live is ended. If you don't want comments to show on your Instagram Live, you can hide them or completely turn them off.