So you have accidentally splashed water on your iPhone, and now you don't know what to do. No worries, because we have got you covered.
There are two simple ways to eject water from iPhone speakers. You can either use Siri shortcuts or a third-party app. Even though iPhones are IP rated, it doesn't eliminate the fact that water can get stuck in certain places.
If there's water in your iPhone speakers, it will deliver muffled audio. So if you want to know how to eject water from iPhone speakers, read this article till the end.
List of Ways to Eject Water from iPhone Speakers
Before moving on to the steps, let us first explain how this works. A specific sound frequency is played through the speaker to remove water from iPhone speakers. The vibrations caused by the sound help push out the stuck water. It is similar to the Water Lock utility in the latest Apple Watches.
Also read: How to Convert Photos to PDF on iPhone & iPad
Even if you have an IP-rated iPhone, that doesn't guarantee that water won't get stuck inside the speakers, charging port, or earpiece.
If you accidentally drop your iPhone in water, dry it as much as possible. Also, don't make the mistake of outing it on charge after taking it out of the water. Doing so can ruin your phone.
Ejecting Water Using Siri Shortcuts
The first method to eject water from iPhones is by using Siri shortcuts. We have explained the steps below for those who don't know how it's done. 
For this method, you will use "Water Eject", a Siri shortcut.
First, you need to get the Water Eject Siri shortcut on your iPhone.
Open this link; it will open Shortcut App & go to the bottom of the page.
There you will find the option Add The Shortcut, tap on it.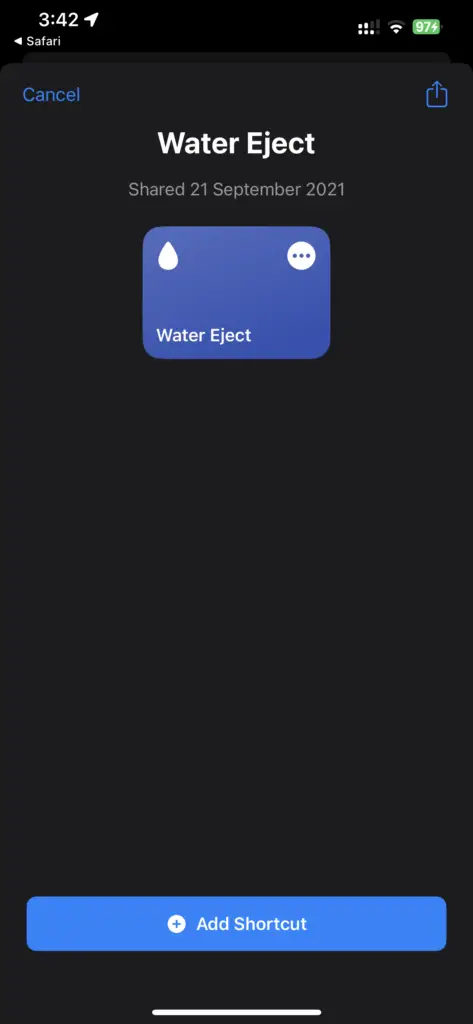 After adding the shortcut to the shortcut library, tap it to begin the water removal process on your iPhone.
Tap Start & Select Intensity Level. This will take a few minutes, so you will have to wait till it's done. It uses low-frequency vibrations to push water out of the device.
Once the process is over, turn down the volume of your device. You will receive a notification saying that the process is completed.
You can add this shortcut to your home screen if you want. You can use it to remove water whenever you need it.
---
Protect Your Online Privacy With Surfshark
[The VPN that we use here at Tech Arrival]
---
Using A Third-Party App
If you are not sure about using the Siri shortcut method, there are other ways you can try. For example, a third-party app or website can play a sound to eject water from iPhone speakers.
Luckily, there exist many such apps that can remove water from iPhones. One of the most popular ones is Sonic. You can find this app on the App Store. After installing the app, you can adjust the sound frequency as per your requirement. Just tap on the Play button, and you are good to go.
You can also consider using Online Tone Generator, a website for removing water from speakers. All you have to do is visit the website and click on the Play button.
Also read: Top 6 iPhone Privacy Settings You Should Enable Now
Is the Water Eject Shortcut Safe?
Many of you are worried about using the Water Eject shortcut because you are not sure whether it is safe to use or not.
You should be informed that this Siri shortcut is specially designed for iPhone users. The prime objective of this shortcut is to protect your device from water damage. 
It can generate ultra-low frequency sound waves that push water out from the speaker system of your iPhone.
If you don't want to go through the trouble of ejecting water from iPhone speakers, make sure you keep your phone safe. However, if you still drop your iPhone in the water, you can try these two methods to eject the water. Take your phone to the Apple service center if it doesn't work. In case of severe water damage, it is better to let professionals deal with it.