The PlayStation 4 Pro is one of Sony's newest consoles that offer more power than the original PS4.
One of the features that many gamers are excited about is playing games in 4K resolution, but what about movies?
Can you watch a movie on your PS4 Pro, or must you keep it limited to gaming only? We will explore this question and find out!
Also read: 12 Best Subtitles Download Sites for Movies & TV Shows 
Does PS4 Pro Play 4K?
Yes! One of the main changes in the new PS Pro is that it can play games at 4K UHD resolution, which is 3840 by 2160 pixels – considerably more than conventional HD.
Additionally, while both systems are compatible with High Dynamic Range (HDR), only the more powerful PS4 Pro supports HDR-enabled Ultra HD Blu-ray discs.
The PS4 Pro can only play 4K movies when connected to a display that supports the 4K resolution. It also requires an HDMI Cable which is 4K compatible.
Even so, the PS4 Pro isn't a full-featured 4K player because it can't play 4K Blu-ray discs. This was a strategic choice by Sony, who recognized that fewer and fewer people watch films on physical media these days.
Also read: 12 Best PS5 Games You Can Play Right Now
How to Play 4K Movies on the PS4 Pro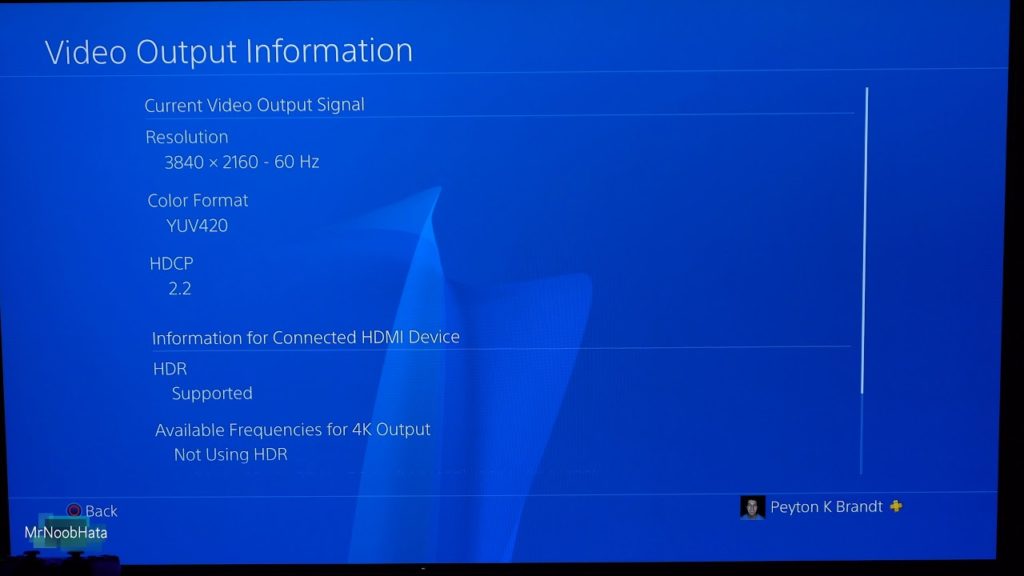 To Begin with, Make sure that your PS4 is connected to a TV supporting resolution up to 4K. In addition, the connection between the TV and console needs to support HDCP (High-bandwidth Digital Content Protection) for best results.
---
Protect Your Online Privacy With Surfshark
[The VPN that we use here at Tech Arrival]
---
A standard HDMI cable might not handle copy protection requirements for high-definition video content, so make sure that you are using a High Speed or Premium High-Speed HDMI cable.
Hopefully, your 4K HDR TV will be automatically recognized by the PS4 Pro when it first powers on, but you can also check the settings yourself.
Go to the Settings menu on your PlayStation 4 Pro with the controller. Select "Sound and screen" from the list of options.
In "Sound and screen," you'll see a choice for "Video output settings." Choose this option. The resolution is the first option in the " video output setting" menu.
You may now choose the resolution (2160p – RGB for 4K HDR) or leave it to Auto, which will recognize the TV's capabilities.
Before this, it is recommended that you check the settings of your HDR-compatible TV so as not to activate the HDR option on your TV by mistake.
Under Video Output Information, you may also check the capabilities and output format of your TV.
These are all the steps you need to follow to watch Ultra HD 4K resolution movies on your P4S Pro.
You can now play 4K movies from the USB device or external hard drive.
Can I Stream Movies?
Yes, you can! One of the main features of the PS4 Pro is that you can play movies at Ultra HD – which means high-resolution video content.
However, to do this without any issues and ensure you get the best possible quality, make sure that your internet connection is fast and stable.
Conclusion
Even though the PS Pro is not a fully-fledged Ultra HD Blu-ray player, it does offer you more options. For example, now you can watch content in Ultra HD resolution with HDR on your specific TV.
Just ensure that you have the right HDMI cable, correct video format, and a fast internet connection to get it working! Finally, feel free to leave comments or questions below. We'll do our best to answer them quickly and informative.
Also read: How to Play Sony PlayStation 2 Games on PC
---
Protect Your Online Privacy With Surfshark
[The VPN that we use here at Tech Arrival]
---
Frequently Asked Questions (FAQs)
What's the Main Difference Between PS4 and PS4 Pro?
The main difference between the PS4 and the PS4 Pro is that the Pro offers a more powerful graphics processing unit (GPU), which provides several benefits for gamers. For example, the GPU in the Pro allows games to be played in 4K resolution and has twice as many RS-232 ports for connecting peripherals like keyboards and mice. The Pro also includes a larger hard drive and has an additional USB port.
What are the PS4 Supported Formats?
The PS4 has a variety of supported formats, including Blu-ray discs, DVDs, and CDs. In addition, the console also has a built-in media player that can play AVI and MPV formats. This means you will be able to play any movies you have saved on your computer or flash drive.
Which is Better, 30 FPS or 60 FPS?
The framerate is the number of frames that displays in a second. For example, if you have a TV with a 60 Hz refresh rate, the TV refreshes the image on the screen 60 times every second. This is also referred to as a frame-per-second or FPS. A higher frame rate means that there could be a smoother flow of action. However, the PS4 Pro offers up to 60 FPS, and by default, it can display movies in this frame-rate format.
However, some films are designed for 24 fps. So these films would not be visible when viewing them on your PS4 Pro due to incompatible framerates without converting it to another framerate, such as 30 fps which is typically recommended for viewing movies on TVs. For this reason, many gamers prefer to watch their movies in 30 FPS instead of 60 FPS.
Is 4K 30FPS better than 1080p 60FPS?
No, it's not always better. If you check the video quality, you will see that 1080p is actually more detailed than a video shot in the same resolution but at a lower frame rate. As mentioned above, you can't take it for granted that 1080p at 60 FPS will be noticeably better than 1080p at 30 FPS.
Is PS4 Pro Still Worth it?
Yes! The number of Pro owners has increased a lot since the launch. And that's only counting the ones who have bought one so far. This is because more gamers are buying the Pro to take advantage of features like higher frame rates, better visual quality, and performance in VR games.