Instagram gives you plenty of options for managing your privacy on the platform. There is much toxicity on these social media platforms. You might also have been a prey of online trolls, bullies, unwanted comments, and messages. 
So, it is necessary to keep these types of people away to make your social media environment healthy. You can block, mute, or even restrict someone from your account. But today we're going to discuss the latter one.
Restricting a profile on Instagram is much different than directly blocking them. Here is a complete step-by-step guide to restrict someone on Instagram.
Also read: How to Respond Directly to a Specific Message on Instagram
How does Restriction Work on Instagram?
When you restrict someone, the user would only be able to do specific actions on your profile. It is very much different than blocking someone. A restricted user can do everything an average user can, but the interaction wouldn't be the same as an average user.
You should also know what exactly happens when you restrict someone over Instagram whenever a restricted profile comments on your profile. The comment won't be visible publicly. If you want, you can view it by yourself by tapping on the see comment option. You can either approve, delete or leave the comment as it is.

Another thing a restricted profile is limited to do on your profile is direct messages. Yes, when a restricted profile messages you, it won't directly appear in the message inbox. Their messages will land in your Messages Requests section, and you won't get any notification either.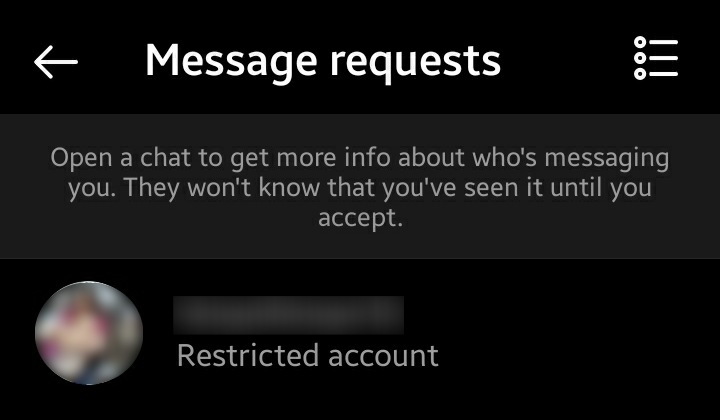 If you want to see what they have sent, you can do so by opening their message request. This will also won't let them know whether you have seen the message or not.
Even after doing all these things, Instagram won't remind the user that you have restricted their profile. But, they can still see your posts, likes, comments, and stories. However, they will be able to interact with your profile from their end only.
So, now you know what this feature is. Let's jump right away to see all the steps to restrict someone on Instagram.
---
Protect Your Online Privacy With Surfshark
[The VPN that we use here at Tech Arrival]
---
Steps to Restrict Someone on Instagram
There are a few ways that you can use to restrict someone on Instagram. The first one is through their profile, and the other is through comments. So let's discuss each of them
Restrict Someone on Instagram Through Their Profile
Firstly, open the Instagram app, and navigate to the profile you want to restrict.
Now tap on the menu button from the top right corner. And select the restrict option from there.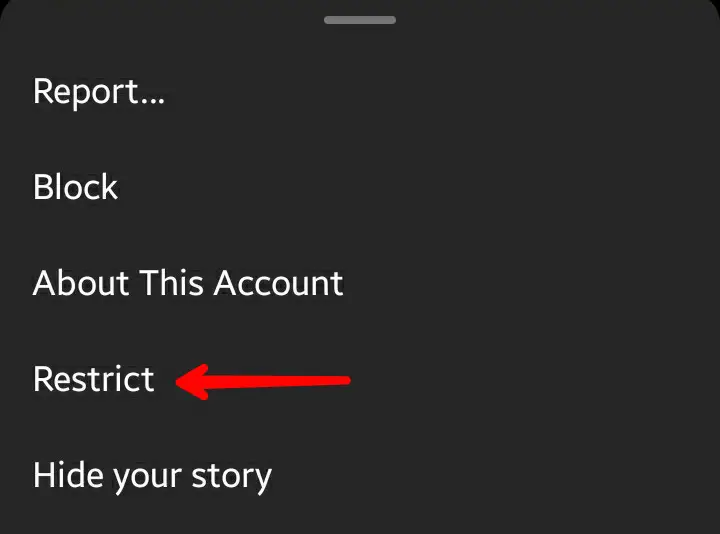 After this, it will give you a basic introduction to the restriction feature if you're using it for the first time on the app. From there, confirm by tapping on restrict account option.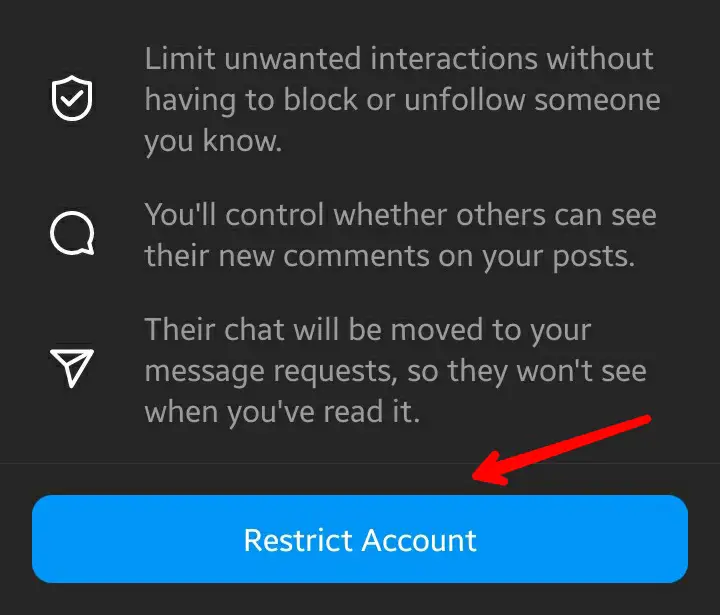 Another pop-up will appear, tap on Dismiss, and you've now successfully restricted the account.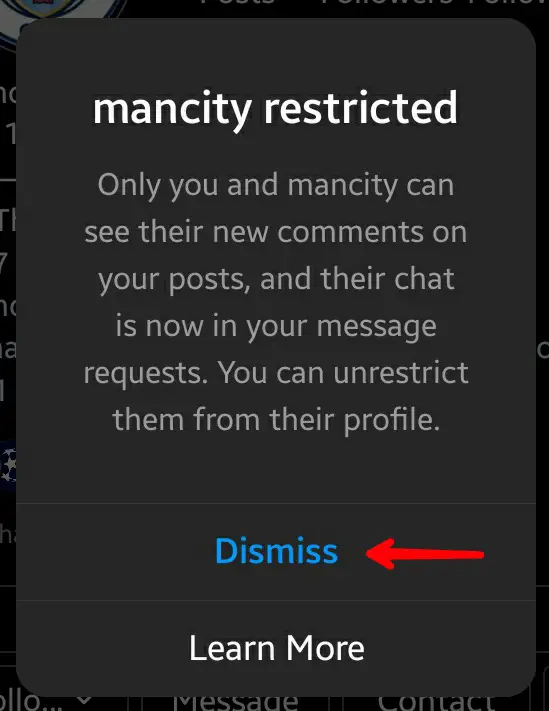 Restrict Someone Through Their Comments on Your Post
For this, search for the user's comment you want to restrict. Hold and press the comment and tap on the report icon.

From there, select the restrict option to restrict that account.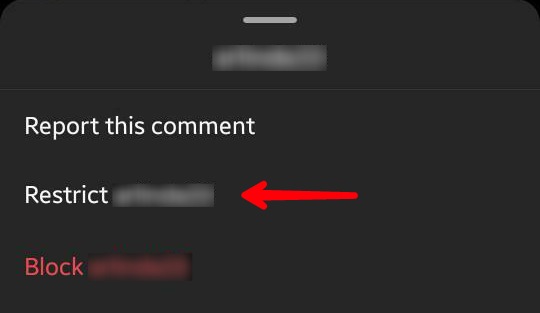 Restrict Someone Through Settings.
Tap on the menu from the top right corner of your profile section. Then select the settings option from the pop-up.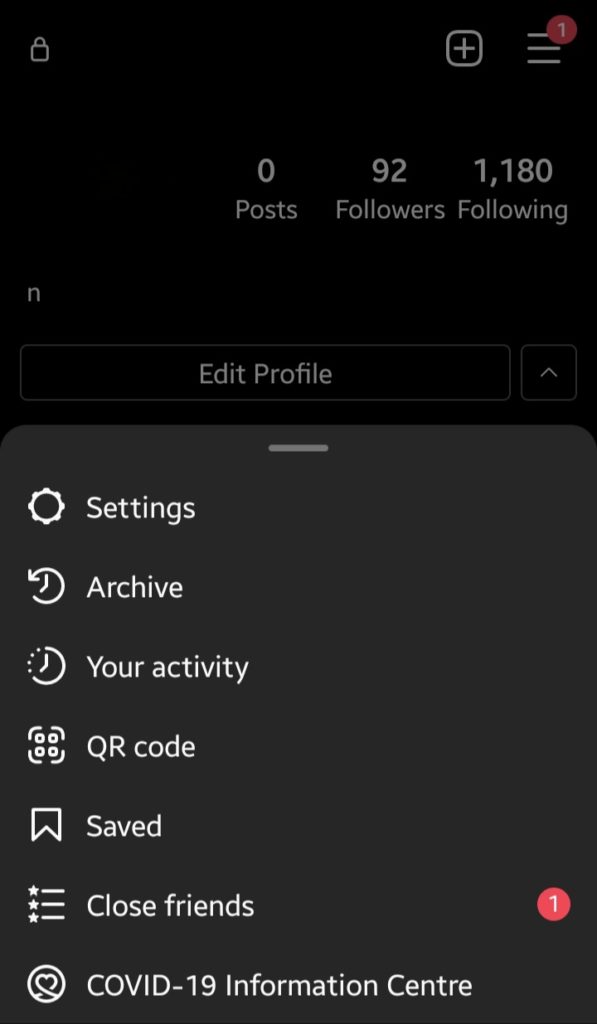 In the settings, tap on privacy. Now scroll down and tap on the Restricted Accounts option. If you've restricted an account earlier, it will show up there. Here, you can see a search bar to find the account you want to restrict. Once you search, the profile will be shown; you have to tap on the Restrict button next to their username.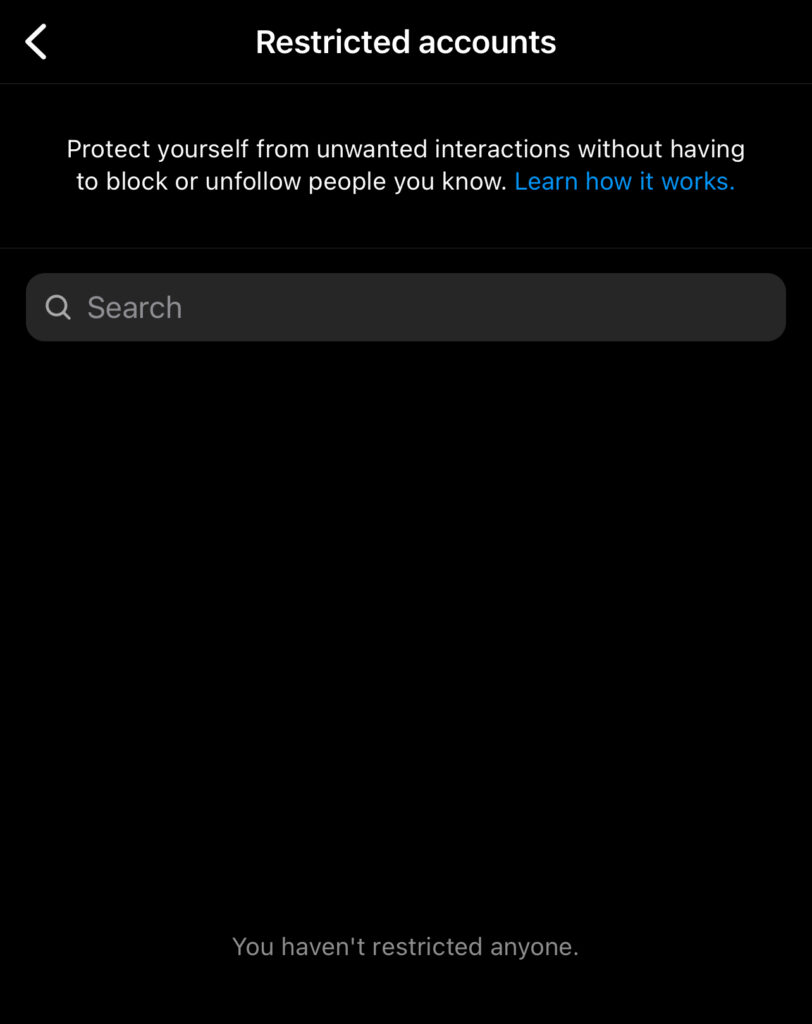 Steps to Unrestrict Someone on Instagram
If you ever want to unrestrict their accounts, navigate to their profile and tap on the menu button; choose the Unrestrict option. So these are the methods that you can use to restrict anyone on Instagram.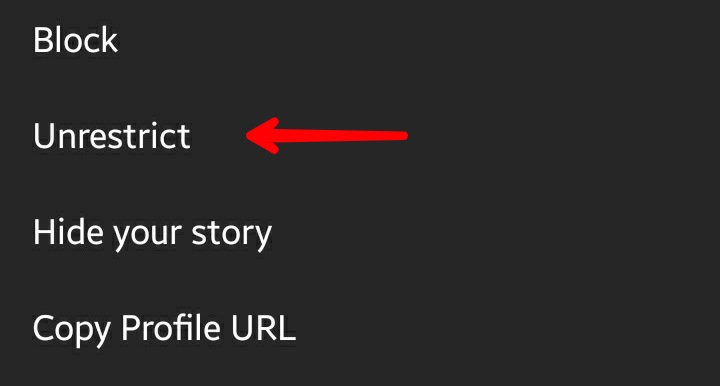 Also read: How to Recover Forgotten Instagram Password
Frequently Asked Questions (FAQs)
What is the Difference Between Blocking and Restrictions?
When you block someone on Instagram, your profile will be hidden entirely from them, and they can never find you on Instagram. If you restrict someone, the user is limited to doing specific actions with your account.
Can a Restricted User Tag or Mention You in a Post?
Yes, a restricted user can tag or mention you in a post, and you will also get notified. This feature does not work with mentions and tags.
Is There Any Chance a User Can Know Whether They're Restricted or Not?
No, they can't find it out easily; Instagram won't notify them. The only way they can find is if they notice significantly fewer interactions from your side.