Most of you know that there are lots of ways to download music online from the internet. Some methods are convenient, while others can be time-consuming. Here in this article, we will talk about several methods to download free music this year.
Note: All of the methods described are for educational purposes only. We are not responsible for any harm or illegal activity caused by the user after reading these methods.
Also read: 9 Free Music Download Apps for Android
List of Ways to Download Music For Free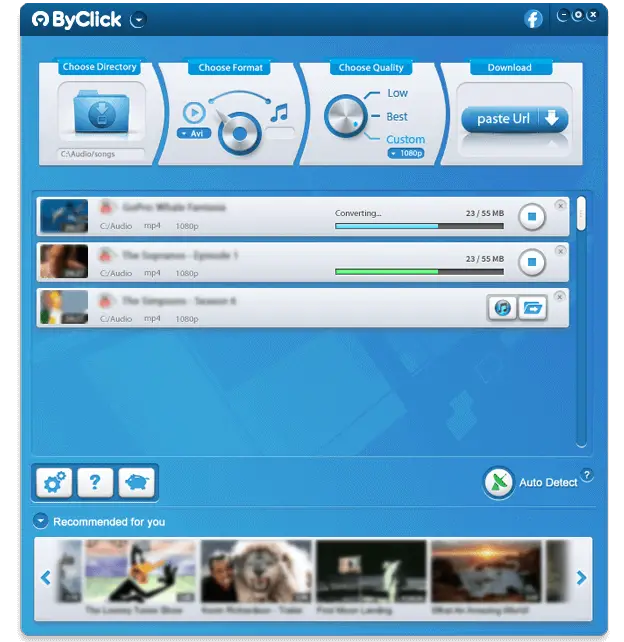 If you are willing to download content from YouTube, Soundcloud, Instagram, Facebook, Vimeo and convert it to MP3, we strongly recommend ByClick Downloader. Developed for Windows PCs, it's 100% secure and is the most reliable converter and video downloader available. With By Click Downloader, it's possible to convert video to mp3, download playlists, live content, video subtitles, and many more. The best part is the native integration it has with the major browsers. It recognizes you are navigating in a video and image, and when you copy the URL address of the page, it prompts you with a popup window asking if you want to download the content in different formats.
2. TubeMate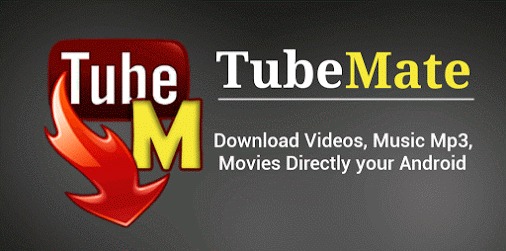 If you are Android Geeks, then there is no way that you don't know about this app. It is primarily used to download youtube videos. It comes in very handy on an Android device. It also can extract audio from the videos.
It also can extract audio from the videos. So you can direct download music from YouTube using this option. Kindly note that according to YouTube TOS, you can't do that. It is one of the reasons why TubeMate is not on Google Play Store.
3. InsTube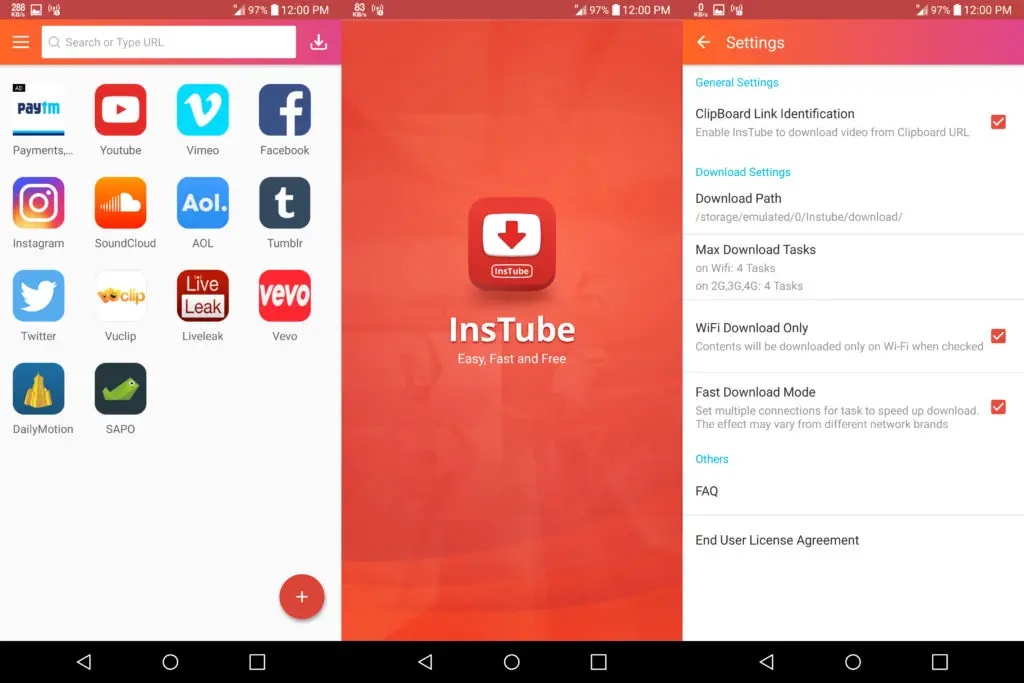 From the comparison of the interface of TubeMate and InsTube, you can see that InsTube has a very materialistic design and looks fantastic. You can download music from youtube as well as videos from youtube and lots of the other websites as well. Well, you can refer to the screenshot above. Also, many settings will help you manage these downloads and your smartphone's battery life.
4. 4K Video Downloader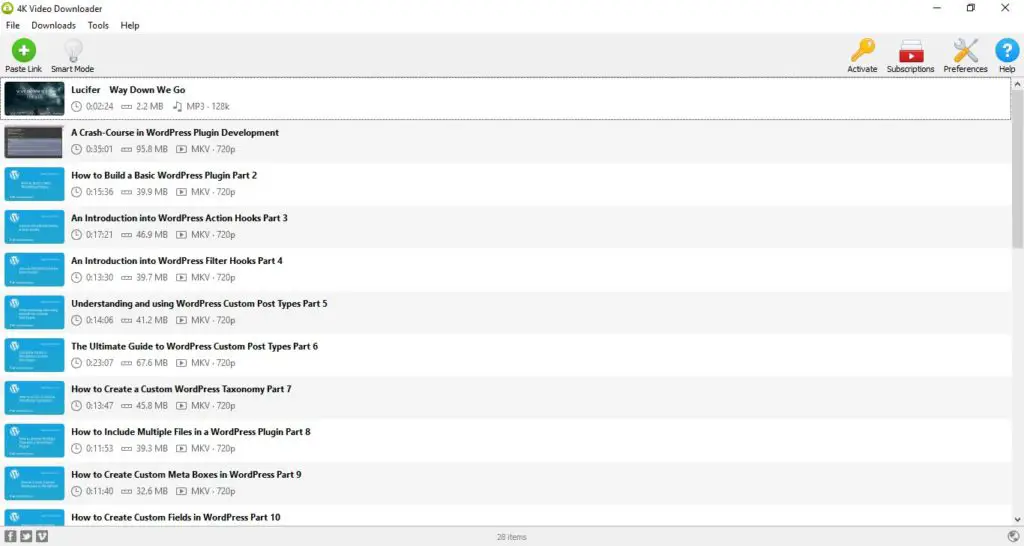 If you don't like downloading videos and music from your smartphone, then 4k Video Downloader is the best way to download videos and music from almost any website. However, we noticed one limitation with the free version: you cannot download more than 25 videos if you are trying to download the playlist. So if you want to do that, then grab the premium version!
5. Jamendo

Jamendo is one of the biggest free music repositories where you can find music by thousands of artists. The user interface of Jamendo is incredible and far beyond expectation for a free service. You can browse music by genre, trending, most downloaded, which makes it easier to find the music of your taste. Let us know what you think about this service.
---
Protect Your Online Privacy With Surfshark
[The VPN that we use here at Tech Arrival]
---
6. SoundCloud

SoundCloud is yet another service like Jamendo where you can find songs, but it is not as cool as Jamendo. It is because not all the music on SoundCloud is free and downloadable. However, it serves as an alternative to Jamendo.
Similarly, the user interface is excellent, and what makes it great is a very active user community. You can also download remixes of songs and tweaked songs that are generally not available everywhere to download. Still, the Creative Commons license makes it possible on SoundCloud.
7. 4shared
It may come as a surprise as we have listed 4shared here. That is because 4shared is a free cloud storage service that allows searching through publicly shared files. Just go to the 4shared website and search for anything that you require.
In 60% of cases, you will find what you were looking for, whether it is music, software, or anything. To download that file, you will need to log in and wait a few seconds until the download begins.
8. Smart Googling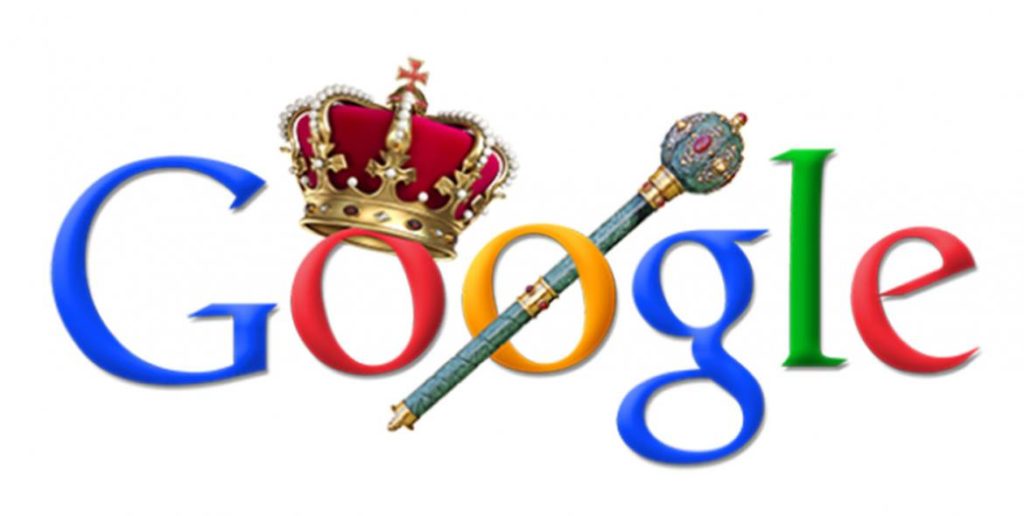 If none of the methods work for you, then there is always a place you can look for, which is the ultimate Google. Just search for the track name along with the album or year. Scroll through the first 2-3 pages, and most probably, you will find the track you were looking for.
So that was all the ways we could think of downloading music for free from the web. If you know any other fantastic methods, then do share it with us in the comment section below. We would be glad to add it to the list.